NEWS STORIES


Ennis Releases Q3 Revenue
Top 40 supplier Ennis (asi/52493) has announced that net sales for the fiscal third quarter ended November 30 were $88.7 million, a decrease of 9% compared to $97.5 million for the same quarter in 2015. So far for the fiscal year, the company reached $270.3 million in net sales, compared to $294.7 million for the same period last year, a decrease of 8.3%.
Read Article

ADVERTISEMENT

Discount Labels Merges with Lancer Label
Discount Labels (asi/49890) has merged with Lancer Label (asi/66220), finalizing a strategic partnership that the companies began in May. The combined suppliers will continue operations under the Discount Label name at Lancer Label's location in Omaha, NE, and Discount Label's facility in New Albany, IN. The merger makes Discount Labels one of North America's largest digital custom label printers.
Read Article
7-Eleven Launches First U.S. Drone Delivery Service
The future of delivery has arrived, and the company leading the charge is….7-Eleven? Yes, the world's largest convenience store chain has launched the first regular commercial drone delivery service to operate in the U.S. The company announced Tuesday it has been making regular drone deliveries to a select set of customers in Reno, NV, during the month of November.
SPONSORED CONTENT
Boost Your December Sales Right Now
Read on for tried-and-true sales strategies and unique product ideas that will help you fulfill a flurry of holiday-themed orders before the New Year rings in.
The Joe Show: Unique New Products
In this episode of The Joe Show, Product Editor Joe Haley shows off a number of excellent items for the coming winter, including a warm fleece blanket, a comfy sweater jacket and a 40-oz. heat-insulated bottle for hot liquids.
TOP
Obituary: Patrick J. Dinley, Proforma Communications Group
Patrick J. Dinley, president and CEO of Proforma Communications Group (asi/300094) and the former president and CEO of Norelco, died on December 10 after a two-year battle with cancer. He was 76.
Born in Pittsburgh, Dinley attended Pennsylvania State University and received a Bachelor's in Business Administration. He became a sales associate for General Electric in 1966, and a regional sales manager for Norelco 10 years later. He was promoted to vice president of sales for Norelco in 1981, helping to lead the company to the top of the shaver industry. He was named president and CEO of the company in 1991.

TOP
ADVERTISEMENT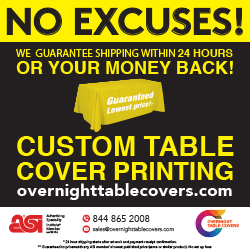 Staples Names New Chief Technology Officer
Staples Inc., parent company of Top 40 distributor Staples Promotional Products (asi/120601), has promoted Faisal Masud to the newly created position of Chief Technology Officer. Masud joined Staples in May 2013 as executive vice president of Global E-Commerce. Masud will manage the company's e-commerce and global technology and report directly to CEO and President Shira Goodman.
Since 2013, Masud has overseen a number of important developments for Staples, including Staples Rush, the company's same-day delivery service; Staples Exchange, a unified platform that allows vendors to sell through Staples' e-commerce channels; and Staples Easy System, which aims to streamline office supply management by giving customers the ability to quickly reorder Staples products from any mobile device.

TOP
Enter the ASI Best Product Video Contest!
Calling all Kubricks, Spielbergs and Tarantinos: ASI is looking for your best product video in an epic battle to determine which one will rule them all.

We are looking for top product videos that are funny, creative and/or informative. Readers and ASICentral.com visitors will vote for their favorite ones.

Submitted videos must:
Feature a promotional product
Run no longer than one minute
Both distributors and suppliers are encouraged to submit. Participants may use existing videos, though we welcome new ones created just for this competition.

To enter, email us at feedback@asicentral.com. Please include information about your video and a link to where we can find it.

TOP
In the News
Boost Technologies dba Shumsky Promotional and Boost Rewards (asi/326300) has launched Ignite by Boost Rewards, a new employee recognition solution with a proprietary SaaS platform. The program drives employee engagement through social recognition, badging and on-demand challenges.
InnerWorkings Inc. (asi/168860) has announced an expansion of its ongoing relationship with health care services provider McKesson Corporation.​

TOP
People on the Move
Jack Nadel International (asi/279600) has promoted Debbie Abergel to the position of chief strategy officer. Previously, she was the vice president of vendor relations.
Click here to see all of this month's industry personnel announcements.

TOP

PCNA Now Directly Connected to ESP
Polyconcept North America (PCNA) is now directly connected to ASI's ESP®, giving distributors real-time inventory available and the ability to send POs directly to PCNA from ESP.
Find out more.

S&S Activewear Integrated With ESP
In a first for the promo products industry, distributors searching for S&S products in ESP® can now select the warehouse from which orders are shipped.
Find out more.
TOP

THE ASI SHOW
FREE ASI SHOW DALLAS REGISTRATION DEADLINE IS IN 2 WEEKS
Register by January 4 so you don't miss your chance to attend ASI Show® Dallas, February 1-3, for FREE (a $199 value):
Connect with suppliers you can't see anywhere else – 73 will NOT be at PPAI
Education is BRAND NEW in 2017:

44 all-new courses
90-minute workshops anchor the end of our top tracks
New speakers and returning favorites
Factory Tour with Riteline (asi/82498)

Enjoy breakfast and a motivational talk during the NEW ticketed Motivational Breakfast with Afterburner (ticket required)
Hear from the co-founder and co-CEO of Whole Foods, Inc. – a Texas-based company – John Mackey, the 2017 keynote speaker
Network at a new Education Day Cocktail Reception, ASI Show Bash at Eddie Deen's Ranch (ticket required) and the Closing Celebration
Explore NEW areas on the show floor: Collaboration Room and Promotional Products in Action
For more information on the full three-day schedule, visit www.asishow.com or call one of our registration specialists at (800) 546-3300.
Follow ASI Show on Twitter and Instagram, and like us on Facebook.