NEWS STORIES


Fed Raises Interest Rates, Expects Several More Increases
On Wednesday, the Federal Reserve unanimously voted to raise interest rates for the second time in a year. At its December meeting, the central bank raised its target range from 0.25% and 0.5% to 0.5% and 0.75%. The Fed also approved an increase in the discount, or primary credit, rate, from 1% to 1.25%. It now expects three hikes in 2017 for its federal-funds target rate, two or three in 2018 and three in 2019. The longer-run target was revised upwards to 3% from 2.9%.
Read Article

ADVERTISEMENT

Amazon Makes First Drone Delivery
Online retailer Amazon announced on Wednesday that it has officially made its first customer delivery by drone. The company has been conducting private customer trials for its Prime Air program in the Cambridge, U.K. area, and is offering delivery to locations within 5.2 square miles from a nearby fulfillment center. Amazon reported that the drone took just 13 minutes from purchase to delivery.
Read Article
SPONSORED CONTENT
Boost Your December Sales Right Now
Read on for tried-and-true sales strategies and unique product ideas that will help you fulfill a flurry of holiday-themed orders before the New Year rings in.
The Joe Show: Products For Bullseye Promos
In this episode of The Joe Show, Product Editor Joe Haley has on hand a Bluetooth speaker with lights that sync to music, an elegant piano-wood desk clock and a comfort-grip stylus pen with a striking illuminated logo that's sure to light up sales.
TOP
Obituary: Barry Dobb
Barry Dobb, formerly of DinoMar and Z Marketing Group (asi/98900), passed away on Dec. 7. He was 69.
Born in England, Barry started his entrepreneurial career at his father-in-law's candy apple business. In the 1980s, he relocated to the U.S. and accepted a sales position with Brown & Bigelow (asi/148500). He went on to establish successful sales teams at both Brown & Bigelow and Geiger (asi/202900).

TOP
ADVERTISEMENT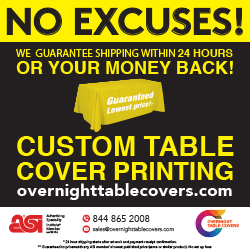 Fitbit Purchases Smartwatch Maker Pebble
Fitbit has purchased floundering smartwatch maker Pebble for less than $40 million, according to news reports. With the purchase, Fitbit was able to hire key employees from Pebble, but declined to take on Pebble's hardware or debts. Pebble announced in an email that it was "no longer able to operate as an independent entity" and had "made the tough decision to shut down the company and no longer manufacture Pebble devices."
The acquisition highlights the findings in a recent report from market intelligence firm International Data Corp. (IDC), which noted a steep drop in the smartwatch market this quarter. Basic wearables, which includes fitness bands, however, saw double-digit growth, according to IDC, helping to boost the overall wearable tech market by 3.1% year-over-year for the third quarter of 2016. "It's still early days, but we're already seeing a notable shift in the market," said Jitesh Ubrani, senior research analyst for IDC. "Where smartwatches were once expected to take the lead, basic wearables now reign supreme."

TOP
Pantone Returns to Nature for 2017 Color of Year
2017 is going to be a time of renewal. At least, that's what Pantone is forecasting. Next year's color of the year is the vibrant Greenery, a leafy hue that signals rejuvenation and revitalization. "Greenery bursts forth in 2017 to provide us with the reassurance we yearn for amid a tumultuous social and political environment," says Leatrice Eiseman, executive director of the Pantone Color Institute. "Greenery symbolizes the reconnection we seek with nature, one another and a larger purpose." That's a decidedly big job for one simple shade to pull off, but promotional product suppliers agree that the verdant hue will have a starring role in the year to come.
It's the perfect choice for a fresh start, says Lea Robinson, vice president of sales at Staton Corporate & Casual (asi/89380). "The color green represents new beginnings, promise and a fresh look," she adds. "This color is sure to bring some calm and some well-deserved luck."

TOP
Marketers Struggle with Measuring Digital ROI
Despite the increasing investment in digital advertising, a new study suggests that many marketers are frustrated by their online efforts and inability to determine ROI.
In a survey of 198 senior marketers, IBM and the CMO Council found that 38% feel digital strategies have mixed results and only 7% said they exceeded expectations. About 43% said that the shift to digital experiences has revealed cracks in their systems.
Marketers "went whole-hog into that digital ecosystem, and we bought into this idea that yes, we need to be omni-channel," said Liz Miller, senior vice president at the CMO Council. "We really did think that this was where the payoff was going to come. To now realize that really isn't happening, it's quite frustrating."

TOP
People on the Move
commonsku welcomes Bobby Lehew as chief content officer. A 25-year industry veteran, Lehew was previously with Robyn Promotions (asi/309656).
Outstanding Branding (asi/288519​) welcomes Rob Watson as global chief marketing officer. Watson previously served as senior vice president of marketing and user experience at ASI.
Click here to see all of this month's industry personnel announcements.

TOP

PCNA Now Directly Connected to ESP
Polyconcept North America (PCNA) is now directly connected to ASI's ESP®, giving distributors real-time inventory available and the ability to send POs directly to PCNA from ESP.
Find out more.

S&S Activewear Integrated With ESP
In a first for the promo products industry, distributors searching for S&S products in ESP® can now select the warehouse from which orders are shipped.
Find out more.
TOP

THE ASI SHOW
SUN, FUN & SALES AT ASI SHOW ORLANDO, JANUARY 18-20, 2017
Plan the perfect winter getaway to ASI Show® Orlando, where you can source promotional products for your clients and network with industry colleagues while soaking in Florida's warm January weather. Even better, as a benefit of your ASI membership, you can attend education on January 18 and exhibits on January 19-20 for FREE when you register with promo code PROMOGRAM.
Meet with top suppliers who will launch new products and fresh ideas to start your sales year off right
Take advantage of ALL NEW education – including NEW courses, tracks and speakers for 2017
Network with other industry colleagues during events like the ASI Show Bash (formerly known as the Gala Celebration) at Universal Orlando™
And make the most of your time in Orlando by taking advantage of our exclusive attendee discounts on car rentals, train tickets, shuttle fares and Disney! For more information on ASI Show Orlando, visit www.asishow.com, or call a registration specialist at (800) 546-3300.
Follow ASI Show on Twitter and Instagram, and like us on Facebook.