NEWS STORIES


EmbroidMe Names New President
A spokesperson for United Franchise Group has confirmed to Counselor that Joseph Loch has been named as the new president of Top 40 distributor EmbroidMe (asi/384000). Loch was previously an executive at Hickory Farms, Inc., and has also worked for Office Max and business products cooperative Independent Stationers.
Read Article




Ennis Releases Q2 Sales Figures
Top 40 supplier Ennis (asi/52493) announced it reached $91.2 million in net sales for the fiscal second quarter of 2016 that ended August 31 – a decrease of 9.3% compared to $100.5 million in the same quarter last year. For the first six-month period of fiscal 2016, the company reached $181.7 million in net sales compared to $197.2 million for the same period last year, a decrease of 7.9%.
Read Article




Snapchat Changes Name, Reveals Smart Glasses
Popular social media messaging app Snapchat is ready to pick up where the failed Google Glass left off. The company has changed its name to Snap and also announced the launch of Spectacles, candy-colored connected sunglasses that let wearers record short videos from their own perspective and post them to Snapchat.
READ ARTICLE




The Joe Show: Cut Through The Promotional Clutter
In this episode of The Joe Show, Product Editor Joe Haley presents a reflection band for your rearview mirror that warns "don't text and drive." In addition, he shows off eye-catching mugs in a variety of "color of the year" choices, boxing glove keychains and more.




ADVERTISEMENT


ADVERTISEMENT

TOP
ADVERTISEMENT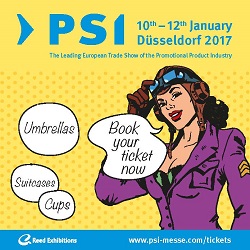 Distributors' Parent Company Files for Bankruptcy
Delivery Agent Inc., which helps sports and entertainment operations sell products online, filed for Chapter 11 bankruptcy-court protection last week. The San Francisco-based company has multiple industry affiliates: MusicToday (asi/278627), a music merchandise company and pioneer in the direct-to-fan business model; Clean Fun Promotional Marketing (asi/162979); and TV-commerce platform Shop the Shows, LLC.


TOP
UPS Begins Delivery Drone Testing
UPS has joined the race to get delivery drones off the ground. The company last week began testing drones for commercial deliveries to remote locations. Partnering with robot-maker CyPhy Works, UPS launched a drone from the seaside town of Marblehead, MA, that flew on a programmed route for three miles over the Atlantic Ocean and successfully delivered an inhaler to Children's Island.

TOP
Take the Wearables 30-Day Challenge
Wearables, the industry's leading magazine dedicated to the decorated-apparel market, is holding two 30-day challenges for ASI readers.
The Sales Challenge was compiled with the expert help of David Blaise, Lisa Peskin, Scott Edinger, Dave Mattson and Kristine Shreve. Use the checklist below to take the challenge, and share your progress on social media using the hashtag #30DaysOfSales.
Click here for the Wearables 30-Day Sales Challenge checklist.
The Shop-Streamlining Challenge was compiled with the expert help of Glen Carliss, Marshall Atkinson, Terry Combs and Rob Dubow. Use the checklist below to take the challenge, and share your progress on social media using the hashtag #30DaysOfStreamlining.
Click here for the Wearables 30-Day Shop Challenge checklist.
Email your results to Senior Editor Theresa Hegel at thegel@asicentral.com for possible inclusion in an upcoming issue of the magazine.

TOP
In the News
Towel Specialties (asi/91605) has launched its new Cobblestone Mills division, featuring high-impact and luxurious blankets, as well as Turkish robes. The line will feature an assortment of blankets and decorating techniques that include traditional embroidery as well as screen printing and multicolor edge-to-edge Colorfusion, which creates "larger than life" graphics for the customer. The company also offers a new sherpa blanket and several specialty blankets. Cobblestone Mills will have the same industry identifiers and contact information as Towel Specialties and will be carried by all of the Towel Specialties multi-line sales reps. For more information, visit cobblestonemills.com.

TOP
People on the Move
Brian Starke, cofounder of Bravo Awards (asi/41638), has retired after a 20-year career in the promotional product industry. Cofounder Greg Livings is now the company's principal owner and CEO. "Bravo will continue to operate and deliver as it has since the beginning, with the innovative creativity, concierge-level customer service, competitive pricing and superior delivery efficiencies our clients have come to expect," said Livings.
Click here to see all of this month's industry personnel announcements.
TOP

ESP® CRM And Orders Rolling Out
Latest features help distributors save time, create faster and more accurate orders and organize customer info, all in ESP.
Find out more.

Distributors Get Instant Access
The Magnet Group and Hit Promotional Products are now fully integrated with ESP®, giving distributors instant access to product inventory and the most updated pricing from the integrated suppliers.
Find out more.
TOP

THE ASI SHOW
ASI SHOW DALLAS EDUCATION NOW AVAILABLE
Did you know as an ASI member benefit, you can attend ASI Show® Dallas, February 1-3, for FREE?! The full course schedule for Education Day (which you can also attend for FREE as a member benefit) is now live, and you have to check out everything that's NEW in 2017:
ALL NEW COURSES – 30 to choose from – for every level of industry experience and interest.
90 MINUTE WORKSHOPS have been added to the end of selected tracks as an interactive way to tie all the track's courses together.
NEW SPEAKERS and returning veteran speakers offer their expertise.
ALL NEW TRACKS, including Business Management and Corporate Gifts & Incentives.

Register now for free using promo code promogram. No pre-registration is required for classes. Simply view the schedule, plan the courses you want to attend and we'll see you in the classroom! If you need help registering or have any questions regarding education or the full show schedule, give us a call at (800) 546-3300.

Follow ASI Show on Twitter and Instagram, and like us on Facebook.