NEWS STORIES


Small Business Job Growth Shows Slight Increase
Job growth at small businesses in the U.S. crept up slightly in August, according to the Paychex | IHS Small Business Jobs Index. The index's national reading rose to 100.7, a 0.02% from July and a year-over-year increase of 0.22%.
Read Article




Companies Offering More Benefits to Interns
Interns may be getting more than just experience as a new study shows that more companies are offering benefits packages to attract permanent workers. The National Association of Colleges and Employers (NACE) has released a survey that shows a significant increase in interns being offered benefits over the past decade.
Read Article




Twitter Opens Video Advertising to All Users
In an effort to attract more content creators and compete with video-heavy platforms such as YouTube and Facebook, Twitter has announced that it will now offer a percentage of ad revenue to all U.S.-based individuals who post original videos through Twitter Amplify. Previously, the platform allowed only approved creators, such as large media companies and consumer brands, to post videos and receive a portion of the resulting ad revenue.
READ ARTICLE




The Joe Show: New Products to Love
In this episode of The Joe Show, Product Editor Joe Haley has a number of fun new products on tap, including a customizable wine and cheese set, a reusable container with a high-definition imprint and a citrus squeezer that's ideal for bars and restaurants.




ADVERTISEMENT


ADVERTISEMENT

TOP
Shippam & Associates Acquires Summit Promotions
Winnipeg, MB-based Shippam & Associates (asi/325850) has acquired Summit Promotions in Brandon, MB. Financial details of the agreement were not disclosed.
"We are very excited to be a part of this great company," said Summit Promotions owner Darrel Vodden, who established the company 25 years ago and has agreed to work with Shippam for a minimum of six months to facilitate the transition. "We believe the efforts of our combined teams will bring added value and greater opportunity to our business partners. I really wanted to find a buyer that had a similar business philosophy to ours. I was confident that our customers and employees would only benefit more because of the added value Shippam brought to the table. Our customers can now expect a better range of products and continued product quality and service that is above industry standards."

TOP
ADVERTISEMENT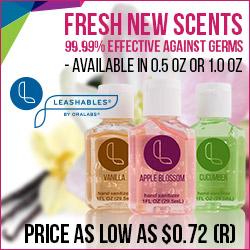 Fitbit Did Not Steal Trade Secrets, Judge Rules
Wearable tech giant Fitbit came out on top in the latest round of legal wrangling with rival Jawbone. A U.S. International Trade Commission (ITC) judge ruled that Fitbit did not steal trade secrets from Jawbone.
Last year, Jawbone accused Fitbit of infringing on patents and stealing employees with key knowledge, in an attempt to ban the import of Fitbit products into the U.S. Two of the six patents Fitbit was accused of stealing were later withdrawn, and the other four were invalidated by a judge earlier this year. So, ITC Judge Dee Lord considered only questions of corporate espionage and employee poaching when he determined that Fitbit had not violated the Tariff Act, which gives the commission the power to block products that infringe on U.S. intellectual property.

TOP
ADVERTISEMENT

Fruit of the Loom Donates Apparel to Flood Victims
Fruit of the Loom (asi/84257) has donated over 55,000 packages of T-shirts, shorts and underwear to the Salvation Army in Louisiana for distribution to victims of the recent flooding in the Baton Rouge area. The donation is valued at an estimated $100,000.
"In times of adversity, we recognize the need to step in and help our neighbors as they recover from one of the worst floods our nation has seen in years," said Rick Medlin, president and CEO of Fruit of the Loom, in a statement. "While there is so much loss, we only hope that our donation can provide some relief as these victims overcome such tragedy. Our hearts go out to all of those suffering from this disaster."

TOP
Call for Nominations: Supplier Sales Rep/Supplier CSR of the Year
Supplier Global Resource, the industry's only magazine dedicated to ad specialty suppliers, is holding its 7th annual Supplier Sales Rep of the Year contest to recognize outstanding performance, exemplary service and top-notch professionalism. In addition, the magazine will recognize the best supplier customer service rep – a person who continually goes over and above for his or her distributor clients.

Distributors, do you work with a supplier customer service rep who makes your job infinitely easier, faster and more streamlined? Do you have a supplier sales partner who always puts you and your customers' needs first and has a "do whatever it takes" attitude to make you shine? If you know the perfect contenders for both awards, email the nominees' names and details regarding what makes her or him award-worthy to Michele Bell (mbell@asicentral.com), editor of Supplier Global Resource, by Friday, September 9.

TOP
In the News
Bullet (asi/42424) has announced its August product launch with more than 70 new products, including value-priced offerings in bags, mobile tech and drinkware, as well as the introduction of its plush line. For more information, visit www.pcna.com/Bullet.
Leed's (asi/66887) is releasing more than 80 new products as part of its August product launch, including offerings in the bags, mobile tech, drinkware and gift categories. New brands include Bullware, Picnic Time, EVERLAST and ANKR. For more information, visit www.pcna.com/Leeds.

TOP
People on the Move
The Magnet Group (asi/68507) has promoted Dan Jellinek to the position of executive vice president and Aaron Gunderson to the position of senior vice president of sales for all of The Magnet Group brands, as well as Perfect Line (asi/77350) and Castelli (asi/44305). Jellinek will be responsible for all merchandising, direction and purchasing for all The Magnet Group brands.
Click here to see all of this month's industry personnel announcements.
TOP

ESP® CRM And Orders Rolling Out
Latest features help distributors save time, create faster and more accurate orders and organize customer info, all in ESP.
Find out more.

Distributors Get Instant Access
The Magnet Group and Hit Promotional Products are now fully integrated with ESP®, giving distributors instant access to product inventory and the most updated pricing from the integrated suppliers.
Find out more.
TOP

THE ASI SHOW
2017 ASI SHOW KEYNOTE SPEAKERS
The ASI Show delivers an experience you won't find anywhere else! We bring to our events high-profile Keynoters who offer valuable advice to inspire and help you grow your business. Register today and see:
Plus, as an ASI member, you get FREE general admission to the Keynote and you're able to purchase an early admission ticket so you get the best seat in the house! Or purchase a meet and greet ticket (which includes early admission seating) to get one-on-one exposure and a photo with these presenters. But, act now – availability is limited!
Register early using promo code PROMOGRAM to take advantage of special offers. For more information on the 2017 ASI Shows, visit www.asishow.com.
Follow ASI Show on Twitter and Instagram, and like us on Facebook