NEWS STORIES


Industry Companies Impacted By Louisiana Flooding
Officials in Baton Rouge, LA, and surrounding areas are currently assessing the damage wrought by recent widespread flooding. As waters slowly recede, the Red Cross says it's the worst natural disaster in the U.S. since Superstorm Sandy slammed into the East Coast in 2012. Over the weekend, the number of damaged homes reached 60,000, with over 102,000 people registering for FEMA assistance, the most in one week since Sandy.
Read Article




Express-A-Button Acquires SAMCO
Supplier firm Express-A-Button (asi/53408) announced it has acquired fellow supplier SAMCO (asi/84820). Financial terms of the deal were not released. Nashville-based SAMCO will be relocated to Express-A-Button's facilities in Dakota, MN.
Read Article




Staples Announces Double-Digit Promo Product Increase
Staples Inc., parent company of Top 40 distributor Staples Promotional Products (asi/120601), announced that overall company revenues in its fiscal second quarter declined 3.7% year-over-year to $4.75 billion. In a conference call with analysts, however, interim CEO Shira Goodman mentioned that the company's promotional product business was up by a double-digit percentage for the quarter.
READ ARTICLE




The Joe Show: Awesome New Products
In this episode of The Joe Show, Product Editor Joe Haley has a plethora of fun new products to wrap up the summer season. Check out a salt & pepper grinder set with four-color process labels, a phone amplifier, a five-piece wine gift set and a customizable award ring.




| | |
| --- | --- |
| | ADVERTISEMENT |
TOP
California to Implement State Retirement Plan
California lawmakers are set to vote on a bill this week that would enroll employees into a state-run retirement plan. The proposal would cover approximately 7.5 million state residents whose employers do not offer private retirement plans.
The state-sponsored plan would be run by the California Secure Choice Retirement Savings Investment Board, first established in 2012 and currently staffed by state officials and political appointees. The bill to be voted on this week would require all California employers with five or more employees to participate. Workers will be automatically enrolled with the option to opt out, with a default contribution amount of 3% of their salaries, unless another amount from 2% to 5% is selected by the employee. There will be no mandated employer match, however.
"The state activity is likely to lead to the biggest increase in coverage in decades," David John, senior strategic policy adviser at the AARP Public Policy Institute, told Forbes. "What we're seeing right now is a major improvement in the status quo."

TOP
ADVERTISEMENT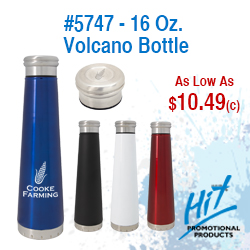 Study: Marketers Wasting Time With Themed Emails
If you're thinking of sending back-to-school emails to entice customers, a new study suggests you may be wasting your time.
While the number of brands blasting holiday-themed email campaigns grew by 13.4% in 2015, the amount of those emails that were actually opened decreased by 5%, according to Yes Lifecycle Marketing. The agency tracked the year-over-year performance of email marketing campaigns for 30 major brands such as Amazon and Target in both Q3 and Q4 of 2014 and 2015. While open rates for Q3 2015 were higher year-over-year, they decreased by 13% moving into Q4, coinciding with a 29% boost in send volume during the same period.

TOP
9 Standout Promos For Live Events
The live events market is flourishing. Pitch these products for weddings, concerts, game nights, and Oktoberfest celebrations – to name just a few.

TOP
Call for Nominations: Supplier Sales Rep/Supplier CSR of the Year
Supplier Global Resource, the industry's only magazine dedicated to ad specialty suppliers, is holding its 7th annual Supplier Sales Rep of the Year contest to recognize outstanding performance, exemplary service and top-notch professionalism. In addition, the magazine will recognize the best supplier customer service rep – a person who continually goes over and above for his or her distributor clients.

Distributors, do you work with a supplier customer service rep who makes your job infinitely easier, faster and more streamlined? Do you have a supplier sales partner who always puts you and your customers' needs first and has a "do whatever it takes" attitude to make you shine? If you know the perfect contenders for both awards, email the nominees' names and details regarding what makes her or him award-worthy to Michele Bell (mbell@asicentral.com), editor of Supplier Global Resource, by Friday, September 9.

TOP
In the News
4imprint (asi/197045) awarded one by one promotional product grants to more than 200 charitable organizations in the second quarter of 2016. To see the full list of 2016 recipients, click here.
The British Promotional Merchandise Association (bpma) will be hosting Promotional Products Week starting September 12 at Whittlebury Hall Hotel and Spa, near Silverstone, England. Events include bpma Education Day on September 13, the bpma Show with 90 exhibitors on September 14 and the bpma Awards the evening of the 14th. For more information, visit www.thebpmashow.co.uk.
PromoMatting by Americo (asi/35750) has announced a new line of Direct Print matting which includes a variety of entrance, anti-fatigue, POP/display, and counter mats with a digital four-color process imprint.

TOP
People on the Move
Roland DGA (asi/18201) has appointed Andrew Oransky to the position of president. Previously, Oransky served as the company's vice president of sales and marketing, and prior to that he was director of marketing and product management.
Click here to see all of this month's industry personnel announcements.
TOP

ESP® CRM And Orders Rolling Out
Latest features help distributors save time, create faster and more accurate orders and organize customer info, all in ESP.
Find out more.

Distributors Get Instant Access
The Magnet Group and Hit Promotional Products are now fully integrated with ESP®, giving distributors instant access to product inventory and the most updated pricing from the integrated suppliers.
Find out more.