NEWS STORIES


State-by-State Breakdown of Promotional Product Sales
ASI has released exclusive data that offers a promotional snapshot of all 50 states in the U.S. How much promotional revenue does California generate? What are the most influential items in Tennessee? How much more effective do residents of Massachusetts find promotional products compared to mobile advertising? There is a wealth of insight for your home state and beyond.
Read Article




DNC Scavenger Hunt Offers Promo Prize
As the Democratic National Convention kicks off in Philadelphia this week, residents and visitors have already had the chance to participate in a city-wide scavenger hunt with a promotional product tie-in. Some winners of the "Donkeys Around Town" hunt will win custom T-shirts to commemorate their participation in the event.
Read Article




SPONSORED CONTENT
5 Powerful Steps to Winning an $18 Million Contract
Ralph Petty, owner of Petty Marketing in Cleveland, TN, didn't just strike it big, he hit the jackpot when one of the largest national health-care providers signed a three-year, $6 million annual print, promotional and e-commerce contract, worth more than $18 million.
READ ARTICLE




The Joe Show: A Plethora of New Products
In this episode of The Joe Show, Product Editor Joe Haley quenches your summer thirst with a pair of drinkware options as well as a sweet, chocolatey treat you can drink. And which presidential candidate is getting the boot through a pair of custom decorated sneakers? Joe puts his best foot forward with this latest episode.
WATCH THE JOE SHOW




TOP

Superior Uniform Group, BAMKO Grow in Q2
Superior Uniform Group, Inc. (asi/90266) announced it reached $64.7 million in net sales for the second quarter, an increase of 19.5% compared to its $54.1 million in net sales in last year's Q2. BAMKO, Inc. (asi/131431), the Los Angeles-based distributor that Superior acquired for $15.8 million in March, generated net sales of $9.8 million in the quarter, representing an increase of more than 88% versus the same period in 2015.

"The BAMKO team has now been with us for four months, and they've come out of the gate very strong," Michael Benstock, CEO of Superior Uniform Group, said in an earnings call. "Sales are on track to continue growing at a double-digit rate, and we expect the acquisition to be slightly accretive for the year excluding acquisition expenses."


TOP

CPSC Recalls Children's Water Bottles
The U.S. Consumer Products Safety Commission (CPSC) has issued an official recall for children's insulated water bottles manufactured in China and distributed exclusively by L.L.Bean. The water bottles were imported by Spokane, WA-based GSI Outdoors, Inc.

The solder at the exterior base of the bottle contains elevated levels of lead, though no incidences of lead poisoning have yet been reported.

The recall includes kids' 13.5-oz. water bottles with printed graphics in five different prints: Dino Bones, Flower Power, Orange Grid Camo, Purple Tie-Dye Butterfly and Robo Shark. A sticker with the item identification number "297684," as well as the numbers "PO#844" and "BB2D2-LLB-R45-0413," is located on the bottom of the bottle.

"Consumers should immediately stop using the recalled water bottles and contact L.L.Bean for a full refund," said the CPSC in an official statement.

About 6,700 bottles were sold by L.L.Bean for about $20 each through its retail stores, catalog and website between July 2015 and May 2016. While GSI Outdoors, Inc. is not an ASI-listed supplier, a search of ESP for "kids' water bottle" turned up 632 items from 105 suppliers.




ADVERTISEMENT

ADVERTISEMENT

TOP
ADVERTISEMENT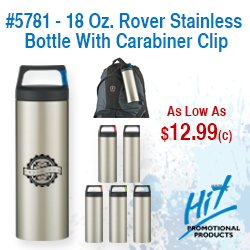 Most Important Qualities in Distributor-Supplier Relationship
From the industry's earliest days, it has relied on the symbiotic relationships between suppliers and distributors to thrive. The relationship has strengthened, changed, sped up and (most important) survived. It has evolved at its own pace.
So, too, has the consumer world, but at a faster, breakneck pace. Consumers have come to expect immediate, transparent service from companies, and swift delivery of goods – sometimes the same day. The "I needed it yesterday" mindset is putting undeniable pressure on the supplier-distributor relationship.

"The whole world is shifting," says Larry Cohen, CEO of Top 40 distributor Axis Promotions (asi/128263). "Uber has changed how we hire rides, Airbnb how we travel, Amazon how we shop at retail. The world's gotten faster, and now there's immediacy to everything. Suppliers and distributors have to continue communicating, evolving and supporting each other. The system has worked well for a long time, and our relationships are valuable."

Of course, things can always be improved. So we asked a cadre of veteran distributors: what are the most important qualities in the distributor-supplier relationship?

TOP
In the News
Activate! Promotions + Marketing (asi/141964) has officially changed its name to BrandAlliance (asi/145177), a result of a merger between the two organizations executed on June 30, 2015. In the coming months, BrandAlliance will be issuing new brand standards and revamping its website.

Atlantic Coast Cotton (asi/37355) has completed its warehouse renovations, adding mezzanines, new product rows, automatic conveyors, higher racks and a mechanical pick module to its facility.

TOP
People on the Move
Cotton Heritage (asi/46778) welcomes Ray Hughes as senior vice president and Ken White as vice president of sales.
Image Outfitters (asi/230088) has hired Dawn Archbold as its first goodwill ambassador; her job is to grow the company's charitable donation program, iShare.

Click here to see all of this month's industry personnel announcements.

TOP

ESP® CRM And Orders Rolling Out
Latest features help distributors save time, create faster and more accurate orders and organize customer info, all in ESP.
Find out more.

Distributors Get Instant Access
The Magnet Group and Hit Promotional Products are now fully integrated with ESP®, giving distributors instant access to product inventory and the most updated pricing from the integrated suppliers.
Find out more.
TOP

THE ASI SHOW
DATES AND VENUES ANNOUNCED FOR THE 2017 ASI SHOWS
Registration for the 2017 ASI Shows opens this month! Start planning now to join us in one – or more – of these exciting locations:
Orlando • January 18-20 • Orange County Convention Center
Dallas • February 1-3 • Kay Bailey Hutchison Convention Center
Chicago • July 11-13 • McCormick Place
At ASI Show, our business is helping your business grow! Allowing for meaningful conversations, ASI Show is much more than "scan-and-go" – you'll have the opportunity to expand your industry relationships, learn the latest trends and discuss your sales goals and clients' needs face to face with leading suppliers. Also, as an ASI member, you can take advantage of cost-savings opportunities such as FREE education, FREE admission to each day of the show, FREE keynotes, a hotel room reimbursement and more!
For more information on the 2017 ASI Shows, visit www.asishow.com or call one of our registration specialists at (800) 546-3300.
Follow ASI Show on Twitter and Instagram, and like us on Facebook.





This message/promotion was sent by Advertising Specialty Institute, Inc., 4800 Street Road, Trevose, PA 19053
For questions/inquiries please contact our Customer Service Team at CustomerService@asicentral.com.
To unsubscribe from all of our mailings, click here or send an email to our Customer Service Team CustomerService@asicentral.com
with the Email Address in the subject line. To unsubscribe from the Counselor PromoGram e-Newsletter email list only, click here