NEWS STORIES


Distributor Sales Rebound In Q2
Distributors increased their sales in the second quarter of 2016 by 3.2%, according to new data from ASI. The increase is up from 1.4% in the first quarter of this year, and slightly higher than the 3.1% reported in the second quarter of 2015.
Read Article




Merch Vendors Converge on Cleveland for RNC
A few weeks after selling Cavaliers championship merchandise, Steffen James found himself back in downtown Cleveland for another ad specialty opportunity: the 2016 Republican National Convention. Setting up shop on Thursday, July 14 (in time for the Convention's official start on Monday the 18th), the St. Louis native had shirts, pins and very popular Donald Trump bobbleheads available. "I've probably seen 1,000 pictures taken of this thing," James said.
Read Article




SPONSORED CONTENT
Wake Up To Online Sellers
If you haven't woken up to the prospect of your clients being lured away by online sellers, it's time. Vendors such as Vistaprint and CustomInk have the e-commerce platform, advertising, pricing and simplicity to reach buyers at home, school or the office. The leading competitive threat in 2015 was websites selling promotional products, according to 44% of distributors responding to Counselor's 2016 State of the Industry survey. Here are five ways to successfully compete again online sellers.
READ ARTICLE




The Joe Show: Light Up Promos With These New Products
In this episode of The Joe Show, Product Editor Joe Haley has a variety of products that are sure to ignite sales, including a stainless-steel tumbler, hot/cold pack filled with colorful gel beads and sticky notes printed on heavy card stock with a four-color print.




TOP

Cintas Reports Q4 Growth
Top 40 distributor Cintas (asi/162167) this week reported strong fourth-quarter and fiscal year 2016 growth. Revenue for the fiscal year, which ended May 31, was $4.9 billion, a jump of 9.6% compared to the previous fiscal year. Quarterly revenue grew to $1.27 billion, an 11.3% increase over the prior year period.

The Cincinnati-based uniform provider attributes its growth in Q4 in part to its first national branding campaign, which included the tagline Ready for the Workday. "This new tagline communicates the value we provide our customers by addressing their business needs with our broad range of products and services," CEO Scott D. Farmer said in a press release. "Our fourth-quarter results are a reflection of the success of our employees, whom we call partners, in being ready for our customers."

TOP

Designer Creates Ghostbusters Set With Single Printer
The hotly anticipated remake of the 1980s pop culture classic Ghostbusters was released on July 15, complete with troublesome ghouls, a new Ectomobile and (this time) an all-female lead team made up of comedic heavy-hitters Melissa McCarthy, Kristen Wiig, Kate McKinnon and Leslie Jones.

To make the set as realistic as possible, producers turned to graphic designer Martin Charles, a veteran of film and television set design who regularly uses wide-format printer/cutters from Roland DGA (asi/18201) for his work. To date, he has worked on set design for more than 50 feature films and TV shows.

Charles, founder of SagaBoy Productions in Santa Monica, CA, used Roland's SOLJET Pro 4 XR-640 wide-format printer/cutter and Eco-Sol MAX 2 inks to print a myriad of set elements for the newest Ghostbusters, from large building walls in Times Square and haunted mansions to surface textures, street signs, billboards and small bottle labels.



ADVERTISEMENT


ADVERTISEMENT

ADVERTISEMENT

TOP
ADVERTISEMENT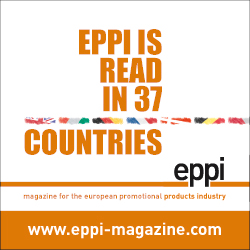 Study: $90 Billion Spent Annually on Non-Cash Incentives
A new survey by the Incentive Federation has found that 84% of businesses in the United States participate annually in non-cash incentives like award points, gift cards, travel and merchandise, spending a total of $90 billion. The Incentive Marketplace Estimate Research Study found that the non-cash incentives sector increased by 17% in three years, since the last market estimate report in 2013.
"This study reaffirms that the use of non-cash incentives has been and continues to be an important part of many businesses' growth strategy," said Melissa Van Dyke, co-chair of the Incentive Federation and president of The Incentive Research Foundation. "The growth in the use of non-cash incentives is an important signal that U.S. businesses value tangible incentives over simply using cash to recognize performance and loyalty."

TOP
Join in With #MyFavoritePen
In anticipation of Counselor's upcoming writing instruments issue, we are hailing the power of the pen with a week of social media activities. Follow #MyFavoritePen on Twitter, Facebook and Instagram this week to see ASI staffers and other pen recipients demonstrate the unmatched versatility and mobility of this top promo product.
We also want you to join us. This week, use the #MyFavoritePen hashtag to share photos and selfies of you and your favorite branded pen. Show us the fun, unusual and even extreme environments where your pen gets used. Be sure to see the results and other compelling writing instrument sales strategies in the September issue of Counselor.

TOP
In the News
Imprint Plus (asi/62483) announces that President Kristin MacMillan is a winner of the Profiles in Diversity Journal's 15th Annual Women Worth Watching Awards.

TOP
People on the Move
Bensussen Deutsch & Associates (asi/137616) is expanding its entertainment division with the appointment of Jeff Kern as national account director, who will oversee the division out of the company's Los Angeles-based corporate office. In addition, BDA welcomes entertainment marketing veterans Kory Kugler and Anita Sebetic, who will report directly to Kern.
Click here to see all of this month's industry personnel announcements.

TOP

ESP® CRM And Orders Rolling Out
Latest features help distributors save time, create faster and more accurate orders and organize customer info, all in ESP.
Find out more.

Integrated Connections in ESP
ESP® will soon become the industry's first e-commerce-enabled platform, giving distributors near real-time product, inventory, pricing and order status updates from integrated suppliers.
Find out more.
TOP

THE ASI SHOW
FIND CLIENT SOLUTIONS AT THE ASI ROADSHOW
The ASI Roadshow is the best way to source the hottest products from top suppliers without spending too much time out of the office. Earn five points toward your BASI/MASI Certification just for attending!
Register for the cities of your choice:
| | | |
| --- | --- | --- |
| Week | Date | Location |
| | August 29-September 2 | Boston, Long Island, Newark, Philadelphia, Baltimore |
| | September 12-15 | Orlando, Tampa, Sarasota, Ft. Lauderdale |
| | September 26-29 | San Antonio, Houston, Baton Rouge, New Orleans |
As an added member bonus, distributors can escort their clients on the show floor. To protect your clients' information, they will be given a generic badge and yellow lanyard that will say "Escorted End-Buyer" with no other information. This will ensure suppliers know who they are speaking with and other distributors won't see any of their information.
Visit www.asiroadshow.com to register for free using promo code PROMOGRAM.
Follow us on Twitter and Instagram, like us on Facebook and remember to use #ASIRoadshow when you post!





This message/promotion was sent by Advertising Specialty Institute, Inc., 4800 Street Road, Trevose, PA 19053
For questions/inquiries please contact our Customer Service Team at CustomerService@asicentral.com.
To unsubscribe from all of our mailings, click here or send an email to our Customer Service Team CustomerService@asicentral.com
with the Email Address in the subject line. To unsubscribe from the Counselor PromoGram e-Newsletter email list only, click here