NEWS STORIES


Investment Group Agrees to Acquire Polyconcept
As first reported in a Counselor Breaking News Alert, Polyconcept, parent company of Top 40 supplier Polyconcept North America, will be acquired by an investment group led by private equity firm Charlesbank Capital Partners. Reuters and Counselor reported in May that Investcorp, Polyconcept's current owner, was exploring an auction sale of its holdings in the supplier.
Read Article




Republican National Convention Full of Unique Promos
The Republican Party has taken over downtown Cleveland, as politicians, delegates, protesters and members of the media gathered for the first day of the 2016 Republican National Convention. Among the partisan fervor and famous faces were vendors squeezed against security fences, offering an assortment of patriotic, hilarious and borderline malicious promotional products.
Read Article




SPONSORED CONTENT
5 Powerful Steps to Winning an $18 Million Contract
Ralph Petty, owner of Petty Marketing in Cleveland, TN, didn't just strike it big, he hit the jackpot when one of the largest national health-care providers signed a three-year, $6 million annual print, promotional and e-commerce contract, worth more than $18 million.
READ ARTICLE




The Joe Show: Dealing Out New Promo Items
In this episode of The Joe Show, Product Editor Joe Haley takes a gamble on a sleek custom deck of playing cards. He also shows off a high-value wooden salad serving bowl and a branded bottle of extra virgin olive oil (to dress the greens, of course). And what exactly is hair chalk? Find out all that and more in this latest episode.
WATCH THE JOE SHOW




TOP

How to Improve Your Instagram Account
Sue B. Zimmerman is a serial entrepreneur who started her first million-dollar business, the licensed clothing brand Boxer Rebellion, at the age of 22. Driven to mentor and empower entrepreneurs, she had already begun teaching others about social media when she discovered Instagram through her twin daughters. "They said, 'Mom, we're on Instagram, don't get on it because then you're going to start teaching it.' With the eyes rolling and the whole nine yards," Zimmerman said. "I took the challenge, I got on Instagram and I fell in love with it."

After using Instagram to drive up sales at her Cape Cod boutique by 40%, Zimmerman has become a widely-recognized Instagram expert (it's right there in her username, @theinstagramexpert and instructor with over 35,000 followers on the social media platform and a free strategy guide for businesses. Here, she shares seven top tips for businesses on Instagram.

TOP

ADVERTISEMENT


Join In With #MyFavoritePen
In anticipation of Counselor's upcoming writing instruments issue, we are hailing the power of the pen with a week of social media activities. Follow #MyFavoritePen on Twitter, Facebook and Instagram to see ASI staffers and other pen recipients demonstrate the unmatched versatility and mobility of this top promo product. They'll be using custom printed pens, provided by ALL-IN-ONE (asi/34256).

We also want you to join us. During the week of July 18-22, use the #MyFavoritePen hashtag to share photos and selfies of you and your favorite branded pen. Show us the fun, unusual and even extreme environments where your pen gets used.

Be sure to see the results and other compelling writing instrument sales strategies in the September issue of Counselor.




ADVERTISEMENT

ADVERTISEMENT

TOP
The ASI Show Chicago Recap
ASI's last major show of the year, The ASI Show Chicago, held plenty of highlights for exhibitors and attendees – and ASICentral.com was on the scene to capture it all. Political power couple James Carville and Mary Matalin held a lively debate about the election; Counselor revealed its Person of the Year and Top 40 lists; and ASI Product Editor Joe Haley found the coolest products from the show floor. If you missed any of the action, check out our complete coverage.

TOP
ADVERTISEMENT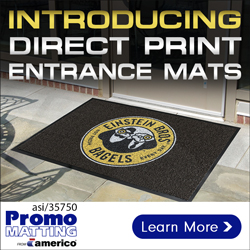 In the News
Prime Line (asi/79530) has released the summer edition of its quarterly trends report entitled #WhatsTrendingNow, which includes information on the education, awareness and football sectors, as well as a blog called "What Inspires You?" View the report here.
Royal Apparel (asi/83731) has expanded its collection of Made-in-the-USA children's apparel, including a new triblend collection for infants, toddlers and kids. To see the new collection, click here.
Top Brands (asi/91455) continues its re-branding strategy with a new corporate logo, redesigned website, new strategic brand partnerships and more. For more information, visit www.top-brands.com.

TOP
People on the Move
Click here to see all of this month's industry personnel announcements.

TOP

ESP® CRM And Orders Rolling Out
Latest features help distributors save time, create faster and more accurate orders and organize customer info, all in ESP.
Find out more.

Integrated Connections in ESP
ESP® will soon become the industry's first e-commerce-enabled platform, giving distributors near real-time product, inventory, pricing and order status updates from integrated suppliers.
Find out more.
TOP

THE ASI SHOW
ADVERTISEMENT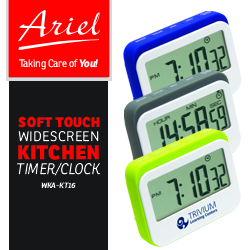 The 2017 ASI Shows. Creating Connections. Inspiring Creativity.
We're already planning for the 2017 ASI Shows, and you need to be a part of it! Join us in one – or more – of these exciting locations:
Orlando • January 18-20 • Orange County Convention Center
Dallas • February 1-3 • Kay Bailey Hutchison Convention Center
Chicago • July 11-13 • McCormick Place
At ASI Show, our business is helping your business grow! Allowing for meaningful conversations, ASI Show is much more than "scan-and-go," you'll have the opportunity to expand your industry relationships, learn the latest trends and discuss your sales goals and clients' needs face to face with leading suppliers. Also, as an ASI member you can take advantage of cost-savings opportunities such as FREE education, FREE admission to each day of the show, FREE Keynotes, a hotel room reimbursement and more! 
Registration opens this month! For more information on the 2017 ASI Shows, visit www.asishow.com or call one of our registration specialists at 800-546-3300.
Follow ASI Show on Twitter and Instagram, and like us on Facebook.





This message/promotion was sent by Advertising Specialty Institute, Inc., 4800 Street Road, Trevose, PA 19053
For questions/inquiries please contact our Customer Service Team at CustomerService@asicentral.com.
To unsubscribe from all of our mailings, click here or send an email to our Customer Service Team CustomerService@asicentral.com
with the Email Address in the subject line. To unsubscribe from the Counselor PromoGram e-Newsletter email list only, click here