NEWS STORIES


National Pen Company Names New CEO
Top 40 distributor National Pen Company (asi/281040) has named Peter Kelly as the company's new CEO. Dave Thompson, the former CEO, will retain his role as board chairman. Kelly joined National Pen in 2006 and has served as senior vice president and managing director of National Pen's European operations, during which the company's European business tripled revenue and quadrupled profits.
Read Article




St Regis Group Merges with K&R New York
The St Regis Group of Companies has agreed to merge with K&R New York (asi/63770). Financial terms of the deal were not disclosed. The deal also includes supplier Promobilia (asi/79902), which K&R acquired in 2013.
Read Article




SnugZ/USA Wins Counselor's Video Contest
After a heated back-and-forth battle for the top spot, SnugZ/USA Inc. (asi/88060) has won the inaugural Best Marketing Video contest as part of Counselor's upcoming Promotional Campaign Awards. The Utah supplier's "Zip-it (Next Day Ship)" video ran neck-and-neck with Outstanding Branding's (asi/288519) "We Will Rock You," ultimately winning the vote 49% to 45.4%.
READ ARTICLE




The Joe Show: Cool New Products
In this episode of The Joe Show, Product Editor Joe Haley plays it cool for summer with a bevy of unique products. There's a unique USB bin that offers storage and three additional charging ports. There's a cooling neck bandanna that will keep festivalgoers and landscapers comfortable during the heat. And what item is Joe using to do his best Jaws impression? Find out that and more in his latest video.
WATCH THE JOE SHOW

TOP

Microsoft Acquires LinkedIn for Massive Sum
Microsoft has reached a deal to acquire social media platform LinkedIn for $26.2 billion. The acquisition was unanimously approved by both companies' boards, and the deal is expected to close by the end of the year. The acquisition is still subject to approval by LinkedIn shareholders and regulators.

Jeff Weiner will stay on as CEO of LinkedIn and will report to Microsoft CEO Satya Nadella. "It didn't take long before the two of us realized we had virtually identical mission statements," Weiner said in an email to LinkedIn employees that was also published online. "For LinkedIn, it was to connect the world's professionals to make them more productive and successful, and for Microsoft it was to empower every individual and organization in the world to achieve more. Essentially, we're both trying to do the same thing but coming at it from two different places: For LinkedIn, it's the professional network, and for Microsoft, the professional cloud."

READ ARTICLE




TOP

Survey: Most Office Workers Logging Extra Hours
Seventy percent of American office workers and managers are laboring for more than 40 hours per week and suffering from burnout. That's one of the key findings of the just-released 2016 Staples Business Advantage Workplace Index, which also revealed that nearly half of workers say that feeling overworked is motivating them to look for a new job.

Even so, the survey says, employers can take proactive steps to create a productive workplace culture that is healthy and reduces employee stress
ADVERTISEMENT

ADVERTISEMENT

TOP
ADVERTISEMENT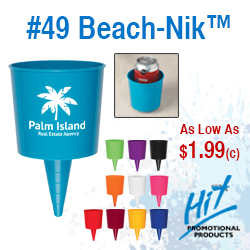 WEE Draws Industry's Top Women for Strategy, Team Building
Now in its seventh year, PPPC's Women's Empowerment Event (WEE), was held from May 27-29 at the Oakwood Resort in Grand Bend, Ontario. Spearheaded by PPPC's Chantal Fontaine and successfully executed by Mara Welch, PPPC's events coordinator, Canadian women in the promotional products industry and based throughout Canada gathered for three days of inspiring education sessions, valuable networking and team-building exercises, and problem solving designed to be mutually beneficial for everyone in attendance.
"WEE has become a completely safe space for women in the industry," said Jennifer Carver, field sales manager for Polyconcept North America. "A place where all barriers disappear and we become not suppliers, distributors and/or competitors, but simply women in business with wisdom to be shared freely."

TOP
Rate the Counselor Power 50
Counselor is now compiling its Power 50 list for 2016 – our recognition of the industry's most powerful individuals – and we're looking for feedback from you. Click here to see the list of last year's Power 50 and let us know whether you think the members are more or less influential today than they were a year ago. Or, if you know of someone who should be on the list but isn't, please write his or her name and company information in the space provided. Thank you for your input!
Rate now – click here.

TOP
In the News
BIC Graphic (asi/40480) has launched the PrismMax 4-color transfer method, capturing the sharpness and different shades of artwork while preserving the negative space without a sticker-like appearance.
GACO Sourcing (asi/200216) has joined Facilisgroup's community of distributors.
iClick (asi/62124) announced that Melinda Marr, regional sales manager for iClick, Midwest, is the recipient for this year's UMAPP (Upper Midwest Association of Promotional Professionals) Lifetime Achievement Award.
Maple Ridge Farms (asi/68680) packaged more than 10,000 mac & cheese meals in less than 100 minutes that could help about 60,000 people.
Prime Line (asi/79530) announced it surpassed sales of four million Rubik's branded items. To commemorate the milestone, the company released a new Rubik's video.
Victorinox Swiss Army (asi/93755) has announced that Epicurean Cutting Boards are now available to the Corporate Channel.
WinCraft (asi/361600) celebrated 55 years in Winona, MN, and the opening of its newest facility with a ribbon-cutting ceremony last Thursday.

TOP
People on the Move
CLICK HERE to see all of this month's industry personnel announcements.

TOP

ESP® Now Offers Chat
ESP Chat encourages real-time engagement and sharing between distributors and suppliers or distributors and industry peers.
Find out more.
New Supplier Data Standards Guide Released
Updating product info using ASI's new data standards guide will help supplier products appear in more relevant searches and more presentations.
Find out more.
TOP

THE ASI SHOW
THE ASI ROADSHOW IS TRAVELING TO THE NORTHEAST
The ASI Roadshow is coming to the Northeast Aug. 29-Sept. 2; click here to see the list of exhibitors who will be there. This is your chance to meet with the industry's leading suppliers in a convenient half-day schedule from 9 a.m. until 1 p.m. Plus, you'll earn 5 points toward your BASI/MASI Certification just for attending!
Register today for the city of your choice:
As an added member bonus, distributors can escort their clients on the show floor. This is the perfect opportunity to discuss projects with your suppliers and your clients. To protect your clients' information, they will be given a generic badge and yellow lanyard that will say "Escorted End-Buyer" with no other information. This will ensure suppliers know who they are speaking with and other distributors won't see any of their information.
Visit www.asiroadshow.com to register for free using promo code PROMOGRAM.
Follow ASI Show® on Twitter and Instagram, and like us on Facebook.