NEWS STORIES


Houston Promo Companies Reopen After Flooding
A state of disaster has been declared as historic flooding hit nine counties in and around the Houston area on Monday. The flooding has killed at least seven people, destroyed 1,000 homes and caused more than $5 billion in damage, CNN reported. About 123,000 homes lost power, according to CenterPoint Energy, the utility company that serves most of the Houston area.
Read Article




Colorado Ranks First In Promo Products Growth
According to exclusive ASI research, promo product sales in Colorado are increasing at a faster rate than any other state in the country, up 10% in 2015. While there are a number of economic factors in play, there's something else that's putting the state in a unique position for gains: the legalized marijuana industry.
Read Article




The Joe Show: Light Up With These New Products
In this episode of The Joe Show, Product Editor Joe Haley features products that are sure to light up sales, including a custom lamp, a mesh tote bag with a cooler bottom, a colorful journal and more.




SPONSORED CONTENT

Five Effective Strategies To Sell Corporate Programs


Here's a tutorial on how to craft integrated, multi-tiered corporate programs for your clients, and how to separate yourself from the competition by mastering this niche selling and marketing opportunity.

READ ARTICLE
ADVERTISEMENT


ADVERTISEMENT

TOP
ADVERTISEMENT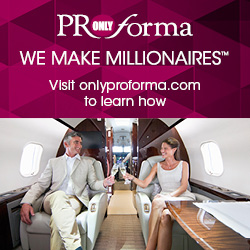 Study: Latinos Drive Small-Business Growth
A new report shows that the Latino demographic is a driving force behind the growth of small businesses in the United States. Between 2007 and 2012, the number of Latino-owned businesses grew by 47% compared to just 0.7% for non-Latino owned businesses, according to the State of Latino Entrepreneurship 2015 Report, created by the Stanford Latino Entrepreneurship Initiative (SLEI). During that same timeframe, Latino-owned businesses were responsible for 86% of all small-business growth in the U.S.
By 2012, there were 3.3 million Latino-owned businesses in the U.S. with an average of 8.6 employees per firm and an average of $155,806 in sales per firm annually, employing a total of 2.3 million workers and generating a total of $473 billion in sales.

TOP
CPSC Recalls Battery Packs
The U.S. Consumer Product Safety Commission (CPSC) has issued an official recall for portable battery packs, imported from China by Brunton Outdoor Inc., of Louisville, CO. The lithium ion polymer batteries inside the power packs may overheat and catch fire during charging. However, no injuries have yet been reported.
Brunton Outdoor, which is not an ASI-listed company, has received two reports of batteries overheating and catching fire. One incident caused $25,000 worth of property damage, while the other resulted in a garage burning down with property and smoke damage to an adjacent residence. The packs were sold at retailers nationwide, including Adorama, Austin Canoe & Kayak, Moontrail, REI, The Clymb and others, as well as online at www.amazon.com, www.backcountry.com, www.bhphotovideo.com, www.forestry-suppliers.com and www.opticsplanet.com.

TOP
Wearables Magazine Hosts Fashion Faceoff Contest
This year, Wearables, Counselor's sister publication, has partnered with Vantage Apparel (asi/93390) and Moore College of Art & Design in Philadelphia for the Fashion Faceoff, a contest that chronicles the creative process of six juniors in Moore's fashion design program. Asked to create a screen-printing or embroidery design for a Vantage blank, the students are receiving an invaluable glimpse into the world of corporate and promotional apparel.
"I've learned how to have a relationship with a company in order to send in and file my work and vector my designs," says Lucy Sanchez, an international student from Honduras and one of this year's contestants. "That's really important for the fashion business, interacting with a company or costumer."
READ ARTICLE

TOP
Sell Promo Products To Minor League Teams
Baseball is more than just America's pastime – it's big business. And for promotional product distributors, that means sales opportunities, especially with minor league teams.
Indeed, clubs below the big leagues are found throughout the country, often in smaller cities. To help attract fans, these teams perform a wide array of in-game promotions and marketing campaigns in their communities. Savvy distributors like Jeff Grippando and his group of salespeople at City Paper Company (asi/162267) aim to capitalize on this, providing solutions that power the teams' promotional initiatives.
To get in on the action, Grippando starts by connecting with the ball clubs' marketing departments. "We go in and have conversations with [minor league teams] about their marketing calendar," he says. "We zero-in on the events, the budget. We talk about what they did last year, and we show them new ideas that we believe will work well for them given what they're trying to achieve."
READ ARTICLE

TOP
Last Chance: Nominate Your Company For Best Places To Work
For the ninth year in a row, Counselor is setting out to identify the industry companies that employees simply love to work for. These are the distributors and suppliers that have a loyal workforce and provide a work environment employees want to go to every morning.
Do you want your company to be considered? Getting involved is easy – and it's completely free to participate. The only necessary qualification is that a company has at least 10 employees.
To nominate your company, or any others in the market that you think deserve to be recognized, simply click here. Also, there's no risk to participate. Only the honorees – those companies with the best scores from the survey – will be published in Counselor.
So don't delay. Click here to register your company to be considered for one of the most exclusive lists in the promotional products market: Counselor's Best Places To Work.
Nominations close tomorrow, Friday, April 22.

TOP
In The News
Boost Technologies, parent company of Shumsky (asi/326300), has been recently ranked as one of the Top 50 Fastest Growing Women Led Businesses.
DRI DUCK Traders (asi/82588) announced that a spring assortment is now available in Field and Stream stores.
Emperor (asi/52371) and SmartDrive have announced that SmartDrive technology is now available on all of its USB flash drives.
Games People Play, Inc. (asi/91079) has introduced a new game called Prize Pinball.
KB Graphics has joined Facilisgroup's community of distributors.

TOP
People On The Move
Fruit of the Loom (asi/84257) and JERZEES (asi/40650) welcome Samantha Kates as senior national account manager.
The Legacy Group has appointed Jolie Porter as managing director after 14 years of serving as the executive director of the Chesapeake Promotional Products Association (CPPA).
Click Here to see all of this month's industry personnel announcements.




ADVERTISEMENT

Do you want to sell your distributorship?

We can help you sell your distributorship quickly and easily.

Read what others are saying about The Distributor Exchange:

"You have exceeded my expectations regarding this process. Thanks for being so efficient, attentive and supportive. What else can I say . . . a dream come true!" – Barb Feyka - Capstone Promotions

All inquiries are strictly confidential.

Click here to learn more.
TOP

ASI Mags Honored
ASI magazines recently earned finalist nominations for four Jesse H. Neal National Business Journalism Awards.
Find out more.

More Business Saving Discounts
ASI announces four new money-saving member discounts from Wyndham, LifeLock, Avis and Budget.
Find out more.
TOP

THE ASI SHOW
YOUR ONLINE GUIDE TO ASI SHOW CHICAGO
Your guide to ASI Show® Chicago is ready – check it out now to see all that's NEW and EXCITING in 2016! ASI Show Chicago is the largest industry event of the summer and the last big event of the year – making it a can't-miss event!
If you haven't already, register for FREE using promo code PROMOGRAM, then use this brochure to start mapping out your time at the show.
NEW for 2016, we've launched a matchmaking system – embedded in the registration process – matching you with suppliers based on product categories of interest to you, so you can request a meeting with them on site at the show before you arrive
Attend a full day of FREE distributor education with all NEW courses, 10 NEW speakers and our NEW Incentives and Corporate Gifts track
Grow your business with approximately 600 suppliers and the new products they are debuting just in time for the holidays and the 4th quarter
Watch keynoters and political power couple, Mary Matalin and James Carville, go head-to-head on liberal vs. conservative current events
For more information on the three-day schedule, July 12-14 at McCormick Place, visit www.asishow.com, or call (800) 546-3300.
Follow ASI Show on Twitter and Instagram, and like us on Facebook.    





This message/promotion was sent by Advertising Specialty Institute, Inc., 4800 Street Road, Trevose, PA 19053
For questions/inquiries please contact our Customer Service Team at CustomerService@asicentral.com.
To unsubscribe from all of our mailings, click here or send an email to our Customer Service Team CustomerService@asicentral.com
with the Email Address in the subject line. To unsubscribe from the Counselor PromoGram e-Newsletter email list only, click here