NEWS STORIES


Cintas Releases Third-Quarter Financials
Top 40 distributor Cintas (asi/162167) reported that revenue for the third quarter of its 2016 fiscal year was $1.216 billion, an increase of 9.7% year-over-year. Organic growth, which excludes the impacts of acquisitions and exchange rate fluctuations, was 6.8%. Operating income for the third quarter was $193 million, an increase of 11.1% year-over-year, and operating income margin improved to 15.9% from 15.7% of revenue.
Read Article




Ennis Acquires Assets Of Major Business Systems
Ennis Inc. (asi/52493) announced that one of its wholly owned subsidiaries has acquired the assets of forms manufacturer Major Business Systems, based in Hillsborough, NC. The subsidiary will now operate under the Major Business Systems name, and current Major Business Systems owner Jeff Russell will continue in his position.
Read Article




American Apparel Offers On-Demand Delivery
American Apparel has partnered with logistics provider Postmates to offer on-demand delivery of select garments. Customers in the U.S. can now use the service to buy and receive more than 50 different apparel styles, all in one hour. It's now offered in 79 American Apparel retail stores nationwide and covers 31 metro areas.
Read Article




The Joe Show: Products Bursting With Promo Potential
In this episode of The Joe Show, Product Editor Joe Haley brings together a collection of exciting products, including a uniquely shaped desk caddy, a pair of Stars-and-Stripes sunglasses, a sports bottle with built-in compartment for liquid water enhancer and much more.
WATCH THE JOE SHOW
ADVERTISEMENT


ADVERTISEMENT

TOP
ADVERTISEMENT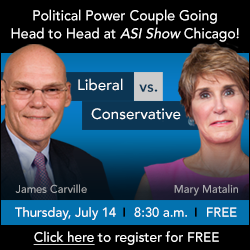 Tips For Selling Political Promo Products
Want to sell political products to campaigns? Start with trust. Trust level is most important when working with vendors, says Brendan Gill, president of BGill Group and Essex County freeholder, who has both advised and run successful re-election campaigns for the likes of U.S. Senator Cory A. Booker and U.S. Senator Frank J. Lautenberg.
"I want to know not only that you can deliver on time, and meet the orders you've promised, but also that you can pivot and make design and production changes quickly," he says.

TOP
Kraft Campaign Links Social Media And Promo Products
In a new social media marketing initiative, Kraft Heinz is giving away boxes of Kraft Mac & Cheese, T-shirts and branded macaroni-shaped pillows to people who use the hashtag #didntnotice in response to the change in Kraft Mac & Cheese's recipe.
Since December, boxes of the macaroni and cheese have contained new ingredients: artificial preservatives and dyes were swapped out for a combination of paprika, annatto and turmeric. Worried that customers would revolt regardless of the taste, Kraft simply shipped the new boxes without telling the public. Now, the company is using promotional products to highlight the seamless transition.

TOP
Obituary: Robert Whitesell
Robert "Bob" Whitesell, former COO of Norwood Promotional Products, now Norwood US (asi/74400), died on March 8 at his home in Sun City West, AZ. He was 72.
Born in Chicago, Bob attended the University of Illinois and was a member of the Illini football team that won the 1963 Rose Bowl.
Bob started in the industry in 1972 with Gillette Papermate, and relocated to New Jersey in 1979, where he was named president of New York-based Scripto/Everglide. In 1988, he became president of Radio Cap Corp. in San Antonio, and eventually became COO of the company when it became Norwood Promotional Products.
In 2004, Bob retired from the industry, but returned in 2005 to establish Windy City Products, Inc. alongside his son Scott. In 2012, Bob made his retirement official.
"Bob was the epitome of a man that 'walked softly yet carried a big stick,'" says Fran Ford, president of Castelli (asi/44305). "I was so fortunate to be involved with him in many projects over the past 25 years. He was always so kind in helping young people, including myself, to make the path for growth much easier and clearer. He will be missed dearly, but his legacy will live on for many years to come!"

Bob is survived by Dorothy Whitesell, his wife of 48 years, as well as three children, Scott, Debbie and Michael; three grandchildren, Michaela, Bella and Mason; and sisters Pat Hairrell and Betty Jane Knauth.
A memorial service will be held on Friday June 3 at St. Mary's Church in Huntley, IL, with a viewing starting at 9:00 a.m. and a ceremony at 10:00 a.m. A celebration of life will immediately follow the ceremony, at a location still to be determined.

TOP
Best Places To Work Nominations Now Open
For the ninth year in a row, Counselor is setting out to identify the industry companies that employees simply love to work for. These are the distributors and suppliers that have a loyal workforce and provide a work environment employees want to go to every morning.
Do you want your company to be considered? Getting involved is easy – and it's completely free to participate. The only necessary qualification is that a company has at least 10 employees.
To nominate your company, or any others in the market that you think deserve to be recognized, simply click here. Also, there's no risk to participate. Only the honorees – those companies with the best scores from the survey – will be published in Counselor.
So don't delay. Click here to register your company to be considered for one of the most exclusive lists in the promotional products market: Counselor's Best Places To Work.

TOP
In The News
BIC Graphic (asi/40480) has launched a campaign focused on the KOOZIE brand, in which distributors can choose their favorite new KOOZIE item and earn a sneak peek into new product launches for April. For more information, visit www.online.bicgraphic.com.
Charles River Apparel (asi/44620) was recently selected as the 2015 Humanitarian Award Recipient by the New England Promotional Products Association.
CustomInk has announced that its newest customizable product category is tech accessories. For more information, go to www.customink.com.

TOP
People On The Move
Boost Technologies, LLC, parent company to Shumsky Promotional (asi/326300) and Boost Rewards, has promoted Jill Albers to vice president of business development.
Charles River Apparel (asi/44620) welcomes Tracy Lehnen as vice president of marketing and Rich Corvalan as director of sales.
ETS Express (asi/51197) has promoted Derek Hansen to vice president of operations and Natalie Isbouts to assistant manager of customer service, while Nick Chipchase has been hired as regional sales manager for the Mid-Atlantic territory. These key roles are instrumental in the growth of the company's new production facility in Concord, NC.

Hospitality Mints, LLC (asi/61820) welcomes Pat Viancourt as president and CEO, Curt Connor as director of sales and Jenny Domin as sales manager of promotional products. 
Click Here to see all of this month's industry personnel announcements.




ADVERTISEMENT

Do you want to sell your distributorship?

We can help you sell your distributorship quickly and easily.

Read what others are saying about The Distributor Exchange:

"You have exceeded my expectations regarding this process. Thanks for being so efficient, attentive and supportive. What else can I say . . . a dream come true!" – Barb Feyka - Capstone Promotions

All inquiries are strictly confidential.

Click here to learn more.
TOP

1,512 ASI Certifications Awarded
Twenty-two industry professionals were recently certified through the ASI education certification program, a free ASI member benefit.
Find out more.
More Business Saving Discounts
ASI announces four new money-saving member discounts from Wyndham, LifeLock, Avis and Budget.
Find out more.
TOP

THE ASI SHOW
BE AT THE FOREFRONT OF WHAT'S HAPPENING IN THE INDUSTRY
Year after year, show after show, we are making improvements to ensure the best possible ASI Show experience for our members. You've considered coming in the past, but 2016 is the year to be at ASI Show® Chicago, July 12-14 at McCormick Place because we're rolling out NEW and exciting features, like:  
MATCHMAKING: During the registration process, choose the product categories that you sell, or are interested in selling, and be matched with suppliers who sell those products that you can contact through the Matchmaking system and request to meet with them during ASI Show Chicago.
EDUCATION: Attend all NEW courses and learn from 9 NEW speakers on Education Day (July 12), including a NEW Incentives and Corporate Gifts track.
KEYNOTE: Hear from our NEW keynoters, political power couple Mary Matalin (a celebrated conservative voice) and James Carville (an unbowed liberal), offering an insider's look at the political landscape and how it'll affect your business
INTERACTIVE PROGRAMS: Learn about the hottest markets and how to sell the hottest products in these markets in this NEW high-energy, interactive program: Sell To Win – Hot Markets! New Products!
Register today for FREE with promo code PROMOGRAM. If you have any questions regarding the three-day schedule, give one of our registration specialists a call at (800) 546-3300.
Follow ASI Show on Twitter and Instagram, and like us on Facebook.





This message/promotion was sent by Advertising Specialty Institute, Inc., 4800 Street Road, Trevose, PA 19053
For questions/inquiries please contact our Customer Service Team at CustomerService@asicentral.com.
To unsubscribe from all of our mailings, click here or send an email to our Customer Service Team CustomerService@asicentral.com
with the Email Address in the subject line. To unsubscribe from the Counselor PromoGram e-Newsletter email list only, click here