NEWS STORIES


Supplier Superior Uniform Group Acquires BAMKO
Superior Uniform Group Inc. (asi/90266) has purchased Los Angeles-based distributor BAMKO, Inc. (asi/131431). The publicly traded supplier and uniform manufacturer paid $15.8 million cash, the company announced.
Read Article




CPSC Recalls Ceramic Mugs
The U.S. Consumer Products Safety Commission (CPSC) has issued an official recall for ceramic mugs sold exclusively at Target stores, due to a threat of fire when microwaved. The Valentine's Day-themed mugs, distributed by Illume, were labeled as microwave-safe; however the metallic print on the mug can spark, posing a fire hazard. Target has received three reports of mugs sparking during microwaving, though no injuries have been reported.
Read Article




Report Forecasts Major Incentive Trends
A report recently released by the Incentive Research Foundation (IRF) has found that businesses will focus on unique, upscale and individualized experiences in its employee motivation efforts this year. The 2016 Trends in Incentive Travel, Rewards and Recognition report provides a collation of the major incentive trends found through multiple surveys the IRF conducted in 2015.
Read Article




The Joe Show: Chill Out With These New Products
In this episode of The Joe Show, Product Editor Joe Haley has some great products for rest and relaxation, including adult coloring books, a super-handy yogurt container and trendy headphones.
WATCH THE JOE SHOW
ADVERTISEMENT


ADVERTISEMENT

TOP
ADVERTISEMENT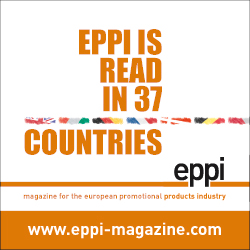 Survey: Confidence Falls Among Small Businesses
A survey by the National Federation of Independent Business (NFIB) shows that small business confidence in the United States fell in February to a two-year low, in the midst of continuing concerns over sales growth and profits that continue to disrupt capital spending and hiring strategies.
The NFIB's Small Business Economic Trends report has found that its small business optimism index declined one point to 92.9 in February, while none of the index's 10 components, such as "Plans to Increase Employment," "Expect Economy to Improve" and "Now a Good Time to Expand" showed increases; six fell slightly, while four were unchanged from January. This follows a decrease in the index by 1.3 percentage points in January.
"Spending and hiring plans weakened a bit as expectations for growth in real sales volumes fell," said the NFIB in a statement regarding the official survey release. "Earnings trends worsened a bit as owners continued to report widespread gains in worker compensation while holding the line on price increases."
While 49% of respondents reported hiring or trying to hire, 42% reported few or no qualified applicants for the positions they were looking to fill. When it comes to capital spending, the percentage of business owners planning capital outlays in the next three to six months fell two points in February to 23%.
Meanwhile, GDP growth estimates for the first quarter of 2016 are above a 2% rate.
The decline in confidence appears contrary to current economic indicators that largely point to strengthening activity in employment, consumer spending and manufacturing after growth slowed to a 1% annualized rate in the fourth quarter of 2016.

TOP
Children's Apparel Line Commits to Giving Back
For Small Apparel, an online children's clothing boutique based in Portland, OR, making a difference is almost as important as making a living. Owners Ryan and Amanda Topham say they plan to dedicate a quarter of their profits to charity, raising money for everything from animal rescues to ecology education.
"Anything we can do to help out is good," Ryan says. "We wanted to infuse that into our company's DNA from the get-go if we could. That's the best way to do it."
Small Apparel was born about 8 months ago, when the Tophams became frustrated with all the "grandparent-style clothing" their 3-year-old son had in his dresser – cutesy T-shirts with footballs, guitars or some other generic image on the front. "That's not quite our style," Ryan explains. So the Tophams created a line of unisex kids' clothing featuring simple Helvetica-style typography and masked images. "It's more modern and clever in an adult way, not really a kid way," Ryan says. "That's kind of our aesthetic."
The Tophams initially worked with an on-demand online printer, but soon decided that model wasn't right for them. Instead, the couple decided to start sourcing their own apparel, seeking out a local printing partner and taking on order fulfillment themselves. In order to make the switch, they recently ran a successful Kickstarter campaign, raising a hair over $6,500 to relaunch Small Apparel, with the 25% charity givebacks baked into the business model.
The company is still reaching out to nonprofit partners and figuring out other logistics. So far, Small Apparel has partnered with Philadelphia-based animal rescue Cares4Pets and Ecology in Classrooms and Outdoors, a Portland educational initiative. The Tophams also are building relationships with nonprofits that focus on literacy and LGBTQ youth issues, according to Ryan. He expects the clothing line's first seasonal collection to launch in June. In the meantime, Small Apparel is taking preorders on its website.

TOP
Quiz: How Strong is Your On-the-Job Emotional Intelligence?
Researchers believe that high emotional intelligence (EQ) translates into success in nearly every aspect of life, including a person's sales career. But despite its growing profile, not everyone really understands what EQ is. By most definitions, it's the capacity for identifying and managing your own emotions and the emotions of others. People with well-developed EQ exhibit a high degree of emotional awareness, understanding how they and other people feel. They're also astute at harnessing emotions and applying them to tasks, like problem solving. Well-adjusted, they're aces at regulating their emotions and positively influencing the feelings of others. Here, we offer a quiz that allows you test your own emotional intelligence. Find out if you're an EQ genius!
Point System:
Always = 3 points
Sometimes = 1 point
Never = 0 points
I freely admit to making mistakes.
I stay calm when work situations become unexpectedly stressful.
I look forward to the future.
I'm adept at finding solutions for clients when problems arise on an order.
I understand my strengths and weaknesses.
I can explain to someone why I get emotional.
I try to understand why coworkers feel the way they do.
I congratulate coworkers on their achievements.
I listen to clients without interrupting them and without judging them.
I tend to pick up on non-verbal cues and can read facial expressions well.
I seek constructive feedback from colleagues and customers.
I'm patient with myself.
What Your Score Means:
28– 36: Your on-the-job EQ is high. You're well-positioned for success!
16 – 27: You possess emotional intelligence, but you would benefit from developing it further.
15 & Below: Your sales will likely improve if you start taking proactive steps to raise your EQ.

TOP
Vote Now for Counselor Product Design Awards
The results are in: Counselor has selected the finalists for its annual Product Design Awards. Here's where you come in. Please CLICK HERE to vote for the products that YOU think are the best designed, considering both aesthetic appeal and functionality. You can select up to three products in each of the 13 featured categories. It only takes a few minutes, and your input is very important to us!

The winners will appear in a future issue of Counselor. Thanks very much for your help. VOTE NOW!

TOP
In the News
BIC Graphic (asi/40480) has entered into a partnership with National Geographic to produce a new line of photo-driven calendars. For more information, visit www.online.bicgraphic.com.
IDProductsource (asi/62088) has launched a text messaging service for distributors that offers instant status updates.
S&S Activewear (asi/84358) announces the debut of its redesigned website. To view or download a guide to the new website, visit www.ssactivewear.com and click on the top right banner ad.
Talbot Marketing (asi/341500) has been recognized as one of Canada's Best Managed Companies for 2015 for excellence in business performance. The Best Managed program recognizes Canadian-owned and -managed companies with revenues over $10 million that demonstrate strategy, capability and commitment to sustainable growth.
Victorinox Swiss Army (asi/93755) was featured on last Friday's episode of The Amazing Race on CBS. Watch the video here.

TOP
People on the Move
Vantage Apparel (asi/93390) welcomes Neal Young as regional sales representative for TX and OK, and Coleen Sylvester as regional sales representative for Southern CA and NV.
Click Here to see all of this month's industry personnel announcements.




ADVERTISEMENT

Do you want to sell your distributorship?

We can help you sell your distributorship quickly and easily.

Read what others are saying about The Distributor Exchange:

"You have exceeded my expectations regarding this process. Thanks for being so efficient, attentive and supportive. What else can I say . . . a dream come true!" – Barb Feyka - Capstone Promotions

All inquiries are strictly confidential.

Click here to learn more.
TOP

More Business Saving Discounts
ASI announces four new money-saving member discounts from Wyndham, LifeLock, Avis and Budget.
Find out more.

Inspiring Words at ASI Dallas
J.R. Martinez rocks the house at the ASI Dallas show, which attracted distributors, suppliers and decorators from 38 states and five countries.
Find out more.
TOP

THE ASI SHOW
MEET THE INDUSTRY'S TOP SUPPLIERS NEXT WEEK IN ANAHEIM
Registration for the Engagement Hall of Engage West, ASI's NEW event for 2016, is open… have you registered yet?

Engage West | March 16, 2016 | Anaheim Marriott | Anaheim, CA | REGISTER NOW!
Here's why you need to attend next week:
Be inspired at the Keynote – 9AM-10AM: Hear from Olympian volleyball player Misty May-Treanor
See the industry's elite in the Engagement Hall – 10AM-2PM: Speak with four- and five-star suppliers, along with additional regional suppliers – click here for the list to-date
Escort your clients*: Bring your clients with you to the Engagement Hall to have focused conversations with suppliers and your buyers about specific project needs
Attend interactive courses – 2PM-4PM: Take part in interactive two-hour educational workshops unique to Engage focused on sales and social media
For more information on Engage West, call our registration specialists at (800) 546-3300, or visit www.asiengage.com.
Follow ASI Show® on Twitter and Instagram, and like us on Facebook.
*Escorted clients will wear generic badges and a special lanyard so they will be easily identifiable, but their identity will remain confidential.





This message/promotion was sent by Advertising Specialty Institute, Inc., 4800 Street Road, Trevose, PA 19053
For questions/inquiries please contact our Customer Service Team at CustomerService@asicentral.com.
To unsubscribe from all of our mailings, click here or send an email to our Customer Service Team CustomerService@asicentral.com
with the Email Address in the subject line. To unsubscribe from the Counselor PromoGram e-Newsletter email list only, click here