NEWS STORIES


BIC Group CEO To Retire
BIC Group, parent company of Top 40 supplier BIC Graphic (asi/40480), announced that CEO Mario Guevara will retire in May and that Chairman Bruno Bich will be nominated to assume his duties. The company made the announcement along with the release of its earnings for 2015, where the company grew sales by 6.2% on a comparative basis.
Read Article




Fossil Announces Full-Year Sales Decline
Fossil Group Inc., the parent company of Fossil Corporate Markets (asi/55145), reported a decrease of $207.5 million in net sales in 2015, a decline of 8%. Fossil attributed the drop to the conversion impact of the strong U.S. dollar. Adjusting for currency and removing an extra week, net sales last year decreased 1%.
Read Article




Trump, Sanders Win South Carolina ASI Promo Poll
Following on the heels of ASI's Presidential Promo Poll results in New Hampshire last week, the ASI research department brought the same survey to South Carolina, the location of the Republican primary on Saturday, February 20. The Democratic Primary will be held in that state a week later, on February 27.

Read Article




The Joe Show: Products That Pack a Powerful Punch
In this episode of The Joe Show, Product Editor Joe Haley has it made in the shade with a slick pair of sunglasses. Also, he shows off a must-have product for sports fans and a unique pen that folds flat.
WATCH THE JOE SHOW




TOP

Augusta Group Merges With Mauk Advertising
The Augusta Group announced it has merged with Mauk Advertising (asi/264380). The terms of the deal were not disclosed. "This merger expands Mauk's product, technology and creative solution capabilities to increase our customer's brand recognition and competitive advantage," said JJ Mauk, president of Mauk Advertising.

Mauk Advertising is a third-generation distributor based in Kingwood, TX. JJ Mauk, who focused on sales while his father ran the company, decided to transition the company after his father passed away in 2013. He will stay on as a salesperson, per the agreement The Augusta Group makes with all previous owners. "They become employees and work off commission with an additional 20% to 30% override for a period of three years," says Chuck Porter, managing partner of The Augusta Group. "It gives the previous owner an incentive to stay on, work hard and help his company's value grow."

Mauk Advertising employees will also stay on and work from their home office in Kingwood. Porter says the Mauk name will continue because of the company's upcoming 40th anniversary and the emotional attachment surrounding the occasion. "Mauk is well-known nationwide in the service and safety awards arena, which is not something we've gotten into," Porter said.

Since 1997, Houston-based Augusta Group has served as a distributor of promotional products, specializing in corporate casual apparel, business luggage, writing instruments and other items. The company's reach will expand to new industrial markets such as chemical, construction, energy, marine, oil and gas and warehousing. "Our customers will directly benefit from this merger through extensive product and brand offerings, expanded industrial market reach, and innovative workforce and worksite incentive and recognition programs," Porter said.

TOP

Take The State Of The Industry Survey
Counselor is currently polling professionals in the industry – both distributors and suppliers – to find out how the market did in 2015 and to get impressions on where the industry is headed in 2016. We need your input. Please take some time to go to www.StateoftheIndustry.com and complete the annual State of the Industry survey. Your responses will remain anonymous, and you'll be helping to create Counselor's annual State of the Industry report.

Go to www.StateoftheIndustry.com to take our annual survey now.



PRODUCT SPOTLIGHT
ADVERTISEMENT


ADVERTISEMENT

TOP
Obituary: Raymond Stark
Raymond Stark, president & CEO of Stark & Associates (asi/334950) in Grove City, OH, died on January 6. He was 73.
Born in Windsor, ON, he relocated to Ohio in 1963 and became an American citizen in 1995. He founded Stark & Associates with his daughter Michelle Fulks in 1992 in the basement of his home. In 1995, the company was named one of Counselor's Top Ten Fastest-Growing Distributors, and achieved its first million dollars in sales in 1997.
Stark was preceded in death by his parents, William and Kathleen Stark. He is survived by his daughters Michelle Fulks and Renae Miller (Steve); and grandchildren Graham, Carson, Kennedy and their father, Craig Fulks; and Reagan, Lane and Dalton Miller.
Contributions may be made to The Colleen Cebulla Fund in Ophthalmology #313310.

TOP
Small-Business Marketing Budgets Continue to Rise
According to the 2016 Local Pulse Report from Thrive Analytics, 42% of small and medium-sized businesses (SMBs) are increasing their marketing budgets this year. This is an increase from 35% at the same time last year. The study reported that top growth areas among the more than 1,100 SMB owners who responded include mobile marketing at 49% (an increase of 15% from last year) and online display and paid search at 44% (both up 11%).
Just six out of 10 respondents to the study have a website, but 80% use social media platforms, including Facebook (70%), Twitter (32%) and LinkedIn (26%). Seven of 10 owners expect social media to generate leads, while more than half (57%) use it to build awareness and another 57% utilize it to engage their customers. Only 19% of respondents report paying for advertising on social media.
"Digital media continues to be SMBs' main focus when it comes to marketing, especially with newer businesses," said Jason Peaslee, managing partner of Thrive Analytics. "However, older and more established businesses continue to see value in traditional forms of marketing too. As SMBs view local advertising as a more strategic source of leads and essential for keeping up with competition, more dollars are being invested across a growing number of channels."
Almost half (49%) of all respondents stated that mobile is their top growth area in terms of marketing, but approximately the same number state that their websites are not mobile-optimized. In fact, the majority of respondents reported they do not have a solid mobile marketing strategy.
The Local Pulse Report is a comprehensive bi-annual study that examines social media use, ratings and reviews, mobile marketing, marketing budgets and technology adoption.

TOP
Nominate Now For Fastest-Growing Companies Awards
Has your company been experiencing incredible growth over the past few years? We'd like to hear from you. Please click here to nominate your company for Counselor's annual recognition of the Top 10 Fastest-Growing Companies in the industry. Questions? Email Karen Akers at kakers@asicentral.com.

TOP
ADVERTISEMENT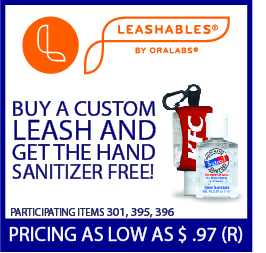 In The News
4imprint (asi/197045) has announced that it is doubling its "one by one" promotional products grants commitment for 2016, awarding at least two $500 in-kind promotional products grants every business day. For more information, visit www.4imprint.com.
BIC Graphic (asi/40480) has announced several honors from Promotional Product Industry Regional Associations: Matt Storlien has been named Supplier Rep of the Year for HPPA, Harold Wood has been named Supplier Rep of the Year and Amy Unser has been named Supplier Support Person of the Year for CPPA, and BIC Graphic has been named Supplier of the Year for PAPPA.
Flow-Eze Company (asi/54875) has added several acrylic and stainless steel tumblers to its line of products for 2016. Mention promo code #NEWPROMOTUMBLERS and receive a free screen on your order (only applicable to acrylic and stainless steel tumblers).
Makeable, a custom print service provider, announced that it has adopted Gooten as its new brand name, closed a bridge financing round of $1.35 million, and appointed Brian Rainey as CEO.
Prime Line (asi/79530) has released four new product videos as part of its PrimeVideo series. For information on the videos, visit www.primeline.com.

TOP
People On The Move
Gemline (asi/56070) welcomes Suzanne Simpson as regional manager for Canada. Simpson will oversee Gemline sales throughout Canada with the exception of the Quebec territory which will continue to be managed by Agence Nordiq.
The Magnet Group (asi/68507) welcomes Jessica Hutwelker as regional sales manager for Northern California, Washington and Oregon.
CLICK HERE to see all of this month's industry personnel announcements.




ADVERTISEMENT

Do you want to sell your distributorship?

We can help you sell your distributorship quickly and easily.

Read what others are saying about The Distributor Exchange:

"You have exceeded my expectations regarding this process.
Thanks for being so efficient, attentive and supportive. What else can
I say . . . a dream come true!" – Barb Feyka - Capstone Promotions

All inquiries are strictly confidential.

CLICK HERE to learn more.
TOP

ASI Roadshow Celebrates 10 Years
Number-one traveling show in promo products industry will visit cities across the U.S. and Canadian through September.
Find out more.
Check Out All-New Wearables Mag
ASI magazine features enhanced embroidery coverage and nearly doubles its circulation to 28,000 apparel decorators and distributors.
Find out more.



This message/promotion was sent by Advertising Specialty Institute, Inc., 4800 Street Road, Trevose, PA 19053
For questions/inquiries please contact our Customer Service Team at CustomerService@asicentral.com.
To unsubscribe from all of our mailings, click here or send an email to our Customer Service Team CustomerService@asicentral.com
with the Email Address in the subject line. To unsubscribe from the Counselor PromoGram e-Newsletter email list only, click here