NEWS STORIES


Trump, Sanders Win ASI Promo Poll
The votes are in for New Hampshire, and the winners are Donald Trump and Bernie Sanders. No, not for the state's influential primary vote, but rather ASI's Presidential Promo Poll. Hundreds of people in New Hampshire were asked this question: If you received a bumper sticker from each of the candidates below, which one would you be most willing to put on your car?
Read Article




American Apparel Exits Bankruptcy
Following court approval of its reorganization plan, American Apparel (asi/35297) has emerged from Chapter 11 bankruptcy and is now a private company. The supplier has converted approximately $230 million in debt into equity and will receive $40 million in exit capital and can access a $40 million loan. "This is the start of a new day at American Apparel," said CEO Paula Schneider.
Read Article




PPAI Prepares for Annual Congress Meetings
PPAI is continuing to make preparations for Legislative Education and Action Day (L.E.A.D.), its annual event for industry executives to meet with and educate members of Congress about promotional products.
Read Article




Hanes Announces 2015 Sales Growth
Hanesbrands (asi/59528) announced total net sales of $5.73 billion for 2015, a year-over-year increase of 8%. The apparel supplier also increased its operating profit by 13% to $861 million, and its adjusted EPS grew 17% to $1.66. Core sales, when adjusting for constant currency and excluding revenue from acquisitions among other factors, were essentially flat to the prior year.
Read Article




| | |
| --- | --- |
| | ADVERTISEMENT |
TOP
CustomInk Acquires Celebrity-Backed Startup
Online DIY T-shirt decorator CustomInk has acquired Represent, a Los Angeles-based social commerce startup that helps celebrities and other influencers create and sell limited-run T-shirts and merchandise to fans and followers. The companies will be integrating supply chains and other aspects of operations and technology, though Represent will continue to operate as a distinct brand from offices in Los Angeles and Prague. Financial terms of the deal were not disclosed.
Rooted in social media fundraising campaigns, Represent is a celebrity-backed digital marketing and merchandising platform that has been used by actors Channing Tatum and Susan Sarandon, pop star Britney Spears and author George R.R. Martin, among others. The company also works with prominent YouTubers and independent entrepreneurs. The company handles all the day-to-day management, printing and fulfillment of each limited-time campaign, allowing the high-profile client simply to share the campaign with supporters via social media and other channels. Using Represent, Stephen Amell, star of The CW show Arrow, was able to sell 143,000 shirts to fans over the course of a year, bringing in $6.4 million for a cancer research charity.
"Like CustomInk, Represent is really about helping people build a stronger sense of community," says Marc Katz, co-founder and CEO of CustomInk. "Selling custom apparel with Represent strengthens fan communities, builds personal brands, raises awareness for important causes and generates strong revenues. We've seen the results and talked to the influencers running campaigns, and they love it. It's exciting to have Represent join the CustomInk team."
CustomInk is also developing two new businesses, Booster and Pear. Boston-based Booster is a fundraising platform designed to help individuals and organizations raise money and awareness by selling custom T-shirts to support charities and other causes. Pear, out of Chicago, is a grassroots sponsorship platform, connecting groups with national and local brands to fund custom shirt needs.

TOP
ADVERTISEMENT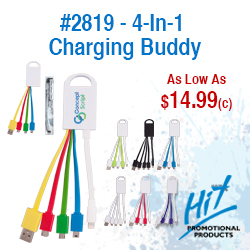 IMAGEN Brands Hires Zezzo as VP of Sales
Top 40 supplier IMAGEN Brands, parent company of Crown Products (asi/47700) and Vitronic (asi/93990), announced it has hired Dana Zezzo as vice president of sales. Zezzo was most recently senior vice president of sales and marketing at Jetline (asi/63344) and has also worked for Pro Towels (asi/79750), CPS/Keystone (asi/43051) and Alpha Shirt Company (asi/34063).
"Dana is a great fit for us because of his history, success and commitment to the promotional marketplace," says Robin Fennell, vice president of marketing and product development for IMAGEN Brands. "His view of customer service is excellent, and he gives the customer a unique and different perspective on the brands he is with."
Zezzo will oversee the company's sales directors and regional sales managers and will be tasked with growing the company's sales. Last month, IMAGEN combined the salesforces of Crown and Vitronic into a single unit of 45 representatives that sells both lines.
"I'm excited about being part of the leadership team," Zezzo tells Counselor. "I think the direction they're headed, bringing Vitronic and Crown together under IMAGEN Brands, is very exciting."
Zezzo will be at the ASI Show Dallas meeting customers at Crown Products' booth. "My goal is to get the two companies, Crown and Vitronic, very top of mind. I think the company has what it needs from the product line to the price points, inventory and decoration methods. They just need somebody to help them deliver it to market in a very organized way."

TOP
Gluttony, Promos at Philly's Wing Bowl
Philadelphia's most gluttonous tradition carried on again this year as WIP Sports Talk Radio held Wing Bowl 24 – a raucous, star-studded, promo-filled competition of chicken wing eating. ASI was on the scene to witness the debauchery in person and note the promotions that fuel this most American of events. Plus, find out how many hundreds of wings the winner ate.

TOP
The Joe Show: Unique New Products
In this episode of The Joe Show, Product Editor Joe Haley shows off unique promotional items for fun branding opportunities, including a crocodile-shaped pen, a Suds n Toss towel for dogs and the Belt-e-vator.
Click here to watch The Joe Show.

Want more videos? Subscribe now to our YouTube videos.

TOP
Take The State of the Industry Survey
Counselor is currently polling professionals in the industry – both distributors and suppliers – to find out how the market did in 2015 and to get impressions on where the industry is headed in 2016. We need your input. Please take some time to go to www.StateoftheIndustry.com and complete the annual State of the Industry survey. Your responses will remain anonymous, and you'll be helping to create Counselor's annual State of the Industry report.
Go to www.StateoftheIndustry.com to take our annual survey now.

TOP
Nominate Now For Fastest-Growing Companies Awards
Has your company been experiencing incredible growth over the past few years? We'd like to hear from you. Nominate your company for Counselor's annual recognition of the Top 10 Fastest-Growing Companies in the industry. Questions? Email Karen Akers at kakers@asicentral.com.

TOP
In The News

BIC Graphic (asi/40480) announced that Account Manager Jerome Smith has received the PPPC Momentum Award and Regional Account Manager Mark Wingrove has been inducted to the PPPC Hall of Fame. In addition, the supplier announced two new bag collections: The Kapston Collection and the Cocoon Recess and Cocoon Slim collections. For more information, visit https://online.bicgraphic.com.
HALO Branded Solutions (asi/356000) awarded Leed's (asi/66887) its 2015 Supplier of the Year and Jim Heurung, national account manager for Hit Promotional Products (asi/61125), as its 2015 Supplier Representative of the Year. Over 250 top account executives were honored at a gala.
R.S. Owens (asi/75530) announced it created 24 trophies to honor the original creative group of American Idol for the show's final season.

TOP
People On The Move
All-in-One (asi/34256) has hired Christy Dodson as its Midwest territory manager and Terri Hilpert as its territory manager for IL, WI and IN.
ERB Safety and Fame Fabrics (asi/51204) welcomes Westin Moe as inside sales representative.
Hub Pen Company (asi/61966) has hired Timothy Fox as inside sales representative for distributors in the Southwest.
Spector & Co. (asi/88660) has promoted Jennifer Young to account manager for DC, MD, NC, SC, VA and WV.

TOP

6,000 Distributors Attend ASI Orlando
ASI's first trade show of 2016, featuring keynoter Marcus Lemonis, draws 715 exhibitors and nearly 6,000 attendees from 49 states and 18 countries.
Find out more.

ASI Releases "Year in Search" Video
ASI presents a whole new way of looking at ESP searches, people and products in its new "Year in Review" video.
Find out more.
TOP

THE ASI SHOW
Meet top suppliers and find new products
The ASI Roadshow is coming to a city near you in the Pacific Northwest from February 22-25. And, as a distributor member benefit, you will be able to bring your clients with you so they can be a part of the product sourcing process. Just have them bring their business card to receive a generic badge and yellow lanyard that will make them more identifiable so the appropriate business conversations can take place.
Register here for the city of your choice:
Monday, February 22 • Seattle, WA • Lynnwood Convention Center
Tuesday, February 23 • Portland, OR • Embassy Suites Portland Washington Square
Wednesday, February 24 • Sacramento, CA • Red Lion Woodlake
Thursday, February 25 • San Francisco, CA • Crowne Plaza Concord/Walnut Creek
Exhibits are from 9 a.m. until 1 p.m. and all distributors and their clients attend for FREE! Plus, you'll receive 5 points towards your BASI/MASI just for attending! Visit www.asiroadshow.com to register for free using promo code PROMOGRAM.
Follow ASI Show on Twitter and Instagram, and like us on Facebook.





This message/promotion was sent by Advertising Specialty Institute, Inc., 4800 Street Road, Trevose, PA 19053
For questions/inquiries please contact our Customer Service Team at CustomerService@asicentral.com.
To unsubscribe from all of our mailings, click here or send an email to our Customer Service Team CustomerService@asicentral.com
with the Email Address in the subject line. To unsubscribe from the Counselor PromoGram e-Newsletter email list only, click here