NEWS STORIES


American Apparel Defends Bankruptcy Plan In Court
With ex-CEO Dov Charney in the courtroom, the current CEO of Top 40 supplier American Apparel (asi/35297) took the stand at a bankruptcy hearing yesterday to explain why the company should not be handed back over to its founder. Yesterday's hearing in Delaware bankruptcy court was the beginning of multi-day proceedings to determine if a judge will approve either American Apparel's restructuring plan or Charney's investor-backed takeover bid.
Read Article




Staples-Office Depot Merger Deadline Extended
Staples, parent company of Top 40 distributor Staples Promotional Products (asi/120601), and Office Depot have agreed to extend the deadline for their merger to help fight off a legal challenge by the Federal Trade Commission. The office supply companies, which originally had until February 4, announced today they moved the date to complete their agreed-upon merger to May 16.
Read Article




Suit Claims Fitbit Heart Monitors Faulty
Angry consumers this month are taking Fitbit to task, claiming in a nationwide class-action lawsuit that the company's Charge HR and Surge heart-rate monitors do not work as advertised. In a separate class-action lawsuit, an investor in California accuses the wearable technology firm of "fraud on the market" and U.S. securities law violations.

Read Article




The Joe Show: Versatile New Products
ASI Product Editor Joe Haley swims with the big fish in this latest Joe Show video by showing off the "Mighty Minnow" fishing lure. In addition, he features a kitchen cutter deemed the world's best, and flies the coolest new product that tech geeks will salivate over.
WATCH THE JOE SHOW



ADVERTISEMENT


ADVERTISEMENT

TOP

Smart Source Acquires Data Supplies Inc.
New York-based distributor Smart Source (asi/328914) announced it has acquired Data Supplies Inc. (asi/175769). Terms of the transaction were not revealed. Data Supplies has corporate headquarters in Duluth, GA, with multiple offices in the Southeast region of the U.S. and a focus on that market. According to Smart Source, the acquisition will double its annual revenue.

"It is a pleasure to welcome Data Supplies Inc. and to see the excitement and opportunity that this deal represents for both parties," said Tom D'Agostino Jr., CEO of Smart Source. "The acquisition will allow Smart Source to further increase market share in the Southeast while arming the Data Supplies' sales team with the tools they need to continue to grow their client base in the ever-changing world of marketing."

Data Supplies' previous family ownership will remain in a consulting capacity for the next several years. The company will retain its name for the short term but will eventually be rebranded as Smart Source. The company will keep its multiple offices in Georgia and Alabama, and all employees will be retained. D'Agostino Jr. will continue as CEO of Smart Souce LLC, overseeing both the Smart Source and Data Supplies teams as they become a fully integrated company.

Smart Source says that Data Supplies will now be able to serve clients nationwide, and that the two companies will combine best practices, services and technologies. "Data Supplies Inc. is known for our commitment to service and value. By joining the Smart Source family, Data Supplies will now be able to offer an even greater level of service and value to our existing client relationships and enhance offerings to prospective clients," says Scott Rich, vice president of sales for Data Supplies.

TOP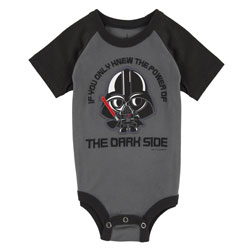 Disney Infant Bodysuit Recalled
The U.S. Consumer Product Safety Commission (CPSC) has issued a recall of two infant bodysuit styles sold at Disney resorts and cruise ships last year from February through November for about $20. The snaps on the bodysuits can detach, posing a choking hazard to young children. No injuries have been reported.

The recall involves about 10,000 units. The 100% cotton one-piece bodysuits have three snap-button closures. The first style features artwork of an infant Darth Vader holding a lightsaber and the text: "If you only knew the power of THE DARK SIDE." The garment has a gray body with black sleeves and trim. It was sold in five sizes: 3M, 6M, 12M, 18M and 24M.

The other style has a light blue body with royal blue sleeves and trim. The artwork on the front of the bodysuit includes Mickey Mouse, Goofy, Donald Duck and Pluto in front of Disneyland Castle. The text on the front reads: "60th Disneyland Resort, Diamond Celebration." The garments were sold in four sizes: 6M, 12M, 18M and 24M.

The bodysuits were manufactured in Guatemala and imported by Walt Disney Parks and Resorts of Lake Buena Vista, FL. Consumers should immediately stop using the recalled infant bodysuits and contact Walt Disney Parks and Resorts for instructions on returning them for a full refund. More information is available by visiting www.disneyparks.com and clicking on "Recall Notice."

TOP

Slideshow: David Bowie's Promotional Legacy
David Bowie's talent was equaled by his gift for reinvention. It was a true masterclass in marketing: to get his most ardent fans to buy into his countless personas, even as many stages of his musical career were quite "out there." While the music world mourns the loss of this singular artist, we celebrate Bowie's rich promotional legacy with a look at the countless fascinating marketing items used throughout his 50-plus years as a musician.

TOP

Proforma Member Sets Sales Record
Proforma Albrecht & Co. (asi/116308) announced the company exceeded $30 million in sales for 2015, the first time the Milford, OH-based distributor has surpassed the mark. In 2014 the company became the first Proforma (asi/300094) member to surpass $25 million, with total sales of $26.9 million. The company exceeded more than $3 million in monthly sales three times last year.
"We are proud to have achieved this $30 million milestone," said Owner Fred Albrecht. "While it is a great honor to be recognized, we believe it is truly a testament to the dedication and hard work of all of our employees and sales teams."
A continual member on the Counselor Best Places to Work list, Proforma Albrecht & Co. joined the Proforma network in 2000 and now has a total of 85 sales representatives in 27 states. The company joined Proforma's Multi-Million Dollar Club in its first year and was the first Proforma member to log a month with $3 million in sales.
"We're honored to have Proforma Albrecht & Co. as a part of the Proforma Family. It's exciting to see them grow into the successful company they are today," said Greg Muzzillo, founder of Proforma. "Their dedication to continue breaking records sets a great example to their team and is inspiring to the entire Proforma Family. We can't wait to see what they will achieve in 2016."

TOP

In The News
Alpi International (asi/34415) announces that the company's website now features a live inventory tool, which displays current inventory on hand next to each product's description. Data is updated three times a day. To view the tool, go to www.alpi.net.
Bullet (asi/42424) has announced its 2016 product launch, which includes 91 products in a variety of categories such as bags, mobile and drinkware. For details, go to www.pcna.com/Bullet.
Image Apparel Solutions (asi/62202) announces that its knitwear line is now trademarked as Knit Wit Apparel. Visit www.image-apparel-solutions.com for more information.
Polyconcept North America (PCNA) has launched its new sales contest for U.S. distributors. Customers who ship $50,000 net in Trimark apparel between now and March 31, 2016, will qualify to win a ticket to the PCNA Champions Experience. For details, go to www.pcna.com/champions-experience.

Pro Towels (asi/79750) and Kanata Blanket (asi/63823) announced that Kevin Rollins of Next Play Promotions is the winner of the companies' Vancouver trip giveaway. In addition, Kimberly Luxemberg-Fields of PromoShop won a sample kit valued at $500.

TOP

People On The Move
Aakron Rule Corp. (asi/30270) has hired David Goldfarb as Northeast regional sales manager.
ASI Canada announces that Fred Oesen will continue as a consultant to ASI Canada throughout 2016, appearing at ASI Show Chicago in July, as well as the ASI Canada Seminars, ASI Canada Elite Suites (ACES) and the Promotional Product Professionals of Canada (PPPC) convention. Ryan David, account executive for ASI supplier sales (rdavid@asicentral.com), is assuming responsibility for all ASI Canada events formerly under Oesen, and for all ASI supplier services in Canada. All distributor services inquiries should be directed to Rob Rawson, an account executive for ASI Canada, at rrawson@asicentral.com.
Chocolate Inn / Taylor & Grant (asi/44900) has promoted Jaclyn Claude to the position of assistant customer service manager, and Laurie Serwitz to the position of service resolution and billing manager.
Fruit of the Loom (asi/84257) welcomes Ken Seidl as vice president of sales; Mauro Dal Balcon as senior national accounts manager; and Joe Mellen as account manager.
Graphcoline (asi/57956) has announced that Mitzi McQueary will now lead the company's Media Department.
Hub Pen Company (asi/61966) has hired John Gibbons as a sales executive for New England. 
Click here to see all of this month's industry personnel announcements.




ADVERTISEMENT

Do you want to sell your distributorship?

We can help you sell your distributorship quickly and easily.

Read what others are saying about The Distributor Exchange:

"You have exceeded my expectations regarding this process. Thanks for being so efficient, attentive and supportive. What else can I say . . . a dream come true!" – Barb Feyka - Capstone Promotions

All inquiries are strictly confidential.

Click here to learn more.
TOP

6,000 Distributors Attend ASI Orlando
ASI's first trade show of 2016, featuring keynoter Marcus Lemonis, draws 715 exhibitors and nearly 6,000 attendees from 49 states and 18 countries.
Find out more.

ASI Releases "Year in Search" Video
ASI presents a whole new way of looking at ESP searches, people and products in its new "Year in Review" video.
Find out more.
TOP

THE ASI SHOW
NETWORKING CLUBS RETURN TO ASI SHOW® DALLAS
With the success in 2015, ASI Show is continuing our specialized networking clubs at ASI Show Dallas, hosted at some of the locals' favorite settings. Bringing together suppliers and distributors alike, enjoy these activities with fellow members of the advertising specialty industry.
The Explorers Club | Tuesday, February 9 | 1 PM-4 PM | $70
Try out all five high-intensity attractions at the Dallas attraction, Zero Gravity, like the 16-story drop of Nothin' but Net free-fall and rocketing straight up at 70 mph with the Texas Blastoff. Maximum 10 people.
The Runners Club | Wednesday, February 10 | 6:30 AM | $10
Get a jump on your day and meet fellow running enthusiasts on this morning fun run, hosted by ASI Computer Systems Jamie Fens. Maximum 50 people.
Space for each club is limited, so register today using promo code promogram and reserve your spot! For more information on ASI Show Dallas, February 9-11 at the Kay Bailey Hutchison Convention Center, visit www.asishow.com or call 800-546-3300.
Follow ASI Show on Twitter and Instagram, and like us on Facebook.





This message/promotion was sent by Advertising Specialty Institute, Inc., 4800 Street Road, Trevose, PA 19053
For questions/inquiries please contact our Customer Service Team at CustomerService@asicentral.com.
To unsubscribe from all of our mailings, click here or send an email to our Customer Service Team CustomerService@asicentral.com
with the Email Address in the subject line. To unsubscribe from the Counselor PromoGram e-Newsletter email list only, click here