NEWS STORIES


Study: Freelance Work Prevalent in U.S.
Almost a quarter of all workers in the United States fulfill some type of freelance work. That's according to the Staples Advantage Workplace Index, a study by the B2B division of Staples that looked at trends among American office workers. The study found that 12% of employees freelance for their primary income, while another 12% freelance in addition to holding a primary job.
Read Article




Today's Promo Products Opportunity
Marketing consultant and business book author Seth Godin believes sellers of promotional products are uniquely positioned for success today. "All other media is falling apart," said Godin, the keynote speaker this week at the PPAI Expo in Las Vegas and creator of the popular marketing blog Seth's Blog. "This is an advantage for your industry. This means that traditional media can be disrupted, just like so many other industries today, and a revolution can be out there."
Read Article




Düsseldorf Hosts Europe's Largest Promo Show
Now in its 54th year, Reed Exhibition's PSI Show – Europe's largest promotional products event – opened in Düsseldorf yesterday with 932 exhibitors from 40 nations hosting nearly 16,000 attendees from all over the world.

Read Article




The Joe Show: Unique New Products
In this episode of The Joe Show, Product Editor Joe Haley shows off fun new products, including disposable wooden utensils, a paracord bracelet and a heathered performance polo from Callaway.
WATCH THE JOE SHOW



ADVERTISEMENT


ADVERTISEMENT

TOP
Seven Cool Wearable Gadgets at CES 2016
CES 2016, the massive tech trade show in Las Vegas with more than 170,000 attendees, wrapped up on January 9. The show featured gadgets of all kinds, but wearable technology was definitely a major trend. Here's a look at seven interesting wearable devices on display at CES this year.

TOP
Video: Cold Calling Debate
In this series of monthly videos, Advantages Editor Dave Vagnoni squares off against ASI Editorial Director Andy Cohen in a lively debate of the most popular topics in sales today. In this episode, Dave and Andy duel over this question: Is cold calling dead?
WATCH VIDEO

TOP
ADVERTISEMENT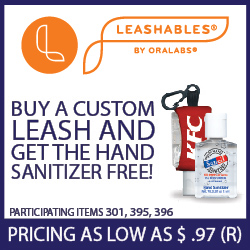 Hiring Surges In December
A robust round of job creation in December helped make 2015 the second best year for hiring this century.

Last month, non-farm payrolls swelled by 292,000 positions, far surpassing the tally of 200,000 that economists predicted. The strong performance concluded a 2015 in which the nation added 2.65 million jobs. The end of the year was especially strong for hiring, with employers adding an average of 284,000 new positions per month between October and December. During the first three quarters of 2015, the monthly average was 200,000. 

Analysts said that the employment data from the U.S. Bureau of Labor Statistics was an encouraging sign of strength and resilience in the jobs market amid the pressures of low oil prices, economic slowdown in China and modest domestic economic growth. 

"The job market is not fully healed, but we're getting much closer to where we'd like to be," David Berson, a chief economist at Nationwide Insurance, told The Washington Post.

While the numbers on job creation provided a lift, the data on wages gave cause to remain grounded. In December, the average hourly wage dropped a penny to $25.24. Wages were up 2.5%, on average, from a year earlier, but that rate of growth remains below pre-Great Recession levels and only slightly above the sluggish pace seen during the recovery.

Headed into 2016, the official unemployment rate is 5%. However, a broader measure that accounts for the underemployed – people not looking for work or working part-time for economic reasons – was at 9.9%.

TOP
Counselor Commentary: The Next Big Promo Item
A prediction: The next big promotional item? Adult coloring books! Yes, adult coloring books. A product trend that picked up steam in the consumer market around the holidays is poised to be a full-on craze this year. And if you haven't heard of or seen them before, don't worry – you're about to.
Adult coloring books are much like run-of-the-mill children's coloring books but instead of cartoonish/licensed characters, adult coloring books include fine detailed pictures, often called "mandalas." In generic terms, a mandala is "any diagram, chart or geometric pattern that represents the cosmos metaphysically or symbolically; a microcosm of the universe." Heavy stuff, huh? And in order to truly "stay within the lines" you need either fine-tipped markers or colored pencils.
There's an upside – a therapeutic advantage to adults putting colored pencil to paper. Adult coloring books are seen as a stress reliever, a chance for someone to wind down and step away from all things electronic; an opportunity to relax and channel their inner youth. And because of that, they make the perfect stress reliever and are effective in company-run employee wellness programs (less stressed employees = lower blood pressure = healthier employees = lower premiums for the employer!).
And, branded adult coloring books (as well as the pencils or markers) are going to be popping up everywhere. More workers will have them at their desks. Companies are going to put them in conference rooms. The health care industry will use them in marketing materials. The opportunities are endless: Colleges & universities, "Parents, don't stress out while your child is away at Penn State." Financial industry, "Leave your financial planning to us – it's less stressful." Travel industry, "See how colorful the world is and pass the time while on the journey." The list and potential for branding and promotions is endless.

TOP
People On The Move
IDProductsource (asi/62088) welcomes Bruce Crampton as national sales manager, and Derek Thomas has joined the company's operations management team.




ADVERTISEMENT

Do you want to sell your distributorship?

We can help you sell your distributorship quickly and easily.

Read what others are saying about The Distributor Exchange:

"You have exceeded my expectations regarding this process. Thanks for being so efficient, attentive and supportive. What else can I say . . . a dream come true!" – Barb Feyka - Capstone Promotions

All inquiries are strictly confidential.

Click here to learn more.
TOP

6,000 Distributors Attend ASI Orlando
ASI's first trade show of 2016, featuring keynoter Marcus Lemonis, draws 715 exhibitors and nearly 6,000 attendees from 49 states and 18 countries.
Find out more.

ASI Releases "Year in Search" Video
ASI presents a whole new way of looking at ESP searches, people and products in its new "Year in Review" video.
Find out more.
TOP

THE ASI SHOW
ENGAGE: A NEW WAY FOR ASI MEMBERS TO DO BUSINESS
Combining the best of trade shows, hosted buyer events and roadshows, Engage, ASI Show's NEW hybrid event will replace ASI Show® Long Beach and New York in 2016.  And since we are committed to serving our members in two of the most popular locations for promotional product sales – the West Coast and Northeast – join us at:
Engage West • March 14-16 • Anaheim, CA • Anaheim Marriott
Engage East • May 9-11 • New York, NY • Marriott Marquis
At Engage, the first two days are invitation only and will bring together 75 top suppliers and 200 pre-selected distributors who personally sell $300k+ annually in promotional products.  Invited distributors will participate in pre-scheduled 15-minute Roundtable Engagement sessions with strategically matched suppliers, in addition to 25-minute theater style Presentation Engagement sessions.  The 3rd day is open for free to all distributors – whether they are an ASI member or not –and their escorted end buyers (identities will remain con­fidential; however their badge will reflect an end buyer status).
If you're interested in attending the first two days, simply complete this form, and you will be contacted shortly. If you sell less than $300,000 or if you are in the area and just wish to attend for a day – visit www.asiengage.com to register for Engagement Day 3!
For more information on the full suite of ASI Show events, visit www.asishow.com.
Follow ASI Show on Twitter and Instagram, and like us on Facebook.





This message/promotion was sent by Advertising Specialty Institute, Inc., 4800 Street Road, Trevose, PA 19053
For questions/inquiries please contact our Customer Service Team at CustomerService@asicentral.com.
To unsubscribe from all of our mailings, click here or send an email to our Customer Service Team CustomerService@asicentral.com
with the Email Address in the subject line. To unsubscribe from the Counselor PromoGram e-Newsletter email list only, click here