NEWS STORIES


Charney Submits Offer To Buy American Apparel
Former American Apparel (asi/35297) CEO Dov Charney and an investor group have submitted a $300 million bid to reacquire the company he was ousted from over a year ago. The group – comprised of three private equity firms – announced the offer to purchase the bankrupt apparel company yesterday, saying in a statement that its proposal "is superior to the debtor's plan of reorganization and is a win-win solution for [American Apparel] and all of its stakeholders."
Read Article




Brand Addition Acquires GatewayCDI
As first reported in a Counselor Breaking News alert, Brand Addition, the largest distributor firm in Europe, has acquired GatewayCDI (asi/202515). The St. Louis-based distributor will operate under the Brand Addition name while maintaining its operations and management structure, including the leadership team of Founder and President Chuck Fandos, VP Conrad Franey and senior management. Terms of the acquisition were not disclosed.
Read Article




Entrepreneurial Inspiration At PPAI Expo
Casey Gerald has a very clear and definitive message for entrepreneurs today: You're completely in charge of your future. "The hierarchy in the business world is dead," said Gerald, a graduate of both Yale (for undergrad work) and Harvard Business School who grew up in inner-city Texas. "We no longer need to wait to have an idea green lighted by some big corporation. It can get funded online and you can grow it from nothing."
Read Article




Light Up Promos With Great New Products
ASI Product Editor Joe Haley has beverages on the brain in this latest Joe Show Video. Ever have problems bringing multiple drinks back from the bar for friends? Joe has a cool new product for that. In addition, he shows off some snazzy full-color coasters. Plus, he features a pair of compelling scarves, perfect for sports fans and partygoers.
Watch The Joe Show




| | |
| --- | --- |
| | ADVERTISEMENT |
TOP
Ricoh To Acquire DTG Manufacturer AnaJet
Ricoh Co. Ltd. has reached an agreement to buy Costa Mesa, CA-based manufacturer of direct-to-garment (DTG) printers AnaJet (asi/16000), which will become a wholly owned subsidiary of Ricoh Printing Systems America Inc.
ADVERTISEMENT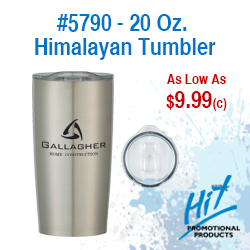 Previously, Ricoh has focused on office and commercial print technologies. The addition of the AnaJet portfolio is a move to help the company further its position in the industrial inkjet printhead market. AnaJet, founded in 2006, will continue to operate under its current name, management team and capabilities, which currently include more than 50 employees at its U.S. headquarters.
"With the addition of AnaJet, our collective customers benefit from a larger support team … and access to a services-led portfolio of solutions to help them grow their business," said Junichi Matsuno, general manager of Ricoh's Inkjet Business Division. "AnaJet already possesses a reputation as a leader in direct-to-garment printing and as such, it is a great complement to Ricoh's broad portfolio."
Ricoh and AnaJet have partnered in recent years, including AnaJet's use of Ricoh's Gen IV printheads in its mPower series of direct to garment printers. The result is that the majority of AnaJet products incorporate Ricoh's printheads. "We're very pleased to announce that this acquisition will provide our expanding customer base with the services of a global leader in Ricoh," said Karl Tipre, CEO of AnaJet.

TOP
ASI Orlando Video Recap
Distributors and suppliers started off 2016 eagerly at The ASI Show Orlando, and ASI TV's cameras were there to capture the excitement.  We spoke with keynote speaker Marcus Lemonis about the keys of being a successful leader, learned three infallible tips to gain referrals and chatted with our supplier of the year from the Counselor Distributor Choice Awards. If you missed any of the action, check out our complete video coverage.

TOP
Distributors Create New Philanthropic Buying Group
A group of distributors have created a new buying group with philanthropic aims. Termed Reciprocity Road, the group is comprised of seven distributors with collective gross sales over $100 million – MadeToOrder, Inc. (asi/259540), Brand Fuel, Inc. (asi/145025), The Icebox (asi/229395), Zagwear (asi/365552), Image Source (asi/230121), C&S Sales (asi/155110) and Robyn Promotions (asi/309656).
Each year, members of Reciprocity Road will contribute a percentage of rebate dollars to select charities. This year's charities are the Promotional Products Education Foundation and Children's Miracle Network.
"We are sending a clear message to all of our supplier partners, our communities, and our teams that this is going to be a journey that benefits everyone involved," said Rod Brown, CFO of MadeToOrder. "By definition, our mutual dependence on each other becomes our catalyst. By naming the group Reciprocity Road, it's a reminder even to ourselves that we exist to benefit each other."
The group says that its supplier partners will have open access to end-user clients with a model that will lead to more rebate dollars to their sales teams and selected charities. "Too often, buying groups lapse into a rebate-only or EQP-for-all entity," Brown said. "Reciprocity Road is focused on maximizing financial incentives while lowering frictional cost, but we are on a mission to pave the way for better relationships with our partners with stronger two-way traffic."

TOP
Record Numbers Join Proforma's Million Dollar Club
Proforma (asi/300094) announced that in 2015 a record number of owners surpassed a million dollars in sales for the first time. In total, 21 owners reached the mark and joined the company's Million Dollar club, including nine new million dollar members, five Multi-Million Dollar Club members, one $5 Million Club member and one $10 Million Club member. Five owners jumped past the $1 million level and attained Multi-Million Dollar Club membership for the first time.
"At Proforma, our tagline is 'We Make Millionaires'," said Greg Muzzillo, founder of Proforma. "This accomplishment is proof that Proforma truly does make millionaires and also helps make our owners' dreams come true. We are incredibly proud of this dedicated and hard-working group of owners."
Proforma's Million Dollar Club includes over 100 owners in total, across several revenue levels. "Proforma has inspired the motivation and drive we've had this year to reach our goals and hit the $2 million mark," said Steve Flaughers of 3rd Degree Marketing in Canton, OH and one of the newest members of the Multi-Million Dollar Club. "With Proforma, we've been able to position ourselves as full-service providers while securing five acquisitions and adding six sales reps to our team. I've been able to take on complex projects involving website design, mobile app development and high-volume orders with short deadlines."
Million Dollar Club members and their significant others are invited to a resort to network with suppliers and celebrate their accomplishments. This year's trip will be held at the PGA National Resort and Spa in West Palm Beach, FL, from March 31st to April 3rd.

TOP
Innopack's VP Acquires Full Ownership Of Company
Innopack USA Inc. (asi/62656) announced that the company's vice president of operations has acquired full ownership of the company. Jon Johnston has been with the company since 2004, starting out as production manager before being promoted to VP in 2008. Johnston started in the promotional products industry in 2000 as assistant production manager for Specialty Marketing Concepts.
"As CEO, I am taking the company to new levels of customer service," Johnston said. "I feel the industry can do better at this and I intend to lead the way. We have brought on additional customer service people and we will be offering new decorating options by the end of the month."
Innopack was previously owned by David and Sahara Ealy. Johnston had a 20% ownership stake before acquiring full ownership beginning January 1.

TOP
In The News
BPM Products, LLC (asi/37780) introduces AMP-IT, the first acoustically-amplifying docking station for mobile phones with external speakers that requires no batteries or power cord. Visit www.bpmproductsllc.com for more information.
Gemline (asi/56070) has entered into a partnership with Society Awards, under which Gemline will be the distributor of a select offering of trophies and awards within the promotional products industry in North America.
Hasseman Marketing & Communications (asi/221824) announced that CEO Kirby Hasseman will release a new Delivering Marketing Joy podcast each business day. Go to www.hassemanmarketing.com for more information, and listen to the newest podcast here.
Leed's (asi/66887) announced its 2016 product launch of 197 new products, including new brand partnerships with SKROSS travel products and Sheaffer pens. The new products are available at www.pcna.com/Leeds/ and in the 2016 Leed's catalog.
The Premier Group Network announced that Grossman Marketing (asi/215205) has joined as a member distributor.
Prime Line (asi/79530) and Jetline (asi/63344) announce a joint booth promotion at the 2016 PPAI Expo to win Samsung high-definition TVs and other great prizes. Distributors who locate three WOW! items at Prime Line's booth (#5817) and three at Jetline's (#6044) qualify for prize drawings today and tomorrow at 5:15 p.m. at Prime Line's booth. The company will also give out prizes at its Fun Zone booth and the pavilion main stage.
Summit Group, LLC (asi/339116) has relocated from Atlanta to a larger 27,000-square-foot facility in Smyrna, GA. The new office is located at 4500 Highlands Parkway SE, Smyrna, GA, 30082.
Toddy Gear, Inc. (asi/91411) is showing three new products at this week's PPAI Expo in Las Vegas: the Smart Charge 2-in-1 Power Bank and Charger Kit, the ICE Cooling Wrap 700 Series featuring RapidCool Polymer and Toddy Care Kits. Visit booth #3078 at the PPAI Expo to learn more.

TOP
People On The Move
A Brand Company (asi/145252) welcomes Angie Farmer as director of global sourcing and compliance. She was previously the director of compliance for Staples Promotional Products.
Lorente LLC (asi/67961) hires Cindy Roberson as national sales manager.

TOP

6,000 Distributors Attend ASI Orlando
ASI's first trade show of 2016, featuring keynoter Marcus Lemonis, draws 715 exhibitors and nearly 6,000 attendees from 49 states and 18 countries.
Find out more.

ASI Releases "Year in Search" Video
ASI presents a whole new way of looking at ESP searches, people and products in its new "Year in Review" video.
Find out more.
TOP

THE ASI SHOW
THE ASI ROADSHOW IS TRAVELING TO THE SOUTHEAST FIRST!
The ASI Roadshow is coming to a city near you in the Southeast from January 25-28. And, as a distributor member benefit, you will be able to bring your clients with you so they can be a part of the product sourcing process. Just have them bring their business card to receive a generic badge and lanyard that will make them more identifiable so the appropriate business conversations can take place.
Register here for the city of your choice:
Monday, January 25 • Raleigh, NC • Hilton North Raleigh/Midtown
Tuesday, January 26 • Charlotte, NC • Great Wolf Lodge
Wednesday, January 27 • Atlanta, GA • Holiday Inn Atlanta Perimeter
Thursday, January 28 • Nashville, TN • The Inn at Opryland
Exhibits are from 9 a.m. until 1 p.m. and all distributors and their clients attend for FREE! Plus, you'll receive 5 points towards your BASI/MASI just for attending! Visit www.asiroadshow.com to register for free using promo code PROMOGRAM.
Follow ASI Show on Twitter and Instagram, and like us on Facebook.





This message/promotion was sent by Advertising Specialty Institute, Inc., 4800 Street Road, Trevose, PA 19053
For questions/inquiries please contact our Customer Service Team at CustomerService@asicentral.com.
To unsubscribe from all of our mailings, click here or send an email to our Customer Service Team CustomerService@asicentral.com
with the Email Address in the subject line. To unsubscribe from the Counselor PromoGram e-Newsletter email list only, click here