NEWS STORIES


BIC Reports Q3 Sales Growth
BIC Group, parent company of Top 40 supplier BIC Graphic (asi/40480), announced recently that it achieved net sales growth of 4.8% in the third quarter of 2015 and 5.8% during the first nine months of the year. BIC Graphic, the company's promotional products division, reported decreased sales of 3.4% for the third quarter and flat revenue growth for the first nine months of 2015.
Read Article




Gildan Announces Third-Quarter Results
Gildan Activewear (asi/56842) has reported increased sales and earnings for the third quarter of 2015. The Montreal-based apparel supplier and manufacturer said net sales reached $674.5 million, up from $666 million during the same quarter the prior year. Quarterly net earnings tallied $123.1 million, or $0.50 per share – an increase over 2014's $122.7 million.
Read Article




Children's Straw Tumblers Recalled
Ignite USA LLC, the maker of Contigo water bottles and mugs, has recalled straw tumblers for children due to risk of ingesting or aspirating small parts. The drinking cups, about 130,000 of which were sold in Meijer and Target stores in the U.S. from May to October, pose a hazard where small parts of a drinking straw can break off into a child's mouth when chewed on.

Read Article




The Joe Show: Effective Promo Products
In this episode of The Joe Show, Product Editor Joe Haley fishes for promo ideas with a unique branded duck bobber. But there's plenty more. Interested in a handy 4-in-1 tech tool? Need a sleek and comfortable performance shirt for clients? And just how many uses are there for "The Bendie"?
Watch Video



| | |
| --- | --- |
| | ADVERTISEMENT |
TOP
ADVERTISEMENT

American Apparel Provides Q3 Earnings Estimates
Top 40 supplier American Apparel (asi/35297) reported a 19% decline in third-quarter net sales, according to estimates provided by the company to the SEC. The supplier, which declared bankruptcy last month, stated in its filing that it is unable to issue a full Q3 earnings report due to "the quantity and complexity of the Chapter 11 Cases."

According to its estimates, American Apparel suffered a decline of $29.8 million in year-over-year net sales for a total of $126 million in the quarter. The company attributed the result to a decline in same-store sales, unfavorable foreign exchange rates and store closures. In total the Los Angeles-based supplier suffered a net loss of $18.8 million for the quarter, roughly the same total of its net losses in the third quarter of 2014. The company did not provide data for its wholesale division, which includes promotional product sales.

For the year, American Apparel has accrued net sales of $384.8 million, a decline of 15.5%. The company has suffered net losses of $64.5 million in 2015, more than $40.9 million in losses in the first nine months of 2014. According to the filing, the net losses and decline in comparable sales were caused by "a strategic initiative to reduce inventory levels" by steeply discounting slow-moving retail merchandise in this year's first quarter.

American Apparel filed for Chapter 11 bankruptcy protection in early October after reaching a deal with most of the firm's secured lenders. A company spokesperson told Counselor at the time that it would be "business as usual" with the supplier's wholesale operation, which would continue to operate uninterrupted. In its second-quarter financial statement, American Apparel reported $48 million in its wholesale division, a decrease from $54 million the previous year. The supplier ranks 14th on the most recent Counselor Top 40 supplier list with $105.2 million in North American promotional product revenue, a 6% increase over the previous year.

TOP
ADVERTISEMENT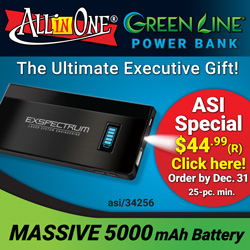 BrandCharger And Sweda End Distribution Agreement
BrandCharger (asi/88751) and Sweda (asi/90305) have announced that their distribution agreement will be terminated. The companies signed the agreement in April 2014 for Sweda to carry BrandCharger's full line of power banks and USB car charger products.

BrandCharger will now sell directly to the North American promo market – a move the Vancouver-based supplier says will result in price drops by up to 60%. BrandCharger will work with various sales rep networks, including Witte Marketing Group, McGovern Marketing Group Inc., and CSM Reps.

"We would like to thank Sweda for its contribution in developing BrandCharger's business gift sales in North America,' said Pierce Fabian, director at BrandCharger. "We wish Sweda all the best and continued success and hope that our distributors appreciate how these changes will benefit them directly."

TOP

Podcast: Integrity Selling
In the latest edition of ASI's new Strategy Session podcast, sales guru Diane Ciotta dishes insights no selling professional can miss. Want to build strong, long-term relationships with clients? Interested in being more productive? Want to improve your consultative selling skills?

Ciotta – a renowned sales trainer, keynote speaker and author – delivers the answers to these questions and more in our newest podcast. Click here to listen.

TOP
ADVERTISEMENT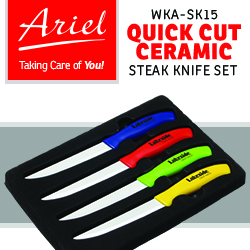 Vote Now For Your Favorite Suppliers
Every year, Counselor magazine honors the best industry suppliers with our Distributor Choice Awards. Of course, we can't name the winners without distributors, because these awards are chosen solely by industry distributor firms.
We're currently seeking out distributor opinions about who the best suppliers are to work with in the industry. Please click here to vote in the Counselor Distributor Choice Awards.
These respected awards will be given out to winning suppliers at the ASI Show in Orlando on Tuesday, January 5, 2016. Your vote counts and we thank you in advance for your participation. Voting ends Friday, November 20.

TOP
In The News
American Apparel (asi/35297) announced that it has released its new principal style – the Fine Jersey Classic Woman's T-Shirt (23215). The item will be available as of December 1 and it will be exclusive to the company's wholesale division.
BAMKO Inc. (asi/131431) announced that it has been awarded ISO 9001 certification for its Quality Management System (QMS). ISO 9001 is the international standard for Quality Management Systems and is the world's most widely used QMS standard.
BrandCharger (asi/88751) announced the introduction of its NANO product, which is a slim wireless speaker with Ambient Harmonics sound drivers. The product can be ordered now.
Dard Products (asi/48500) announced it is now officially certified as a Women's Business Enterprise by the Women's Business Enterprise National Council (WBENC). The certification became effective as of November 13, and it officially recognizes that Dard, which is led by Bonni Shevin-Sandy, is a woman-owned, operated and controlled company.
FIEL-Fairdeal Import & Export (asi/53509) announced the addition of embroidery to its available decoration methods. Distributors can now choose among screen printing, heat transfer printing and embroidery when purchasing decorated products. For more information, visit www.fiel.com/embroidery.
Hub Pen Company (asi/61966) announced that Colleen Bibby was honored with the SAAGNY (Specialty Advertising Association of Greater New York) Customer Service Representative of the Year Award.

TOP
People On The Move
Boundless (asi/143717) announced it has hired Tiffany Price as vice president of marketing. Price most recently was director of email marketing at Vistaprint.

TOP

Congrats to Latest Certified Grads
With over 40,000 enrolled in ASI's free Online Learning Center, ASI awards new certifications every month.
Find out more.

Link Directly to ESP Updates
The Magnet Group is now directly linked to ESP Updates and 3,200 suppliers' data is now available to distributors in ASI's ESP® platform.
Find out more.
TOP

THE ASI SHOW
YOUR ONLINE GUIDE TO ASI SHOW ORLANDO
Your guide to ASI Show® Orlando is ready – check it out now to see all that's NEW and EXCITING in 2016! As the first show of the year, ASI Show Orlando is where distributors come to kick off their sales year – do you want your competitors beating you to the hottest and newest products out there?  Check out all this show has to offer and attending will be an easy decision:
Register today for FREE using promo code Promogram. For more information on the three-day schedule, January 4-6 at the Orange County Convention Center, visit www.asishow.com, or call 800-546-3300 – our registration specialists are ready to help.
Follow ASI Show on Twitter and Instagram, and like us on Facebook.




This message/promotion was sent by Advertising Specialty Institute, Inc., 4800 Street Road, Trevose, PA 19053
For questions/inquiries please contact our Customer Service Team at CustomerService@asicentral.com.
To unsubscribe from all of our mailings, click here or send an email to our Customer Service Team CustomerService@asicentral.com
with the Email Address in the subject line. To unsubscribe from the Counselor PromoGram e-Newsletter email list only, click here