NEWS STORIES


3M Restructures, Will Cut 1,500 Jobs
3M Co., parent company of Top 40 supplier 3M/Promotional Markets (asi/91240), will slash about 1,500 jobs as part of a restructuring plan announced in the wake of a disappointing third quarter.
Read Article




Supplier Sold To Industry Veterans
Premiums and incentives supplier Top Brands (asi/91455) has been sold to industry veterans Pam and Gary Slavonic, the company announced. Owner Norma Jean Knollenberg and CFO Gus Knollenberg will retire, but plan to stay on through the end of the year to assist in the transition. Terms of the deal were not announced.
Read Article




Power 50 Podcast: Jo-an Lantz, Geiger
In this fifth installment of the Counselor Podcast: Power 50 Series, Jo-an Lantz explains why she thinks the pace of everything in the ad specialty market is picking up. "The Amazon model is really beginning to encroach on this business," said Lantz, executive vice president of Top 40 distributor firm Geiger (asi/202900). "Traditional methods and approaches are shifting in this business and everybody really needs to adjust. There's just less time in the whole supply chain."

Read Article




The Joe Show: Bounce Along with New Products
In this episode of The Joe Show, Product Editor Joe Haley features items that are perfect for being on the go. Looking for a high-visibility luggage strap? How about a wireless Bluetooth pedometer that will keep clients moving? What about a unique new mixing bottle that's perfect for smoothie and health fanatics?
Watch Video



| | |
| --- | --- |
| | ADVERTISEMENT |
TOP
FedEx Predicts Record Holiday Shipments
FedEx is predicting a record number of shipments this holiday season, including a 12% increase over last year. The shipping carrier estimates it will transport 317 million packages between Black Friday and Christmas Eve.
The company attributes the predicted growth primarily to consumers' preference for online shopping over buying in-store. "The shift in consumer shopping patterns, fueled by the rise of e-commerce, continues to drive our volume," said Frederick W. Smith, CEO of FedEx.
According to figures from the National Retail Federation, e-commerce sales are estimated to increase between 6 and 8% in November and December this year for a total of $105 billion. By comparison, total sales are predicted to grow by 3.7% (for a total of $630.5 billion).
FedEx says the holiday season (which includes an extra day than last year) will include three major spikes – Cyber Monday and the first two Mondays in December. On those days the company expects to ship more than twice its daily average volume. To handle the increased shipping activity during the entire season, FedEx will hire more than 55,000 seasonal workers, up from about 50,000 last year.
Consumers' reliance on e-commerce is spurring increased activity from shipping carriers. FedEx's average daily ground package volume has increased by 20% since 2012.

TOP
ADVERTISEMENT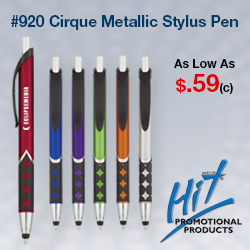 Proforma Launches New Company
Top 40 distributor Proforma (asi/300094) announced yesterday it has launched Global Graphics Network (GGN), a sister company focused on helping commercial printers grow their businesses. Through GGN, commercial printers, decorators and silkscreen printers can capitalize on the combined resources of a connected network, while still maintaining their independent business ownership and business name. During the initial launch of GGN, Proforma says that new members can join the network without any upfront costs.
"Global Graphics Network is designed to focus on the unique needs of printers," said Greg Muzzillo, founder of Proforma, in a statement. "We know most printers have invested a great deal in their equipment, their staff and building their brand. We respect the businesses they have created. We also know that most printers need to find the right path forward to dynamically increase their sales and position their business for success in today's business reality."
Proforma's new company will offer printers access to a $4 million sales and marketing fund and marketing materials they can brand with their own company name and logo. Members will also have access to a 140-member support services team, financial backing, free credit insurance, dedicated sales rep recruiters, and an acquisition support team.
"Proforma and Global Graphics Network understand the specific challenges printers face," said Andy Mealor, owner of Proforma Ascension Marketing Group. "When I joined Proforma in 2010, I had a struggling commercial printing business with sales around $1 million. Today, we have more than doubled our sales to the $2 million range and are looking forward to achieving at least $3 million in 2016. I am pleased to see that Proforma is creating a separate network with GGN, solely focused on the unique needs of printers."
Proforma currently ranks as the third-largest distributor in the promotional products market, after reporting to Counselor that it totaled 2014 North American ad specialty sales of $373.4 million, a 7.3% increase over the previous year.

TOP
SGR Announces Winners Of Sales Rep & CSR Of The Year Awards
For the fifth consecutive year, SGR magazine held its annual Supplier Rep of the Year and Customer Service Rep of the Year contests, based on distributor nominations. This year's winners are: Jane Ryan of Jetline (asi/63344) as the Supplier Sales Rep of the Year; Mike Gruosso of Liqui-Mark (asi/67675) as the first runner-up; Dawn Browne of CPS/Keystone (asi/43051) as the Customer Service Rep of the Year and Patricia Ortiz of Debco (asi/48885) as the first runner-up.
"Jane is a treasured member of the Jetline family," says Jetline owner Eric Levin of Jane Ryan. "She's been a contributor in so many ways since the day she started with us and she continues to use her depth of experience to help in staff development. From my perspective, her success comes from a recipe of energy, dedication, professionalism and a lot of panache. Jane's disarming personality and bottomless enthusiasm opens doors and closes sales. Jetline would not be the same without her."
SGR's Michele Bell spoke to Ryan to glean some of her best sales advice. Click here to listen to the interview.
Of Gruosso, Josh Goodelman, Liqui-Mark's vice president, says: "Mike impresses me because he has the ability to jump between sales and customer service support. In our industry I believe you must have the qualities of a top notch customer service rep to be a successful salesperson. He has an energetic personality, is personable and able to successfully attract customers to want to do business with him and Liqui-Mark."
CSR of the Year Browne's flexibility in communicating with clients across the country has gotten the attention of clients and colleagues alike, most notably her supervisor, Kippie Helzel. "Dawn has the best attitude and flexibility," says Helzel, vice president of sales for CPS/Keystone. "She does whatever it takes to take care of a customer. She's proactive with inside sales support, idea generation and product solutions as well as everyday customer service."
And regarding Ortiz, her boss Alex Morin, executive vice president of sales & marketing at Debco, is effusive: "Patricia is one of the best relationship managers in the business. She's attentive to customer needs and anticipates those needs in a way that endears her and makes her indispensable. There are few who are as qualified as Patricia to be able to provide timely ideas, brilliant suggestions and meaningful insights. She's an integral part of our organization, tremendously valued and beloved by her colleagues and clients alike."
For more information on SGR and its annual reps of the year contest, contact Editor Michele Bell at mbell@asicentral.com.

TOP

Podcast: How To Gain Referrals
In the latest edition of ASI's new Strategy Session podcast, sales expert and networking guru Alice Heiman shares her top strategies for gaining referrals and growing your online presence.
The author of the ebook Connecting Your Way to New Business also discusses the elements of a successful LinkedIn profile and how it can grow your client base and beef up your sales. Heiman honed her expertise working with large corporations like Coca Cola, John Deere and Hewlett Packard, and today works with small businesses and hosts peer-to-peer networking events.
Why don't more distributors ask for referrals? How can industry companies grow their online presence and gain instant credibility? Heiman answers these questions and more in our latest Strategy Session podcast. Go to www.asicentral.com/podcast to listen.

TOP
Slideshow: Star Wars Merchandise Heating Up
Unless you've been frozen in carbonite for the past several months, you're probably well aware there's an epic movie event scheduled for later this year. "Star Wars: The Force Awakens" – the seventh film of the franchise – doesn't hit theaters until December 18, but already promo products are flowing like hate through the Dark Side. (Ok, no more bad puns.)
According to The Wichita Eagle, total sales of the merchandise are expected to reach several billion dollars. That's billion, with a B! So you can imagine how much stuff is out there. The Wichita Eagle did devoted fans a huge solid by coming up with a guide to some of the coolest Star Wars items in the galaxy. Check out a slideshow below of some of the best ones, and may the merch be with you. (Sorry!)
Click here to view the slideshow.

TOP
In The News
Polyconcept North America has launched enhanced inventory search tools at pcna.com. Logged-in users can use the new inventory search filter on any search, which allows them to type in an exact quantity to identify products quickly. Additionally, the enhanced inventory check provides additional information, including current available quantity by color, arrival dates for upcoming shipments and more. Visit www.pcna.com for more information.
Pop! Promos (asi/45657) has been ranked first on the Philadelphia 100, a list of the Philadelphia region's fastest growing companies, with growth of more than 1,661% in three years.
The Premier Group Network announces that The Promotions Dept. (asi/301221) has joined as a new member.

TOP
People On The Move
The Magnet Group (asi/68507) has hired Cathy Cummings to its key account team.
The Perfect Promotion has promoted Chelsea Caplan to account manager and has hired Jamie Hollister as account coordinator.
World Emblem (asi/98264) welcomes Karen Sorota as director of market development.

TOP

Congrats to Latest Certified Grads
With over 40,000 enrolled in ASI's free Online Learning Center, ASI awards new certifications every month.
Find out more.

Link Directly to ESP Updates
The Magnet Group is now directly linked to ESP Updates and 3,200 suppliers' data is now available to distributors in ASI's ESP® platform.
Find out more.
TOP

THE ASI SHOW
GROW YOUR BUSINESS WITH THE CONNECTIONS YOU MAKE AT ASI SHOW DALLAS
Expand your relationships, learn the latest trends and discuss goals and clients' needs face-to-face with industry colleagues at ASI Show®Dallas, February 9-11 at the Kay Bailey Hutchison Convention Center. Attend for FREE when you register today using promo code Promogram and network with industry professionals who are serious about doing business!
Starts your sales year off strong with the new connections you make at these networking events:
FREE: Distributor Networking Lunch: Brainstorm With the Experts (first come, first served) –  Discuss hot topics with popular ASI Show speakers, subject-matter experts and distributor peers
FREE: ASI's Minute to Win It  – Join us for drinks, snacks, and lots of fun with the industry's hottest new game show
FREE: Closing Celebration – End your show and collect new friends' business cards or maybe even close a last-minute deal over beer, wine and snacks
Networking Clubs – Make new connections during fun activities focused around adventure, dining, good spirits and running – schedule coming soon! (A small fee applies to cover costs)
Gala Celebration – Hosted at the renowned Eddie Deen's Ranch, join us for a fun evening of food, drinks, excitement and networking (ticket required)
You can't miss this opportunity to make important connections at this crucial time in the sales year – register today! For more information on the complete three-day schedule, call 800-546-3300 or visit www.asishow.com.
Follow ASI Show on Twitter and Instagram, and like us on Facebook.





This message/promotion was sent by Advertising Specialty Institute, Inc., 4800 Street Road, Trevose, PA 19053
For questions/inquiries please contact our Customer Service Team at CustomerService@asicentral.com.
To unsubscribe from all of our mailings, click here or send an email to our Customer Service Team CustomerService@asicentral.com
with the Email Address in the subject line. To unsubscribe from the Counselor PromoGram e-Newsletter email list only, click here