ADVERTISEMENT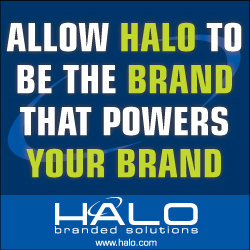 Graham Captivates Power Summit Audience
YouTube filmmaker Devin Graham – whose original work consistently generates millions of online views – showcased his video talents during a Tuesday session at this the ASI Power Summit. Playing several video clips, Graham explained to attendees how he approaches each project. "I'm always looking for things the world hasn't seen before," he said. "Or, I'm looking to show things in a new way."

Graham's latest videos are short, each no more than a couple of minutes long, but are known for fast-paced action, unusual backdrops and subtle product placements. From shooting high-flying water jet packs to violin playing in front of ice castles, Graham has produced spots for Ford, Mountain Dew and video game company Ubisoft. Smaller companies have benefited as well from Graham's work, including Utah apparel maker Vooray, which quickly doubled its sales after its items appeared in a human slingshot video Graham produced. "They were able to take their products to 20 countries and had a 300% higher brand awareness after we did the video," Graham said.

Graham, 30, gave attendees several tips for creating compelling YouTube videos. "Length of videos is important," he said. "Originally, I would do videos that were three to six minutes, but I found looking at Google Analytics that people wouldn't always watch until the end."

Another key point Graham made is that simple equipment can have a powerful impact. "I started shooting videos with my phone and then I went to better gear like a Canon T2i," he said. "I thought I needed to get even better equipment, but I found when I used better gear, my views went down. People want to relate to what you're doing on YouTube. They want to be able to do what you do."

Graham also spoke about linking YouTube videos to other social media platforms. "I put just about everything on Facebook, Twitter and Instagram," he said. "I post everywhere. At the end of YouTube videos, you can link to whatever you want." Finally, when asked how to get videos to go viral, Graham told attendees to look to current events and what's popular. "It's about being timely," he said. "I go on Google Trends to see what people are watching. Lately, cats and humor are big. If you can take a product and add comedy, that's working right now."

Click here to see examples of Graham's work from his YouTube channel. And, Click here to see Graham share some of his tips for video success.