ADVERTISEMENT
 
PRODUCT SPOTLIGHT




ASI NEWS


Vote, Brand, Buy
Check out the results of ASI's election survey and find out how you can tap into the election market this fall.
Find out more.

Get ASI SmartLink
With ASI SmartLink™, distributors have a quick and easy business solution that supersizes any e-commerce site using ESP, the industry's leading product data and search engine.
Find out more.



ESP WEBSITES


ASI welcomes the following suppliers to the ESP Websites network.
Find out more.



ASI STORE




Find, review, and purchase the latest exclusive ASI

products...
Find out more.




ADVERTISEMENT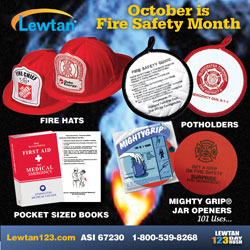 Promo Products Commemorate Democratic Convention
The Democratic National Convention (DNC) is underway this week in Charlotte, NC, packed with agendas, parties, delegates, media and lots of logoed products. Vendors filled busy sidewalks hawking everything from caps and T-shirts to lanyards and buttons. Election button slogans ran the gamut from the traditional "Obama 2012" to a Redd Foxx-inspired "Vote Obama, you big dummy."
While standing in a long line at the official DNC merchandise store, two New Hampshire delegates, a married couple, reminisced about past promo items. "We attended the president's inauguration and there was every sort of product imaginable," said the husband, holding an Obama T-shirt and bumper sticker. His wife spotted promo pet items, but was disappointed that there were no "I Bark for Barack" collars. There were, however, "I Meow for Michelle" collars, but she didn't buy any because she said she "doesn't want to confuse the dog."
Special interest groups and non-partisans also got in on the promotional product bonanza. Planned Parenthood gave out condoms that said "Protect yourself from Romney & Ryan in this election," the United Health group offered free screens and logoed exercise bands and reps from FixTheDebt.org handed out silicone bracelets. In addition, the South Carolina visitor's bureau distributed iPhone shock cases, hand fans and mint tins. The National Constitution Center was in attendance, giving out word magnets to those who videotaped a six-word stump speech.
The big score of the day for nearly everyone outside the convention center, though, was the President Obama trail hitch ball cover. About 3,000 were handed out by PrezHead to happy conventioneers. "If they don't smile, they burst out with a laugh," said Michael McGinnis, president of PrezHead.
Below are a few photos of ad specialty items on display in Charlotte, but for many more snapshots, click here to view a photo gallery provided by Managing Editors Joan Chaykin and Joe Haley. For a look at promotional products images from last week's GOP Convention in Tampa, click here.