PRODUCT SPOTLIGHT
 

ASI NEWS

Networking Rules at VTS 
Each booth at ASI's latest virtual trade show averaged 722 visitors and each distributor spent about 80 minutes enjoying the show. Plus, 5,000 one-to-one chats took place. 
Find out more. 

Get Trendy with Tailgating Games and Gear 
Check out ASI's first-ever Top 10 list of games and products sure to heat up the asphalt. 
Find out more.

LOGOMALL
ASI welcomes the following Suppliers to the LogoMall Network 
Find out more...
ASI STORE
Find, review, and purchase the latest exclusive ASI products... 
Find out more... 

 
 
WorkflowOne Files Chapter 11 Bankruptcy
Citing a need to restructure senior debt, the parent company of Counselor Top 40 distributor WorkflowOne (asi/333647) has filed for Chapter 11 bankruptcy protection in Virginia, claiming the move "is of a narrow scope" that won't bring any "disruption to business." The filing became necessary, the company says, after restructuring negotiations with one of its significant debtholders failed. "We're being proactive and we've voluntarily filed," said Mary Ann Kabel, a WorkflowOne spokesperson, in an interview this morning with Counselor. "Our doors are staying open for business and we expect to emerge from this as a very viable company."
ADVERTISEMENT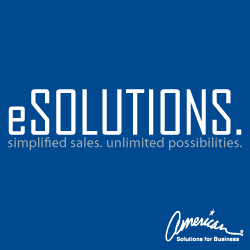 The filing, formally made by WF Capital Holdings Inc., Workflow Management Inc. and other affiliated holdings, lists both company assets and debt of up to $500 million. Immediately after filing for bankruptcy, the company unveiled a restructuring plan designed to alleviate bank debt, satisfy more than 50,000 reported creditors and exit from court protection. According to court documents, the company's 30 largest unsecured creditors are owed more than $40 million. Among those creditors are Branch Banking and Trust (owed $20 million), private-equity firm The Carlyle Group ($12.5 million) and Tenet Healthcare ($768,000).
In a letter to customers dated September 29, 2010, WorkflowOne management maintains that delivering the highest-quality products and services "remains our top priority" and clients "will receive orders on time and as specified." The letter also provides customers a toll-free number to a restructuring information hotline. WorkflowOne executives also recently provided a separate letter to each of its 2,400 U.S. employees, writing that "we fully expect…there will be no changes to pay or health and welfare benefits." Additionally, Kabel said today that the bankruptcy filing is not expected to produce layoffs at the company.
Based in Dayton, OH, WorkflowOne is ranked by Counselor as the 13th largest distributor in the ad specialty industry, with 2009 revenues of $82.8 million.

ADVERTISEMENT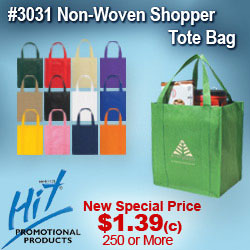 California Law Limits Cadmium
Following a national trend, a new California law greatly restricts the amount of cadmium allowable in children's jewelry, creating what amounts to a limited ban of the controversial metal in two of the nation's largest ports. The legislation, signed this week by Governor Arnold Schwarzenegger, restricts the manufacturing, shipping and sale of children's jewelry or components that contain more than 300 parts per million or .03% of the heavy metal. "Cadmium is a known cancer-causing agent and there is no reason for our most vulnerable citizens – our children – to be exposed to this highly toxic metal," said CA State Senator Fran Pavley, who authored the bill.
Cadmium, which has been used primarily by Chinese manufacturers as a substitute for lead, can cause severe health problems, damaging kidneys and possibly even stunting the development of young brains. The metal has come under intense scrutiny since January, when testing showed a single piece of imported children's jewelry was 91% cadmium. California's cadmium law, which goes into effect in January 2012, applies specifically to jewelry intended for children six years old and under. The new law will also limit cadmium-laced goods that are shipped into the large ports of Los Angeles and Long Beach.
In the wake of the cadmium scare, the U.S. Consumer Product Safety Commission (CPSC) has issued a flurry of recent recalls. Hundreds of thousands of necklaces and bracelets sold at stores like Walmart, Claire's, Justice and Limited Too have been recalled over cadmium concerns. CPSC Chair Inez Tenenbaum has also told parents to throw away any cheap metal jewelry, in hopes of limiting potential health risks.
California is the fourth state this year, following Connecticut, Illinois and Minnesota, to pass a law that restricts cadmium. Meanwhile, the CPSC continues to prepare new standards to guide manufactures on the future use of cadmium in products.

Video Report: News Of The Week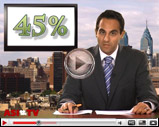 In this episode of Counselor's Industry Update video, we report on a supplier that's chosen a new go-to-market strategy and reveal survey data that shows positive small-business outlooks for the remainder of 2010. Plus, will U.S. government pressure impact the value of China's yuan? Watch the video now to find out.
Click here to see the trends and to watch Counselor PromoGram's Industry Update.
If you have any news you'd like to see covered on Industry Update or in Counselor PromoGram, please send it to newsdesk@asicentral.com.

U.S. House Passes Bill That Threatens China 
The Unites States House of Representatives passed a measure yesterday that would allow the Commerce Department to impose new tariffs on imported goods coming in from countries with undervalued currencies. The bill is mostly aimed at China, which the U.S. government believes has been manipulating its currency, the yuan, to keep its value artificially low. This has the effect of cheapening the cost of goods being imported from China, and of taking manufacturing away from U.S. firms.
The bill passed the House by a vote of 348 to 79, and the Senate is expected to begin debate on the measure after it reconvenes in November following the midterm elections. "We can talk, or we can act. International trade is a high stakes, cut-throat business, and every time we simply talk, the other side acts, and every time they act, an American loses a job," said Representative Xavier Becerra, (D-CA).

China said earlier this year that it would allow the yuan to trade in a wider range against the dollar. But, after an initial increase in value, the currency's value hasn't shifted much at all. The lack of appreciation has now caused frustrated lawmakers in the U.S. to act.

"We must take decisive action against China's currency manipulation and other economically injurious behavior," said Senator Charles Schumer (D-NY). "China is merely pretending to take significant steps on its currency. This sucker's game is never going to stop unless we finally call their bluff."

Podcast: Angry Clients Can Equal Opportunities


On Tuesday's ASI Internet Radio Show, the hosts took questions from callers who were looking for advice on how they could appease their most difficult clients. Have a customer that tends to berate you or your staff when something goes wrong? Need strategies for getting even more sales from your angriest clients? Get all the answers in this clip from the show. 
Click here to listen to the difficult-customer segment from Tuesday's show.
If you'd like to check out a recording of the whole online radio show, go to www.asicentral.com/radio. And, don't forget to join us next Tuesday, October 5, for our next broadcast. Log on to www.asicentral.com/radio at 10:30 am ET and give us a call at 215-953-4979 or e-mail us at radio@asicentral.com to participate on the show. We want to hear from you.

Small Businesses Expect 2010 Growth
The majority of small business owners anticipate their 2010 revenues will exceed their 2009 sales, according to a new survey. The data, released by the Guardian Life Small Business Research Institute, shows 51% of small business owners believe their year-over-year sales will increase in 2010. A year ago, only 32% expected better sales in 2009 compared to 2008. "Many government officials and economists believe the nation's recovery from the recession depends on small businesses; thus it's heartening to see that small business owners have a positive outlook for [the rest of] 2010," said Mark Wolf, director of Guardian Life.
Consistent with their optimism for sales growth, the survey also shows 45% of small business owners plan to expand their companies within the next two years. In addition, results show companies with 10 or more employees are most likely to expect growth in 2010. "As companies reach a critical mass of 10 or more employees, they gain a level of stability and resourcefulness that helps them succeed, even in tough times," said John Krubski, research advisor to Guardian Life.
Within individual markets, data shows environmental companies (65%) and health care companies (60%) have the highest expectation for 2010 revenue increases. Conversely, hotels and restaurants (58%), retail companies (57%) and financial firms (57%) have the highest percentage of small business owners who expect 2010 sales to be the same or lower than 2009.     
The Institute's findings also show small business owners outperformed their own revenue estimates for 2009. Only 32% of those surveyed last year expected their 2009 revenues to be better than their 2008 sales. Yet, in evaluating their actual performance in 2009, 39% reported a revenue increase over 2008. "Our research indicates that small business owners are typically conservative in estimating the financial prospects for their companies, so this upbeat projection bodes well for the U.S. economy," said Wolf.

New Factors Announced For CreditConnect Scores
Starting October 1, payments made for ASI services will be reflected in a distributor's CreditConnect score.
Why is this important to distributors? The majority of ASI distributors pay their bills on time. These positive pay habits will now be reflected in their credit score, which will help distributors negotiate better credit terms with suppliers. It will also help new distributors establish an all-important credit history and make suppliers feel more secure about extending credit to newcomers.
Why is this important to suppliers? Because they'll have more credit information than ever before available on ASI distributors. Payment on ASI services like ESP and LogoMall will help give a picture of the health of distributor operations and will ultimately allow suppliers to offer better terms to qualified distributors and extend even more credit.
Recently, ASI surveyed a sample of distributors to see how industry credit and credit terms were affecting their business. A majority of respondents were owners or primary contacts at their company, and 74% said getting good credit terms is a vital part of staying viable and competitive in the marketplace.
Distributors with questions about their ASI payment data can call customer support at (800) 546-1350 and press option 1.

Honoring The Industry's Best Places To Work
One of the most anticipated lists in the industry is now live. Counselor's Best Places to Work, the ranking of industry companies that were judged by their own employees as the best companies to work for, can now be found on our website and a special new Facebook page at www.facebook.com/BestPlacestoWork.
Click here now to view the full list of 75 companies, and to read a profile of the number-one Best Place to Work: Dacasso (asi/48125), the Gainesville, FL-based supplier.
And, make sure to join the Counselor Best Places to Work community by going to www.facebook.com/BestPlacestoWork. Add your own thoughts to the conversation about what makes a great workplace. Right now, we've asked people for their stories and pictures from their favorite corporate summer outing this year. Join us now to show the industry why your company had the coolest outdoor event this summer.  

In the News
Crystal D (asi/47759) named its third quarter WOW Champs at the monthly company meeting on September 9. The champions included Michael Vitali for commitment, Kay Larsen for respect, TeriKay Thein for integrity, Corey Wilson for passion and Kim Kiefat for quality.
R.S. Owens (asi/75530) has awarded employee and custom department volunteer Trina Winn and finance team Milka Ahlstrand, Agnes Symanska and Pat Drewganis with the Above and Beyond award. Barbara Cassata was also honored for 50 years of service with the company and was thrown an all-employee surprise party.
Sportsman Cap Network (asi/88877) has introduced a video web campaign that features Morgan Woolard, Miss Oklahoma, as part of the company's 2011 catalog launch. Each catalog comes with a barcode, which distributors can use to download the video via their mobile phones.

People On The Move
Bags by Troy (asi/92252) has hired Steve Belosi as its multi-line representative in the Midwest including OH, IN, IL, MI, IA, KS, MO, MN, WI, SD, ND and NE.
SanMar Corporation (asi/84863) has appointed Russ Wenter as the company's industrial laundry territory manager for the western U.S. and Phil Osborn as the industrial laundry territory manager in the east..
Vitronic Promotional Group (asi/93990) has announced the addition of three inside sales representatives: Amanda Jecklin representing IA, MN and WI; David Yeager representing OH, PA, WV and KY; and Tony Kruessel representing IL, MI and IN.

PRODUCT SPOTLIGHT
NEW! USB Sticks from AZX Sport ASI/30250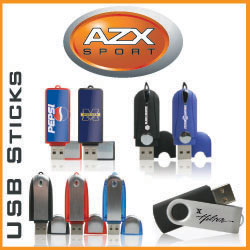 Features: 512MB - 16GB memory size available. Large variety of
colors and shapes. Ability to pre-load files onto USB.

Construction: Full color domed, Laser engraved
and pad printing available.

Lead Time: 1-3 business days on stock USB. 10 business days on
non stock USB. Minimum order 25pcs.

Orders and Art: Info.Promogram@aztex.com

Quote Requests: Info.Promogram@aztex.com

Visit www.azxpromotions.com to see our full line of products.

Or call 1-800-558-4836
CALL FOR QUOTE!
For other new and creative products,
visit the Product Central section on ASICentral.com.

EmailExpress SUPPLIER SPECIALS
Watches for corporate gift giving  asi/44315  - Our DigitalExpress Online Catalog is now available for you to use. View Special...
Fortune Cookies Promos: promote with taste, eye appeal and a custom message  asi/76841  - For a limited time, take 50% off set up fees. Special self-promo pricing available. approducts1@yahoo.com View Special...
New - Low Cost Vinyl Banner Supplier  asi/98600  - Ships next day after proof approval! View Special...
People Love The People Free Print Free Set Up 5 Star ASI  asi/93131  - We Will Hit Your Price To Win View Special...
Flash Drive Prices Keep Dropping! As low as $3.92 net!  asi/37218  - Free Shipping, Free Set Up, and Free 2 Color Imprint View Special...
Tote Away sales With Unbeatable Tote Bag Pricing!   asi/90154  - Free Shipping View Special...
AFFORDABLE DUFFELS  asi/37980  - Visit us online www.bagworldpromo.com. View Special...
Branded Visa Incentive Cards for the Holidays  asi/43853  - Custom Visa Incentive Cards are perfect for employee rewards, sales incentives, marketing promotions, customer loyalty and corporate holiday incentives. View Special...
Holiday gift ideas from Crown Products!  asi/47700  - Holiday gift ideas from Crown Products! Showcase memories with our 7" Digital Photo Frame. Rush service is available! Special Holiday Pricing – only $74.95(c) for 10 or more! Visit www.crownprod.com today! View Special...
Tricycle Jousting!  asi/62124  - Every week iClick holds our "Friday Morning Meeting" to revitalize our team with training and a fun activity. We asked you to come up with our next big event and we received an overwhelming response. Thank you to everyone who submitted ideas. View Special...
The best Christmas food gift ever...O&H Danish Kringle!   asi/74806  - Kringle is an authentic Danish pastry known for its feather-light texture and butter-rich taste. View Special...
Global Sourcing Made Simple  asi/34048  - With 3 sourcing offices in China and over 50 years of experience, Tag Resource is your trusted overseas partner. View Special...
ASI 5-star supplier of custom patches  asi/76450  - US Flag Special-Low Minimum. View Special...
Carhartt - Free Freight Offer Inside  asi/84143  - Carhartt Workwear - rock bottom prices View Special...
Ideas for Heartwalks From CorporateKey  asi/63053  - Ideas for Heartwalks From CorporateKey. To view full selection, call CorporateKey at 1-866-438-5655 or visit www.CorporateKey.com. View Special...
CupCuf, Fabric Coffee Sleeve  asi/47839  - The environmentally friendly way to accessorize the "to go" hot beverage cups. View Special...
First Impressions That Last - 10% Coupon  asi/98264  - Name Badges International provides personalized name badges available in a range of shapes, sizes, colors and materials, allowing you the freedom of choice to design the perfect name badge for your company. View Special...
So Much More Than Temporary Tattoos - Save 15% Now   asi/43530  - California Tattoos: So Much More Than Temporary Tattoos! Save 15% Now. View Special...
5 Star Company with a Price Point to Match!  asi/37855  - Visit our website www.BadashCrystal.com for more Special Offers! View Special...
Introducing Decor-8 from Samsonite   asi/49583  - Looking for a World-Class Brand at low price points? Samsonite has a new collection for you. View Special...
Military, Law Enforcement, and Outdoor Sportsman Gear  asi/81587  - New equipment line will increase your profit margins and your customers satisfaction! New product line introductory offer, receive a free drawstring bag with every backpack ordered! View Special...

REGISTRATION AND HOUSING IS OPEN FOR ALL 2011 ASI SHOWS
As the economy continues to turn around and ad specialty sales increase, it is more important than ever to be prepared for the new sales year! 
From the industry's top suppliers and best-in-class education to an unprecedented list of keynotes and special events, you'll find it all at The ASI Show.  
ASI distributor and decorator members can enjoy free admission, free Gala tickets and even a free hotel room. Visit www.asishow.com for details.
DON'T MISS THE 2nd ANNUAL ASI WOMEN'S SUMMIT
Register today for the 2nd annual ASI Women's Summit taking place on February 18, 2011, during ASI Dallas, at the Adolphus Hotel's French Room and enjoy an event like no other! (Co-sponsored by Fields Mfg., asi/54100, J. Charles Crystalworks, asi/62985, Logo Mats, asi/67849) 
You'll have the exclusive opportunity to network with other women professionals in the ad specialty industry, as well as hear a motivational Keynote by former First Lady Laura Bush.
The afternoon schedule will feature registration and networking from noon until 1:30 p.m., where you'll be able to share stories with colleagues while mingling with Mrs. Bush; a sit-down lunch with Keynote from 1:30 p.m. to 2:30 p.m.; an interactive hot topics discussion from 2:30 p.m. to 3:15 p.m. and an awards presentation highlighting the "Top 10 Women to Watch" from 3:15 p.m. to 3:30 p.m.

Register today at www.asishow.com. All attendees will receive a free autographed copy of Mrs. Bush's new book, Spoken from the Heart, a New York Times #1 best seller.
Follow The ASI Show on Twitter and become a fan on Facebook today!
The following are the dates and locations for The ASI Show in 2011:
Orlando, January 23-25, 2011
Dallas, February 16-18, 2011
New York, March 22-24, 2011
San Diego, May 18-20, 2011
Chicago, July 19-21, 2011
Plus, don't miss the ASI Advantages Roadshow, the industry's #1 traveling show. Visit www.advantagesroadshow.com for the complete schedule and go to www.asishow.com for information on all ASI Shows.
| | |
| --- | --- |
| | |
SPONSORED BY


Counselor® PromoGram® is a trademark of the Advertising Specialty Institute. You were sent this newsletter as a benefit of your ASI membership. Copyright 2010, ASI. All Rights Reserved.
If you'd like us to send Counselor PromoGram FREE to anyone else at your company (or to your off-site sales reps), go to www.asicentral.com/newsletters and complete the online form.
Interested in advertising in Counselor PromoGram? Send an email to ddienna@asicentral.com
Click here to subscribe to Counselor® magazine. You must be a member of ASI to subscribe to this publication. The publisher has a right to refuse subscriptions to non-members.
Advertising Specialty Institute®, 4800 Street Road, Trevose, PA 19053