PRODUCT SPOTLIGHT
 

ASI NEWS

ASI Announces New Education Initiative 
Distributors, suppliers and decorators can work toward the industry equivalent of a bachelor's and master's through the Advertising Specialty Institute Certification Program.
Find out more. 

Get Trendy with Tailgating Games and Gear 
Check out ASI's first-ever Top 10 list of games and products sure to heat up the asphalt.
Find out more. 

LOGOMALL
ASI welcomes the following Suppliers to the LogoMall Network 
Find out more...
ASI STORE
Find, review, and purchase the latest exclusive ASI products... 
Find out more... 

 
 

 
 

ADVERTISEMENT

Small Businesses Expect 2010 Growth
The majority of small business owners anticipate their 2010 revenues will exceed their 2009 sales, according to a new survey. The data, released by the Guardian Life Small Business Research Institute, shows 51% of small business owners believe their year-over-year sales will increase in 2010. A year ago, only 32% expected better sales in 2009 compared to 2008. "Many government officials and economists believe the nation's recovery from the recession depends on small businesses; thus it's heartening to see that small business owners have a positive outlook for [the rest of] 2010," said Mark Wolf, director of Guardian Life.

ADVERTISEMENT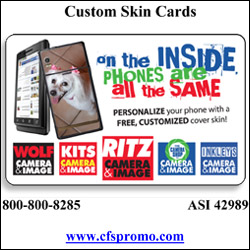 Consistent with their optimism for sales growth, the survey also shows 45% of small business owners plan to expand their companies within the next two years. In addition, results show companies with 10 or more employees are most likely to expect growth in 2010. "As companies reach a critical mass of 10 or more employees, they gain a level of stability and resourcefulness that helps them succeed, even in tough times," said John Krubski, research advisor to Guardian Life.
Within individual markets, data shows environmental companies (65%) and health care companies (60%) have the highest expectation for 2010 revenue increases. Conversely, hotels and restaurants (58%), retail companies (57%) and financial firms (57%) have the highest percentage of small business owners who expect 2010 sales to be the same or lower than 2009.     
The Institute's findings also show small business owners outperformed their own revenue estimates for 2009. Only 32% of those surveyed last year expected their 2009 revenues to be better than their 2008 sales. Yet, in evaluating their actual performance in 2009, 39% reported a revenue increase over 2008. "Our research indicates that small business owners are typically conservative in estimating the financial prospects for their companies, so this upbeat projection bodes well for the U.S. economy," said Wolf.

ADVERTISEMENT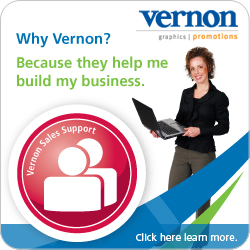 M&A Activity On The Rise
The amount of mergers and acquisitions (M&A) in the overall economy is increasing this year. According to data released by Thomson Reuters, M&A is up 21% compared to last year, totaling $1.7 trillion. This is thanks primarily to strong numbers from August. On September 14, Dealogic reported that emerging-market mergers and acquisitions in the United States increased 66% so far in 2010 compared to last year. Industry analysts believe this increase in deal activity will also hit the ad specialty market in the coming months. "There's no doubt there are more agreements being discussed and consummated," says Jeffrey Meyer, the head of Certified Marketing Consultants, which brokers acquisition deals between companies in the ad specialty industry. "We're involved in a lot of conversation and are sending a lot of letters of intent…there's a lot of activity happening behind the scenes."
Meyer said this increased activity is partly because many companies waited out the summer to see what would happen with the economy before buying or selling assets. Back from vacation with the recovery progressing, now business leaders are moving forward with their plans. He contrasts the boost in mergers and acquisitions today with the scramble of the 1980s, where it was more about large companies making aggressive expansions and merging with other large companies. Today's mergers are being handled more carefully, and tend to involve more small- and medium-sized companies. "Maybe the owner is saying, 'I'm going to buy one small company and fold it into my operation instead of merging with a large operation,'" says Meyer.
Marc Simon, president and CEO of Halo Branded Solutions (asi/356000), also likened the boost in M&A activity to those that happened throughout the 1980s, pointing out that those were typically driven by anticipated tax rate hikes. With business owners concerned that capital gains taxes may be going up in 2011, he believes it will be advantageous for business owners looking to sell their assets to do so sooner rather than later. "It's logical to expect that we will see more and more consolidation," says Simon. With many companies reporting losses or having trouble obtaining credit from banks, Simon expects that larger distributors with significant working capital will be looking to grow their size while it is still relatively affordable. "Halo remains very well capitalized and very interested in pursuing acquisition opportunities."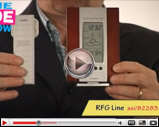 ADVERTISEMENT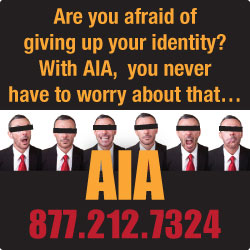 The Joe Show: Electronics
In this episode of The Joe Show, Counselor Managing Editor Joe Haley shows off some hot, new electronic products that are perfect for cutting-edge clients. Planning promotional programs geared toward younger audiences? Check out these products.  

Click here to see this electronics-products edition of The Joe Show.

Want more videos? Subscribe now to our YouTube videos

ADVERTISEMENT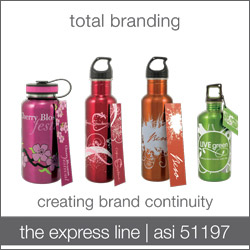 Molenaar Recalls 300,000 Nightlights In U.S. 
Less than a month after Molenaar (asi/71980) voluntarily recalled 11,650 electroluminescent night lights in Canada, 315,000 of the same night lights are being recalled in the U.S. by the Consumer Product Safety Commission (CPSC). According to Molenaar, the recalled night lights were sold to 160 U.S. distributors between October of 2001 and November of 2009. "CPSC conducted their own investigation," said Brett Franks, product safety coordinator at Molenaar, in an interview with Counselor. "We submitted a one inch thick binder of information to them. This is a voluntary recall and we're taking this very seriously."
Following four incidents in which the night lights in question melted, Franks says Molenaar contacted the CPSC in July, at the same time it contacted safety officials in Canada. In late August, the Electrical Safety Authority of Ontario issued a recall of the items – models #2017 and #2019 – acknowledging the night lights could contain faulty materials that can become hot to the touch. However, the CPSC chose to conduct its own more extensive investigation, according to Molenaar, resulting in two separate recall dates, despite identical products being involved.
The night lights, which glow green when plugged in, are shaped like a rectangle and a house and can be identified by the text "71980 U.S.A." molded into the back panel just above the brass outlet prongs. "The cause of malfunction is unknown," said Franks. "We do know three of the four incidents happened in bathrooms. Nobody was injured."
In its official recall notice posted to its website on Thursday, the CPSC stated that consumers who received the nightlights should immediately stop using the products and throw them away. For additional information and details on the recall, distributors and consumers can visit the Molenaar website at www.miline.com.

DeVault Leaves Norwood/BIC Graphic
Joe DeVault, the vice president of national accounts and Calendars North America for Norwood/BIC Graphic (asi/40480), has resigned, Counselor has learned. The resignation was not part of a planned retirement and a search for a replacement for DeVault is "active," according to a company spokesperson. "It's time for me to do something else," DeVault said earlier today in a statement. "I wish Norwood and BIC Graphic continued success and I thank everyone for their support. I appreciate the many long-standing friendships I have in this industry."
Prior to joining Norwood, DeVault worked for Bemrose USA for 11 years in several management positions. In 2000, DeVault began his career with Norwood after the supplier acquired Bemrose. "Joe has been a very valued member of our team," said Quenten Wentworth, vice president and general manager of Norwood/BIC Graphic North America. "He was a wealth of knowledge and experience. He will be missed and we wish him well in the future."
DeVault, a 22-year industry veteran, has not said if he plans to remain in the ad specialty industry or pursue a career in another field. He was named to his final position at Norwood/BIC Graphic in April, following a realignment of senior sales staff at the company.
Combined, Norwood and BIC Graphic North America reported $410 million in total ad specialty sales in 2009, making the organization the largest supplier in the industry. The two companies came together in June 2009, when BIC acquired Norwood out of bankruptcy for $125 million plus $37.5 million in assumed liabilities.


Radio Show: Appeasing Angry Clients 
Every Tuesday morning from 10:30 a.m. to 11:00 a.m. ET, a team of ASI editors debate the most important topics facing the industry. We also, of course, offer our own off-beat look at the market. This morning, we discussed results from an exclusive survey of ad specialties buyers and shared strategies for breaking into new markets. Plus, the audience called into the show with questions on how they can salvage sales and relationships with angry clients. The hosts were armed with strategic responses.
If you missed the show, a recording is now available at www.asicentral.com/radio. And, don't forget to join us for our next broadcast on Tuesday, October 5. Log on to www.asicentral.com/radio at 10:30 a.m. ET to listen to the show – and give us a call at (215) 953-4979 to hear your voice on the air.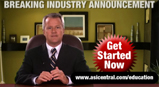 ASI Introduces New Certification Program
ASI announced last week the launch of the Advertising Specialty Institute Certification Program, a free program that's created on a user-friendly digital platform. "In such a competitive market, distributors, suppliers and decorators need the skills to out-think, out-perform and out-service the competition," said Timothy M. Andrews, president and CEO of ASI. "This program's sole purpose is to elevate the level of expertise and professionalism of all members of the advertising specialty industry."
The ASI Certification Program offers two certification levels: BASI (Bachelor of Advertising Specialty Information) and MASI (Master of Advertising Specialty Information). Both live and online ASI Education courses qualify for BASI and MASI credit, and candidates must complete certification within three years of beginning the program. Following defined guidelines, courses taken at a past ASI Show, on ASI's Online Learning Center, or completed at major industry events, such as the PPAI Expo or regional association conferences, will be eligible for transfer.
"Participation in the Advertising Specialty Institute Certification Program is user-friendly and hassle-free," said Melinda Ligos, senior vice president of professional development at ASI. "All courses are automatically tracked electronically via our proprietary digital campus, so participants can easily access their transcripts and remaining course requirements."
ASI members can begin the ASI Certification Program immediately, by taking online courses at the ASI Education Online Learning Center. A full slate of online offerings, including webinars, video packages and ASI Radio programs, will be available November 1, 2010 on the Online Learning Center. For more information about this new certification program, go to www.asicentral.com/education. Also, click here to watch a video of Tim Andrews explaining the new program.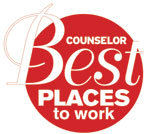 Honoring The Industry's Best Places To Work
One of the most anticipated lists in the industry is now live. Counselor's Best Places to Work, the ranking of industry companies that were judged by their own employees as the best companies to work for, can now be found on our website and a special new Facebook page at www.facebook.com/BestPlacestoWork.
Click here now to view the full list of 75 companies, and to read a profile of the number-one Best Place to Work: Dacasso (asi/48125), the Gainesville, FL-based supplier.
And, make sure to join the Counselor Best Places to Work community by going to www.facebook.com/BestPlacestoWork. Add your own thoughts to the conversation about what makes a great workplace. Right now, we've asked people for their stories and pictures from their favorite corporate summer outing this year. Join us now to show the industry why your company had the coolest outdoor event this summer.  

In The News
A4 (asi/30121) has added the "Zephyr No Snag" moisture-wicking tee shirt to its product line.
 
Ad-A-Day (asi/31040) has introduced Wink, a personalized imaging technology that uses client-supplied photos rather than stock photos.
BIC Graphic USA (asi/40480) announced that it is offering always-in-stock programs on more than 90 BIC products and more than 60 different styles of adhesive and non-adhesive notepads and cubes.
Heritage Sportswear Inc. (asi/60582) has announced its partnership with Jerzees for a month-long promotion awarding 25 prizes such as FLO Personal TVs, NOOK E-Readers, 26" Samsung Flat Screen Televisions, Mac Book computer systems, and $500 in Jerzees fleece. The sales incentive runs through October 2010 with prize drawings every Monday. Winners are based on highest total orders of select styles and the biggest buyer of Jerzees from September 27 through October 31 will win one of each electronic prizes plus $500 in fleece.
Leed's (asi/66887) has launched four iPhone-compatible products including the SynCharger Charging Station, the Portable Solar Charger, the Wildcharge for iPhone (a wire-free power platform) and the iPhone Battery Extender Power Case and has updated four additional chargers to work with the iPhone. Visit www.leedsworld.com to view items.
The Premier Promotional Group has welcomed Team IP Corporate (asi/184841) as a new distributor.
Prime Line (asi/79530) has announced that it is now offering virtual spec samples and a presentation builder program through Technologo on its website. Visit www.primeline.com for more information.
Sanford B2B (asi/84833) has announced its partnership with City of Hope and the launch of three new pink@work pens and markers. For each unit sold, $0.10 will be donated to City of Hope for breast cancer research, treatment and education, committing Sanford Brands, including parent company Newell Rubbermaid, to total donations of $720,000 or more through December 31, 2010.
The Vernon Company (asi/351700) has inducted seven employees into its Anniversary Milestone Clubs for their years of service to the company:  Marv Housely was honored for 50 years of service; Lynda Hidok for 45 years; Steve Breckenridge for 40 years; Ronda Birkenhloz, Sarah Groves and Joe Pugel for 35 years; Bruce Corlew for 30 years, and 41 current employees for 25 years of service.
Visstun (asi/93975) has introduced distributor-focused box labels that can contain distributors' contact information.

People On The Move
BCH Unique (asi/37700) has hired Gary Rosenberg as national account manager.
MadeToOrder (asi/259540) announced that Tad Webster has joined the company as a vice president and senior sales partner. Webster, who will initiate the distributor's move into the Los Angeles market, will also be a significant shareholder in the organization.
PRODUCT SPOTLIGHT
NEW! USB Sticks from AZX Sport ASI/30250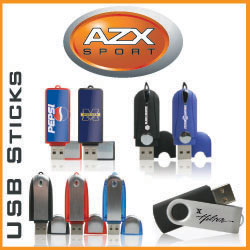 Features: 512MB - 16GB memory size available. Large variety of
colors and shapes. Ability to pre-load files onto USB.

Construction: Full color domed, Laser engraved
and pad printing available.

Lead Time: 1-3 business days on stock USB. 10 business days on
non stock USB. Minimum order 25pcs.

Orders and Art: Info.Promogram@aztex.com

Quote Requests: Info.Promogram@aztex.com

Visit www.azxpromotions.com to see our full line of products.

Or call 1-800-558-4836
CALL FOR QUOTE!
For other new and creative products,
visit the Product Central section on ASICentral.com.

EmailExpress SUPPLIER SPECIALS
Watches for corporate gift giving  asi/44315  - Our DigitalExpress Online Catalog is now available for you to use. View Special...
Fortune Cookies Promos: promote with taste, eye appeal and a custom message  asi/76841  - For a limited time, take 50% off set up fees. Special self-promo pricing available. approducts1@yahoo.com View Special...
New - Low Cost Vinyl Banner Supplier  asi/98600  - Ships next day after proof approval! View Special...
People Love The People Free Print Free Set Up 5 Star ASI  asi/93131  - We Will Hit Your Price To Win View Special...
Flash Drive Prices Keep Dropping! As low as $3.92 net!  asi/37218  - Free Shipping, Free Set Up, and Free 2 Color Imprint View Special...
Tote Away sales With Unbeatable Tote Bag Pricing!   asi/90154  - Free Shipping View Special...
AFFORDABLE DUFFELS  asi/37980  - Visit us online www.bagworldpromo.com. View Special...
Branded Visa Incentive Cards for the Holidays  asi/43853  - Custom Visa Incentive Cards are perfect for employee rewards, sales incentives, marketing promotions, customer loyalty and corporate holiday incentives. View Special...
Holiday gift ideas from Crown Products!  asi/47700  - Holiday gift ideas from Crown Products! Showcase memories with our 7" Digital Photo Frame. Rush service is available! Special Holiday Pricing – only $74.95(c) for 10 or more! Visit www.crownprod.com today! View Special...
Tricycle Jousting!  asi/62124  - Every week iClick holds our "Friday Morning Meeting" to revitalize our team with training and a fun activity. We asked you to come up with our next big event and we received an overwhelming response. Thank you to everyone who submitted ideas. View Special...
The best Christmas food gift ever...O&H Danish Kringle!   asi/74806  - Kringle is an authentic Danish pastry known for its feather-light texture and butter-rich taste. View Special...
Global Sourcing Made Simple  asi/34048  - With 3 sourcing offices in China and over 50 years of experience, Tag Resource is your trusted overseas partner. View Special...
ASI 5-star supplier of custom patches  asi/76450  - US Flag Special-Low Minimum. View Special...
Carhartt - Free Freight Offer Inside  asi/84143  - Carhartt Workwear - rock bottom prices View Special...
Ideas for Heartwalks From CorporateKey  asi/63053  - Ideas for Heartwalks From CorporateKey. To view full selection, call CorporateKey at 1-866-438-5655 or visit www.CorporateKey.com. View Special...
CupCuf, Fabric Coffee Sleeve  asi/47839  - The environmentally friendly way to accessorize the "to go" hot beverage cups. View Special...
First Impressions That Last - 10% Coupon  asi/98264  - Name Badges International provides personalized name badges available in a range of shapes, sizes, colors and materials, allowing you the freedom of choice to design the perfect name badge for your company. View Special...
So Much More Than Temporary Tattoos - Save 15% Now   asi/43530  - California Tattoos: So Much More Than Temporary Tattoos! Save 15% Now. View Special...
5 Star Company with a Price Point to Match!  asi/37855  - Visit our website www.BadashCrystal.com for more Special Offers! View Special...
Introducing Decor-8 from Samsonite   asi/49583  - Looking for a World-Class Brand at low price points? Samsonite has a new collection for you. View Special...
Military, Law Enforcement, and Outdoor Sportsman Gear  asi/81587  - New equipment line will increase your profit margins and your customers satisfaction! New product line introductory offer, receive a free drawstring bag with every backpack ordered! View Special...

DEADLINE THIS FRIDAY, OCT. 1, FOR FREE TICKET TO HARRY POTTER™*
ASI distributor and decorator members who register by this Friday, October 1, for ASI Orlando (Jan. 23-25) can order a free ticket to the brand-new Gala Celebration at Universal's hot attraction, The Wizarding World of Harry Potter™. 
With an action-packed, three-day lineup of amazing events, including a dynamic free Keynote by actor and activist Michael J. Fox (co-sponsored by Evans Mfg., asi/52840, and Showdown Displays, asi/87188), you won't want to miss the industry's largest event on the East Coast.
Plan to see hundreds of leading suppliers, participate in the industry's most-comprehensive education conference (featuring new speakers and new classes) and enjoy networking 24/7 when you attend ASI Orlando.
Register today at www.asishow.com and enjoy free admission, a free Gala ticket and a free hotel room!*

*ASI distributor/decorator member benefits only. Visit www.asishow.com for details. 
HARRY POTTER, characters, names and related indicia are trademarks of and © Warner Bros. Entertainment. Inc. Harry Potter Publishing Rights © JKR.
THE ADVANTAGES ROADSHOW IS VISITING CANADA — ATTEND FOR FREE
The industry's #1 traveling show, the ASI Advantages Roadshow, is visiting Eastern Canada next week (Montreal, Oct. 4; Ottawa, Oct. 5; Toronto East, Oct. 6; Toronto West, Oct. 7 and Burlington, Oct. 8). All distributors are invited to attend for FREE!
Delivering a productive, one-on-one atmosphere for distributors to meet with top suppliers, the Advantages Roadshow features free education from 8 a.m.-9 a.m., 9:30 a.m.-10:30 a.m. and 1 p.m.-2 p.m. and exhibit hours from 9 a.m.-1 p.m.
Visit www.advantagesroadshow.com for complete details. No pre-registration is required. There is NO better way to prepare for the end of the sales year!
Follow The ASI Show on Twitter and become a fan on Facebook today!
The following are the dates and locations for The ASI Show in 2011:
Orlando, January 23-25, 2011
Dallas, February 16-18, 2011
New York, March 22-24, 2011
San Diego, May 18-20, 2011
Chicago, July 19-21, 2011
Plus, don't miss the ASI Advantages Roadshow, the industry's #1 traveling show. Visit www.advantagesroadshow.com for the complete schedule and go to www.asishow.com for information on all ASI Shows.
| | |
| --- | --- |
| | |
SPONSORED BY


Counselor® PromoGram® is a trademark of the Advertising Specialty Institute. You were sent this newsletter as a benefit of your ASI membership. Copyright 2010, ASI. All Rights Reserved.
If you'd like us to send Counselor PromoGram FREE to anyone else at your company (or to your off-site sales reps), go to www.asicentral.com/newsletters and complete the online form.
Interested in advertising in Counselor PromoGram? Send an email to ddienna@asicentral.com
Click here to subscribe to Counselor® magazine. You must be a member of ASI to subscribe to this publication. The publisher has a right to refuse subscriptions to non-members.
Advertising Specialty Institute®, 4800 Street Road, Trevose, PA 19053