PromoGram From The ASI Show Las Vegas
ASI Launches Show In San Diego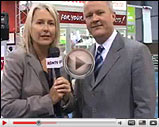 The Advertising Specialty Institute will host a new ASI Show in San Diego in 2010 to serve the California-area marketplace. The ASI Show in San Diego will include an Education Day on Wednesday, February 24, 2010, followed by two exhibit days on Thursday, February 25 and Friday, February 26. The show will be held in the San Diego Convention Center.

"We are pleased to launch a new industry show in California – the state with the single largest number of distributor and supplier firms in the nation," says Tim Andrews, president and CEO of ASI. "The industry is under-serving the California marketplace, which includes adjacent geographic areas as well, and we intend to build a vigorous event where distributors, suppliers and decorators can connect, learn more at industry education programs and do business."

Several Counselor Top 40 distributorships, including EmbroidMe (asi/384000), Proforma (asi/300094), iPROMOTEu (asi/232119) and Press-A-Print (asi/299086) plan to hold sales meetings at The ASI Show in San Diego. "Southern California is an important marketplace for Proforma," said Greg Muzzillo, founder and co-CEO of Proforma. "We are excited about bringing together our members for a group meeting in a great location at an important time of the year." Adds Ross Silverstein, iPROMOTEu president: "The ASI Shows provide strong value for our affiliates by offering both education and important suppliers in a fun atmosphere. We look forward to being at The ASI Show in San Diego."

Click here to watch Tim Andrews discuss ASI's new West Coast show.