ADVERTISEMENT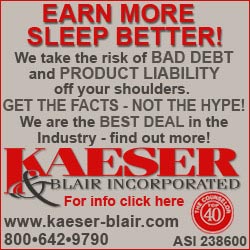 Distributors Gear Up For Breast Cancer Awareness Month 
While many sectors have been impacted by the economy this year, one still seems to be at the forefront for distributors: cause-related marketing. Employees, companies and other organizations are still rallying behind the causes they believe in, and, arguably the biggest one is Breast Cancer Awareness next month. "It's the monster cause. I think almost everyone has been touched by it in some way," says Craig Nadel, president of Jack Nadel International. Much of the attention will be focused on walks, runs and other fundraising events. This is keeping some distributors busy. "The orders are coming in now," says Nadel. "This is by far the big one [in terms of cause marketing.]"

Cause-related marketing spending is actually expected to grow this year, according to the sponsorship marketing company IEG. Companies in the U.S. are expected to spend $1.55 billion. This is a 2.2% increase over 2008. Even comedian Will Ferrell has gotten into the act. He partnered with Cancer for College to sell Will Ferrell-branded Sexy Hot Tan, Sun Stroke and Forbidden Fruit SPF 30 sunscreens. All proceeds benefit a scholarship fund for victims of cancer created by Ferrell's friend, Craig Pollard who is a two-time cancer survivor.

Also, a number of companies including Mott's have partners with Susan G. Komen for promotions that work to raise money for the non-profit that benefits breast cancer research. Nadel suspects that like with many other categories, cause marketing spending has been affected, "but not in a disproportionate way. It's probably no different than other aspects of the economy in that there is less than there was a couple of years ago. It's not like trade shows where companies have cut way back."


ADVERTISEMENT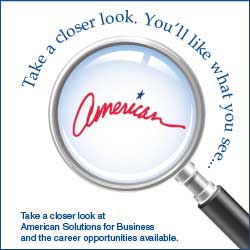 Podcast: How To Upsell 


On Tuesday's ASI Internet Radio Show, the hosts took questions from callers who were looking for advice on how they could expand their ad specialty sales with current clients. From packaging to add-ons, the hosts doled out advice to three curious callers. Check out this podcast to hear their suggestions.
Click here to listen to the upselling call-in segment from Tuesday's show.
If you'd like to check out a recording of the whole online radio show, go to www.asicentral.com/radio. And, don't forget to join us next Tuesday, September 15, for our next broadcast – live from The ASI Holiday & Incentives Expo in Las Vegas! Log on to www.asicentral.com/radio at 10:30 am eastern time and give us a call at 215-953-4979 to hear your voice on the air. We want to hear from you.

ADVERTISEMENT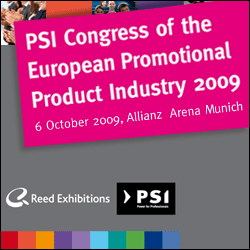 Surveys: Business Owner Sentiment Increases
In taking a hard look at the mood of small business owners during the second quarter, the Intuit Payroll Survey found one common denominator: a positive attitude. More than three quarters (78%) of the 1,022 small business owners polled said "I know there is a light at the end of the tunnel." Even further, the National Federation of Independent Business just reported that its optimism index increased in August thanks to improved expectations for future business and real sales volume.

"Small business owners are bullish on their own abilities, but bearish on the factors they can't control," says Cameron Schmidt, director of marketing, for Intuit Employee Management Solutions. "It's a classic example of the mindset of the American entrepreneur. Self-reliance trumps government hand-outs, and even in the gloomiest economy there are opportunities to seize."

Most distributors feel the same way. "We're staying steady and working hard, says Connie King, president of The Market Pro (asi/261856). "Knock on wood, we'll continue to do that. We're starting to see signs of life where there weren't before."


The poll also asked business owners, when times are tough, what is the most important thing to have in your office? Not surprisingly, more than half (54%) said work to do. Forty-three percent said a sense of humor. Jack Gurka, owner of High Impact Promotion (asi/225025), says, "My first thought is you need to have promotional products in your office." But a sense of humor doesn't hurt either. "You can definitely get caught up in all of the doom and gloom. Plenty of good things have happened in the past two years. There are some good sectors and good indicators in other areas. Sometimes we forget not everyone is jumping off of the roof."

Power Summit Preview: Webinar Recording Now Available
Before the industry's top distributors and suppliers gather for the ASI Power Summit 2009 (November 1-3), Counselor Senior Editor Michele Bell hosted a lively roundtable discussion with some of the Power Summit speakers this afternoon. They covered a wide variety of topics, including tips on sales and marketing strategies for growth, advice for employers in this tough economy, and the 2010 outlook for distributors and suppliers.
Click here to watch the educational webinar – just scroll down and click on the Power Summit Preview link to tune in.
Want more information on attending the ASI Power Summit in Carlsbad, CA, November 1-3? Click here to go to the Power Summit home page.

Do You Sell To Retail Clients? 
Counselor is planning a feature in an upcoming issue on how distributors can sell ad specialty items to the retail market. Have you had success with retailer clients? Counselor is looking to talk to distributors about the changing retail sector and how they're faring in this important market right now. Send an e-mail to C.J. Mittica at cmittica@asicentral.com if you're interested in being interviewed for this upcoming feature.

NEW Course Available on ASI Education's Online Learning Center 
Be sure to register at http://www.asicentral.com/asionlinelearning for some exciting new courses available exclusively to ASI members. Brought to you by ASI Education, Online Learning is the newest and most convenient way for distributors to get educated. On-demand, self-paced courses are the perfect way for distributors and decorators to learn more about the advertising specialty industry and hone their skills as top ad specialty salespeople and brand consultants. We've launched this online campus that provides educational courses and information for the promotional products professional. 
NEW 
* Avoid These First-Year Pitfalls. In this course, you'll learn about 12 of the most common rookie mistakes distributors make -- and show you how to avoid making similar mistakes yourself. When you complete this course, you'll have all of the information you need to help safeguard your business against some common headaches that distributors often suffer during their first year in business, including: not sticking to a plan; selling on price alone; not focusing enough time on selling; ignoring prospects; and not following new trends. Register now at http://www.asicentral.com/asionlinelearning.

Course Track: New Distributor Success
Take these online courses today:

* Nailing Down the Basics. No matter what industry you're in, there's a code you need to crack in order to do business successfully, insider terminology you need to understand, business practices you need to learn and even etiquette you need to follow. The advertising specialties industry is no different. To get a piece of the industry's $20 billion-dollar pie, you've got to learn the best practices that industry veterans already know. There are pricing codes and lingo to navigate, new technology and business processes to master, and important tricks that will help you develop positive relationships with suppliers. In this course, you'll learn how to navigate this industry, including how to submit a purchase order, research suppliers, and understand pricing codes and decorating lingo. Register now at http://www.asicentral.com/asionlinelearning.

* Marketing Your New Business. One of the crucial steps to building a solid base of clients is to dedicate a portion of your company's resources to marketing your business. In this course, you'll learn how to attract new prospects and customers by adding a variety of tools to your marketing arsenal, including direct mail and e-mail marketing campaigns, and relatively new marketing tactics such as social networking. When you finish this course, you'll be well versed in how to craft a complete marketing campaign, measure its success, and learn how to become a master at networking. Register now.

* Steps to Selling Success. As you begin touting your company and its services through direct mail campaigns, e-mail marketing efforts and good, old fashioned networking, you're going to be generating some leads. But not all leads are created equal. One of the first things you'll learn in this course is how to qualify leads so that you're spending your sales efforts on the most promising ones. Of course, your marketing efforts alone won't give you all of the leads that you need. This is where the rest of this course comes in. We'll show you how to cold call as effectively and painlessly as possible, plus offer valuable strategies for getting referral business. In addition, we'll tell you what to ask a prospect and how to win them over when you secure a meeting. And, as a final step, we'll show you how to get a client to sign on the dotted line. Register now.

* Creative Case Studies. The most successful distributors are the ones whose clients see them as valuable partners. If your customers can rely on you to provide ideas and solutions to their toughest marketing problems, you'll command high profit margins and develop a loyal customer base. In this course, you'll review a variety of real-life case promotions that distributors have created for their clients. By reviewing these case studies, you'll learn the top options you can provide your clients, including: recruitment and retention programs, employee safety programs, company stores, special events and more. Plus, you'll learn how to add your own case studies to your marketing plan. Register now. 

Coming Soon: 
 * Managing Your Business

ASICentral: Best Places To Work 2009, Social Networks, Poll Results
There must be something in the coffee in the Great Northwest, because it's a hotbed for friendly ad specialty employers. According to an in-depth survey process to determine the best companies to work for in the industry, five of the top 20 industry companies are in Seattle and its outskirts. See the rankings of all 60 companies here.
And according to our latest poll results, Christmas does seem to come early in the ad specialty industry – as early as August. Find out why.
Also, we've got a lot of cool things going on in our social networks, including questions of the day on Facebook, new Joe Shows and Advantages Hot Deals Tips on YouTube, and continuous Twitter updates. Got questions, comments or any type of feedback regarding anything ASICentral, don't hesitate to contact us at feedback@asicentral.com.

In The News
Bodek and Rhodes (asi/40788) culminated its 70th anniversary celebrations recently with an employee picnic, including carnival games and an executive dunk tank.

BroderBros. (asi/42090) announced that the company's 2010 Alpha, Broder and NES catalogs will be available in January 2010. Traditionally released in the fall, the new schedule is a result of the company re-evaluating its product offerings and strategic partnerships. Orders for 2010 custom catalogs will be taken starting on September 28, 2009.

Facilis Group announced that it has added Booker Promotions (as/142800) to its group of partners.

Gildan Activewear Inc. announced that Glenn J. Chamandy, the company's president and CEO, along with members of Gildan's senior management team, rang the opening bell at the New York Stock Exchange on Tuesday. The occasion marked Gildan's 10th anniversary of being listed on the exchange (NYSE: GIL). 

People On The Move
TSC Apparel (asi/90518) announced the following changes to its national sales force: Michael Galati is now an outside sales representative in the Florida territory and Judy Chase will now be the sales representative for the NC, SC and VA areas.
EmailExpress SUPPLIER SPECIALS
Elite4Print.com's New lowered prices and SUMMER PROMOTION asi/51916 - Elite4print.com believes in offering the lowest price for great products. Our print experts will guide your towards a solution. We have competitive pricing, wonderful customer service, more products and great quality! View Special...
Custom lapel pins as low as $0.26 net! asi/73285 - Check out our low prices! View Special...
1 GB USB Specials asi/62978 - Hot Summer Styles. View Special...
$.99 LEAD FREE INSULATED TOTES AND COOLERS asi/37980 - Visit us online www.bagworldpromo.com View Special...
Otto Cap's September Monthly Special - as low as $.60! Low Min - 12 pcs. - ASI / 75350 asi/75350 - Otto Cap's September Monthly Special - as low as $.60 with a Low Minimum of 12 pcs. Save Money on Great Deals! View Special...
Get Ready, It's Camo Time! asi/86043 - Seba offers Direct Manufacturing on custom caps, visors, bags, jackets, shirts and much more. We offer low minimums, Free Spec samples, Free Digitizing and Fast Turnaround. Go Seba! Go Custom! Call for details. View Special...
Hot New Products - Wifi Finders - Super Custom Mouse - CHECK EM OUT asi/93131 - Take your flash drive branding to the next level! View Special...
Swivel Drive Sale - Check it out Now asi/37218 - Free Shipping, 1 or 2 color Imprint, Free Set-Up Fees! View Special...
10% Rebate Check on Every Nike Order asi/75649 - Pacific Coast Golf and Nike Golf have teamed up to bring distributors another exclusive PCG promotion - buy Nike Golf products and receive a 10% Rebate Check on every order while supplies last!! It's that simple...order Nike, get money back! View Special...
DEBCO's (ASI-48885) got water bottles!!!! asi/48885 - After a massive sell-off DEBCO (ASI-48885) a leader in the ECO MOVEMENT is loaded with water bottles. Thank-you for drinking responsibly. View Special...
Special Pricing on popular Post-it(R) brand Products! asi/91240 - More room to write! Great pricing on the most popular 3x4 Post-it(R) Note! View Special...
Stadium Cushions on Sale! asi/47971 - Game Changers! View Special...
Labor Day Blow Out Sale on All Models Shown - Check Out Our New Car Hub asi/37218 - Free Shipping, 1 or 2 color Imprint, Free Set-Up Fees! View Special...
Pink for October. The $0.99 Totes asi/65595 - Order Now - 1-888-KOOLPAK or visit us at www.koolpak.com. View Special...
Reliable Contract Screen Printer | Try us at No Charge asi/700487 - Reliable Contract Screen Printer | Professional & Friendly Service, On-Time Delivery | Try us at No Charge - FREE printing on your FIRST ORDER (see details) | CONTRACT PRINTING MADE EASY by our free services and online tools. View Special...
Promote your business with CD/DVD mailers asi/90692 - Direct Mail Promotions that won't land in the trash ! View Special...

The following are the dates and locations for The ASI Show in 2009:
ASI Holiday & Incentives Expo, Las Vegas: September 15-17

Plus, don't miss the ASI Advantages Roadshow, the industry's #1 traveling show. Visit www.advantagesroadshow.com for the complete schedule!
SPONSORED BY


Counselor® PromoGram® is a trademark of the Advertising Specialty Institute. You were sent this newsletter as a benefit of your ASI membership. Copyright 2009, ASI. All Rights Reserved.
If you'd like us to send Counselor PromoGram FREE to anyone else at your company (or to your off-site sales reps), go to www.asicentral.com/newsletters and complete the online form.
Interested in advertising in Counselor PromoGram? Send an email to ddienna@asicentral.com 
Click here to subscribe to Counselor® magazine. You must be a member of ASI to subscribe to this publication. The publisher has a right to refuse subscriptions to non-members.
Advertising Specialty Institute®, 4800 Street Road, Trevose, PA 19053