DLX Industries Acquires Pamcolite Brand
Looking to add polypropylene products to its offerings, DLX Industries (asi/48000) has acquired New York-based supplier Paulmay Company (asi/76520). Financial terms were not disclosed. Although the businesses will exist as separate companies, Paulmay's manufacturing, product development and customer service efforts have been moved to 
ADVERTISEMENT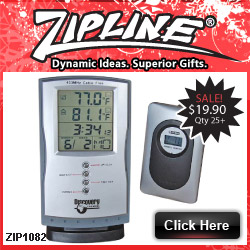 DLX's facility in Brooklyn, NY. "We've had a good working relationship with Paulmay for some time," says Mark Stewart, president of DLX. "When the opportunity became available for us to make this deal, we decided our collective distributors would be best served."

According to Stewart, five Paulmay employees, including three salespeople, will join DLX. Paulmay's president, Hal Deutschman, will serve as a special consultant for DLX, assisting in strategic planning. "We're definitely strengthening our sales staff," Stewart says.

In business since 1950, DLX Industries specializes in high-end vinyl, fabric and leather business products. Paulmay, which produces the Pamcolite brand, has manufactured lower-end vinyl products, writing instruments and other accessories. "Our lines have been similar but not the same," Stewart says. "With polypropylene, Paulmay had a product category that appealed to us."

According to Stewart, Paulmay annually generates sales of $1.5 million, while DLX produces sales of around $5 million. "Business has been steady of late after being spotty and up and down earlier in the year," Stewart says. "We're encouraged that sales will get stronger as the year goes on."

ADVERTISEMENT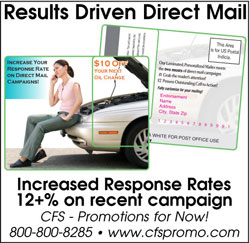 Tuesday Morning Radio Show Live On The Air 


Every Tuesday morning from 10:30am eastern time to 11:00am, a team of ASI editors debate the most important topics facing the industry. We also, of course, offer our own off-beat look at the market. This morning, we talked about how to make an online video, revealed a new market for distributors to target and discussed the biggest Facebook no-nos. Plus, we also took questions from callers about how they can enhance their clients' trade show efforts.

If you missed the show, don't worry. A recording is now available at www.asicentral.com/radio. And, don't forget to join us next Tuesday, September 8, for our next broadcast. Log on to www.asicentral.com/radio at 10:30am eastern time and give us a call at 215-953-4979. 

ADVERTISEMENT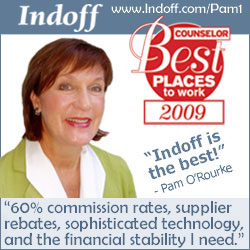 Boundless Network Acquires PromoCorp
Austin, TX-based distributor Boundless Network (asi/143717) announced this afternoon that it has completed a deal to acquire PromoCorp (asi/300410), an Alexandria, VA-based nine-year-old distributor firm. Financial terms of the deal were not released. This is the second distributor that Boundless Network has acquired in Virginia within the past six months. The company purchased Venture Marketing in April.
Boundless Network President Jason Black said this deal complements the other acquisitions that the company has made over the past two years. In fact, Boundless has now completed 12 acquisitions in the past 24 months, including four in 2009. "The industry is changing at a rapid rate," Black said. "Top industry professionals like the PromoCorp team see the value of having a strong competitive advantage for their clients and a technology platform to support the growth of their business in these challenging economic times."
Boundless Network has grown from two salespeople four years ago to more than 140 today. The company most recently reported annual revenues to ASI's CreditConnect system as $22 million, while PromoCorp reported revenues of $5 million.

ADVERTISEMENT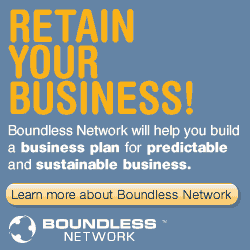 Buzzworthy Innovations from MAGIC Las Vegas 
Will.i.am from the Black Eyed Peas is here. So is country crooner Kenny Chesney. Jon Gosselin from Jon & Kate Plus Eight is even rumored to be roaming the floors. But the real buzz around the MAGIC apparel show in Las Vegas this week comes not from the celebrities in attendance (or pseudo-celebs, if you count Gosselin), but from some pretty creative, even wacky, new products on display. Perhaps the slow economy has forced apparel makers to get super-creative. Whatever the reason for this explosion in ingenuity, here's a sampling of some out-of-the-ordinary items one of our editors found while roaming the show floor today:
Green products continue to be the rage, but here's one with a twist: A new company called Intotees is showcasing organic cotton T-shirts that feature hidden messages that are exposed when wearers are out in the sun. For example, one tee features a polar bear hovering on a small iceberg with the message "no green." When exposed to sunlight, the message changes to "go green" and the polar bear is surrounded by his natural habitat. The company can customize the T-shirts with any message or artwork.
Women can attest to this common problem: Long jeans that are the perfect length when worn with heels, but too long when worn with flats. The solution: Hem-Eze, a specially-designed doubled-sided tape for temporary hems. The product's patent-pending rounded edges are purported to result in a "crisp clean hem and is the perfect solution to those who want to wear a different height of heel with the same pair of jeans in a moment's notice," says founder and entrepreneuer Debra Weisser.
Okay, so you want to store your cell phone or BlackBerry in your wallet or purse, but don't want to constantly remove it to check your messages. Two new products--the Cell Phone Purse and Cell Phone Wallet--made by Nectar Accessories have clear storage areas so that you can actually use your cell phone touch screen or keypads while it remains secure in your handbag or wallet.
Plunging necklines are high fashion for women these days, and one new product – Perfect Cami – offers a solution for modest wearers. This mini cami, which looks like a tube top, slips over your head and hooks to a bra strap, eliminating extra fabrics and straps of a traditional camisole. It comes in a variety of fabrics and colors and can even be adorned with Swarovski Crystals.
Tired of ring around the collar? White Collar Grime is a disposable collar protector from the makers of Garment guard. Simply cut off a piece of this 100% cotton adhesive from a special roll, stick it to the inside of your collar, and dispose of it at the end of the day.
Women who love shoes but can't fit 10 pairs in their suitcase may be interested in Convertibles Footwear, a company which is debuting a pair of gold sandals with a thong toe and T-strap that can quickly be replaced with alternative straps featuring a number of different embellishments, including seashells and rhinestones. The company's motto: "Just pop the top and go."
Finally, here's a cure-all for sore feet after a night of dancing in stilettos: the Footzyrolls Rollable Shoe are folding ballet flats that can be stashed in a purse for a quick change. "They're an easy solution to limping home barefoot or being carried on your boyfriend's shoulder," says Footzyrolls spokesperson Jenifer Caplan.
MAGIC will continue in Las Vegas through Thursday. 

ADVERTISEMENT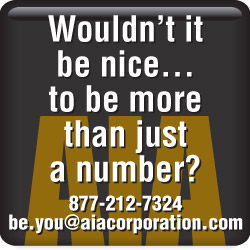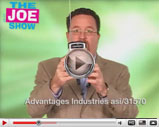 The Joe Show: Electronics
In this episode of The Joe Show, Counselor Managing Editor Joe Haley shows off some of the coolest electronic gadgets available on the market today. Have a tech client looking for a unique promo? Or maybe a customer looking to target the younger set? This episode is for you.
Click here to watch The Joe Show.

ADVERTISEMENT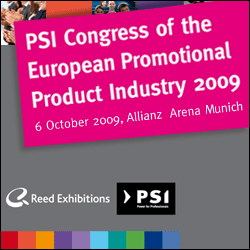 Consumer Confidence Index Increases
In a stark change from July, consumer confidence rose significantly in August, according to data released by The Conference Board, a New York-based nonprofit research group. Closely watched as an economic barometer, the Consumer Confidence Index reached 54.1, up from 47.4 last month. "Consumer confidence, which had posted back-to-back monthly declines, appears to be on the mend," said Lynn Franco, director of consumer research at The Conference Board.

Respondents generally consider the job market improved compared to earlier this year. Among those surveyed, 18.4% expect more jobs in the coming months. Still, optimism is tempered by a perceived lack of potential earnings. "Consumers were more upbeat in their short-term outlook for both the economy and the job market in August, but only slightly more upbeat in their income expectations," said Franco. "As long as earnings continue to weigh heavily on consumers' minds, spending is likely to remain constrained."

Well above the forecast, economists only expected the index to climb to 48 in August. However, enthusiasm remains modest as the index continues at a very low level. An index that approaches 90 typically signals a solid economy. Measured monthly, the Consumer Confidence Index is based on a survey of 5,000 U.S. households. The index is an average of several opinions, including business conditions, employment outlook and family incomes.

Counselor Releases 2009 Best Places To Work Rankings
In a positive sign for industry companies, Counselor's 2009 Best Places to Work survey reveals increasing employee satisfaction with industry companies. The second annual survey, which is conducted by outside research firm Quantum Market Research, resulted in more companies receiving higher overall scores after surveying their employees. For that reason, Counselor has expanded its list of Best Places to Work from 50 last year to 60 in 2009.

Click here to see the rankings (1-60) of all the companies honored on this year's Best Places to Work list. Also, make sure to check out the profile of the top company, Sunrise Identity (asi/339206), which has one of the most unique corporate cultures in the market today.

NEW Courses Available on ASI Education's Online Learning Center 
Be sure to register at www.syberworks.com/asicentral for some exciting new courses available exclusively to ASI members. Brought to you by ASI Education, Online Learning is the newest and most convenient way for distributors to get educated. On-demand, self-paced courses are the perfect way for distributors and decorators to learn more about the advertising specialty industry and hone their skills as top ad specialty salespeople and brand consultants. We've launched this online campus that provides educational courses and information for the promotional products professional.
NEW 
* Creative Case Studies. The most successful distributors are the ones whose clients see them as valuable partners. If your customers can rely on you to provide ideas and solutions to their toughest marketing problems, you'll command high profit margins and develop a loyal customer base. In this course, you'll review a variety of real-life case promotions that distributors have created for their clients. By reviewing these case studies, you'll learn the top options you can provide your clients, including: recruitment and retention programs, employee safety programs, company stores, special events and more. Plus, you'll learn how to add your own case studies to your marketing plan. Register now www.syberworks.com/asicentral.
Course Track: New Distributor Success
Take these online courses today:
* Nailing Down the Basics.No matter what industry you're in, there's a code you need to crack in order to do business successfully, insider terminology you need to understand, business practices you need to learn and even etiquette you need to follow. The advertising specialties industry is no different. To get a piece of the industry's $20 billion-dollar pie, you've got to learn the best practices that industry veterans already know. There are pricing codes and lingo to navigate, new technology and business processes to master, and important tricks that will help you develop positive relationships with suppliers. In this course, you'll learn how to navigate this industry, including how to submit a purchase order, research suppliers, and understand pricing codes and decorating lingo. Register now at www.syberworks.com/asicentral.
* Marketing Your New Business. One of the crucial steps to building a solid base of clients is to dedicate a portion of your company's resources to marketing your business. In this course, you'll learn how to attract new prospects and customers by adding a variety of tools to your marketing arsenal, including direct mail and e-mail marketing campaigns, and relatively new marketing tactics such as social networking. When you finish this course, you'll be well versed in how to craft a complete marketing campaign, measure its success, and learn how to become a master at networking. Register now www.syberworks.com/asicentral.
* Steps to Selling Success. As you begin touting your company and its services through direct mail campaigns, e-mail marketing efforts and good, old fashioned networking, you're going to be generating some leads. But not all leads are created equal. One of the first things you'll learn in this course is how to qualify leads so that you're spending your sales efforts on the most promising ones. Of course, your marketing efforts alone won't give you all of the leads that you need. This is where the rest of this course comes in. We'll show you how to cold call as effectively and painlessly as possible, plus offer valuable strategies for getting referral business. In addition, we'll tell you what to ask a prospect and how to win them over when you secure a meeting. And, as a final step, we'll show you how to get a client to sign on the dotted line. Register now www.syberworks.com/asicentral. 
Coming Soon: 
* Avoid These First-Year Pitfalls

In The News
Adventures in Advertising (asi/109480) has announced the addition of 11 owners to its network since June.

Bodek and Rhodes (asi/40788) has partnered with Jerzees (asi/84257) to give away a free iPod Touch during every business day in September. An iPod will be given to the customer placing each day's highest online total order of Jerzees' products. All Jerzees' orders will qualify the purchaser for a random drawing for additional iPods.

Brother International Corporation recently delivered and installed the first Canadian GT-782 white-ink capable, dual-platen garment printer.

Facilis Group hosted its semiannual Partner Summit in Chicago, IL, on August 20-21.

Jetline (asi/63344) will feature over 100 items at or below regular EQP prices in the fourth quarter. Details on the promotion can be found at: www.jetlinepromo.com.

Kyrus Print Solutions (asi/246691) has acquired Andy Hall/AMH Group.

Newton Manufacturing Company (asi/283300) has announced that Kaci McCleary, daughter of graphic designer Bobbi McCleary, has been awarded a $1,000 One-Year College Scholarship from the Promotional Products Education Foundation.

Norwood Promotional Products has opened Facebook and Twitter accounts, providing educational tools and updates on promotions and specials.

Tag! The Creative Source LLC (asi/341358) has been certified as a woman-owned business by the Women's Business Enterprise National Council.

The Premier Promotional Group has added Paramount Apparel International Inc. (asi/75945) to its organization of suppliers and distributors.

The Vernon Company (asi/351700) added 17 account executives in its Eastern region from June through August, representing a combined sales volume of over $3.5 million.

People On The Move 
Castelli USA Inc. (asi/44305) has hired 14 multi-line reps to represent the company. They are: Christian Brown, CB Marketing (Northwest); Laura Brewer, PromoRep (Northern CA); Todd Turquand, Top Shelf Marketing (Southern CA); Pam Martin, Martins Represent (AZ, CO, UT, WY); John Bugele, Richard Schmidt and Cory Schroepfer, Bridge Marketing Services (Midwest); Brian Ketterlin, Bridge Marketing Southwest (Texas); Jean Carboni, John Ragozzine and Mike Valentini, Valentini Promotions (Northeast); Doug Terry and Ken Terry, TerryTorry Marketing LLC (Southeast); Marta Mendez-Joy (Puerto Rico).

Digispec (asi/49716), CounterPoint (asi/46767) and Visstun (asi/93975) have announced completion of independent third-party audits of their products and practices, conforming to CPSIA standards.

Pinnacle Designs (asi/78140) has hired Chris and Karen Stauffer of Cascade Marketing Group to provide sales representation in WA, OR, ID and MT.

EmailExpress SUPPLIER SPECIALS
Environmentally Friendly Totes at a Special Price  asi/65595  - Order Now - 1-888-KOOLPAK or visit us at www.koolpak.com View Special...
USA Made Lapel Pins - NQP  asi/73285  - American made lapel pins at import prices! View Special...
DrinkTalkers - Brand New Promotional Product !  asi/93148  - DrinkTalkers are simply the first of its kind and is the most creative way ever thought of to advertise and promote. View Special...
Check Out Our Portable Hard Drives   asi/37218  - Free Shipping, 1 or 2 color Imprint, Free Set-Up Fees! View Special...
US Modular: 2GB $7.47 - FREE Ground  asi/73571  - 2GB $7.47 - FREE Ground Shipping! Call For a Free Sample View Special...
Promote Health Awareness with a FREE SAMPLE Pack of our Family Safety Products  asi/91100  - Protect your loved ones with our Family Safety Pack. The Reusable Feverscan with cold/flu chart indicates the presence of a fever. UV Safe card measures the UV level present to protect against harmful sun damage. View Special...
China Direct Pricing!!! 1.90/pc w/5,000st, complimentary set up charge up to 5,000 st (Min order-72 pcs)  asi/30245  - Last opportunity-China Direct Pricing!!! 1.90/pc w/5,000st, complimentary set up charge up to 5,000 st (Min order-72 pcs). View Special...
$.77 JUMBO SHOPPING TOTE AND FOLD UP TOTE...   asi/37980  - Visit us online www.bagworldpromo.com View Special...
$100 credit on your first order   asi/79558  - Make money selling print, we make it easy to offer full-color printing to your clients. Call today and get a $100 credit on your first order over $200. View Special...
10% OFF Embroidery Special  asi/68463  - EMB Special - Domestic stock at oversea pricing View Special...
Custom Visa Gift Cards - No Minimum order, No Setup Fee, 2 Day turn around  asi/43853  - Custom Visa Gift Cards - No Minimum order, No Setup Fee, 2 Day turn around View Special...
Apparel Decorations from World Emblem Intl. (ASI, Sage, D.C.)  asi/98264  - Check out World Emblem's Apparel Decorations at www.WorldEmblem.com. From embroidered, screen-printed and sublimated emblems to transfers, magnetic badges and appliques, World Emblem offers several options for shirts, hats, bags and more. View Special...
Recyclable Grocery Tote  asi/65595  - Order Now - 1-888-KOOLPAK or visit us at www.koolpak.com. View Special...
Perfect Executive Gifts On Sale Now  asi/37218  - Free Shipping, 1 or 2 color Imprint, Free Set-Up Fees! View Special...
No Minimum Order on Name Tags & Engraved Signs!   asi/34058  - No minimum order! Quick turnaround! View Special...
Our Gift to You: Distributor Savings Through 12/31  asi/91530  - Have happier holidays with catalog-wide savings on every order placed through 2009! Present any active item from Adva-Lite, Toppers or It's All Greek To Me and apply your choice of coupon to your purchase. Offers only valid through 12/31-order today! View Special...

The following are the dates and locations for The ASI Show in 2009:
ASI Holiday & Incentives Expo, Las Vegas: September 15-17

Plus, don't miss the ASI Advantages Roadshow, the industry's #1 traveling show. Visit www.advantagesroadshow.com for the complete schedule!
SPONSORED BY


Counselor® PromoGram® is a trademark of the Advertising Specialty Institute. You were sent this newsletter as a benefit of your ASI membership. Copyright 2009, ASI. All Rights Reserved.
If you'd like us to send Counselor PromoGram FREE to anyone else at your company (or to your off-site sales reps), go to www.asicentral.com/newsletters and complete the online form.
Interested in advertising in Counselor PromoGram? Send an email to ddienna@asicentral.com 
Click here to subscribe to Counselor® magazine. You must be a member of ASI to subscribe to this publication. The publisher has a right to refuse subscriptions to non-members.
Advertising Specialty Institute®, 4800 Street Road, Trevose, PA 19053