ADVERTISEMENT


| | | | | |
| --- | --- | --- | --- | --- |
| |   | |   | |

TOP
ADVERTISEMENT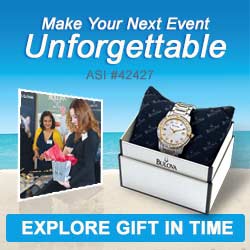 Jornik Acquires Zan Enterprises
Supplier Jornik Manufacturing Corp. (asi/63549) on Tuesday acquired Zan Enterprises Inc., a contract printer formerly located in Brooklyn, NY. Financial terms of the deal were not disclosed.
"The acquisition of Zan Enterprises has afforded us increased capacity for handling the significant growth of Jornik's product line, as well as providing a full service department for a myriad of contract printing projects," said Jacquie Herz, president of Jornik. "This will not only enable us to provide enhanced service to our distributors on our regular line, but significantly boosts our capabilities in decorating a vast array of items. Zan's current customers have been very pleased with the smooth transition."
Jornik will retain a small number of Zan's employees. Kathy Mazzanti, the owner of Zan, will join the supplier as well on a reduced schedule. "We have known of Kathy and Zan for some time and have had a good relationship with them," said Jornik CEO Peter Herz. "Over the years we have seen that the quality of their printing has been superb. They have taken on challenging contract decorating jobs that were only possible with imaginative leadership and knowledge. This workmanship and management philosophy fit in with our organization perfectly."
Based in Stamford, CT, Jornik is an ASI five-star supplier that offers toys, writing instruments, flashlights and many other items. Zan Enterprises specializes in a number of printing methods, including pad printing, injection molding, hot stamping and CAD/CAM.
TOP
Counselor Commentary: Pink Takeover
If it's October, it means the color pink is showing up nearly everywhere. Charity walks, sporting events, school outings – they're all completely geared up with pink paraphernalia designed to raise awareness of and money to help prevent breast cancer. In fact, the American Cancer Society has labeled October as Breast Cancer Awareness Month, and many are catching on. Take a look at National Football League games on Sunday. You'll see the color pink all over the fields – player cleats, towels, hats, gloves. Last weekend, the referees during games even threw pink flags every time they called a penalty.
The real driver of pink business as far as the promotional products market is concerned, though, are the bread and butter of the non-profit sector: live events. It's those 5K runs, charity walks, festivals, and so many of the other group gatherings you see every weekend in nearly every community this month that are helping to drive huge business. The American Cancer Society estimates that it gets about a fifth of its annual revenues in October, thanks to the many live events it sponsors and benefits from.
Distributors, too, are benefiting from the rise in non-profit marketing. In fact, about 5% of overall distributor revenues come from non-profit clients – a total of about $1 billion a year. There's an extension, though, of this sector that distributors should absolutely be looking to capitalize on: Live events. Nearly every industry today – not just in the non-profit sector – is looking to connect with their customers on a more relational, one-to-one basis, and this is happening in many cases through live event marketing.
A recent survey from research firm Towers Perrin estimates that the amount spent on live event marketing has grown by about 20% in the past three years alone. Even further, the number of companies that have implemented live events into their marketing plans over the past two years has grown by 25%. Of course, most of these companies are looking to have their constituents leave these live events with reminders and ad messages, and that's where promotional products come in. It's a pretty good bet that there's not a single marketing event happening today – including the ones surrounding Breast Cancer Awareness Month – in which attendees don't leave with a promotional item of some kind. Are you tapping into the vibrant live event market and discussing potential events with each and every one of your clients? You should be. That's where marketing is headed. Just look around you this month.
TOP
Alipay To Purchase Stake In Asset Manager
China-based Alipay, which is controlled by Zhejiang Alibaba E-Commerce Co. and Alibaba Group, has agreed to buy a majority stake in Tianhong Asset Management Co. for 1.18 billion yuan ($192.8 million). The deal will strengthen the Chinese financial services operations of Alibaba, which is poised to file an initial public offering in New York. 
Prior to the agreement, Tianhong and Alipay already had a working partnership, as the pair launched a fund and payment platform called Yu E Bao in June. In less than three weeks, the fund attracted more than 2.5 million customers, raising 6.6 billion yuan ($1.08 billion), according to Tianhong.
"In order to give investors in Yu E Bao more security, improve innovation and provide more products and services, we have chosen to cooperate with Tianhong Asset Management," Alipay said on its microblog.
Currently, Alipay is China's largest third-party payment platform, with 800 million registered accounts. Alipay formally broke away from Alibaba Group in 2011, although Counselor Power 50 member Jack Ma remains the controlling influence for the online payment services firm.
TOP
Road Tour 2013: Around The Country In Eight Days
It's not something you get used to. Sitting in a cramped car – loaded with camera equipment, travel bags, computers, and boxes of t-shirts – with co-workers as you rush across the country can be an exhilarating and crazy experience. Three Counselor editors are about to embark on our third annual Counselor Best Places to Work Road Tour – we'll visit 16 companies – both distributors and suppliers, all of which are honored on the 2013 Counselor Best Places to Work list – in the span of eight days. 
Leaving from ASI's Trevose, PA, headquarters on Monday, October 14, we'll begin in New Jersey for our first company visit – and then proceed through Pennsylvania for an overnight stop before a busy three-company-visit day on Tuesday. No hints yet about the companies we'll be dropping in on during the Road Tour, but we hear we'll be doing push-ups, donning costumes, and sampling as much regional food along the way as possible.
Yep, on this trip, we're up for anything – and the companies we visit tend to throw the kitchen sink at us. Our video cameras, iPhones, iPads, and notebooks will be ready to record everything as we go, so make sure to follow along at www.CounselorMag.com/roadtour, or on Twitter with the hashtag #counselortour. There will be videos, pics, and blogs updated daily. Need an incentive to pop in and post comments? At the end of the trip, we'll award a $100 Gift Card, along with Counselor Best Places to Work Road Tour memorabilia, to a winner chosen at random from all the viewers that post a comment to the #counselortour hashtag on Twitter.
Along for the Best Places to Work ride are Melinda Ligos (@ASI_melinda), Andy Cohen (@ASI_andycohen), and Joe Haley (@ASI_joehaley). Will the car be big enough for this game group? What kind of high jinks will the weary travelers encounter along the thousands of miles that they'll traverse? Join us October 14 to October 22 to find out. Go to www.CounselorMag/roadtour to see it all unfold.
TOP
Survey: Workers Prefer Holiday Gifts From Employers
Nearly 80% of American workers would rather receive a great holiday gift than have an office party, according to the 2013 Holiday Business Gift Survey released this week by Lands' End Business Outfitters (asi/250566). The percentage of employees preferring a holiday gift grew 12% compared to one year ago.
"The holidays are a natural time to recognize employees and business partners with a thoughtful gift," said Carl Atwell, senior vice president of Lands' End Business Outfitters. "Our survey shows that people really appreciate those gifts."
According to the survey, the best time for corporate gift shopping is now through November 30 – a window of time that distributors can take advantage of. "I think budgets are loosening and employers are shifting their focus to recognizing and thanking their employees during the holiday season," said Jim Guarnera, national account director with 2020 Promotions, Inc. (asi/170720).
For the holidays, data shows that many employers (42%) prefer to give workers apparel, with gift cards (28%) and bags/totes (27%) close behind. Yet, 45% of employees prefer to receive a holiday cash bonus, followed by gift cards (23%) and apparel (11%).
While employees value cash as gifts, Linda Stevens, owner of LS Enterprises (asi/246865), has had success providing staff gifts like logoed vests, zip-up hooded sweatshirts, duffel bags and blankets. "Employees like cash, yes, but as we all know, it is spent and there is nothing tangible," she said. "Their employees are proud of the articles they receive."
TOP

ASI Radio: Friendly Business Advice
On this week's Tuesday Morning Show, the hosts shared the best business lesson they had ever learned. Among the advice the hosts offered up: make friends with your competitors, be careful what you send over e-mail and never assume someone who's older is wiser.
Click here to listen to the full segment and hear more tips. If you missed the show, a recording is now available at www.asicentral.com/radio. And, don't forget to join us on Tuesday, October 15, for our next broadcast. Log on at 10:30 a.m. ET to listen to the show – and give us a call at (215) 953-4979 to hear your voice on the air.
TOP
Vote For The Wearables Top Decorator
Two great decorators remain in the final round of the Wearables Top Decorator competition, and your vote will determine our champion. Click here to vote for your favorite. Hurry – voting ends Friday, October 11.
TOP
In The News
Admints & Zagabor (asi/31516) has announced a partnership with Hebert Handcrafted Chocolates to market its flavored chocolate bars to the ad specialty industry. Admints will carry 15 Hebert chocolate bar flavors and the partnership was effective as of October 1. For more information, visit www.admints.com.
ForMyReason (asi/55062) has introduced a patent-pending photo-frame silicone wristband product, which has a molded window on the band in which a photo can be inserted. For more information, go to www.formyreason.com.
GatewayCDI (asi/202515) has implemented a new product safety initiative that encourages its supplier partners to follow strict safety standards. Each year going forward, the distributor will internally rank suppliers, based on their compliance relating to product safety standards. Through the initiative, GatewayCDI hopes to partner with suppliers to further educate their own employees, as well as clients on the importance of product safety within the industry.
Interall Group (asi/63092) has launched a new website at www.interallgroup.com. The new site features optimization for mobile devices, a new search function, and gives users the ability to share items with others directly from the site.
Natural Trends (asi/73497) has announced the three winners of its recent WD-40 No Mess Pens giveaway. Michelle Kennedy of GreatGifts4U was the winner of the "Most Unique" category for distributors, and Clayton Bowen through distributor Matt Davidson of LOGO Dynamics won the customer category. Sean Perry of Direct Promotions won the random drawing. All three winners will receive a 500-piece order of WD-40 No Mess Pens.
Prime Line (asi/79530) is celebrating Customer Service Week at the company this week. Designed to honor the supplier's customer care team, the company is hosting daily events, including a pep rally, carnival-themed games and bingo games with prizes.
Sterling Cut Glass (asi/89663) was selected to provide 4,000 deep-etched Double Old Fashioned glasses for the christening of the USS Gerald R. Ford. The items will be distributed to attendees of the event, which is scheduled to take place on November 9.
TOP
People On The Move
DgroupTrevelyan (asi/47977) announced that it has appointed Danielle Ben-Haim to the position of vice president of business development.
Pioneer Balloon (asi/78200) announced that it hired Dawn Kovar and Daniel Sachs, owners of West Coast Branded Solutions, to represent the company in CA, AZ, NV, NM, UT,OR, WA, HI and AK.
PRODUCT SPOTLIGHT
Want to take your opportunity in this industry to the next level? Only Proforma provides the support you need to grow your business and increase your profits.
You'll benefit from:
$430 million in buying clout
$4 million dollars in sales and marketing tools
The leadership of a proven industry veteran
Back-office support from a staff of 150
Free credit insurance
World-class technology solutions
And so much more!
Click here to learn how Only Proforma can help you make the most of your career.
TOP
THE ASI SHOW
THE ADVANTAGES ROADSHOW IS VISITING THE MIDWEST NEXT WEEK
The Advantages Roadshow is coming to the Midwest and distributors are invited to attend for FREE. Delivering top suppliers and hot, money-making products, the Roadshow is the most cost-effective and time-efficient way to find answers to your clients' fourth-quarter needs.
►Monday, October 14 • Milwaukee, WI • Sheraton Milwaukee Brookfield
►Tuesday, October 15 • Chicago, IL • Holiday Inn Elk Grove
►Wednesday, October 16 • Indianapolis, IN •  Hilton Indianapolis North
►Thursday, October 17 • Cincinnati, OH • Crowne Plaza Cincinnati - Blue Ash
►Friday, October 18 • Columbus, OH • Bridgewater Banquet & Conference Center
Come on over. All distributors are invited to attend the Advantages Roadshow for FREE. The morning schedule features distributor education from 7:45 a.m.-9 a.m. and tabletop exhibits from 9 a.m.-1 p.m.
Visit www.advantagesroadshow.com to register for free and to review the complete Advantages Roadshow schedule. Distributors can register on show site with a valid business card.
Counselor® PromoGram® is a trademark of the Advertising Specialty Institute. You were sent this newsletter as a benefit of your ASI membership. Copyright 2013, ASI. All Rights Reserved.
If youd like us to send Counselor PromoGram FREE to anyone else at your company (or to your off-site sales reps), go to www.asicentral.com/newsletters and complete the online form.
Interested in advertising in Counselor PromoGram? Send an email to ekoehler@asicentral.com
Click here to subscribe to Counselor® magazine. You must be a member of ASI to subscribe to this publication. The publisher has a right to refuse subscriptions to non-members.
Advertising Specialty Institute®, 4800 Street Road, Trevose, PA 19053