Counselor®PromoGram®

Volume 861 / October 20, 2011

SPONSORED BY

ASI NEWS

ASI SmartBooks Debuts
ASI Computer Systems, Inc. launched a new industry-specific business management software that allows distributors to manage their entire business with a single, flexible, powerful business application.
Find out more.

Score With Tailgating Products
Discover ways to tap the football-related promo market and learn the results of ASI's tailgating survey.
Find out more.

LOGOMALL

ASI welcomes the following Suppliers to the LogoMall Network.
Find out more.

ASI STORE

Find, review, and purchase the latest exclusive ASI products...
Find out more.


ADVERTISEMENT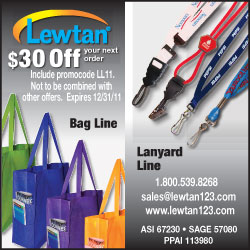 Distributor Sales Increase 5.1% In Q3
Marking the seventh consecutive period of gains, ad specialty distributors increased their revenues by 5.1% in the third quarter of this year, according to data released today by ASI. Industry sales for the third quarter totaled approximately $4.6 billion, rising by $221 million compared to the same period in 2010. The Q3 increase in industry sales follows a 7.6% revenue gain in the first quarter and a 5.9% gain in the second quarter.
"Most people were predicting the industry to see anywhere from 5%-10% growth this year," says Fred Parker, president of Bluegrass Promotional Marketing (asi/141964), whose sales have increased 20% this year. "Generally speaking, companies have preserved cash over the last 36 months and most know they can't just stop their marketing efforts."
Data from the ASI quarterly sales report shows about 50% of distributors increased their revenues in the third quarter, with larger firms demonstrating the most success. Companies that generate more than $1 million in annual revenues reported a 7.8% increase in third quarter sales. Small and medium-sized distributors reported very similar changes in sales to the first and second quarters of the year, with average Q3 gains between 3% and 4%.
And, the industry's outlook for the remainder of 2011 also shows growth expectations. More than one-half (56%) of all distributors believe their 2011 revenues will be higher than those in 2010. About 70% of larger distributors ($1 million sales or more) are forecasting higher 2011 revenues. The number of distributor firms anticipating a sales increase is nearly three times greater than those predicting a decrease.
"Our bookings are on the high side and the activity levels are extremely positive," says Memo Kahan, president of Counselor Top 40 distributor PromoShop (asi/300446). "My industry gauge is the supplier base, which I believe is seeing an uptick. I believe the next four weeks will be critical to setting up the expectations for the remainder of this year and Q1 2012."

ADVERTISEMENT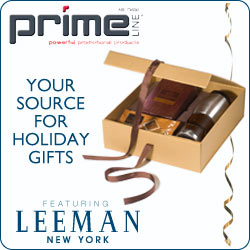 BIC Reports Q3 Financials
BIC APP, the parent division of Counselor Top 40 supplier Norwood (asi/74400) and BIC Graphic North America (asi/40480), reported this week that its sales declined 10% in the third quarter. Through the first nine months of 2011, BIC APP's revenues have fallen 10.1% compared to last year. "The ongoing economic slowdown and integration challenges have delayed the APP business recovery longer than we had originally anticipated," said Mario Guevara, CEO of BIC Group.
Overall, BIC APP's third quarter 2011 net sales slipped to 76.6 million euros ($105.5 million). For the nine months ended on September 30 of this year, revenues decreased to 203.9 million euros ($280.8 million). Executives at BIC APP – which includes Norwood, BIC Graphic and Europe-based Antalis Promotional Products – continue to expect a high single-digit decrease in 2011 sales. In its financial statement, BIC says that while customer service levels have "returned to normal" following Norwood's integration with BIC Graphic, its decrease in ad specialty sales is due to weak markets and "an increasingly competitive environment."
In contrast to its promotional products sales, BIC's consumer business is growing steadily. Gains in the sale of stationery, lighters and shavers increased BIC's consumer division revenues by 3.3% in Q3 and by 6.8% for the first nine months of 2011. "Our consumer business trend stayed positive despite the challenging economic environment," said Guevara. "Importantly the Group's profitability levels were above the historical average."
The largest supplier in the ad specialty industry, Norwood & BIC Graphic North America reported 2010 revenues of $385 million. In 2009, company sales were $410 million, but could slip to roughly $345 million this year, based on current BIC projections. "We remain committed to the BIC APP long-term business plan while making all the necessary adjustments," Guevara said.

Counselor's How-To Minute: Win Any Negotiation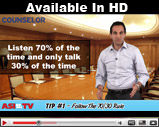 In a new video report, Counselor is presenting a business strategy video each week that will focus on how distributor firms can overcome a specific challenge or rise to the occasion on an opportunity in front of them. This week: How to come out on top in your next business negotiation. Yep, you have them every day – negotiations with clients, employees, vendors, lenders, or landlords. But do you know how to make sure you get what you want out of every negotiation?

In a quick, minute-long video, Counselor Senior Writer Dave Vagnoni walks viewers through three simple steps they can take to ensure they nail their next negotiation. Click here to watch the video.

USPS Increases Prices For 2012
The United States Postal Service announced this week that it will be increasing prices on many of its products beginning on January 22, 2012. The cost of a first-class stamp, also named the Forever Stamp, will be increasing by a penny to 45 cents, while postcards will increase 3 cents to 32 cents and mail to international destinations will also be increasing in a variety of prices.
"The overall average price increase is small and is needed to help address our current financial crisis," said Postmaster General Patrick Donahoe. "We continue to take actions within our control to increase revenue in other ways and to aggressively cut costs. To return to sound financial footing we urgently need enactment of comprehensive, long-term legislation to provide the Postal Service with a more flexible business model."
Prices also will change for other mailing services, including standard mail, periodicals, and package services, although the increases are not expected to impact the prices of USPS Express Mail and Priority Mail. Click here for more information on the new USPS pricing expected to go into effect next year.

The Joe Show: Construction Market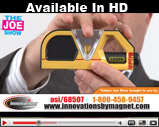 In this episode of The Joe Show, Managing Editor Joe Haley focuses on how distributors can capitalize on the opportunities that the construction market presents. With lots of public money flowing to construction projects, this is a sector on the rise. Looking for tips on how to target clients in this market? Want product ideas – think: safety incentive programs – that are perfect to suggest to clients in the construction sector? Check out the video.

Click here to watch this special market edition of The Joe Show.

Want more videos? Subscribe now to our YouTube videos.

Cohn Family Supports JDRF Efforts
ASI Vice Chairman Matthew Cohn and his wife Lea, along with their daughters Sydney and Mackenzie, have announced a major fundraising effort for the Juvenile Diabetes Research Foundation (JDRF). Both Sydney and Mackenzie were separately diagnosed with juvenile diabetes within the past four-plus years, and the family has been doing everything it can to battle the disease over that time. In the past four years, mostly through its www.CohnSisters.com website, the Cohn Sisters have raised more than $1.5 million for research. The money raised for JDRF has already led to some important developments, which are making a difference, and the Cohn family is confident that even greater things are coming from the work being done today.
Now, the Cohn family is asking for the industry's help to reach even bolder fundraising goals. For the fifth year in a row, the Cohn Sisters are organizing a team to walk in the JDRF Walk to Cure Diabetes, taking place in Philadelphia this Sunday, October 23. This year, in honor of its 5th walk to cure diabetes, the family's goal is to raise $500,000 – a new record.
More than 80% of the way to their goal, the family has already raised over $400,000 this year for the JDRF. To help them reach their goal, go to www.CohnSisters.com. All donations are tax deductible, and can be made directly through the website.

Podcast: Plan An Inexpensive Holiday Party


On Tuesday's ASI Internet Radio Show, the hosts took questions from callers looking for advice on how they can motivate both employees and customers during the holiday season – at a low cost. Need ideas for holiday parties that won't break your budget? Want product strategies for rewarding clients and employees at the end of the year?
Click here to listen to the holiday-party call-in segment from Tuesday's show.
And, don't forget to join us on Tuesday, October 25, for our next broadcast. Log on to www.asicentral.com/radio at 10:30 a.m. ET to check it out.

How To Make An Online Video
Looking for ways to succeed with online video? Not sure how to get started in making and posting videos? Counselor hosted a live online chat this week that answered those questions and more. Go to www.asicentral.com/counselorchat to view a transcript of the session and to see how to make online video an essential new part of your marketing toolkit.
Our next live online chat – this one focusing on search engine optimization – will take place on November 15 at 2:00 p.m. ET. Go to www.asicentral.com/counselorchat to post questions about how to succeed with SEO.

2nd Annual Best Places To Work Halloween Contest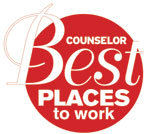 Is your company throwing the best Halloween Party in the industry this year? Are ghosts and goblins taking over your office? Join Counselor's Best Places to Work community, and share your wacky office Halloween stories – pictures and videos are welcome too. Go now to our Facebook page at www.facebook.com/BestPlacestoWork to post your favorite pictures and stories from your company's Halloween outing.
Counselor will honor the winning office with a $100 gift card – a great way to enhance any holiday party in a couple months. Plus, we'll even feature the winning office in a story in an upcoming issue of Counselor. Head now to www.facebook.com/BestPlacesToWork to share your stories.

In The News
Crystal D (asi/47759) announced that its employees packed 22,464 meals on September 14 for Feed My Starving Children, a local non-profit organization.
InnerWorkings Inc. (asi/168860) has been named to Deloitte's Technology Fast 500, a ranking of the fastest-growing technology, media, telecommunications, life sciences and clean technology companies in North America.
InnoPack USA (asi/62656) announced that it is moving to a larger facility, which will allow for more customer service personnel and additional production capacity. The move will be completed by the end of October 2011, and the new address is 238 W Taft Avenue, Orange, CA 92865. All current phone numbers, fax numbers, and e-mail addresses will remain the same.
iPROMOTEu (asi/232119) announced that 137 distributors affiliated with the company during the first nine months of 2011. In total, these distributors represent a combined annual sales volume of approximately $28.5 million.
The Vernon Company (asi/351700) has announced that chairman Bill Vernon has been elected to the Hall of Fame at Lake Forest Academy in Lake Forest, IL, based on his lifetime of community service.

People On The Move
Vantage Apparel (asi/93390) announced that it has promoted Brett Garran to national sales manager.
Weems & Plath (asi/96115) announced that it has promoted Chelsea Mahoney to the position of special markets manager.

EmailExpress SUPPLIER SPECIALS
<!—Begining of generated Content for 10/11/2011 to 10/17/2011-->

5 reasons distributors love selling this  asi/48584  - Reason #1: a foolproof opening line to say at the front desk View Special...
The Perfect Product For Any Promotion 5 Star ASI  asi/93131  - We Will Hit Your Price To Win View Special...
Free Screen Printing with Purchase of 213 Apparel   asi/68463  - Free Screen Printing with Purchase of 213 Apparel View Special...
Custom U.S. Made Promo Items, As Low as $0.60 net  asi/73571  - Special Price - 1GB as Low as $4.49 View Special...
Acrylic and Plexiglas Fabrication  asi/78761  - Custom Fabrication Experts View Special...
$3.85,blank,net,High Quality Cotton Zipper Tote  asi/37980  - Visit us online www.bagworldpromo.com View Special...
5-Day Delivery on USBs, 1GB $3.76  asi/90154  - Save on your next rush order. View Special...
AZX SPORT $0.55(R) SILI-BANDS - free setup - *5 STAR SUPPLIER*****  asi/30250  - INSANE PRICING on SILICONE WRIST BANDS from the promotional specialists at AZX SPORT- don't miss out! See more of the exceptional pricing offered on our extensive line of promotional products at www.aztex.com -5 STAR SUPPLIER- View Special...
Next Level Apparel NEW! Ombre Burnout.  asi/73867  - Visit www.nextlevelapparel for more New items. View Special...
Custom Printing II LTD Asi/47971   asi/47971  - All Set To Go! View Special...
Free Vendor Tent Accessories!- No Cost for Ground Shipping!/J.D. Inflatable Advertising/ASI 62993  asi/62993  - We only use the finest materials which are backed by a 3yr manufacturer's defect warranty on the Tent and Inflatable Materials View Special...
Photographic Quality Images Printed on Patches for $0.94 (P)  asi/98264  - Perfect Print Sublimated Patches allow photographic quality images to be printed right onto the patch. Each emblem can either be heat sealed or sewn onto apparel, hats, bags, you name it. View Special...
Carhartt - 5 Star Supplier  asi/42057  - Carhartt - 5 Star Supplier: Your full line Carhartt supplier offers our TRUE PARTNERS the best customer service, up to date inventory review, and low-low pricing. View Special...
Personalized Sport Mats   asi/47979  - Great Team Christmas Gift View Special...
Personalize Your Holiday Event with Cups From Huffermen  asi/62017  - Next column pricing View Special...
Amazing Deals on Digital Photo Frame and Unique Custom USB-CALL NOW!!!  asi/63053  - To view full selection, call CorporateKey at 1-866-438-5655 <1-866-438-5655> or visit www.CorporateKey.com View Special...

1-866-438-5655>
Contract Screen-printing  asi/700539  - Is your current screen printer letting you down? View Special...
Unique Green Solutions for Your Promotional Gifts  asi/96330  - Visit us at http://somethinghealthy.asisupplier.com or 96330.asisupplier.com View Special...
Your Favorite Sports Team Shines with Rapid Shine ASI/80705  asi/80705  - Your Favorite Sports Team Shines with Rapid Shine ASI/80705 View Special...
Let Santa "Claws" fill your Gift List this year!  asi/67771  - Let Santa "Claws" fill your Gift List this year with Lobster Gram! View Special...
Amazing Chocolate Covered Gifts  asi/57648  - High wow factor, unique and customizable Belgian Chocolate Covered Gifts. From dipped fruits, pretzels, and cookies to Gift Towers. View Special...
Fastest Banner Turnaround - 24-48 Hours!  asi/98600  - From the time you approve the proof to when your banner ships is 24-48 hours! View Special...
HOLIDAY SPECIALS with LOWEST Price in the Market  asi/90479  - 48 hour free rush! at TJ Promotions Corp for Quality Drinkware View Special...
Special 3 Day Production Deals on Select Styles from USMG!  asi/92433  - Various styles and colors View Special...
Ho-Ho-Holiday Profits are in the bag for you!  asi/80289  - Check out our website www.rmkworldwide.com View Special...
AZX SPORT $0.99(R) DOGTAG SPECIAL*5 STAR SUPPLIER*****  asi/30250  - INSANE PRICING on DOG TAGS from the promotional specialists at AZX SPORT- don't miss out! See more of the exceptional pricing offered on our extensive line of promotional products at www.aztex.com -5 STAR SUPPLIER- View Special...
<!—End of generated Content for 10/11/2011 to 10/17/2011-->

ASI SHOW
IT'S COMING NEXT WEEK!
The ASI Holiday Preview Tour is coming to Philadelphia at the Hilton Philadelphia City Avenue next Wednesday, October 26, and you need to be there! During an action-packed full-day schedule, you'll discover unique promotional products, gather innovative marketing ideas and develop new business relationships.
9 a.m.-11 a.m.: Free Education: Transform Yourself Into a Marketing & Sales Powerhouse: A Two-Hour Interactive Clinic
11 a.m.-4 p.m.: Tabletop Exhibits
4 p.m.-5 p.m.: Free Networking Reception
End your year on a strong note when you attend the ASI Holiday Preview Tour for FREE. No pre-registration is required. (Just bring a business card to Registration.) Education is from 9 a.m.-11 a.m., tabletop exhibits from 11 a.m.-4 p.m., followed by a networking reception from 4 p.m.-5 p.m.
You are sure to leave with money-making ideas that will set you ahead of the competition. Visit www.holidaypreviewtour.com for more information.
Follow The ASI Show on Twitter and become a fan on Facebook today!
The following are the dates and locations for The ASI Show in 2012:
Orlando, January 16-18, 2012
Dallas, February 1-3, 2012
San Diego, April 2-4, 2012
New York, May 8-10, 2012
Chicago, July 17-19, 2012
Plus, don't miss the ASI Advantages Roadshow, the industry's #1 traveling show. Visit www.advantagesroadshow.com for the complete schedule and go to www.asishow.com for information on all ASI Shows.
| | |
| --- | --- |
| | |
SPONSORED BY


Counselor® PromoGram® is a trademark of the Advertising Specialty Institute. You were sent this newsletter as a benefit of your ASI membership. Copyright 2011, ASI. All Rights Reserved.
If you'd like us to send Counselor PromoGram FREE to anyone else at your company (or to your off-site sales reps), go to www.asicentral.com/newsletters and complete the online form.
Interested in advertising in Counselor PromoGram? Send an email to ekoehler@asicentral.com
Click here to subscribe to Counselor® magazine. You must be a member of ASI to subscribe to this publication. The publisher has a right to refuse subscriptions to non-members.
Advertising Specialty Institute®, 4800 Street Road, Trevose, PA 19053