BIC Reports 2010 Financials 
BIC Advertising and Promotional Products (BIC APP), the parent firm of Counselor Top 40 supplier BIC Graphic (asi/40480)/Norwood, has reported a third quarter sales decline of 0.4%, leaving revenues for the first nine months of 2010 down 2.1%. Those numbers, however, are calculated on a comparative basis, meaning growth gained through the 2009 acquisition of Norwood isn't taken into account. "Overall advertising and promotional products markets remained weak," BIC said in its quarterly statement. "We do not expect sales to recover before the end of 2010."

PRODUCT SPOTLIGHT
 

ASI NEWS

Affinity Express to the Rescue 
Need super artwork super fast? Check out what ASI affiliate Affinity Express has to offer.
Find out more. 

Selecting Top-Rated Suppliers 
In the last year, distributors rated over 100,000 transactions in 25,000 supplier ratings reports and ones rated four-stars or above are now featured in the 2011 Select catalog.
Find out more.

LOGOMALL
ASI welcomes the following Suppliers to the LogoMall Network 
Find out more...
ASI STORE
Find, review, and purchase the latest exclusive ASI products... 
Find out more... 

 
 

ADVERTISEMENT

ADVERTISEMENT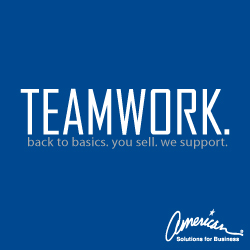 In total, the BIC APP division, which also includes Europe-based Antalis Promotional Products, generated a combined 92.7 million euros ($130 million) in sales in the third quarter. So far, the group has amassed 251.5 million euros ($352.6 million) in revenues for the first nine months of 2010. That means for BIC, when acquisitions, closures and other transactions are factored in, its global ad specialty sales have actually grown by 44.4% for 2010. The company also reiterated this week that its BIC/Norwood integration plan remains on track.

While comparatively its ad specialty sales slipped in Q3, France-based BIC, the parent company of BIC APP, reported an 8.8% rise in revenues within its consumer division, which sells items such as lighters, razors and stationery. Sales were especially strong in North America, jumping 14.1%. BIC expects its consumer division to produce a 7% sales increase in 2010.

In its North American ad specialty operation, the combined Norwood and BIC Graphic organization reported $410 million in overall ad specialty sales in 2009, making it the largest supplier in the industry. The two companies came together in June 2009, when BIC acquired Norwood out of bankruptcy for $125 million plus $37.5 million in assumed liabilities. Earlier in 2009, BIC acquired Europe-based Antalis Promotional Products for $46 million. Together, the three divisions comprise BIC Advertising and Promotional Products.

ADVERTISEMENT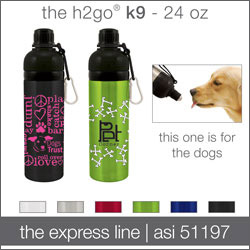 CPSC Won't Set Cadmium Limits
Backing away from a stance of regulation, the U.S. Consumer Product Safety Commission (CPSC) has announced it will not impose mandatory limits on the amount of cadmium that can be used to manufacture children's items, like toys and jewelry. Instead, the CPSC has recommended "acceptable daily intake" levels for the heavy metal, ceding formal rule-making to trade and consumer groups that can develop voluntary manufacturing standards. "If we find those standards are insufficient to protect the health and safety of consumers, then we can move to a mandatory standard," said CPSC Chairman Inez Tenenbaum.
According to Tenenbaum, CPSC scientists have determined that children can safely ingest 0.1 micrograms daily of cadmium per every kilogram of body weight for an extended period, and 11 micrograms per day at once. Based on those numbers, some recent product recalls, including the much-publicized McDonald's recall of 12 million "Shrek"-themed drinking glasses, would not have been issued.
While the CPSC has declined to regulate cadmium, federal officials are still acting to pressure manufacturers into accepting a uniform position on the metal's use. First, the CPSC is recommending a new test, generally considered rigorous by jewelry makers, that would measure cadmium by dissolving an item in acid for 24 hours. Additionally, CPSC staff is urging ASTM International, a standards-setting organization, to revise its safety rules to phase out cadmium from children's items.
Although there remain no federal cadmium regulations, four states – Connecticut, Illinois, Minnesota and California – passed strict laws this year limiting the use of the metal. Manufacturers are especially affected by the mandates in California, which is home to two of the largest ports in the nation and a major receiver of products from China. Concern over the potentially toxic metal began in January, when testing showed a single piece of children's jewelry, imported from China, was 91% cadmium.
To date, no recalled item in the U.S. has contained enough cadmium to prove fatal to a child, but health experts warn the metal can lead to liver and kidney damage, and even cancer, if swallowed.

ADVERTISEMENT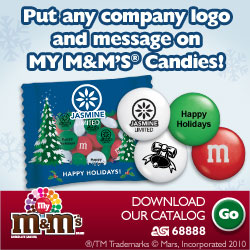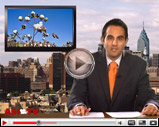 Video Report: News Of The Week
In this episode of Counselor's Industry Update video, we look at the 2010 financial performance of one Top 40 supplier and discuss the impact of a brand-new federal government decision about children's jewelry. Plus, how will the record-high price of cotton affect the cost of apparel? Watch the video to find out.
Click here to see the trends and to watch Counselor PromoGram's Industry Update.
If you have any news you'd like to see covered on Industry Update or in Counselor PromoGram, please send it to newsdesk@asicentral.com.

ADVERTISEMENT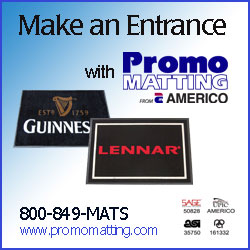 In Your Face Acquires Collegetown
Supplier firm In Your Face Apparel (asi/62494) has acquired Dallas-based Collegetown Screen Printing. While financial terms of the deal weren't made available, the Collegetown brand name has been eliminated and the company's equipment and staff have been folded into In Your Face Apparel. Effective October 1, In Your Face has also relocated its Dallas corporate offices into a larger facility that brings together its corporate offices, production and warehouse operations into one site.
"We are excited at the expanded capabilities and increased productivity this acquisition will bring to not only our business, but to the distributor business in the promotional products industry," said Doug Stayman, president of In Your Face Apparel. "We'll still provide nationwide service to our customers through our east and west coast facilities, however, our new increased equipment, staff, productivity and product offerings from our Dallas facility puts us in a better position of service from a more central U.S. location."
In Your Face, founded in 2003, expects that with the addition of Collegetown Screen Printing underneath its Dallas-based umbrella, it will be able to provide greater wholesale printing services, including standard screen printing, large format, water-based prints and increased production on its exclusive jumbo all-over water-based discharge tees.

ADVERTISEMENT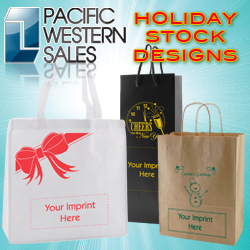 Podcast: Low-Cost Motivational Strategies
On Tuesday's ASI Internet Radio Show, the hosts took questions from callers who were looking for advice on how they could motivate themselves and their staffs on a shoestring budget. Looking for some tips on ways to get the most out of your staff for the rest of this year? Want strategies for a highly motivated approach to 2011? Check out this podcast. 
Click here to listen to the motivation-tactics segment from Tuesday's show.
If you'd like to check out a recording of the whole online radio show, go to www.asicentral.com/radio. And, don't forget to join us next Tuesday, October 26, for our next broadcast. Log on to www.asicentral.com/radio at 10:30 am ET and give us a call at 215-953-4979 or e-mail us at radio@asicentral.com to participate on the show. We want to hear from you.

ADVERTISEMENT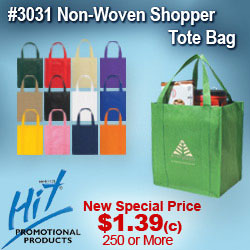 Cotton Prices Hit Record High
A variety of factors, including high demand in Asia and disappointing crops in several countries, have driven cotton prices to their highest level since the Civil War. Before trading stabilized yesterday, cotton futures reached $1.19 per pound, an increase of 80% compared to last year. According to the U.S. Department of Agriculture, this is the fifth consecutive season that the global demand of cotton has overwhelmed the supply.
More so than in other years, poor weather in Pakistan, one of the world's largest cotton exporters, has contributed to atypical prices. As recently as April, Pakistan expected to produce 14 million bales of cotton in the 2010-11 season, compared with about 12.7 million bales in the previous season. Yet, because of unprecedented flooding, government and industry officials now estimate an output of about 11.6 million bales. Further driving up prices, traders also remain concerned that export restrictions in high-producing India will limit the amount of cotton that can be sent to large countries like China, which manufacturers $13 billion of apparel per month.
Faced with the alternative of lower margins, multiple apparel retailers, including Levi Strauss & Co., have already announced price increases. Executives from Kohl's, Aeropostale Inc. and Guess have also hinted cotton prices are exerting pressures on product cost. Analysts expect retail prices to steadily climb, with the most noticeable markups found in relatively low-cost items like T-shirts, hurting discounters.
The last time cotton prices were this high was during the 1860s, when blockades interrupted the flow of the commodity from the U.S. to Europe. Then, prices reached $1.89 per pound.

ADVERTISEMENT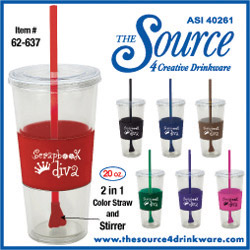 Podcast: Michael J. Fox On Overcoming Challenges
On last week's ASI Internet Radio Show, the hosts welcomed a special guest: Michael J. Fox. The actor and activist told his inspiring story of being diagnosed with Parkinson's disease at 29 – and offered his own methods for overcoming obstacles to continue a highly successful career. Plus, as keynote speaker for The ASI Show in Orlando in January, Fox previewed his talk by revealing his favorite promotional items.
Click here to listen to the Michael J. Fox interview segment from last week's show. Want more information on Fox's appearance at The ASI Show in Orlando in January? Go to www.asishow.com.

Take The Third-Quarter Sales Survey
ASI is currently surveying distributors in the market to find out how they did in the third quarter of 2010. This important data helps give industry practitioners a read on how the market overall did in the most recent quarter, so please take a few minutes to take the survey.
Click here to take the survey now.
Results from ASI's Third-Quarter Sales Survey will be published in Counselor PromoGram later this month.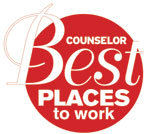 Honoring The Industry's Best Workplaces
One of the most anticipated lists in the industry is now live. Counselor's Best Places to Work, the ranking of industry companies that were judged by their own employees as the best companies to work for, can now be found on our website and a special new Facebook page at www.facebook.com/BestPlacestoWork.
Click here now to view the full list of 75 companies, and to read a profile of the number-one Best Place to Work: Dacasso (asi/48125), the Gainesville, FL-based supplier.
And, make sure to join the Counselor Best Places to Work community by going to www.facebook.com/BestPlacestoWork. Add your own thoughts to the conversation about what makes a great workplace. Right now, we've asked people for their stories and pictures from their favorite corporate summer outing this year. Join us now to show the industry why your company had the coolest outdoor event this summer.

In The News
Charles River Apparel (asi/44620) has participated in the "Pink Hair for Hope" charitable program by purchasing pink colored hair extensions for employees.
HALO Branded Solutions (asi/356000) has announced record buyer attendance for the third year in a row at its Fall Client end-user Showcases.
Hub Pen Company (asi/61966) and Walker-Clay (asi/354530) employees teamed up and participated in the Thompson Island Outward Bound Education Center's 10th Annual 4k Trail Run.
Motivators Inc. (asi/277780) has received an employer recognition award during National Disability Awareness Month for its employment of individuals with disabilities.
Progressive Promotions (asi/300237) announced that it has earned a spot on the Crain's Business Top 25 list of the New York area's largest women-owned companies.
RecognitionWorx Inc. (asi/71340) donated awards for a 9/11 event honoring firefighters, police and area veterans at a service appreciation ceremony.
Towel Specialties (asi/91605) has become the exclusive provider of Board Towelz to the ad specialty industry.
The Vernon Company (asi/351700) announced that it has raised $21,841 for the United Way of Jasper County.

People On The Move
RecognitionWorx Inc. (asi/71340) has added Nicole Bauer to their inside sales/customer service department.
XPRES (asi/52474) has named Beth Fox as the company's business development director.
PRODUCT SPOTLIGHT
NEW! USB Sticks from AZX Sport ASI/30250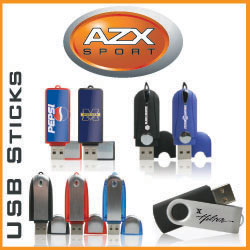 Features: 512MB - 16GB memory size available. Large variety of
colors and shapes. Ability to pre-load files onto USB.

Construction: Full color domed, Laser engraved
and pad printing available.

Lead Time: 1-3 business days on stock USB. 10 business days on
non stock USB. Minimum order 25pcs.

Orders and Art: Info.Promogram@aztex.com

Quote Requests: Info.Promogram@aztex.com

Visit www.azxpromotions.com to see our full line of products.

Or call 1-800-558-4836
CALL FOR QUOTE!
For other new and creative products,
visit the Product Central section on ASICentral.com.

EmailExpress SUPPLIER SPECIALS
NEW DISTRIBUTOR PROGRAM  asi/57850  - The finest custom molded chocolates. View Special...
Introducing the original DropStop wine pourer   asi/50869  - Original DropStop Wine Pourer has more packaging options to maximize the impact of your promotion. Folders, parchment envelopes, more. Outstanding image gift with long lasting impression. Freights on US for all first orders. View Special...
Offer Your Clients Custom Holiday Cards and Calendars  asi/79558  - Order your custom holiday cards and calendars by November 15, 2010 and save up to $200! Call 877-238-3217 to get started. View Special...
Over 100 Handcrafted Gift Ideas for the Holidays  asi/84264  - If you only show your client one thing this season...make it Rustico! View Special...
Celebrate the Milestones  asi/90154  - Free Die - Free Shipping View Special...
NEW Specials from Post-it(R) brand  asi/91240  - Check out the NEW Specials brought to you by Post-it(R) Custom Printed Products. View Special...
Eco Friendly New Tech And Hot Sellers Free Printing  asi/93131  - We have the perfect theme drive for your next promotion View Special...
SLING BAGS, GOOD PRICES  asi/37980  - Visit us online www.bagworldpromo.com. View Special...
Our Standard Drive Prices Keep Dropping! Now as low as $3.67 net.   asi/37218  - Free Shipping, Free Set Up, and Free 2 Color Imprint View Special...
Corporate Holiday Inflatables / J.D. Inflatable Advertising / ASI 62993  asi/62993  - Act Now! Order by October 27th to receive Free Ground Shipping with an estimated Dec 1st delivery! View Special...
Mrs. Fields at Your Door  asi/71750  - Free ribbon set up! View Special...
Special Gift Promotions from Post-it(R) brand   asi/91240  - Post-it(R) brand brings you Gift Specials! View Special...
Trimax Transfers = Screen-Printing without all of the headaches  asi/98264  - Trimax Transfers - Like having your own screen printing business, but without all of the headaches. Trimax Transfser designs can be stocked in-house for same day turn-around time. They are applied as needed with a heat press to all types of garments View Special...
New for 2011 with 10% Price Reduction  asi/36558  - Why Sell Restaurant Uniforms? Repeat Business for multiple income streams. Corporate Logos add Value to Uniform Garments. Strong emphasis on Brand and Unique look per Restaurant. View Special...
Carhartt - Rock bottom prices, free freight offer  asi/84143  - Carhartt Workwear- rock bottom prices View Special...
Eco-friendly Halloween & Holiday kid items under $1  asi/45815  - Eco-friendly Halloween & Holiday kid items under $1. View Special...
40% Off on the Ultimate Holiday Gift from Paris - FAUCHON  asi/90547  - To learn more give us a call at 888-488-4322. View Special...
Custom Shaped/Designed Usb's  asi/90767  - We can create usb's in the shape of your logo. Call us for more details. View Special...
Fashionable, Functional, and FUN! Hope for the Holidays purse gift set!  asi/71022  - Fashionable, Functional, and FUN! Hope for the Holidays purse gift set! View Special...
New Catalog Sale!  asi/37855  - Unique Elegance Affordable Price! View Special...
Meet the new kids on the block  asi/71350  - Mineral Springs delivers natures finest drink right to your door. Our refreshing bottles of 100% Spring water will get your message or logo out to your customers in one of the most refreshing and healthful ways around. View Special...
Buy One Get One Free! Red Hot Savings on Temporary Tattoos!   asi/43530  - Buy One Get One FREE! Red Hot Savings on Temporary Tattoos! View Special...
40% Off on the Ultimate Holiday Gift from Paris - FAUCHON  asi/90547  - To learn more give us a call at 866-488-4322. View Special...
Eco-friendly Halloween & Holiday kid items under a dollar  asi/45815  - Eco-friendly Halloween & Holiday kid items under $1 View Special...
Introducing Decor-8 from Samsonite  asi/49583  - Looking for a World-Class Brand at low price points? Samsonite has a new collection for you. View Special...

THE ASI PEPPERMINT TWIST-OFF ― WE ARE GOING FOR THE WORLD RECORD
We are going for the record and want you to be part of the excitement. Join us and 1,700 other ASI Orlando show-goers on Monday, January 24, at the LARGEST twist dance party in history!
The legendary Joey Dee and the Starliters will be the highlight of our festivities when they sing their #1 hit the Peppermint Twist. This will be a party like no other. Get a certificate stating you were part of the ASI Peppermint Twist-Off, as well as many fun promotional products from our party sponsors, when you participate in this memorable event.
The ASI Peppermint Twist-Off is taking place right after exhibits close on Monday, January 24, at 5 p.m. Come join the fun and tell your friends you made history while attending ASI Orlando.
Register today for ASI Orlando (Jan. 23-25) at www.asishow.com. ASI distributor/decorator members can attend for free and enjoy a free hotel room!*
WHICH ASI SHOW ARE YOU ATTENDING?
With events from coast to coast, there is an ASI Show for everyone. Delivering an unprecedented three-day schedule, you'll leave with the tools and inspiration you need for your best sales year ever.
ASI Orlando (Jan. 23-25): The biggest event on the East Coast will feature a dynamic Keynote by actor and activist Michael J. Fox (co-sponsored by Evans Mfg., asi/52840, and Showdown Displays, asi/87188), as well as a brand-new Gala at The Wizarding World of Harry Potter™.


ASI Dallas (Feb. 16-18): Only at the largest show in the Southwest can you hear an empowering Keynote by former First Lady Laura W. Bush(sponsored by Pepco Poms, asi/77280). ASI distributor members who register by Oct. 27 will get a FREE ticket to The Ultimate Texas Bash! Plus, don't forget the ASI Women's Summit taking place on Friday, Feb. 18 at the Adolphus Hotel.


ASI New York (March 22-24): Moving to the first quarter, ASI New York will include a private bash at hip hop mogul Jay-Z's nightclub the 40/40 Club, as well as The Industry's Biggest Speed Networking Session.


ASI San Diego (May 18-20): The newest event to serve the West Coast will be home to the 2011 Counselor Top 40 awards, as well as feature a private performance by Emmy® award-winning comedian Wayne Brady.


ASI Chicago (July 19-21): Local celebrity and football coach Mike Ditka will be delivering a moving Keynote at the largest show of the summer (sponsored by BamBams, asi/38228).
ASI distributor and decorator members can enjoy free admission and even a free hotel room. Visit www.asishow.com for details.
Follow The ASI Show on Twitter and become a fan on Facebook today!
The following are the dates and locations for The ASI Show in 2011:
Orlando, January 23-25, 2011
Dallas, February 16-18, 2011
New York, March 22-24, 2011
San Diego, May 18-20, 2011
Chicago, July 19-21, 2011
Plus, don't miss the ASI Advantages Roadshow, the industry's #1 traveling show. Visit www.advantagesroadshow.com for the complete schedule and go to www.asishow.com for information on all ASI Shows.
| | |
| --- | --- |
| | |
SPONSORED BY


Counselor® PromoGram® is a trademark of the Advertising Specialty Institute. You were sent this newsletter as a benefit of your ASI membership. Copyright 2010, ASI. All Rights Reserved.
If you'd like us to send Counselor PromoGram FREE to anyone else at your company (or to your off-site sales reps), go to www.asicentral.com/newsletters and complete the online form.
Interested in advertising in Counselor PromoGram? Send an email to ddienna@asicentral.com
Click here to subscribe to Counselor® magazine. You must be a member of ASI to subscribe to this publication. The publisher has a right to refuse subscriptions to non-members.
Advertising Specialty Institute®, 4800 Street Road, Trevose, PA 19053