ASI NEWS

Are You The Salesperson of the Year?
Advantages magazine seeks nominees for first contest recognizing outstanding sales performance. 
Find out more...

ProfitMaker: Speeds Monthly Close
New ProfitMaker features speed your monthly close and simplify operations 
Find out more...

ASI STORE Find, review, and purchase the latest exclusive ASI products... 
Find out more...
 
ADVERTISEMENT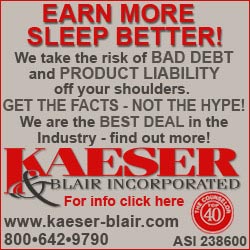 GDP Expands, Consumer Confidence Slips
Despite estimated gross domestic product (GDP) growth of 3.5% in the third quarter, consumers remain largely pessimistic, expressing declining confidence in a survey released this week by The Conference Board. The board's index, a closely watched measure of consumer sentiment, decreased to 47.7 in October, down from 53.1 in September. As a point of reference, a good index typically hovers around 90, with a figure of 100 or more indicating economic growth. "Consumers' assessment of present-day conditions has grown less favorable, with labor market conditions playing a major role in this grimmer assessment," said Lynn Franco, director of The Conference Board Consumer Research Center. "Consumers also remain quite pessimistic about their future earnings, a sentiment that will likely constrain spending during the holidays."
While the housing market and the stock market continue to improve, the unemployment rate in the U.S. is just under 10%, with some economists predicting it could hit 10.5% next year. Nearly half the 5,000 survey respondents believe jobs are difficult to find, while about 25% say they expect fewer available jobs in the coming months. Considering the attitudes of consumers, analysts are predicting slow holiday sales for major retailers, despite increased spending in the third quarter. "The short-term outlook has also grown more negative, as a greater proportion of consumers anticipate business and labor market conditions will worsen in the months ahead," said Franco.
According to the survey, those anticipating an improvement in business conditions over the next six months decreased to 21%, while those expecting conditions to worsen increased to 18% from 15% in September. As consumer confidence has dipped, corporate earnings have actually strengthened, while residential investment jumped rapidly in the third quarter at a 23% rate.
With an expanding GDP as evidence, the majority of economists feel the recession has ended, but no official determination will be made by the National Bureau of Economic Research for several months. While the recession officially began in December 2007, it's generally accepted that economic conditions started to sour in the fall of 2008 with the collapse of Lehman Brothers. Before the October survey, The Conference Board Index appeared overall to be steadily increasing in recent periods, after hitting an all-time low of 25.3 in February.