TOP
ADVERTISEMENT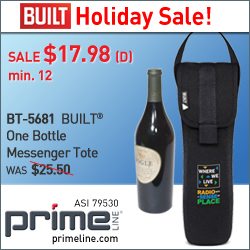 Counselor Commentary: Don't Give Up On Green
Alright, let's just be blunt right out of the gate with the of-course-you-knew-that part of the story. Eco-friendly or "green" promotional products aren't as popular as they used to be. Bet your jaw didn't drop over that nugget, huh? Indeed, the latest Counselor State of the Industry report shows 90% of distributors sold the same amount of green items or fewer of them in 2012 compared to 2011. This is not a one-year blip – it's a multi-year trend. So it would be reasonable to think, then, that the eco-friendly movement – at least when it comes to promotional products – has moved on, right?

Well, maybe not entirely. It turns out that if you target the right companies, the revenue results can be quite impressive. In the November issue of Counselor, there's a Q&A profile of Fairware Promotional Products (asi/191452), one of the fastest-growing distributors in the industry. You can read the complete Q&A by clicking here. Between 2010 and 2012, the Canada-based firm increased its sales by 65%, working with clients like Johnson & Johnson, Aveda and Patagonia. How did Fairware do it? By strictly selling eco-friendly products.

"We identified a gap in the market," said Denise Taschereau, Fairware's CEO. "Eight years ago, there were some distributors focusing on the green products arena, but very few that were also identifying social compliance as an issue."

Translation: Fairware goes after companies that are eco-conscious – demonstrated through their branding, policies or mission statements. OK, at this point, since Aveda isn't taking your calls, you might be thinking how exactly does this help me? Well, true, this prospecting strategy doesn't relate to your local pizza shop, but how about your local florist, or health food stores, or energy companies?

So, that's one part of the potential eco-revival. There's another side, too. Survey after survey shows that Millenials – those born between the early 1980s and the early 2000s – are embracing social responsibility and sustainability. As just one example, a survey released by the Intelligence Group and published in Adweek showed that 50% of Millenials consider eco-friendliness when buying products. You've heard stats like this before and you don't buy them, right? Fair enough, but consider the brands that are now aggressively pushing sustainable and green products: Puma, 3M, BMW, H&M and Nike, among others.

And, by the way, before Walmart and Target started running an endless stream of Black Friday commercials, they both ran sustainable products and Earth-friendly ads in 2013. Maybe these brands are onto something. No, everything consumer doesn't filter into the ad specialty industry. But, take notice: there are an increasing number of brands taking the eco plunge. It wouldn't hurt for your firm to dip its toe into the water.
TOP
ADVERTISEMENT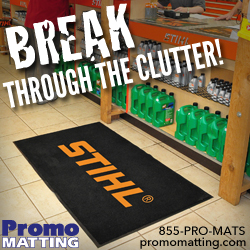 Bangladesh Hikes Wages For Garment Workers
Garment workers in Bangladesh will receive a minimum wage increase amid worker protests that shut down more than 250 factories last week. Bangladesh factory owners agreed to the 77% increase that was recommended by a government board two weeks ago. Minimum-wage garment workers will now make $68 a month, up from the previous total of $38. The wage increase will take effect December 1. Factory owners initially opposed the wage hike but since relented.
"In the greater interest of our garment sector, we agreed to it," Mohammad Atiqul Islam, president of the Bangladesh Garment Manufacturers' and Exporters' Association, told Reuters. "But many small factories cannot afford the rise."
Working conditions and wages for Bangladesh's garment workers have been under intense international scrutiny since the collapse of the Rana Plaza complex of factory buildings in April that killed more than 1,100 people. Dozens of major companies who source from Bangladesh agreed to safety audits in the wake of the disaster.
On Monday, Walmart revealed that 10 of 75 apparel factories that have been audited failed their safety inspections. The retail giant said that the factories that failed their audits have since made improvements. The company plans to audit all of about 200 factories it uses in Bangladesh and will release the results as they are finished. After the April industrial accident, most retailers signed one of two safety accords. Walmart, like many American retailers, signed the agreement that does not include a legally-binding clause.
TOP
ADVERTISEMENT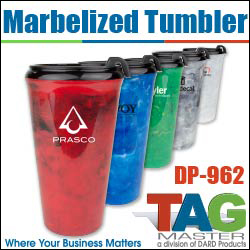 Economy Check: Inventories And Retail Sales Rise
U.S. businesses increased their stockpiles in September by 0.6%, the largest amount in eight months, the Commerce Department announced this week. The rise pushed total inventories to $1.68 trillion, up 3.1% from a year ago. Analysts say the better-than-projected economic growth in the U.S. during Q3 can be attributed to an increase in restocking from July through September.
The rise in September inventories was led by a 0.9% increase in stockpiles held by retailers. Inventories held by manufacturers and wholesalers both increased 0.4%. The overall economy grew at a 2.8% annual rate in the July-September quarter, an improvement over the 2.5% GDP expansion in Q2.
Separately, the government reported that retail sales rose 0.4% in October after a flat September, also exceeding economists' expectations. The growth suggests that consumers weren't held back by the partial government shutdown. October's retail sales were driven by furniture and electronic stores, clothing retailers and sporting good shops.
The better-than-expected reports could bode well for holiday sales. According to a survey by the National Retail Federation, up to 140 million people plan to or will shop over the Thanksgiving weekend. Of those who expect to shop that weekend, 33 million (23.5%) plan to shop on Thanksgiving Day. According to the survey, 69.1% plan to shop on Black Friday.
Finally, the Commerce Department also said Wednesday that consumer prices dipped 0.1% in October, driven down by lower gasoline costs. This was the first decline since the spring. The Consumer Price Index had risen 0.2% in September. Economists projected it would be unchanged in October. The lack of inflation is one factor being considered by the Federal Reserve as it decides when it will reduce its much-discussed monthly asset purchases. While the Fed could taper in December, the FOMC is equally likely to maintain its current level of purchases well into 2014, analysts say. Any decision to taper will drive interest rates higher.
TOP
ADVERTISEMENT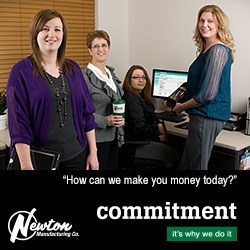 Counselor Market Watch: Energy
If you're a distributor looking for a new market to target, you'd be wise to consider the energy sector. Why? Take the growth of renewable energy, for example. In 2011, solar panel installations increased by 76% in the U.S., according to the Solar Energy Industries Association (SEIA), a Washington, D.C.-based trade group. At the same time, solar panel prices within the $11.5 billion industry fell by 27%.
"There will continue to be substantial growth, as the prices of components used to make solar installations continue to get cheaper," said Dan Bedell, vice president of Principal Solar Inc., a solar distribution company located in Dallas. As solar energy gets less expensive, the installation of traditional utility energy is getting pricier, Bedell said. That's one big reason why 83,000 home panel installations were performed in the U.S. last year alone.
Want to learn more about the energy market, including how your firm can tap into the potentially lucrative sector? Click here to read the complete Market Watch article from Counselor.
TOP

ASI Radio: Score More Holiday Sales
On this week's Tuesday Morning Show, the hosts gave listeners advice on how to win more holiday-related orders. What incentives can you offer customers to get them to buy? How can you be prepared for last-minute calls from clients? What types of products should you be pitching and why?
Click here to listen to the complete call-in segment. If you missed the show, a recording is now available at www.asicentral.com/radio. And, don't forget to join us on Tuesday, November 26, for our next broadcast. Log on at 10:30 a.m. ET to listen to the show – and give us a call at (215) 953-4979 to hear your voice on the air.
TOP
In The News
Foxyware (asi/87605) has introduced a new line of rhinestone earmuffs for 2014. The oversized faux-fur earmuffs are available in over 12 colors and allow for an unlimited combination of rhinestone decoration. Custom charms are also available.
iClick (asi/62124) has launched five new products, including mobile accessories. For information on the new items, visit: http://iclick.com/MobileAccessoriesNewProducts. The company has also announced that it is now the exclusive distributor of TuGo travel mug holders and Labyrinth Inbox desk crates from Spain.
InnerWorkings (asi/168860) has entered into an exclusive agreement to manage the execution of print production, premiums, and logistics for Sierra Club, the largest grassroots environmental organization in the U.S.
Penn Emblem Company (asi/77120) has announced its WBENC recertification as a Women's Business Enterprise for 2014. Penn was first certified in 2010. The WBENC is the nation's largest third-party certifier of businesses owned and operated by women.
Prime Line's (asi/79530) interactive webinar series continues with "Selling Strategies For Top Vertical Markets" on Thursday, November 21, from 2:00-2:30 EST. Distributors can register by clicking here http://bit.ly/I36KJh.
Selco (asi/86230) has announced it is now using a new dial polishing machine that expands the company's manufacturing capabilities. The machine provides a different finish compared to the traditional method of polishing, allowing Selco to offer a larger variety of finishing choices.
Starline (asi/89320) has announced that its shipping partner, FedEx, has recently improved its service throughout the U. S. Service changes include expanded one-day service in the OH/PA/NY area, two-day service in MO, AR, LA, MS, AL, GA and areas of TX, including Dallas and Houston, as well as three-day service to OK.
TSC Apparel (asi/90518) has announced that Alek from Colden, NY, is the first winner of the company's Big Game promotion. Customers in TSC's Northeast Territory can enter the contest by placing at least one order of Tultex items through December 27th. Drawings will be held bi-weekly. Contact TSC Apparel for more contest information.
TOP
People On The Move
Ash City (asi/37127) has announced that Bobby Ramjist has accepted the position of dedicated sales representative, covering the Ottawa and Eastern Ontario Territory.
Heritage Sportswear, Inc. (asi/60582) and Virginia Ts (asi/93917) have added Jim Dunne to their team as vice president of strategic accounts.
PRODUCT SPOTLIGHT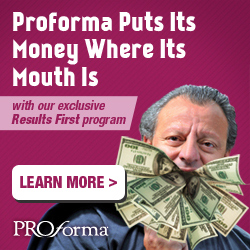 Introducing a new and better way to get your business going and growing.

Introducing a new and better way to get your business going and growing.
Proforma's revolutionary Results First program will get you the results you want before making any financial commitments to join Proforma.
Only Proforma has the resources to offer a program like Results First. Only Proforma has $4 million per
year in sales and marketing support, $430 million in purchasing power and a 150 person support team to truly deliver the results you want.
Click here to learn how Proforma's Results First program can grow your business—even before you join.
Proforma (asi/300094)
TOP
THE ASI SHOW
MARK YOUR CALENDAR NOW
The 2014 Advantages Roadshow schedule is now available. With minimal time out of the office, the Advantages Roadshow – the ad specialty industry's most popular traveling show – is the perfect way to stay on the cutting edge. Featuring an intimate tabletop environment, you'll leave with new product ideas and creative solutions for your clients' biggest challenges.
Find the city closest to you …
Northwest, January 20-24 • Seattle, Portland, Sacramento, San Francisco, San Jose
S. California, January 27-31 • Van Nuys, Ontario, Orange County, San Diego, Phoenix
Northeast, February 24-28 • Boston, Long Island, Greater NY/NJ, Philadelphia, Baltimore
Midwest I, March 10-14 • Detroit, Cleveland, Indianapolis, Chicago, Milwaukee
Canada East, April 29-May 2 • Montreal, Ottawa, Toronto, Burlington
Southeast, May 13-16 • Raleigh, Charlotte, Atlanta, Nashville
Florida, May 19-22 • Orlando, Tampa, Sarasota, Ft. Lauderdale
Canada West, June 2-5 • Vancouver, Travel Day, Calgary, Edmonton
Promotions Southwest, August 11 • Irving Convention Center
Midwest II, October 13-17 • Minneapolis, Des Moines, Omaha, Kansas City, St. Louis
All distributors are invited to attend for FREE. The morning schedule features ASI Education from 7:45 a.m.-9 a.m., followed by tabletop exhibits from 9 a.m.-1 p.m. For more information, visit www.advantagesroadshow.com.
Counselor® PromoGram® is a trademark of the Advertising Specialty Institute. You were sent this newsletter as a benefit of your ASI membership. Copyright 2013, ASI. All Rights Reserved.
If you'd like us to send Counselor PromoGram FREE to anyone else at your company (or to your off-site sales reps), go to www.asicentral.com/newsletters and complete the online form.
Interested in advertising in Counselor PromoGram? Send an email to ekoehler@asicentral.com
Click here to subscribe to Counselor® magazine. You must be a member of ASI to subscribe to this publication. The publisher has a right to refuse subscriptions to non-members.
Advertising Specialty Institute®, 4800 Street Road, Trevose, PA 19053