TOP
ADVERTISEMENT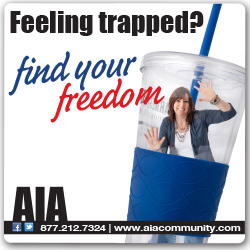 Counselor Commentary: Capitalize On Gift-Giving Trends
Here are two pieces of good news as we head into the corporate gift-giving season.  #1: The days of showing up to the work holiday gathering in a reindeer sweater and toasting co-workers while singing "Frosty the Snowman" could be waning. According to the 2013 Holiday Business Gift Survey by Lands' End Business Outfitters, the percentage of employees preferring a holiday gift (rather than a holiday party) from their employer grew 12 percentage points compared to a year ago, to a whopping 80%. While that may be bad news for those who need a good excuse to don a lampshade, it can only be good for distributors selling promotional gifts.
And, here's #2: According to the just-released ASI Corporate Gift Giving Survey of 561 corporate end-buyers, companies are spending more per-gift this year for both employees (about $45 dollars compared to $42) and clients and prospects (about $34 compared to $26). Gift cards still rank the highest among gifts from both employees and clients, but food and beverages, apparel and calendars also remain popular choices. "I think budgets are loosening and employers are shifting their focus to recognizing and thanking their employees during the holiday season," says Jim Guarneri, national account director with 2020 Promotions Inc. (asi/170720).
So what does all of this mean for distributors? It's time to ramp up the creativity when selling corporate gifts. Talk to clients and prospects about their holiday plans. If they're waffling on the annual get together, show them data that might persuade them to use promotional gifts instead. Pull out the results of ASI's Global Ad Impressions Study (www.asicentral.com/study), and point to the fact that 53% of recipients of ad specialties feel more positive about advertisers after receiving a promotional item.
At the same time, knowing that some clients are more willing to open their wallets and spring for nicer gifts this year, step up the options that you show them. Don't just present last year's selections and see if they want to re-order. Tell them it's time for an upgrade; show "good, better, best" options of what you think might work for them.
Finally, get in the holiday spirit. Create a 60-second holiday video (don't be intimidated – you can use your iPhone) showcasing some popular, high-quality gift options, and push it out to both clients and prospects. Show pictures of new holiday gift ideas on social media platforms. And put a "holiday gift of the day" idea on your website. Get in the spirit and focus on upselling every customer this holiday. It could be the best gift you give yourself.
TOP
Service Sector Expands In October
Despite the federal shutdown, U.S. service sector business activity picked up moderately in October and firms took on additional workers, according to a new report by the Institute for Supply Management (ISM). The Institute's closely-watched services-related index rose one point to 55.4 last month, indicating growth in the sector. "Respondents' comments are mixed with the majority reflecting an uptick in business," said Anthony Nieves, who leads the ISM survey.
The ISM's production index also increased to 59.7, up from 55.1 a month earlier and its employment gauge, which measures staff levels, improved to 56.2, a 3.5 point jump. The ISM's new-orders index slipped to 56.8% from 59.6%, however, showing stress from economic uncertainty. Still, 12 of the 18 industries tracked by ISM reported growth last month, a slight uptick from 11 in September.
Conditions in the service sector are viewed as among the most crucial metrics regarding the state of U.S. employment. The sector, which includes the finance and health care markets, employs 80% of U.S. workers. The October services data – which easily beat the forecasts of analysts – comes just days after ISM's national factory index showed U.S. manufacturing grew at its fastest pace last month in more than two years.
TOP
Counselor Q&A: Selling Sustainability
In the November issue, Counselor profiled Canada-based Fairware Promotional Products (asi/191452), one of the fastest-growing distributors in the industry. The company sets itself apart by focusing on a unique niche – sustainable products. "We identified a gap in the market," says Denise Taschereau, Fairware's CEO and co-founder. "Eight years ago, there were some distributors focusing on the green products arena, but very few that were also identifying social compliance as an issue."
So, Taschereau and Fairware's other founder, Sarah White, decided to focus their pitch on sustainable products and ethical sourcing. They targeted companies that made commitments to purchasing with the environment in mind, and it worked. Fairware has since won business from companies like Johnson & Johnson, Aveda and Patagonia. Between 2009 and 2011, Fairware more than doubled its sales, joining the multi-million dollar revenue club.
How does Fairware find companies to call on? How does it respond to client objections about price? What approach does the firm take with suppliers to ensure ethical sourcing? Click here to find out by reading the full Q&A.
TOP

ASI Radio: Strengthen Your Company's Brand
On this week's Tuesday Morning Show, the hosts gave listeners advice on how to turn an ordinary brand into a powerful one. What's an important part of brand-building that companies often forget? Are there inexpensive ways to boost your company's image? How can watching TV ads help you brainstorm ideas?
Click here to listen to the complete call-in segment. If you missed the show, a recording is now available at www.asicentral.com/radio. And, don't forget to join us on Tuesday, November 12, for our next broadcast. Log on at 10:30 a.m. ET to listen to the show – and give us a call at (215) 953-4979 to hear your voice on the air.
TOP
In The News
Crystal D (asi/47759) packed 22,032 meals for hungry children around the world on October 3, exceeding its company record from last year.
Imprint Plus (asi/62483) received the Gold and Silver awards for screen printing for Schlegel Villages and Dulux name badges respectively at the 2013 SGIA Expo.
Penn Emblem (asi/77120) representatives attended the 2013 Tom Ridge Homeland Security Awards to honor the men and women of the federal law enforcement community.
Prime Resources Corp. (asi/79530) announced Prime's "Big Ticket" Challenge, which rewards distributors for orders of $10,000 or more.  For additional details visit www.primeline.com.
Selco (asi/86230) worked with artist Thomas Bradford to design a watch dial to support the Folds of Honor Foundation, which benefits military families. Each watch sold will generate a $50 donation to the Foundation.
PRODUCT SPOTLIGHT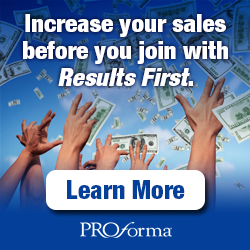 Would you buy a lottery ticket if you were
guaranteed to win?
Of course you would because there's no risk.
If you had the same no risk opportunity to grow your company, wouldn't you take it?
Proforma's exclusive Results First program offers you just that. With Results First, we "put our money where our mouth is" and get you the results you want before you join, before you make any commitments and before you invest anything.
With Results First, you'll be a winner before you commit.
Click here to learn how Proforma's Results First program can grow your business—even before you join.
Proforma (asi/300094)
TOP
THE ASI SHOW
NOW IS THE TIME!
Registration is open for ASI Long Beach, March 25-27 at the Long Beach Convention Center. Take a look at everything that ASI Long Beach has to offer...
Three days that include ASI Education and exhibits
Hundreds of the industry's most creative suppliers
The hottest items taking the ad specialty industry by storm
Daily networking ― perfect for connecting with other distributors
A Gala Celebration at Gladstone's (members can order a ticket for free)
A multimedia Keynote by Erik Wahl that will empower you to become the visionary leader you want to be (co-sponsored by Showdown Displays, asi/87188)
Register today for ASI Long Beach (Education on March 25 and exhibits on March 26-27) at www.asishow.com. ASI distributor and decorator members can attend for FREE, take advantage of special ASI Show travel discounts and qualify for a FREE hotel room on the evening of March 26.
Counselor® PromoGram® is a trademark of the Advertising Specialty Institute. You were sent this newsletter as a benefit of your ASI membership. Copyright 2013, ASI. All Rights Reserved.
If you'd like us to send Counselor PromoGram FREE to anyone else at your company (or to your off-site sales reps), go to www.asicentral.com/newsletters and complete the online form.
Interested in advertising in Counselor PromoGram? Send an email to ekoehler@asicentral.com
Click here to subscribe to Counselor® magazine. You must be a member of ASI to subscribe to this publication. The publisher has a right to refuse subscriptions to non-members.
Advertising Specialty Institute®, 4800 Street Road, Trevose, PA 19053