Distributor Q3 Sales Rise 8.4% 
Continuing a year of recovery, distributors posted an 8.4% increase in ad specialty sales in the third quarter, with total revenues up to $4.3 billion between July and September. The increase in revenues, according to the latest ASI Quarterly Sales Survey, is the third consecutive quarterly gain, following

PRODUCT SPOTLIGHT
 

ASI NEWS

Are You An All-Star? 
Advantages magazine is looking for sales rep and sales support superstars. Nominate yourself or someone else.
Find out more.

What's Hot at ASI Education 
ASI now offers a free, easy way to earn the equivalent of a bachelor's and master's degree in the advertising specialty industry.
Find out more.

LOGOMALL
ASI welcomes the following Suppliers to the LogoMall Network 
Find out more...
ASI STORE
Find, review, and purchase the latest exclusive ASI products... 
Find out more... 

 
 

ADVERTISEMENT

ADVERTISEMENT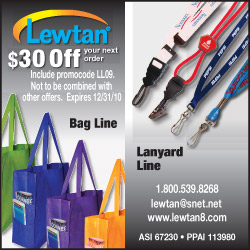 an 8.1% improvement in sales between April and July, and an 11.1% increase in the first quarter. Data also shows over half (54%) of respondents reported an increase in sales in the third quarter of 2010 compared to the third quarter of 2009. "These numbers are a good reflection of what's happening in the industry," said Kevin Lyons-Tarr, president of Counselor Top 40 distributor 4imprint (asi/197045). "We're certainly in a much better place as an industry this year."

According to survey data, the 8.4% increase in sales is largely the result of impressive third quarter numbers for industry companies that generate over $1 million in revenues annually. Sales among these distributors were up 7.1% in Q3, following similar quarterly increases of 7.4% and 9.8% earlier this year. These larger firms remain the most optimistic about overall 2010 sales, with 65% expecting an increase in revenues this year. About 54% of small distributors (up to $250,000 in revenues) and 43% of medium-sized distributors ($250,001-$1,000,000 in revenues) expect their overall sales will increase for 2010.

With sales stabilizing, the majority (54%) of respondents are optimistic about solid fourth-quarter industry revenues as well. "We began predicting a 25% increase in the fourth quarter," said Memo Kahan, president of Counselor Top 40 distributor PromoShop (asi/300446). "After one month of sales, we have adjusted those numbers up to 30%." Kathleen Watts, president of The BrandMarket (asi/145006), expects industry sales to be up around 10% in the fourth quarter, serving as a springboard into next year. "I'm keeping fingers and toes crossed that next year's sales increase will be over this year's spend, and I'll project that 2011 will be a much stronger year for the ad specialty industry," she said.

ADVERTISEMENT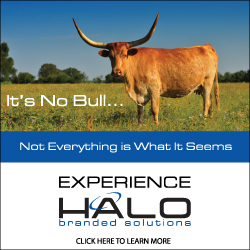 WWFG Acquires Sign-A-Rama License 
Worldwide Franchise Group (WWFG) has announced an agreement with Florida-based United Franchise Group to operate all existing and future Sign-A-Rama centers in Canada. Financial terms of the deal, which excludes centers in Quebec, were not disclosed. The acquired license gives WWFG, and its parent company The Planet Bottle Corporation, control of approximately $10 million of annualized revenue at the franchise level. "There are signs everywhere and the sign business has proven to grow even in periods of recession," said Patrick Rooney, CEO of The Planet Bottle Corporation. "We plan to be a leader in promoting the use of signage made from recycled plastic."
Expecting to grow the current 34 Canadian Sign-A-Rama centers into 100 by 2016, WWFG has established a separate management team and support structure to assist in the development plan. In addition, the Sign-A-Rama franchisees will be invited to participate in local and national marketing programs targeted to the Canadian market. "We look forward to growing WWFG into a multiple brand owner and developer of unique franchisable concepts, while aggressively supporting the needs of the existing and future Canadian franchisees," said JR Richardson, president of WWFG.
Formerly the Imagin Molecular Corporation, the Planet Bottle Corporation claims to have recently introduced the world's first and only oxo-biodegradable polyethylene terephthalate plastic bottle, after acquiring the technology from UK-based Wells Plastics. United Franchise Group, whose holdings include Sign-A-Rama and Counselor Top 40 distributor EmbroidMe (asi/384000), is a $500 million company headquartered in West Palm Beach.

ADVERTISEMENT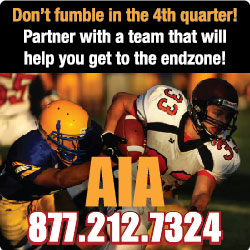 The Joe Show: Cold-Weather Promos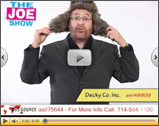 In this episode of The Joe Show, Counselor Managing Editor Joe Haley shows off some great items for clients looking to do outdoor marketing in the winter. Know marketers looking to connect with the ski set? Want some product ideas for cold-weather resorts? Check out this episode of The Joe Show.  

Click here to see this cold-weather-products edition of The Joe Show.

Want more videos? Subscribe now to our YouTube videos.

ADVERTISEMENT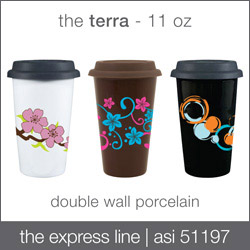 Distributor Affiliates With HALO
Counselor Top 40 distributor HALO Branded Solutions (asi/356000) announced that New Jersey distributor ProCon Marketing (asi/299836) has affiliated with the company and will now sell under the HALO brand. No financial terms of the deal were released.
As part of the deal, ProCon Marketing founders Michael and Vicki Reisbaum, along with five ProCon Marketing account executives, will join the HALO Branded Solutions sales team. ProCon's screen print operation will remain separate, serving as a new decorator for other HALO account executives. "The added leverage HALO provides in finance and marketing allows us to expand our services to our clients," Michael Reisbaum said.
Dale Limes, senior vice president of sales for HALO, said the deal will help the distributor expand its reach into the top media market in the U.S. "ProCon Marketing will provide additional strength in the New York City metro area," Limes said. "It is part of our ongoing effort to partner with established market-leading distributors in key geographic areas."
HALO is the sixth-largest distributor in the industry, after the company reported 2009 North American ad specialty sales of $139.3 million. ProCon Marketing most recently reported annual revenues of $3.7 million to ASI's CreditConnect program.

ADVERTISEMENT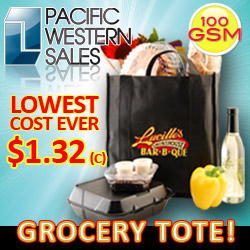 ASI Radio Offers Sales & Marketing Tips 


Today's Tuesday Morning Show on ASI Radio offered sales and marketing strategies for listeners who are beginning to plan for 2011. Plus, we revealed positive economic trends, shared our "Favorite Things" and discussed some unique advertising opportunities.   
If you missed the show, a recording is now available at www.asicentral.com/radio. And, don't forget to join us for our next broadcast on Tuesday, November 9. Log on to www.asicentral.com/radio at 10:30 a.m. ET to listen to the show – and give us a call at (215) 953-4979 to hear your voice on the air.

Distributor Pulls Drinkware Product After Accident
Texas-based distributor PrintGlobe has stopped selling an aluminum water bottle after the product injured a six-year-old girl in Pennsylvania, sending her to the hospital for four days. According to the company, the girl was drinking from the bottle when her tongue got stuck inside of it, creating a vacuum-effect that made the product stick completely to her mouth. "We've never had any issue like this before and we have 15,000 products on our website," said Jamie Dickens, director of sales at PrintGlobe, in an interview yesterday with Counselor. "This was a big shock. We took action immediately."
Besides pulling the bottle from its website, PrintGlobe contacted nearly two dozen of its water bottle suppliers to alert them of the incident. "We first heard about this Monday from a TV station in Philadelphia," Dickens said. "We sent a video clip of the story to suppliers and we wanted to see if anybody else had this problem before. This bottle is pretty standard. It's used by lots of distributors out there."
The lightweight bottle uses a popular shape with metal grooves on the inside of the neck and a canteen screw in the cap. Doctors reportedly had a difficult time removing the bottle from the girl's mouth because the cap area was made with thick brass. The girl, who needed a breathing tube to make sure her airway stayed open, spent several days in two hospitals, including time in intensive care following a procedure to cut the bottle away from her mouth. She is now recovering at home, as the cuts and bruises in her mouth heal. "It's important, as an industry, that we find out if there is a problem," said Dickens, whose company has 60,000 customers across the country. "Maybe we have a redesign or go with wide-mouth only."
The manufacturer of the bottle, California-based supplier TJ Promotions Corporation (asi/90479), has not responded to Counselor's request for comments. Dickens, however, said staff at TJ Promotions were "immediately concerned" upon hearing about the incident. Dickens said the water bottle that injured the girl was one of several purchased for a swim team. No other injuries have been reported.

Vote Now For Distributor Choice Awards


Every year Counselor magazine honors the best industry suppliers with our Distributor Choice Awards. Of course, we can't name the winners without you, because these awards are chosen solely by industry distributors.
Voting is now open for the exclusive Counselor Distributor Choice Awards. Please click here to vote in the Counselor Distributor Choice Awards.
These valued awards will be given out to winning suppliers at the ASI Show in Orlando on January 23, 2011. Your vote counts and we thank you in advance for your participation. Voting ends Friday, November 19.

SGR Magazine Announces Supplier Sales Reps Of The Year 
Following its inaugural Supplier Sales Rep of the Year contest, Supplier Global Resource magazine has announced its winners, based on votes from industry distributors. Taking the title of Supplier Sales Rep of the Year for 2010 is Brad White, vice president of San Diego-based supplier AddVenture Products (asi/31940), who garnered an overwhelming number of distributor nominations. Castelli's (asi/44305) executive vice president Missy Kilpatrick was named First Runner-Up and Mike Pratt, territory manager for Alpha/Broder/NES (asi/72808) was named Second Runner-Up. 

One of the nearly 500 distributors who sent in nominations, Danny Rosin, president of Morrisville, NC-based distributor BrandFuel (asi/145025), says of Pratt: "Mike always does what he says he's going to do and helps us brainstorm marketing initiatives and helps us see them through. He's a great teacher  –  he has no hesitation when asked to help with training our staff on apparel fabrics and styles, which required a great deal of thought, preparation, and effort on his part."
   
Regarding Kilpatrick, who -- despite her EVP title -- handles about 90% of Castelli's sales, Ken Terry, president of TerryTorry Marketing LLC, says: "Don't let the title fool you: Missy is always in the trenches dishing up top notch customer service every day." Aliette Gonzalez, senior account executive for Counselor Top 40 distributor Staples Promotional Products, concurs. "Through Missy's support and partnership, she has helped me grow my business throughout these past years, generating well over $4 million in sales."
   
And what of White, the Supplier Rep of the Year who's prodigious use of online social networking and his blog (www.whitethreads.com) have created such a following among distributors? "Brad found me on Twitter, contacted me and asked for a chance," says Tonia Allen Gould, president/CEO of Camarillo, CA-based distributor Tag! The Creative Source (asi/341358). "From that moment on, he's formulated and follows an ongoing synergic plan to develop a long-term partnership with my company. When I ask for something, I can consider it done. Truly, after 15 years in the business, it takes an awful lot to impress me. There isn't a single other supplier professional, working in sales, who impresses me more than Brad."


To read more about the winners of SGR's Supplier Sales Rep of the Year contest, go to http://bit.ly/aJHesR.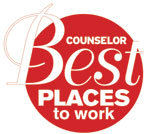 Best Places To Work Halloween Contest
Did your company throw the best Halloween Party in the industry last week? Did ghosts and goblins take over your office? Join Counselor's Best Places to Work community, and share your wacky office Halloween stories – pictures and videos are welcome too. Go now to our Facebook page at www.facebook.com/BestPlacestoWork to post your favorite pictures and stories from your company's Halloween outing.
Counselor will honor the winning office with a $100 gift card – a great way to enhance that holiday party in a couple months. Plus, we'll even feature the winning office in a story in an upcoming issue of Counselor. Head now to www.facebook.com/BestPlacesToWork to share your stories.

Calling All Sales And Sales Support Superstars
Are you the next Advantages Sales Rep of the Year or do you know one? Or are you Advantages FIRST Sales Support Person of the Year or know one? Our January issue will be devoted to Advantages Sales Superstars and we want your nominations ASAP.
Recognize outstanding sales performance in yourself or others. In 2010, did you come up with something really creative that led to a huge sale? Did you have the largest sales volume in your company? Did you go way over 100% of your quota? Have you gone above and beyond for a client or your sales reps? If you think you or one of your colleagues should be a contender, e-mail Editor Kathy Huston and let us know what makes you so spectacular.
The winner will receive gifts and bragging rights for the year and have a magazine profile to show all your friends and family. Now doesn't that sound special? Send either your 100-word-or-less entry or, if you'd prefer, your video nomination, along with a high-res image if you have it available: khuston@asicentral.com. Looking forward to hearing from you!

In The News
Maui Jim Sunglasses has announced that gift cards are available in any denomination from $25 - $500.
Tri-Mountain (asi/92125) has introduced the women's Dash, style 621, and the men's Diversion, style 624. The quarter-zip performance shirts are made of 100% polyester with UltraCool technology and feature contrast panels and piping along the collar, shoulders and front body.
WorkflowOne (asi/333647) announced that it has signed a contract to provide document management services for the Albert Einstein Healthcare Network.

PRODUCT SPOTLIGHT
NEW! USB Sticks from AZX Sport ASI/30250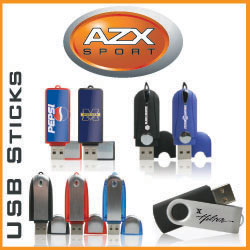 Features: 512MB - 16GB memory size available. Large variety of
colors and shapes. Ability to pre-load files onto USB.

Construction: Full color domed, Laser engraved
and pad printing available.

Lead Time: 1-3 business days on stock USB. 10 business days on
non stock USB. Minimum order 25pcs.

Orders and Art: Info.Promogram@aztex.com

Quote Requests: Info.Promogram@aztex.com

Visit www.azxpromotions.com to see our full line of products.

Or call 1-800-558-4836
CALL FOR QUOTE!
For other new and creative products,
visit the Product Central section on ASICentral.com.

EmailExpress SUPPLIER SPECIALS
Perfectly Round Patented Candy Drive (TM) On Sale! As low as $4.49 net.  asi/37218  - Free Shipping, Free Set Up, and Free 2 Color Imprint View Special...
Convenient Pill Boxes - Now On Sale!  asi/38980  - A Traveler's Necessity ! View Special...
Promotional Gifts for 2 Dollars and Under  asi/86465  - At Serena Enterprises we have made a commitment to our clients that they will receive the industry best product at the best prices. View Special...
1GB Flash Drive 4.85 100 pcs Free Print Free Upload  asi/93131  - We Will Hit Your Price To Win View Special...
Unbeatable Tote Bag Pricing-$0.32 net   asi/90154  - Free Shipping View Special...
Custom Cookie Cutters from Ann Clark Promo  asi/36255  - Case Study from Ann Clark Promo View Special...
POCKET GROCERY SHOPPER, FULL COLOR LOGOS  asi/37980  - Visit us online www.bagworldpromo.com View Special...
Baked. Delivered. Devoured.  asi/71750  - Order early and save! View Special...
Special Holiday Discounts on all Digital Picture Frames  asi/79939  - No Run Charges or Set up charges! View Special...
Need Personalized Name Badges? Pricing Updated!  asi/298264  - Name Badges International pricing has just been updated from V to R. NBI provides personalized name badges available in a range of shapes, sizes, colors & materials, allowing you the freedom of choice to design the perfect name badge for your company View Special...
November Special for Earthwise Bags  asi/51452  - End Of The Year Special View Special...
This holiday season, relax... iClick works for Santa  asi/62124  - We're here for you this busy holiday season. With 4 USB drive models in stock and over 24 color options, we'll keep you on Santa's "Good" list with your clients. In Stock models available in a 24 hour turnaround and never a rush fee View Special...
Your Customers Have Never Seen This! World's First Fish Training Kit  asi/81623  - Check out the video of "Comet" a trained fish doing amazing tricks! http://www.r2fishschool.com/ View Special...
So Much More Than Temporary Tattoos - Save 15% Now!   asi/43530  - California Tattoos: So Much More Than Temporary Tattoos! Save 15% Now! View Special...
500 Free Bags on Your First Order!  asi/49809  - Submit your order for 5000+ bags by 11/30/10 to redeem this special offer. Customize everything including size, material, color & imprint. Direct Green Bags is the premiere source for non woven polypropylene and full color laminate promotional bags. View Special...
$.95 November Special - NO MINIMUM Quantity! - asi/75350  asi/75350  - Otto Cap: November Special as low as 95¢ - NO MINIMUM Quantity! - asi/75350 View Special...
Holiday Hot Buys in Camouflage Leather  asi/73777  - Make a statement with premium camo leather products from Weber's Camo Leather Goods. View Special...

THE EXCITEMENT NEVER ENDS AT ASI ORLANDO!
As the first ASI Show of the year, ASI Orlando (Jan. 23-25) is jam-packed with exciting events. Register today and plan on experiencing a trade show like no other. . .
Here is just a sampling of what waits for you at ASI Orlando: 
ASI Million-Dollar Sales Summit: An exclusive event created for the best and brightest distributor salespeople who are achieving $1 million+ in annual sales. (Co-sponsored by Fields Mfg., asi/54100, Logo Included, asi/67837 and Logo Mats, asi/67849) 
ASI Peppermint Twist-Off: We are going for the Guinness World Record™ and want you to join us as 1,700+ Show-goers participate in the biggest Twist dance party, as the legendary Joey Dee and the Starliters perform their #1 hit the Peppermint Twist.
2011 ASI Fashion Show: A sneak peek of the industry's hottest new promotional apparel for 2011, featuring the latest looks in corporate apparel and the most popular new embellishment techniques.
Gala Celebration at The Wizarding World of Harry Potter™: A private party featuring unlimited access to the hottest new theme park rides, dinner, open bar and music.
Michael J. Fox Keynote: Actor and activist Michael J. Fox will share the remarkable life lessons he has learned from his struggle with Parkinson's disease – and the hard-won perspective that helped him to see challenges as opportunities. (Co-sponsored by Evans Mfg., asi/52840 and Showdown Displays, asi/87188) 
Click here to review the full three-day agenda, featuring access to 700+ suppliers, 60+ free education sessions and 24/7 networking.
Register today for ASI Orlando (January 23-25) at www.asishow.com. ASI distributor and decorator members can enjoy free admission and even a free hotel room
THE 2nd ANNUAL ASI WOMEN'S SUMMIT IN DALLAS
Register today for the 2nd annual ASI Women's Summit taking place on February 18, 2011, during ASI Dallas, at the Adolphus Hotel's French Room and enjoy an event like no other! (Co-sponsored by Fields Mfg., asi/54100, J. Charles Crystalworks, asi/62985 and Logo Mats, asi/67849) 
You'll have the exclusive opportunity to network with other women professionals in the ad specialty industry, as well as hear a motivational Keynote by former First Lady Laura Bush.
The afternoon schedule will feature registration and networking from noon until 1:30 p.m., where you'll be able to share stories with colleagues while mingling with Mrs. Bush; a sit-down lunch with Keynote from 1:30 p.m. to 2:30 p.m.; an interactive hot topics discussion from 2:30 p.m. to 3:15 p.m. and an awards presentation highlighting the "Top 10 Women to Watch" from 3:15 p.m. to 3:30 p.m.

Register today at www.asishow.com. All attendees will receive a free autographed copy of Mrs. Bush's new book, Spoken from the Heart, a New York Times #1 best seller.
The following are the dates and locations for The ASI Show in 2011:
Orlando, January 23-25, 2011
Dallas, February 16-18, 2011
New York, March 22-24, 2011
San Diego, May 18-20, 2011
Chicago, July 19-21, 2011
Plus, don't miss the ASI Advantages Roadshow, the industry's #1 traveling show. Visit www.advantagesroadshow.com for the complete schedule and go to www.asishow.com for information on all ASI Shows.


| | |
| --- | --- |
| | |
SPONSORED BY


Counselor® PromoGram® is a trademark of the Advertising Specialty Institute. You were sent this newsletter as a benefit of your ASI membership. Copyright 2010, ASI. All Rights Reserved.
If you'd like us to send Counselor PromoGram FREE to anyone else at your company (or to your off-site sales reps), go to www.asicentral.com/newsletters and complete the online form.
Interested in advertising in Counselor PromoGram? Send an email to ekoehler@asicentral.com
Click here to subscribe to Counselor® magazine. You must be a member of ASI to subscribe to this publication. The publisher has a right to refuse subscriptions to non-members.
Advertising Specialty Institute®, 4800 Street Road, Trevose, PA 19053