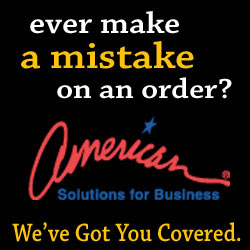 In The News
Apothecary Products Inc. (asi/36545) has realigned its sales organization for continuity in serving both domestic and international ASI customers. The following contact changes went into effect Monday, April 28, 2008: Cindy Bleisner, sales manager, (952) 808-8350, sales@apiline.com; and Shannon Carrick - sales rep, (952) 808-8351, scarrick@apothecaryproducts.com.
The Book Co. (asi/41010) has launched a green-specific Web site to showcase its Earth-friendly book titles. It can be found at: www.books4greenliving.com.
The Brand Management Alliance announced that Copilote Inc. (asi/168358) has joined the organization as its newest member.
The Chesapeake Promotional Products Association, Specialty Advertising Counselors of Delaware Valley, Specialty Advertising Association of Greater New York and the Northeast Representatives Association announced that the NERA caravan has been combined with the shows produced by CPPA and SACDV, while SAAGNY has combined the two NERA show dates in the NY/NJ area into one date. The SACDV/NERA event will be held on Tuesday January 27, 2009, the CPPA/NERA event will be held on Wednesday, January 28 and the SAAGNY/NERA event will be held on Thursday, January 29.
CounterPoint (asi/46767) has reduced the minimum order on select counter mats from 250 to 50.
Crystal D (asi/47759) took part in the factory bus tour organized by the Upper Midwest Association of Promotional Professionals.
CSE (asi/155807) was one of 24 companies recognized with a supplier excellence award from Abbott, a global heath-care company.
The Murphy Group Inc (asi/72743) has opened a new office in Pittsburgh, PA, that will cover PA, NY, NJ, MA, KY, and OH.
Pencoa/The Supermatic Line (asi/77040) has announced its customer loyalty program winners for the month of March:
First Prize ($250 award): Paws Incorporated (asi/292019)
Second Prize ($150): Brand It Inc. (asi/145034)
Third Prize ($50): Forms Associates Inc. (asi/196378)
Piller Industries Inc. (asi/78120) and Groline (asi/58295) have secured the retail and promotional products license for Garfield. The character will be available on a variety of logoed ecological, biodegradable and recyclable green products such as live tree seedlings, good luck bamboo, flower bulb kits, flower garden kits and seeded bookmarks.
The Vernon Co. (asi/50208) has announced that unlisted distributor, Private Label Direct, has joined its operations. Private Label will retain its corporate identity, with Vernon assuming its administrative operations, including product research, order processing, invoicing and collections.
Proforma Makay Printing and Promotions has changed its address and phone/fax to: 1000 White Horse Pike, Suite 910, Voorhees, NJ 08043; phone (856) 346-9700 and fax (856) 346-9701.
SnugZ USA Inc.'s (asi/88060) co-owner Charley Johnson was named to the Pay It Forward Foundation board due to his creation of the Pay It Forward wristbands.
Sonoma Promotional Solutions (asi/88188) announced that it will not be able to respond to e-mail on Friday May 2 while it's upgrading its computer system but it will be available by telephone: (800) 996-8655.