Sponsored By
Ashworth Names New CEO & CFO
Ashworth Inc. (asi/37128) has named Allan Fletcher as CEO, succeeding former CEO Peter Weil, who has resigned to spend more time with his family. Greg Slack, former vice president of finance, was named CFO to replace the exiting Eric Hohl; no reason was given for his departure. Fletcher and Slack become the third people in their respective positions in little over a year.

Fletcher is the founder and chairman of the Fletcher Leisure Group, a leading golf brands distributor and Ashworth's exclusive partner in Canada. He has over 40 years of experience in the golf apparel industry. "Allan is very familiar with all of our channels and knows all the intricacies of our business," says Kellie Claudio, vice president corporate division of Ashworth, in an exclusive interview with Counselor. "He's run a successful business in Canada and has been a strong partner to Ashworth, so we expect a smooth transition."

Ashworth posted revenue of $209.6 million for 2006 with corporate sales representing roughly 12% of the company's business, according to MotleyFool.com. Sales over the past year have been down, but the brand is still considered one of, if not the, number one golf apparel brand in the country. The return of company founder John Ashworth in February of this year as a design consultant has been cited as a step toward returning the company toward a more favorable performance. "We are in what we here are calling Decade Three of Ashworth," says Claudio. "The first 10 years when John Ashworth founded the company, we grew leaps and bounds. He left for 10 years as we grew into the retail and corporate arena. We are excited that he is back driving the next 10 years. We are focused on just doing good business. Providing our accounts with the best products and the best service is our priority."

As the new CEO, Fletcher has been given a base salary of $1 with an option to buy 100,000 shares of the company's common stock at an exercise price equal to fair-market value of the company's grant date, along with a target-based bonus of $500,000. "Allan does an amazing job in the corporate arena in Canada, so he gets what we need," says Claudio. "And Greg is extremely familiar with the inter-workings of Ashworth and a strong financial player for a public company. It's really fantastic because we now have two gentlemen at the top that understand the corporate business and I've never had that."

Purchasing Habits of End-Users; Watch The Video Report
In a new survey conducted for Successful Promotions magazine, sister publication of Counselor, end-users unanimously report that price is not the number-one factor that they consider when purchasing promotional products. That little bit of good news is just one finding in the major study of 500 readers of Successful Promotions, all of which are decision makers on their companies ad specialty purchases.


In this video, Counselor Editor Andy Cohen interviews Successful Promotions Editor-in-Chief Melinda Ligos to find out what matters most to end-users when deciding on which ad specialties to use in their promotional programs. The full results will be released at ASI's first-ever Power Summit, which will take place at the Arizona Biltmore from November 11-13. For complete coverage of this survey and the Power Summit event, look for three editions of Counselor PromoGram in two weeks, as well as coverage in Counselor's December issue.
Click here to watch the video.

Survey: Holiday Purchases On Delay
Waiting until the last minute to make a purchase is a common practice for many consumers during the holiday season. But according to The NPD Group's Annual Survey of Consumers' Holiday Purchase Intentions 2007, many people are waiting until even later in the season to start their gift purchasing. In fact, 41% of respondents to the survey said they didn't expect to start shopping until after Thanksgiving, which is 10% more than last year. Is this trend spreading to the ad specialty industry?
Michael Shulkin, president of A La Carte (asi/30350), says he sees a bit of an increase in last-minute orders, but it's nothing ad specialty suppliers can't handle. "Basically everything we do is now two weeks; one and a half to two weeks for promotional items and a touch longer for holiday season. The holiday season is not quite as squeezed as the production time for normal promotional products but it has definitely gotten shorter."
Kurt Kaeser, president of Kaeser & Blair Inc. (asi/238600), believes the late-buying trend is impacting this market. "It seems that sales are coming later in the season," he says. "On the other side of that, we are trying to educate our dealers and suggest to them that they make their sales calls as early as possible. Our actions are definitely trying to offset any late buying."
Shulkin foresees a day when holiday gift lead times will shrink down to those of normal promotional products. "I think that everyone is stretched for time right now, especially in the larger corporations where there is so much pressure on them," he says. "Unfortunately, I think most of our customers are so good at getting things done quickly that the corporate buyer is getting used to smaller lead times.".

Distributor Adopts Lead-Based Ink Stance
Motivators Inc. (asi/277780) has publicly declared its stance against suppliers using lead-based inks: "comply, or lose business." The distributor, which is located in Westbury, NY, sent out letters to 180 of its top suppliers last week, requiring recipients to certify that the inks they use are 100% lead-free. Suppliers have until Nov. 1 to send in their written letters of compliance. Failure — or delay — in adhering to these guidelines will result in the supplier's products being removed from the company's Web site, according to CEO Ken Laffer. Until the supplier notifies Motivators Inc. of its intent to comply, all business transactions will be temporarily suspended.
Laffer says concern for consumer safety — along with the wave of lead-based product recalls which have plagued both the retail and ad specialty industries — prompted his company to adopt the measure. But the policy also has its benefits, as it will help speed up operations in its sales department. In the past, Laffer says, an employee would have to ask a supplier to send product safety documentation to customers who requested it. The letters of compliance, however, will make this paperwork easily available.
In the case of glass and ceramics manufacturers — where removing lead from production would be nearly impossible — Laffer says his company adjusted the criteria accordingly. "What we said was, 'As long as you can certify in writing that the inks you use are within federal or industry standards, we'll accept it," he says. "If you don't give us that letter, you can be sure we'll remove your products from our Web site.'"

As of press time, Laffer says he's heard back from nearly 100 suppliers. He is aiming for a compliance rate of 75%.

Industry Effort to Aid California Wildfire Victims
Dan Safkow, owner of Promo Ideation, is seeking help from industry suppliers and distributors to aid the victims of California's wildfires. The firestorms, which erupted more than a week ago, destroyed more than 2,000 homes and resulted in nearly a million people fleeing their homes. There have been seven fire-related deaths thus far. Safkow, whose business is located in Aliso Viejo, CA, says he started the effort last week, after watching news coverage of the fires.
Individuals interested in assisting should send all donations by the end of this week to Promo Surplus for Survivors, c/o BDS Marketing, 10 Holland Drive, Irvine, CA 92618. Items requested include apparel, blankets, non-perishable food, and household and utility items. For more information on this effort, go to www.promosurplusforsurvivors.com.

Internet Access Tax Avoided Until 2014
Congress quietly voted last week to extend the ban on taxing Internet access, weeks before the ban was set to expire on Nov. 1. The House of Representatives, by a near unanimous vote (405-2), opted to extend the ban until 2014 under the "Internet Tax Freedom Amendments Act." Many legislators, including President Bush, have pushed to make the moratorium on taxing Internet access permanent. Those within the industry who rely on the Internet for sales, either by selling online or offering their catalogs electronically, applaud the ban. "It there was a tax on Internet usage it would directly affect our business," says Larry Sharp, CFO for Robyn Promotions (asi/309656). "There would be a problem there. More and more of our business is conducted over the Internet, especially with our company stores."

Mark Yokoyama, director of ePromos (asi/188515), says it wouldn't make sense to hinder the use of the Web in U.S., especially considering the country lags many other countries in terms of broadband usage. Broadband is cited by many experts as a necessary step for bringing the Web to the next level in terms of offering powerful interactive content and commerce experiences. Currently, less than a quarter of the country has a broadband connection. "We're behind England, South Korea and other countries in terms of connection speed," says Yokoyama. "To do something to further hold us back is ridiculous."

Still, he doesn't think a tax, should it ever happen, would have an enormous impact on the ad specialty industry. He reasons that the tax would be related to the amount of bandwidth a person or company uses. "The amount of bandwidth used for e-commerce is minimal. It's not like voice over IP or file-sharing," Yokoyama says. "Even if there was a tax on total data usage, the amount that's actual e-commerce is minimal. YouTube.com, in a day, uses more bandwidth than all of e-commerce does in a month."

Vote Now For The Counselor Distributor Choice Awards
From on-time delivery to superior products and communication, a great supplier is an invaluable resource to distributor firms. Now's the time to recognize these top supplier firms by casting your vote in the Counselor Distributor Choice Awards. Each distributorship is invited to cast its vote by going to www.asicentral.com/asiawards. By voting you'll also be entered into a drawing for one of 10 free year-long subscriptions to Counselor magazine.

Then, join us at the ASI Show in Orlando on January 3, 2008, to hear the winners announced or look for the writeup in the February 2008 issue of Counselor. Vote today at www.asicentral.com/asiawards.




Take The Uniforms Magazine Challenge
With the help of Uniforms magazine, ASI is looking to redesign the uniforms it wears to trade shows and YOU could be our guest designer.

Click here to take the Uniforms magazine challenge. If your suggestions are used in creating a new uniform program for ASI, you'll be profiled in Uniforms magazine and other ASI publications. Suppliers, distributors and uniform dealers are all welcome to enter. Don't delay. Take the Uniforms Magazine Challenge today.

In The News
Anvil Knitwear (asi/36350) announced that it will make its full product line available through the following four suppliers next year: S&S Activewear (asi/84358); Virginia T's (asi/93917); Imprints Wholesale (asi/62486); and TSC Apparel (asi/90518). In addition, Staton (asi/89380) will inventory a large assortment of Anvil products in all colors and sizes, including apparel, bags, caps and towels.
Crystal D (asi/47759) won the B2B Standard of Excellence WebAward from the Web Marketing Association. The competition evaluated more than 2,400 Web sites from 40 countries in seven categories, including design, innovation, copywriting and ease of use.
Groline (asi/58295) has launched its imprinted hybrid miniaturized roses line. The flowers come in 2.5" pots and require sunshine and water.
Logomark (asi/67866) was honored with The Spotlight Award for Employers. The award, given out by the Regional Center of Orange County, recognizes individuals and organizations that work to improve the lives of people with developmental disabilities.
The Organization of Promotional Products Salespeople (OOPPS) announced that it will hold its inaugural "Celebrating the Salesperson Awards Gala" 6-8 p.m. Jan. 15 at The PPAI Expo in Las Vegas.
R.S. Owens (asi/75530) has replaced its packaging material with 100% biodegradable peanuts. Storopack Pelaspan-PAC Loose-Fill Natural packing peanuts are derived from corn and potato starch, making it more environmentally-friendly than petroleum-based resin, which was previously used.
Sound Promotions (asi/88226) reports that the company is completely operational, despite the wildfires that destroyed more than 2,000 homes in southern California. The supplier's building is intact and business is operating as usual.

People On The Move
Dunbrooke (asi/50930) has named Alisa Buckner marketing and merchandising coordinator.

R.S. Owens (asi/75530) hired Zach Koenig as product designer. Christopher Severn joins as global accounts manager.
Southern Plus (asi/88367) has hired Brannon Craig as national sales manager.
W. B. Mason Co. Inc. (asi/353194) hired Joe Favre as ad specialty director.

PRODUCT OF THE WEEK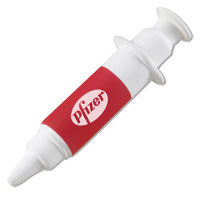 SB101 Syringe Stressball
Exclusively from JetLine (ASI/63344)
Inject life into any medical or health-related product, service or message with the Syringe Stressball from Jetline (ASI 63344)

Doctors, Healthcare Organizations, Pharmaceutical Firms & Reps, Awareness Campaigns & Hospitals will love to promote with this unique stressball!
* Don't forget Nurse's Week is May 7-13, 2007!
* SB101 Syringe Stressball – as low as $1.36c.
* Made in the USA

• Orders & Art: orders@jetlinepromo.com
• Quote Requests: sales@jetlinepromo.com
For other new and creative products,
visit the Product Central section on ASICentral.com.

EmailExpress SUPPLIER SPECIALS
<!—Begining of generated Content for 10/23/2007 to 10/29/2007-->

Searching for unique, green gifts? Ecosphere asi/51660 - Are you looking for a unique, high end, or green product? The EcoSphere, which contains marine shrimp is not something that will be put in a drawer and forgotten. It's certainly a wow gift, the perfect way to say, "What we do together is important. View Special...
EQP on brief, pad and luggage favorites from Golden Pacific asi/55549 - The perfect promotional items for year's end! Now til the end of 07, get EQP pricing at standard catalog minimums on 3 of Golden Pacific's best sellers: The CEO Brief, the Agent Padfolio, the Titan Rolling Duffel, and the South Beach Rolling Duffel View Special...
Lower prices on USB Flash Drive. Starting at $5.99 net (100+ models) and LED Light Key Chain starting at $0.75 net. 3-5 Day Leadtime. asi/90244 - USB Flash Drive starting at $5.99 net (100+ Models) and LED Light Key Chain starting at $0.75 net. Call for combo gift set discount. Great promotional gift. Lowest USB flash drive price today. Ships in 3-5 working days. View Special...
In the spirit of HO HO HO, J Charles says NO NO NO to make gift-giving easy. asi/62985 - WE LOVE TO SAY NO! View Special...
Kool Pak has 2 NEW Drawstring Back Paks! $1.99(R) and $2.95(R) asi/65595 - Order Now - 1-888-KOOLPAK or visit us at www.koolpak.com View Special...
Relax in Affordable Leather Luxury for the Holidays... asi/71235 - HOT NEW ITEMS for the holiday. Leather gifts starting at $4.20(a). For business, for life. Our mini leather couch holds cell phone, business cards- you decide. View Special...
South Beach or Beverly Hills - Take your pick for the same price at PLWC asi/79349 - Our South Beach bottle is available for a limited time while supplies last! HURRY! Don't miss our on this deal! Premier Label Water Company specializes in creating custom printed labeled bottled water for individuals, companies and organizations. View Special...
NEW Executive Gift Ideas From CorporateKey asi/63053 - NEW Executive Gift Idea starting at $3.95(NET) From CorporateKey. To view full selection, call CorporateKey at 1-866-438-5655 or visit www.CorporateKey.com View Special...
Binaline Holiday Special asi/40544 - Executive holiday gifts on special View Special...
NEW! Caps Gone Wild...Legend's Wildlife Series preview! asi/66955 - Exclusive preview of Legend's 2008 Wildlife series stock caps! FREE ART and TAPE! View Special...
Free Drinkware and Pen Sample asi/66010 - Hurricane Line-Our Service Will Blow You Away! Visit www.hurricaneline.com to see hundreds of ideas, 7-10 day turnaround, New 3 Day Rush Order Program Available! View Special...
Wood Pens & Plaques on Sale from Lasercrest asi/47971 - HOT NEW PRODUCT! 4-Color Process Plaques View Special...
Sweet Holiday Gifts from Crystal D! asi/47759 - Order now for holiday delivery. Holidays are the perfect time to remember: sales people, distribution, employees, customers and vendors. Visit www.crystal-d.com for more gift ideas from Crystal D! View Special...
Polycarbonate Bottles & Insulated Drinkware from Numo, a Kolder Company! asi/74710 - Polycarbonate Bottles as low as $2.10 net! View Special...
Godiva Chocolatier, Inc. joins ASI asi/57612 - Share a World of Indulgence. Call Godiva today 866-888-6095 View Special...
Perfect Patch - Iron on Transfers- NO Artwork Charges*, UNLIMITED Colors & NO Sample Charge! asi/98264 - Imagine a sublimated image that is cut out with a laser like an applique. Perfect Patch combines the look of a transfer w/ the versatility of an applique. They can even be ironed onto garments & bags at home! No artwork charges*, & unlimited colors View Special...
Single Use Cameras! Always Low Prices! asi/57662 - NO SETUP CHARGES! LEAD TIME AS LITTLE AS 5 WORKING DAYS! Underwater and no-flash models also available! View Special...
Custom Nylon Flags for your Clients asi/93250 - Quality=Nylon in Custom Flags View Special...
Special Pricing On Castelli Undated Notebooks asi/70122 - Receive End Quantity Pricing Less 10% NOW through 12/31/07! View Special...
Custom Sports Balls Here! asi/37865 - Footballs, Basketballs, Soccer Balls, Baseballs and more - Great for promotions, giveaways and sporting events - Get in the Game! Totally customize any of our sports balls! View Special...
Kool Pak ships in 24 hours with camera ready art!! asi/65595 - Order Now - 1-888-KOOLPAK or visit us at www.koolpak.com View Special...
Thank You from Windbrella asi/97247 - Vote for quality !! View Special...
Executive Products (asi/53427) - iXtreme 3d Post Cards asi/53427 - Executive Products (asi/53427) - iXtreme 3d Lenticular Post Cards. Let us make post cards work for you! We provide graphics support, low minimums and quick turnaround time. View Special...
2GB Leather Drives $19.95(NET) From CorporateKey asi/63053 - 2GB Leather Drives $19.95(NET) From CorporateKey. To view full selection, call CorporateKey at 1-866-438-5655 or visit www.CorporateKey.com View Special...
Shine Through for Your Customers! asi/80705 - Rapid Shine polish offers the largest color selection in the world of compact shoe polish providing up to 100 shines! NOT JUST FOR SHOES! Our polish is great for everything leather/vinyl: handbags, briefcases, automobile leathers, car tires & MORE! View Special...
Promotions to Solve the Blood Donation Crisis. asi/42989 - need View Special...
LEASHABLES MOVIE and EQP less 5% on our BEST ITEMS!! asi/66715 - Want to see how far you can trust Leashables? Watch our newest movie to see and get EQP Less 5% on our best items!! View Special...
Unbelievable Low Price and Incredibly High Perception asi/70122 - Pocket Weekly As Low As $2.06 (A)! View Special...
Cashmere and wool scarves starting $6! asi/52778 - Think scarf for holiday gifts! View Special...
ASI# 55546 Imprinted Yoga Mats. Special Discount Offer asi/55546 - Branded Yoga Mats! Promotionally priced for fitness, health, awareness premiums. Great for health clubs, medical, yoga studios. 10% discount on stock mats until Jan. 08! Tote Straps included. ASI#55546 View Special...
Portable Turbo Charger for Cell Phones asi/30103 - Never lose another call because your cell phone battery runs out! AOK Mfg. presents the Turbo Charger. This convenient 2.75 inch device is powered by one AA battery and allows you to carry 120 minutes of reserve power for your cell phone. View Special...
Custom Embroidered Caps / Starting at 72pcs asi/86548 - We offer a variety of promotional products of excellent quality, at competitive prices withone of the fastest delivery systems. View Special...
Giant PVC Magnetic 3" Paperclips & Bookmarks! asi/74100 - Create a custom giant paperclip or bookmark for your clients. FREE MOLD On ALL Orders!! These brilliantly colored items have a strong magnetic backing which is ideal for keeping files & paperwork organized or for hanging on file cabinets View Special...
Caliber Mfg leader in engraved awards and full color processed mugs asi/52488 - Caliber Mfg engraves all awards from plaques to acrylic & glass. No setup fees/No minimums. We also produce full color sublimated ceramic mugs.End column pricing on any quantity special is good thru 10-31-07.Free shipping on corporate clock orders View Special...
<!—End of generated Content for 10/23/2007 to 10/29/2007-->
ASI SHOW
MOMENTUM BUILDING FOR ASI ORLANDO — BE SURE TO REGISTER TODAY!
Don't miss your chance to be part of the industry's first show of the year — The ASI Show Orlando [http://asishow.com/Orlando/OR08IndexD.html] (January 3-5) — where you'll jump-start your sales year by discovering the newest products and services ahead of the competition.
Featuring a three-day format, plan on attending The ASI Show Education Conference (featuring over 75 cutting-edge sessions) followed by two action-packed exhibit days. ASI Orlando offers an unmatched opportunity for you to build your business by meeting one-on-one with over 800 innovative suppliers and seeing thousands of hot, money-making items for 2008!
Plus, The ASI Show Orlando features special programs like a new Lunch & Learn with Cliff Quicksell, Jr., three free Keynote presentations, including one by Sara Blakely, entitled Turn Your Idea into a $100,000,000+ Success Story [http://asishow.com/Orlando/OR08KeynoteD.html] and the acclaimed ASI Show Gala Celebration at Universal Studios.
Register [http://asishow.com/Orlando/OR08RegisterNowD.html] today for ASI Orlando, the first show of the year and largest event on the East Coast, and plan to kick start a strong year of sales.

Visit www.asishow.com or call 877-ASI-SHOW for more show details. Remember, ASI distributor members can get free admission* and a free hotel room*. (*deadlines apply)
ULTIMATE TEXAS BASH FREE TICKET DEADLINE JUST WEEKS AWAY
The free ticket deadline for ASI distributor member companies planning to attend the ASI Dallas Ultimate Texas Bash [http://asishow.com/Dallas/DA08TexasBashD.html] is Friday, November 16. Don't miss this chance to save $150 when you request your free tickets to a one-of-a-kind bash at the renowned Eddie Deen's Ranch. ASI distributor member companies can request up to two free tickets for this private party, which includes open bar, some of the best barbecue in Texas, live entertainment and more.
You must be registered for The ASI Dallas Show to request your free tickets. ASI Dallas, the industry's largest show in the Southwest, is February 6-8 (exhibits open 7-8) at the Dallas Convention Center. Online registration and online hotel reservation [http://asishow.com/Dallas/DA08RegisterNowD.html] is available for fast and convenient service. Make your plans today.
For more information on The ASI Show, visit www.asishow.com or call 877-ASI-SHOW today.
The following are the dates and locations for The ASI Show in 2008:
Orlando: January 3-5
Dallas: February 6-8
Las Vegas: April 9-11
New York: May 6-8
Chicago: July 22-24
Please visit www.asishow.com for more information.