Sponsored By
Evigna Names New CEO
Top 40 distributor Evigna (asi/155640) has named Marc Belanski CEO of the Madison Heights, MI-based company. Belanski succeeds Evigna board co-chair Jeff Beckett, who served as interim CEO. The company's board of directors announced the decision October 11, with Belanski's term effective immediately. "Prior to this industry, I had a background in engineering and then moved into pure marketing. I want to bring the actual marketing piece to the distributor side of this business," Belanski says of his vision for the company. "We want to be an industry leader as a full-service, product-based marketing partner for our clients."

Beckett says Belanski's appointment was a unanimous one, in light of his achievements at the company, including

the development of a senior management team. During his seven years at Evigna, Belanski also served as director of operations and executive vice president of customer care, his most recent post. "My two strengths, as I've been told, are leadership and my ability to understand complex business problems," Belanski says. "I have a full understanding of the business from the back door of the warehouse to customer concerns."

In the 2007 Top 40, Evigna is ranked number 22 with $69 million in North American promotional product sales in 2006. The company's sales increased $4 million, or 6.2%, between 2005 and 2006.

Merger: Boundless Network and Highwire Promotions
Austin, TX-based distributor Boundless Network (asi/143717) has merged with Highwire Promotions, a former distributor with Adventures in Advertising (asi/109480). Both parties sealed the deal October 1 with a combination of cash, stock and bonuses. The exact amount was not revealed. Boundless Network CEO Jason Black described the merger as a win-win situation, combining the distributor's technology tools with Highwire's creativity and access to accounts in northern California and worldwide. The merger is part of Boundless Network's strategy of acquiring key
distributorships across the country. "These guys are progressive thinkers. They are seeking a distributor partner that can take their business to the next level," Black says of Highwire.

Highwire partners Cheryl Cohen and Larry Rogers will come on board as vice presidents/managing directors, and the distributor's three other employees will also remain with the company, Rogers said. To accommodate an expanding sales force (Cohen expects to recruit 10 to 20 new hires), Boundless will open up a new office in the San Francisco area. "We are so excited to be a part of Boundless. They are, what we believe, the newest and hottest look and feel of distributorships in the industry," Cohen says of the merger. "They've not only got technology, but the culture. They get the idea that to help you build your business, they have to give you tools that don't exist in the industry."

Boundless Network also recently acquired Footprint Marketing of Dallas, TX. Black declined to reveal his company's annual revenue, but according to the Austin Business Journal, Boundless Network "has raised $8 million [in venture capital investment] from Austin Ventures and Silverton Partners." Highwire's 2006 revenue was $2 million. The company also earned a Gold Pyramid award from PPAI in 2005.

Solving Your Worst-Case Scenarios; Watch The Video Report
In Counselor's November issue cover story, we delve into some of the situations that keep distributors up at night. Whether it's a top salesperson leaving or an order that went horribly wrong or even an everyday occurrence like getting a stain on a shirt during a client lunch, this article helps to solve 15 different scenarios that could get any distributor into hot water.

Here, we present a video report that discusses a few of these worst-case scenarios and some possible solutions to the
problems. Want a hint as to what one of the timely situations is: Let's just say that Hillary, Rudy and Obama are involved.

Click here to watch the full report.

Press-A-Print Acquired By Investment Firm
As first reported in a Breaking News Alert last week, ICV Capital Partners LLC, a New York City-based private equity investment firm, announced that it has acquired Press-A-Print International LLC (asi/299086), a non-franchise business that packages equipment and training for promotional products distributors. Terms of the deal were not disclosed.

Travis Young, general manager at Press-A-Print, believes the new ownership will help Press-A-Print to offer enhanced services and put it on a path for greater expansion. "Some
additional emphasis will be put on every aspect of the company," he says. "Right out of the gate we will streamline some customer support functions, [allowing us to] provide better support for our operators. It will also allow us to explore international markets, additional equipment and possible acquisitions along with other things in the coming months."

For Press-A-Print's previous owner, Pacific Equity Group of Newport Beach, CA, this marks the end of its investment in the company. "It was just time for them to sell," Young says. "We were looking for new resources and new means to take the company to the next level."

ICV also sees its investment as a way for Press-A-Print to expand its operations within the industry. "There are significant growth opportunities we plan to leverage, including geographic expansion, new customer acquisition channels and new services for its existing, large customer base," says Willie Woods, a co-founder and managing director of ICV.

Founded in 1986, Press-A-Print generates annual revenue of more than $18 million and has approximately 3,000 owner/operators in its network. ICV Capital Partners is a private investment firm with more than $440 million in committed capital from institutional investors.

Supplier Creates Official Social Policies
Anvil Knitwear Inc. (asi/36350) has released a formal statement of its environmental and social principles as a response to what it sees as the increasing importance of responsibility in the global business community. "People are asking us all the time, what is it we are doing, how we are doing it and what commitments are we making to the environment, so we decided to put it down on paper," says President Anthony Corsano.

The statement includes social policies, such as the treatment of workers, customers and communities, many of which have been in
place for decades, as well as more recent concerns about the environment. Anvil believes in environmentally minded production of its garments as well as smart business choices, such as the use of recycled products and energy conservation.

"These efforts are about reducing resources and energy consumption through the time it takes to produce fabric," says Corsano. "But it also includes practical things such as shutting off the lights when you leave the office and renting a compact car on a business trip instead of a full-sized car even though the corporate rate is the same. It's those things that will ultimately change the world, not a big corporation making huge changes, but everybody everywhere making small ones."

That said, Corsano believe these types of policies will be necessary for businesses in the coming years. "My instincts tell me," he says, "that if you are not really attempting to change the way you do business to be environmentally friendly, then you are going to have a hard time doing business in the future."

In The News
Ace Marketing & Promotions Inc. (asi/103085) earned the 2007 American Graphics Design Award for its Corporate Capabilities Brochure.

Ariel Premium (asi/36730) has launched Ariel Academy, an education program that provides basic training to new distributor firms, sales counselors and customer service personnel.

Bankers Advertising Company (asi/131650) is the 27th largest women-led organization in the Iowa City/Cedar Rapids Corridor, according to rankings published in Eastern Iowa's Corridor Business Journal.


Bodek and Rhodes (asi/40788) won the Extraordinary Promotional Product of the Year (EPPY) Award for its new UltraClub Outdoor Escape Jacket. The award was given out at the annual Specialty Advertising Counselors of the Delaware Valley tradeshow.
The Icebox (asi/229395) teamed up with Gold's Gym to donate more than 500 Fantastic Four movie T-shirts to the Juvenile Diabetes Research Foundation of Georgia, the world's largest funder and advocate of type 1 (juvenile) diabetes research.
iPROMOTEu's (asi/232119) 29 promotional products distributor affiliates joining the company in the third quarter of 2007 represent a total annual sales volume of approximately $5 million.

Leed's (asi/66887) has continued its strategic partnership with Cutter & Buck (asi/47965) through a multiyear extension of its 2003 licensing agreement with the upscale sports and outerwear supplier.

PPAI announces its slate of new officers for the 2008-2009 Board of Directors: Stanley Breckenridge, Chairman; Sherri Lennarson, Chair-Elect; Jim Burrow, Vice Chair of Program Services; Gene Geiger, Vice Chair of Financial Services; Paul Miller, Vice Chair of Marketing Services; Margie Price, Vice Chair of Membership Services; and Paul Kiewiet, Immediate Past Chairman. Dolly Duffy of Atchison Products (asi/37210), a division of BIC Graphic USA (asi/40480), has been appointed to the board to fill a vacancy in the 2010 class.

PromoCard Services (asi/77966) announces the MysteryPIN, a brand marketing campaign that helps drive multiple sales by linking one or more large prizes to PINs generated and included on or inside consumer packaging.

Spyder Active Sports Inc. (asi/88961) re-launched its consumer Web site, www.spyder.com, to include a "virtual dressing room," easy-to-navigate product sections, videos, blogs and more.

TRG Group (asi/90507) donated more than 300 backpacks to Baden Elementary School in St. Louis, MO.

People On The Move
Adventures in Advertising (asi/109480) named Gary Goodhart as its Northeast regional manager. Troy Mingo joins the company as director of corporate recruiting.

Indoff Inc. (asi/231011) has hired Kelly Potoczny as a promotional products partner in Bellville, OH.

R.S. Owens (asi/75530) hired David Graham as national sales director.

Tele-Comp Solutions (asi/90841) hired Dave Lafferre as vice president of sales and marketing.

PRODUCT OF THE WEEK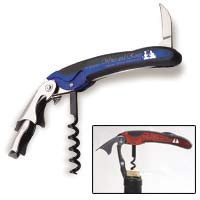 #1897 - Bordeaux Wine Opener
Exclusively from Evans - asi/52840
Evans makes opening a favorite vintage a pleasure with the introduction of the #1897 Bordeaux Wine Opener. The quality-constructed design features a Teflon® coated corkscrew and double hinge lever for improved functionality and ease of use. Its sturdy cutter blade easily slices through stubborn foil, and a soft, black rubber grip on the edges provides opening control. Evans Bordeaux Wine Opener is ideal to use when promoting wine tastings, bar & restaurant promotions, or wineries. It also makes a wonderful remembrance gift for corporate parties or events.
Available in Tropi-Cool™ translucent blue & red and solid black.
Imprint Area: 1/4" H x 2" W
Individually boxed.
STANDARD SERVICE
Ships in 5 Working Days After Art Approval
Quantity
250
350
500
1000
2500
5000
Item 1897
$3.45
3.30
2.95
2.85
2.55
2.45
(2P2Q2R)
Visit our website to see more great products!
For other new and creative products,
visit the Product Central section on ASICentral.com.

EmailExpress SUPPLIER SPECIALS
<!—Begining of generated Content for 10/09/2007 to 10/16/2007-->

Holiday Gift Ideas from Prime Line(R) asi/79530 - Prime Line(R) has a sleigh full of great holiday gift items in all categories and prices ranges to delight one and all. View Special...
Lower prices on USB Flash Drive starting at $5.99 net. LED Light Key Chain special at $0.75 net. 3-5 Day Leadtime. Great gift. asi/90244 - Lower prices on USB Flash Drive starting at $5.99 net. LED Light Key Chain special at $0.75 net. Call for combo gift set discount. Great promotional gift. Lowest USB flash drive price today. Ship in 3-5 working days. View Special...
$0.66/pc. Tote Bag - Non Woven PP Material asi/75644 - Whatever the project, large or small, 365 Source and our qualified staff stateside and overseas can design, source & manufacture a product as unique as your company, brand, group or special event. View Special...
5-Day Rush Delivery on USBDrives From CorporateKey asi/63053 - 5-Day Rush Delivery on USBDrives From CorporateKey. To view full selection, call CorporateKey at 1-866-438-5655 or visit www.CorporateKey.com. View Special...
Chocolate Edible Images - NO SET UP OR PLATE CHARGES asi/72728 - Direct from the manufacturer; Printed 4 color edible images on our quality award winning chocolates. Perfect for Holiday Gifts, Corporate Gifts or promoting a new product, low minimums. www.munsonschocolates.com/asi_distributor_info.asp View Special...
BELOW EQP: 2007 Great Holiday Gifts Clearance Sale asi/43512 - BELOW EQP - 2007 Great HOLIDAY Gifts CLEARANCE SALE from California Innovations - Tune Cube™ Foldable Speakers - NOW ONLY $8.49 (C), Digital 30 Can Collapsible Stereo MusiCooler™ - NOW ONLY $29.99(C). View Special...
NEW! Satin Drawstring Back Paks! As Low As $1.99(R)! asi/65595 - Order Now - 1-888-KOOLPAK or visit us at www.koolpak.com. View Special...
FREE SCREENS FOR LIFE..FREE SET-UPS FOR LIFE..5 STAR SERVICE. asi/63009 - Free Screens, Free Set-Ups & Five Star Service on all our products! View Special...
No Chinese Importing - Fast, Quality products from Central America asi/36558 - Importing from Uncommon Destinations supplies Uncommon Advantages-Central America provides: Better Quality, Faster Delivery, Competitive Pricing, Shipment Continuity & Smaller Customization Minimums, try for your next import uniform apparel need. View Special...
Less Than EQP on FULL COLOR pocket planners asi/35400 - Get FULL Color pocket planners for less than EQP. Not only does American Calendar beat the direct houses, but we also give you the option of a FULL COLOR upgrade. View Special...
Birchcraft makes selling Holiday Cards Easy! ) asi/40580 - Ad Specialty Distributors earn more money selling Holiday and All Occasion Cards for Business. We're their supplier of choice! Discovery the Birchcraft Difference! View Special...
The Choices Are Endless: 500+ Awards, Perfect for Year-End Recognition! asi/47759 - Wow your customers with the Obsession Award from Crystal D! This elegant black glass and optical crystal award is perfect for the employee who keeps the best interest of the organization at heart. Reward with the Obsession Award. View Special...
DEBCO (ASI-48885) OFFERS THE LATEST IN ENVIRO PRODUCTS asi/48885 - Need ENVIRO ITEMS? Non-woven, Hemp, Woven material, Organic cotton & recycled pop-bottle fabrics. We have taken a leadership role in corporate sustainability! Bonded leather, kinetic flashlights and tire gauges are ALL alternative enviro options! View Special...
Patented Football Helmet Shaped Trays asi/55084 - Football Frenzy time is here. Our Trays are reusable, durable and linebacker tough. Available in 13 brilliant colors. Customized with your corporate or team logo. Food safe for serving or storage. They also make great office supply holders. View Special...
Pricing Comparison - 3 Coin Suppliers asi/75260 - Osborne Coinage's total coin order price is lower. The next time your customer asks for a commemorative coin, you owe it to yourself to check with a Promotional Products Specialist at Osborne Coinage and take advantage of our low total order costs. View Special...
Engrave Yard Leader in Engraved Awards & Full Color Processed Mugs asi/52488 - Engrave Yard engraves all awards from plaques to acrylic & glass. No setup fees/No minimums. We also produce full color sublimated ceramic mugs.End column pricing on any quantity special is good thru 10-31-07corporate clock ord View Special...
Kool Pak's BEST! 2 New Coolers! asi/65595 - Order Now - 1-888-KOOLPAK or visit us at www.koolpak.com. View Special...
Holiday Magnetic Badges - No Arwork Charges, 48-72 Hours, Free Sample asi/98264 - Holiday Badges are a great way for businesses to celebrate the holidays. These four designs have been set up as Name Dropper designs, so you can easily drop in the employee names, positions or company name. View Special...
Lowest Price Pen Special-Hurricane Line asi/66010 - Hurricane Line-Our Service Will Blow You Away! Visit www.hurricaneline.com to see hundreds of ideas, 7-10 day turnaround, New 3 Day Rush Order Program Available! View Special...
New Simply Smashing SmashWipe Compressed Tissue! asi/87425 - SmashWipes are the perfect disposable washcloth - Just add water! View Special...
Gifts, Gifts, Global Gifts asi/82050 - Replogle globes can be customized with your corporate logo or personalized for use as a gift or award. Our current offering of more than 100 models with a variety of price points, finishes, and designs reflects our belief that globes matter. View Special...
Coloring Book Solutions. Printed in the USA! asi/45815 - Coloring Book Solutions offers the widest selection of titles available. Over 120 themed titles that are great for customers like banks, hospitals, schools, fire depts, dentists, etc. View Special...
Heated Glove Sample Special asi/60320 - A must for Construction Industry clients. The Heat Factory Heated Work Glove will keep hands warm for 10 Hours. View Special...
The Most Popular Pens at a Great Price! asi/49685 - Visit asi 49685 see ESPONLINE for our complete line. View Special...
Get Life(TM), New Awareness Ribbon feat. Donation Guarantee Program & 24 Hour Turnaround asi/94134 - Separate yourself from the pack and offer clients a unique awareness campaign solution with unique Distributor benefits. View Special...
Free Marketing Brochures! Stouse asi/89910 - Available to you! Free marketing brochures loaded with our top products for local, county and state elections as well as bond issues and special causes! They are ready to mail out, stuff in invoices or to leave behind. Get them while they last! View Special...
Savings on Post-it(R) Flag Highlighters and Flag Pens plus Distributor only offer. asi/91240 - Post-it(R) Flag Highlighters and Flag Pens on Special!! Plus Special Distributor Offer. View Special...
Next Column Pricing on 48-500 deck quantities! asi/67340 - Next Column Pricing View Special...
1GB Leather Drives $12.95(NET) From CorporateKey asi/63053 - 1GB Leather Drives $12.95(NET) From CorporateKey. To view full selection, call CorporateKey at 1-866-438-5655 or visit www.CorporateKey.com. View Special...
Digital Camera Super Sale!! No Setup Fee. asi/57662 - Digital Camera Super Sale!! No Setup Fee. View Special...
Giant PVC Magnetic 3" Paperclips & Bookmarks! asi/74100 - Create a custom giant paperclip or bookmark for your clients. FREE MOLD On ALL Orders!! These brilliantly colored items have a strong magnetic backing which is ideal for keeping files & paperwork organized or for hanging on file cabinets. View Special...
Happy Lollidays !! asi/67872 - Our lollipops are the tastiest ones you'll find! We make them the way you want them. We'll take your custom logo and print it right on the lollypop head, and even include up to three lines of pesonalized copy on the lollipop stick. View Special...
Great Ideas to CELEBRATE with Evans - 4th Quarter Promotion asi/52840 - Catch the spirit of the season with great products from Evans! Receive EQP on the #1890 Sonoma Wine Opener, #1880 Vintners Wine Pourer, #4105 Summit Tumbler & #4115 Summit Mug. View Special...
Win Trip to Aspen in Staton's Winter Wonderland Sweepstakes asi/89380 - 5day/6night vacation for 4 in Aspen Colorado. Valued at $15,000 See official Rules for details. View Special...
Engrave Yard Leader in Engraved Awards and Full Color Processed Mugs asi/52488 - Engrave Yard engraves all awards from plaques to acrylic & glass. No setup fees/No minimums. We also produce full color sublimated ceramic mugs. End column pricing on any quantity special is good thru 10-31-07. View Special...
FSGCrest adds Holiday Cards to Your Website! asi/53484 - Send us your Company name, phone, fax and e-mail address and we'll send you a link at no-cost that you can place on your existing website. Your clients will be able to view a Holiday card website with YOUR name displayed. View Special...
<!—End of generated Content for 10/09/2007 to 10/16/2007-->
ASI SHOW
LEARN "HOW TO TURN YOUR IDEA INTO A $100,000,000+ SUCCESS STORY" DURING AN INSPIRING FREE KEYNOTE AT ASI ORLANDO
Register today for ASI Orlando (January 3-5) and plan to attend a special free Keynote presentation by Sara Blakely, founder and owner of the wildly successful company SPANX.
During this fascinating presentation, entitled Turn Your Idea into a Multi-Million Dollar Success Story, you'll be inspired by Sara's incredible story of how she took a simple, yet brilliant, idea — along with $5,000 of her own money — and turned it into more than $150 million in retail sales, 100 different styles of SPANX and ASSETS, a new brand at Target. In fact, SPANX has revitalized the $2 billion hosiery industry that had experienced a 10-year slump.
A one-time copier and fax salesperson, Sara was named Ernst & Young's Entrepreneur of the Year and Georgia's Woman of the Year and has been featured on countless television programs such as The Oprah Winfrey Show, The Today Show, The View, CNN as well as on the pages of Forbes, Fortune, People, The New York Times, USA Today and many more.
Today, Sara is focusing on giving back by helping women with education and entrepreneurial support. She created the Sara Blakely Foundation, which supports and empowers women around the world. In fact, Sara donates 100% of her speaking fees to her Foundation. And, The ASI Show is proud to support the Sara Blakely Foundation.

Register today for ASI Orlando, January 3-5, the first show of the year, and plan to start 2008 ahead of the competition. Featuring over 800 key suppliers, thousands of new products, top-notch education, great networking events and much more, there is no better place to prepare for a strong year of sales!

Visit www.asishow.com or call 877-ASI-SHOW for more show details. Remember, ASI distributor members can get free admission and a free hotel room. (deadlines apply)
THE ASI SHOW ANNOUNCES THE FIRST MAJOR INDUSTRY TRADESHOW IN NEW YORK CITY
The ASI Show is moving to New York City (May 6-8) — creating a new national event in the world's leading business and tourism destination. Providing national appeal with an exciting atmosphere, New York City was voted the #1 choice for a Northeast event in numerous surveys conducted among ASI membership. With more distributors within the New York City metro area than any other region in the country, ASI New York will provide a dynamic environment for suppliers and distributors to conduct business.
The following are the dates and locations for The ASI Show in 2008:
Orlando: January 3-5
Dallas: February 6-8
Las Vegas: April 9-11
New York: May 6-8
Chicago: July 22-24
Please visit www.asishow.com for more information.