Sponsored By
ASI Show Philadelphia Moves To New York City; Watch The Video
As first reported in a Breaking News Alert earlier today, The ASI Show has announced that it is moving its Philadelphia show to New York City beginning in 2008. ASI New York will take place May 6-8, 2008 at the Javits Convention Center, the same dates that the show was slated to occur in Philadelphia. This marks the first time that an ad specialty industry trade show occurs in New York City.

"After several years of negotiation, we are thrilled to have been able to commit to moving The ASI Show to New York City. Multiple years of appropriate space, at ideal times of the year, just became available at the Javits Convention Center," says ASI Show President Matthew Cohn. "The new location of The ASI Show will provide a broad appeal with an exciting atmosphere to our members. In fact, the decision to relocate our Northeast ASI

Show to New York City was made based on feedback we received from our membership. Extensive surveying to our supplier and distributor members showed that New York City was the number-one choice for a Northeast event."

Education day for the New York show will take place on May 6, with exhibits open on May 7 and 8. For 2009, ASI New York will be held March 8-10, moving the Northeast event to the first quarter of the year. For more information on The ASI Show New York, visit www.asishow.com.

Click here to see a video interview with Matthew Cohn regarding the creation of The ASI Show New York.

Adams Fashion Headwear Sold To Whispering Pines
Whispering Pines Sportswear (asi/97027) has purchased Adams Fashion Headwear (asi/31725) for an undisclosed sum. The move is due to the retirement of owner and founder of Adams Headwear, Ron Adams, who will stay on in the short term as a consultant during the transition. Whispering Pines has actually been distributing Adams' products over the past several years from its NC location, while the company's headquarters remained in FL. Whispering Pines' decision to purchase the company came from both the impending retirement of Adams and a need to expand.
"We've expanded from being just a golf shirt company to a woven company and also outerwear and women's wear, says Craig Brewer. "We own Jonathan Corey, Inner Harbor, Willow Pointe, Proline and 24/7 but wanted to get into another area. And for the last few years we've been distributing Adams products for them, so it just made sense to purchase the company once Ron's decision was made. I think it's a good fit.
Former Adams President Mark Delucca and general manager Marie Delucca will join Whispering Pines to head up the new Adams division, though no titles have been selected. The company also plans to continue to offer Adams to existing customers including its whole supplier customers.

Ennis Purchases Two Business Forms Companies
Ennis Inc. (asi/52493) has acquired "certain assets of Phoenix, AZ-based B&D Litho Inc. and "certain assets and related real estate of Denver-based Skyline Business Forms. Terms of the deal were not revealed but both businesses will continue to operate under their current names for the foreseeable future due to strong regional recognition. "The big thing for us is expanding to another part of the country, says Zach Smith, marketing manager for Ennis. "The acquisition of Block Graphics in the Denver area last year was big for us and the purchase of Skyline Business Forms is another step in that direction. We
are also excited about having additional production capabilities in the Southwest with B&D Litho where we haven't been before.

The combined sales of B&D Litho and Skyline over the preceding 12 months totaled $25 million. "We've done a lot this year with what we call organic growth at our different facilities and that has gone well at a lot of locations, says Smith. "But the reality is that the traditional business forms business has continued to decline, so we're looking for good companies like these to join our company.

Rally Towel Rallies Sales
If you've been watching the baseball playoffs, then you've surely noticed the abundance of the so-called "rally towels." These small imprinted towels have been used by several teams but none so extensively as the Philadelphia Phillies, who gave them away during their historic come-from-behind win for the National League East Crown. Providing the crowd-pleasing towels for the Phillies was BWM Global Inc. (asi/129570), which worked around the clock to fulfill seven orders at more than 45,000 towels each.

"The trend is driven by the playoffs and big games, says Brad Fish, owner. "The Phillies
wanted towels for their last home stand, which had a playoff atmosphere. Turnaround time is the tough part of the order because teams have to take a gamble. We're able to print 35,000 in a day. Some teams will commit whether they have a sponsor or not, such as the Phillies, but a lot of team will wait, which eliminates a lot of what they can do and they will miss game one or two in a series.

The sudden, huge orders can be a real boon for distributors, but there is a dark side too. "If towels don't show up, the team is in trouble, says Fish. "That's why teams are comfortable with only a few different vendors. And what about when the teams miss the playoffs like the Padres who placed an order for 90,000 towels? "We manage to stop the order halfway through, but that's still 45,000 towels. I image they'll use them opening day. There's always next year.

President Bush Visits Distributor
President George Bush was in Lancaster, PA, last Wednesday for a town hall meeting and The Jay Group (asi/234050) played host. Held Oct. 3 at the distributor's soon-to-be new home —the Stony Battery Corporate Center — the event featured a 76-minute speech and Q&A session with the nation's commander-in-chief. Before the meeting officially kicked off though, representatives of The Jay Group were able to speak with the president during an initial meet-and-greet photo opportunity. "He was well briefed about us. He greeted us with open arms and said, 'You must be the Chrysts,' says Dana Chryst, the company's

CEO, on how President Bush welcomed her and her father, J. Freeland Chryst, the company's founder. "He shook our hands and had a chat with us about our business.

Both father and daughter helped escort the president down the venue's long warehouse aisle. Along the way, the company had representatives stationed at various booths to acquaint Bush with The Jay Group's three main branches: fulfillment, specialty packaging and a contact services center. Then, the president addressed a crowd of approximately 400 attendees. Members of the Lancaster Chamber of Commerce, the organization that selected The Jay Group as the host site, were also in attendance. Chryst says the company was chosen because of its robust growth, including a spot on Inc.'s 2007 ranking of the 5,000 fastest growing privately-owned companies in America.

"The whole town hall meeting was extraordinarily intimate. Any attendee that was there was no more 30 feet from the president, Chryst says. "What better way to cut the ribbon on a 200,000 square foot building that's going to be our corporate headquarters soon?

Product Demo: The Birdie Ball; Watch The Video Report
Regardless of the weather or time of year, your golf maniac clients are likely playing the sport year round. To keep the swing as smooth as silk they might be smacking around little plastic golf balls in their back yard. Joe Haley, in a special product demonstration on The Joe Show, offers something a little different … and better.

Click here to watch the product demo.

Take The Uniforms Magazine Challenge
With the help of Uniforms magazine, ASI is looking to redesign the uniforms it wears to trade shows and YOU could be our guest designer.
Click here to take the Uniforms Magazine Challenge. If your suggestions are used in creating a new uniform program for ASI, you'll be profiled in Uniforms magazine and other ASI publications. Suppliers, distributors and uniform dealers are all welcome to enter. Don't delay. Take the Uniforms Magazine Challenge today.

Register for a FREE Stitches Webcast
October 17, 2007, 2:00-2:45 p.m. EST
Equipment Investments: Making the Right Choices
This webcast will cover all the questions readers have when looking to make equipment purchasing decisions, including:
* When is the right time to upgrade equipment and/or purchase new equipment?
* How do you determine your equipment needs?
* How do you evaluate vendors?
* Which financing options are right for you?
Register for this FREE webcast now.

In The News
Geiger (asi/202900) held a weeklong creativity seminar with 21 salespeople from across the nation. Held at its corporate headquarters in Lewiston, ME, the event featured creativity-stimulating sessions with veteran trainer David Williamson.
LogoBranders Inc. (asi/255496) has joined The Premier Group, a national organization of independent suppliers and distributors.
River's End Trading Company (asi/82588) has launched the illumiNITE line, consisting of lightweight jackets, T-shirts and accessories with head-to-toe reflectivity.

People On The Move
Corvest SPV LLC — the parent company of Adva-Lite (asi/32145), Toppers (asi/91530) and It's All Greek To Me (asi/62960) — promoted Catherine Pilgrim from custom products division vice president to senior vice president of sales.
Dunbrooke (asi/50930) hired Greg Moore as its Wisconsin promotional and decorator markets sales rep.
Norwood Promotional Products named Joel Jahns as its Wisconsin sales account manager. The company also has added the following inside sales reps: Christopher Dell will cover the Pacific Northwest, West and Southwestern regions; Samantha Eckler covers AK, CA and HI; Lisa Meyer, AR, LA and TX; and Bryant Maroney, MI, MN and WI.
O2 Marketing + Design Inc. (asi/286464) has hired Skip Wysinger and Michaelangelo Kallman as the sales team's promotional marketing specialists.
Picnic at Ascot Inc. (asi/78060) hired Auby Fenig as national sales manager.
Vantage Apparel (asi/93390) added Kim Salomon as a sales rep for Ohio and western Pennsylvania; Lisa Shayne joins the Wisconsin and Illinois sales team.

PRODUCT OF THE WEEK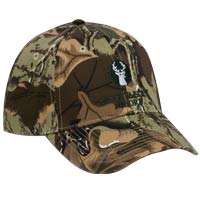 STYLE NO.: 78-353
Exclusively from Otto - ASI/75350
COLOR: 320734 (shown)
65% Polyester – 35% Cotton Front
Constructed - Firm Front - Low-Fitting
10 Camouflage Designs Available
6-panel cap
Seamed Front Panel with Full Buckram
6 Embroidered Eyelets Matching Crown Color
Pro Stitch on Crown
8 Rows Stitching on Visor
Matching Fabric Undervisor
Matching Color Sweatband
Matching Fabric Adjustable Hook and Loop Closure
Broken
Dozen

1-11
Dozen

12-47
Dozen

48-119
Dozen

120+
Dozen

Per Piece

$2.10

$1.80

$1.70

$1.65

$1.60

Per Doz

$21.60

$20.40

$19.80

$19.20
Click here to learn more about this product.
For other new and creative products,
visit the Product Central section on ASICentral.com.

EmailExpress SUPPLIER SPECIALS
<!—Begining of generated Content for 10/2/2007 to 10/8/2007-->

Unbelievable Pricing For A Limited Time Only asi/48500 - Limited Time Only... Don't Miss Out! View Special...
Easiest Travel Product to Sell to Any Company asi/53434 - If you haven't asked about this product yet, you're missing the boat. Great profit-Easy sell-Everyone is happy! View Special...
South Beach Bottle - New from PLWC! asi/79349 - Our South Beach bottle is available for a limited time while supplies last! HURRY! Don't miss our on this deal! Premier Label Water Company specializes in creating custom printed labeled bottled water for individuals, companies and organizations. View Special...
2007 Great Holiday Gifts at EQP and Below! asi/43512 - 2007 Great Holiday Gifts at EQP and Below from California Innovations - 75242 - Essential Plus Stashpak(tm) 24 Can Cooler w/ Blanket ONLY $19.99 (C), 20240 - Stashpak(tm) 24 Can MusiCooler(tm) w/ Blanket ONLY $24.99 (C). Now Shipping from Chicago, IL View Special...
$19.95 NET 512MB MP3 Player From CorporateKey asi/63053 - $19.95 NET 512MB MP3 Player From CorporateKey. To view full selection, call CorporateKey at 1-866-438-5655 or visit www.CorporateKey.com. View Special...
Kool Pak's BEST! 2 New Coolers! asi/65595 - Order Now - 1-888-KOOLPAK or visit us at www.koolpak.com. View Special...
Flipper Calculator - only $0.75 asi/90075 - FLIPPER CALCULATOR only $0.75net with 200 PC MOQ! Our most popular flipper calculator - this deal is only valid until Oct. 31st 2007. Visit WWW.SUNSCOPEUSA.COM. SUNSCOPE is a TOP 40 SUPPLIER. View Special...
Stainless Mug Special-Free Sample asi/66010 - Hurricane Line-Our Service Will Blow You Away! Visit www.hurricaneline.com to see hundreds of ideas, 7-10 day turnaround, New 3 Day Rush Order Program Available! View Special...
Fleece Jackets $7.95, 11 oz Sweatshirt Hoodie $9.00 asi/83096 - Great Savings on Fleece Apparel and Blankets for Fall View Special...
WE HAVE THESE SPECIAL ITEMS AVAILABLE FOR BREAST CANCER AWARENESS MONTH asi/79525 - We are committed to the highest level of customer service, quality products, and punctual shipments. We expect our level of service to exceed your expectations. View Special...
Polycarbonate Bottles & Insulated Drinkware from Numo, a Kolder Company! asi/74710 - Polycarbonate Bottles as low as $2.10 net! View Special...
16oz. Omega Travel Mug Available in 15 Colors on Sale Now asi/31485 - 16oz. Omega Travel Mug Available in 15 Colors on Sale Now from Ad Master Line View Special...
Smackdown! Lip Balms & Clips on sale thru 12/31/07 asi/62050 - Get Less than End-Quantity-Prices on Lip Balms and Lip Balm In-a-Clip. 3 Day Rush Special also available on our lip balms! View Special...
Custom Embroidered Caps / Starting at 72pcs asi/86548 - We offer a variety of promotional products of excellent quality, at competitive prices with one of the fastest delivery systems. View Special...
Savings on Post-it(R) Flag Highlighters & Flag Pens Plus Distributor Only Offer asi/91240 - Post-it(R) Flag Highlighters and Flag Pens on Special!! Plus Special Distributor Offer. View Special...
Kool Pak Drawstring Back Paks with a pocket! $1.99(R) 17 colors!! asi/65595 - Order Now - 1-888-KOOLPAK or visit us at www.koolpak.com View Special...
Engrave Yard Leader in Engraved Awards & Full Color Processed Mugs asi/52488 - Engrave Yard engraves all awards from plaques to acrylic & glass. No setup fees/No minimums. We also produce full color sublimated ceramic mugs.End column pricing on any quantity special is good thru 10-31-07. View Special...
Coloring Books - a perfect promotion for all budgets & all clients! asi/45789 - Coloring Books are a cost effective promotion to spread your message to any target audience. With positive & educational messages, this unique product is perfect to promote any business including Banks, Doctor's offices, Medical, Health & Schools. View Special...
Free Prepaid MasterCard card up to $100 on every order over $500! asi/43512 - It's not a puppy . . . but it could be. You Decide. Receive a FREE Prepaid MasterCard® for a value of up to $100 on every order over $500 from September 24th until November 30th 2007. California Innovations - Guaranteed to Make You Look Good. View Special...
Lead-Free Coins asi/75260 - Osborne Coinage's total coin order price is lower. The next time your customer asks for a commemorative coin, you owe it to yourself to check with a Promotional Products Specialist at Osborne Coinage and take advantage of our low total order costs View Special...
VitalEyes your business! asi/51905 - Run for the cure to raise funds with private label sunwear. View Special...
JERZEES Fleece Innovation asi/84257 - JERZEES Fleece is now Heavier, Denser, Softer, and Pill Free. Learn about the innovative changes to JERZEES fleece products, making the best fleece even better. View Special...
New GOLF Item FREE set up, EQP & Big Value for Clients asi/72769 - Golf Driving Distributor and Charity Success! View Special...
Perk Up Sales with Evans NEW Java Collection asi/52840 - Wake up sleepy sales with fresh NEW Evans coffee products. Enjoy the sweet smell of success! Receive EQP on NEW #1820 Java Scoop'N Clip, NEW #1822 Java Double Scoop & NEW #1825 Java Stop Keytag. View Special...
ASI's MediaTree: Design Your Free Promo Site in minutes asi/70303 - MediaTree's Marketing Team has just released a new promotional tool that is designed to help its distributor base sell MediaTree's inventory of cutting edge digital download solutions. View Special...
Custom Nylon Flags for your Clients asi/93250 - Quality=Nylon in Custom Flags View Special...
Gift of Choice this Holiday Season - Select-A-Gift asi/86320 - The Gift of Choice this Holiday Season – Gift Booklets from Select-A-Gift. Let your clients give the gift of choice this holiday season. With Select-A-Gift recipients are given the choice of a name brand gift from 15 different price levels. View Special...
FSGCrest adds Holiday Cards to Your Website! asi/53484 - Send us your Co name, ph,fax & email addr & we'll send you a link at no-cost that you can place on your existing website. Your clients will be able to view a Holiday card website w/YOUR name displayed and send the order directly to you. View Special...
Shine Through for Your Customers! asi/80705 - Rapid Shine polish offers the largest color selection in the world of compact shoe polish providing up to 100 shines! NOT JUST FOR SHOES! Our polish is great for everything leather/vinyl: handbags, briefcases, automobile leathers, car tires & MORE! View Special...
HATTAIL, NO OTHER HAT LIKE IT!! asi/60223 - Quality hats for a great price View Special...
Engrave Yard Leader in Engraved Awards & Full Color Processed Mugs asi/52488 - Engrave Yard engraves all awards from plaques to acrylic & glass. No setup fees/No minimums. We also produce full color sublimated ceramic mugs.End column pricing on any quantity special is good thru 10-31-07 View Special...
In the spirit of HO HO HO, J Charles says NO NO NO to make gift-giving easy. asi/62985 - WE LOVE TO SAY NO! View Special...
Patented Football Helmet Shaped Trays asi/55084 - Football Frenzy time is here. Our Trays are reusable, durable and linebacker tough. Available in 13 brilliant colors. Customized with your corporate or team logo. Food safe for serving or storage. They also make great office supply holders. View Special...
<!—End of generated Content for 10/2/2007 to 10/8/2007-->
ASI SHOW
SARA BLAKELY TO BE KEYNOTE AT ASI ORLANDO!
Sara Blakely, founder and owner of the wildly successful company SPANX, co-host of American Inventor and 1st runner up in Richard Branson's Quest for the Best, will be giving an exclusive free Keynote presentation at The ASI Show Orlando on January 5, 2008. Entitled Turn Your Idea into a Multi-Million Dollar Success Story, Sara will inspire you with her fascinating story of turning a simple, yet bright, idea into a multi-million dollar company.
Register today for ASI Orlando, January 3-5, the first show of the year, and plan to see over 800 key suppliers, discover thousands of new products, participate in top-notch education, enjoy fun networking events and attend Sara Blakely's motivating, free Keynote Presentation.
100% of Sara's speaking fees go to the Sara Blakely Foundation, which supports and empowers women around the world. The ASI Show is proud to be supporting this foundation.
Visit www.asishow.com or call 877-ASI-SHOW for more details.

SAVE $150 — ASI ORLANDO FREE GALA TICKET DEADLINE IS THIS FRIDAY
The free ticket deadline for The ASI Show Orlando Gala Celebration is this Friday, October 12.
ASI distributor member companies that register before October 12 can request up to two free tickets to an exclusive networking party at Universal Studios! Featuring a great variety of food, open bar, live music and private access to popular rides, there is no better event to enjoy with colleagues and friends. This $150 value expires on Friday when ticket prices increase to $40 each. Tickets will be $75 on site.
Register now for The ASI Show Orlando, January 3-5, 2008. ASI distributor members also receive free admission, free Catalog Courier, free shipping of catalogs and samples and even a free hotel room! Visit www.asishow.com or call 877-ASI-SHOW for details. Deadlines apply.
The following are the dates and locations for The ASI Show in 2008:
Orlando: January 3-5
Dallas: February 6-8
Las Vegas: April 9-11
New York: May 6-8
Chicago: July 22-24
Please visit www.asishow.com for more information.