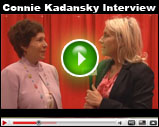 Change Your Attitude About Cold-Calling
Cold-calling isn't a favorite activity for most salespeople, but there are some simple ways to make the process less painful, speaker Connie Kadansky told the audience during her session, "Overcoming Cold Call Reluctance," on the first day of the ASI New York Show. To build a great sales pipeline, distributors should aim to have 25 "good conversations" with clients and prospects each day, Kadansky advises. If you're reluctant to make cold calls, set a small goal – like making five cold calls per day, and work your way up from there. One tip: Put 25 quarters on your desk each day, and put each in a jar once you've made a cold call, until you've put all 25 in the jar.
Here are some other things to keep in mind as you strive to improve cold-calling, according to Kadansky. Seventy-five percent of the success of a cold call depends on the tone of your voice, not what you say, Kadansky says. Record a few cold calls and listen to your voice. If it's friendly and engaging, as opposed to nervous-sounding or abrupt, your chances of success will be much higher. Approach a cold call with the right mindset. If you go into a call thinking that you're providing the person on the other line with a great opportunity, you're going to have better success. On the other hand, if you're worried you're interrupting them or they won't like you, Kadansky says, those fears will come through in the tone of your voice.
Surround yourself by pleasant, familiar smells. It may sound silly, but Kadansky has worked with top executives to overcome their fear of cold-calling by having them smell their favorite scents – like suntan lotion or lavender, before picking up the phone and making a call. "Smelling your favorite scent makes you feel immediately relaxed and in a better state of mind," Kadansky says. Also, don't take rejection personally. "Don't worry about what others think of you," Kadansky says. "Focus on what you think of yourself. If you think you're a great salesperson with something great to offer, you're ultimately going to be successful no matter how many times you get rejected."
Counselor spoke with Kadansky after her session yesterday to learn even more of her sales success tips. Click here to watch the interview.