ADVERTISEMENT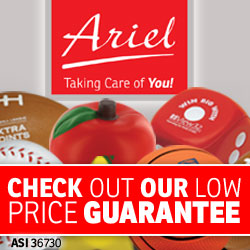 Zuckerberg Highlights Innovation At ASI New York Keynote
This morning, former Facebook director of market development Randi Zuckerberg addressed ASI Show attendees in her keynote "Social Change Through Social Media: How the Web is Changing the Way We Live, Vote, Organize and Work." Zuckerberg shared 10 top social media trends she's observed in 2012, incorporating actionable ways for industry professionals to cash in on these patterns today.
"Facebook enables us to create a new kind of loyalty program for our clients," she said, pointing out that many companies offer special sales or promotions only to their Facebook fans to make them feel a stronger connection to brands. In addition, Zuckerberg spoke about how social media facilitates the rapid sharing of information: "Good news travels faster and further than ever before, but bad news travels just as fast and far." She advised distributors to engage with all who reach out to them through networking sites because "haters are an inch from loving you. They just want to be heard. Listen to them and they could become your most loyal customers."
In addition, Zuckerberg mentioned the trend of companies increasing their mobile presence, and even some that never have a Web presence at all, but exist and grow exclusively in the mobile realm. Go where your audience is, and "create really specialized experiences for consumers" through mobile platforms, she said. Businesses desiring a mobile presence must think more out-of-the-box than simply developing mobile versions of their websites.
Other trends Zuckerberg described included the "gamification" of virtually everything online, video and live-streaming, subscription and appointment shopping, using the Facebook timeline to many brands' advantage, people as "curators" who create collages of already-created material, crowd-sourcing and the "sharing economy" or "rental economy." Her overarching message was to never forget the "social" in social media. Facebook has been so successful not because it's the most technologically-advanced site with the most state-of-the-art features (it isn't, Zuckerberg says), but because it allows genuine communities to form organically.Said Zuckerberg: "There were many times when we didn't have the best product on the market, but we had the most social, and for that, we won."