ADVERTISEMENT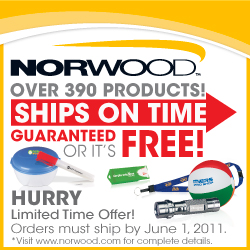 Job Market Posts Big Gains In April
Continuing a trend of hiring increases at U.S. companies, the Bureau of Labor Statistics reported on Friday that companies in the U.S. added 244,000 jobs to their payrolls in April. It was the second-best monthly jobs report over the past five years, and was supplemented by other employment surveys last week showing significant improvement in the job market. Private sector employers lead the hiring surge, adding 179,000 jobs last month, according to payroll processing company ADP. This result followed March's gains of 207,000 new jobs, and marks six straight months that the ADP survey has reported gains of about 200,000 per month. "While employment accelerated sharply around the turn of the year, the monthly gains have been holding fairly steady around 200,000 since then," ADP said in its report. "Employment growth at this pace is consistent with only modest declines in the unemployment rate."
According to ADP, smaller companies in the U.S. led the hiring charge in April. Medium-size businesses, defined as those with between 50 and 499 workers, and small businesses, defined as those with fewer than 50 workers, each added 84,000 jobs in the month. Larger businesses, with 500 or more workers, added just 11,000 last month.
A separate report released last week showed employers announced fewer planned job cuts in April, even as government sector layoffs mounted. The number of jobs cut fell 12% to 36,490 from March's 41,528, according to outplacement consulting firm Challenger, Gray & Christmas. In comparison to April 2010, job cuts dropped 5% last month. In fact, April's job cut number is the lowest so far in 2011 and the third lowest over the last 16 months.
"The slow pace of downsizing suggests employers remain optimistic about business conditions going forward, despite higher energy costs, government deficits and slipping confidence among consumers," said John Challenger, CEO of Challenger, Gray & Christmas. "The weak link in the job market right now is the government sector, which continues to shed employees at a heavy rate."