Smart Prospecting Can Earn Real Results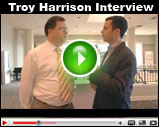 Prospecting the old way was pretty simple, as Troy Harrison recalled it. "The old way was we burned up shoe leather," said the president of SalesForce Solutions at his ASI Long Beach session, "Reach Out and Sell Someone!" Today, there are many more avenues like teleprospecting, referrals and social networking to find clients, and those methods can be tied together. An effective strategy, Harrison believes, includes using primary contact methods like cold calls and in-person meetings, and then supplementing that with a secondary point of contact, specifically using LinkedIn and social media to maintain relationships.
In Harrison's view, prospecting is the most powerful means of gaining clients (even if it's the thing that salespeople least like doing). To do it successfully, though, requires a specific strategy. Block out time and eliminate distractions, so you can completely focus on the task at hand. A smile can also influence your success because your words and tone are all you have to make a cold call successful. "When you smile on the telephone, you sound enthusiastic and exciting," Harrison said. "When you don't, you sound like the telemarketer who is one rejected call away from hanging himself at his desk."
To successfully cold call, Harrison says, you need a polished "infomercial." Introduce yourself, explain who you are and ask open-ended questions to draw prospects into a discussion. Eliminate awkward pauses and "How are you?" openers. Use databases and the Internet to find a specific person to talk to before you call, instead of asking who purchases their promotional products. "This eliminates the 'person who' cold calls," he said, "which are the death of all cold calls."
After his session, Counselor caught up with Harrison to ask him about his strategies for prospecting and using LinkedIn. Click here to watch the video.