ASI NEWS

Just Do It
Chicago's longest running mayor offers sound business advice in advance of his ASI Show keynote.
Find out more.


ESP Mobile Update
ESP Mobile for iPad hits the Apple App Store later this month, followed by ASI's ESP Android app in April.
Find out more.

LOGOMALL

ASI welcomes the following Suppliers to the LogoMall Network.
Find out more.

ASI STORE

Find, review, and purchase the latest exclusive ASI products...
Find out more.


ADVERTISEMENT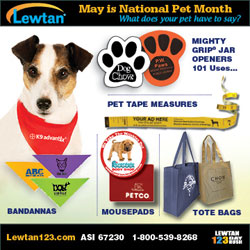 Small Businesses Power February Job Gains
A new report shows small businesses drove better-than-expected hiring gains in the private sector of the U.S. economy in February, continuing the positive labor trends of recent months. The study from Automatic Data Processing Inc. and the consultancy Macroeconomic Advisors revealed that private industry added 216,000 jobs last month. The tally bested the estimates of economists, who had variously predicted an employment rise of 208,000 to 215,000.
Businesses that employ fewer than 50 people spurred the increase, adding 108,000 new workers. Meanwhile, businesses with more than 500 people took on 20,000 employees, and medium-size companies swelled their ranks by 88,000. Last month, the service sector added 170,000 jobs, and factories bolstered staffs by 21,000. "This does suggest we are moving in the right direction," Beth Ann Bovino, senior U.S. economist at Standard & Poor's Ratings Services in New York, told CNBC. "The jobs numbers are looking healthier."
In more positive employment news, ADP revised its January figures to show that payrolls increased by 173,000 positions, better than the 170,000 initially reported. On Friday, the federal government will release a more comprehensive employment report that covers private and public sector job creation in February. Economists surveyed by Dow Jones Newswires expect the government's report to show that total non-farm payrolls rose by 213,000 last month.