ASI NEWS

It's Coming! It's Coming!
ESP Mobile for iPad hits the Apple App Store in mid-March, followed by ASI's ESP android app in mid-April.
Find out more.
Supplier Sales Get Big Bump
Confidence is high for 2012, as reported in ASI's latest supplier sales report, which shows eight straight quarters of growth.
Find out more.
LOGOMALL

ASI welcomes the following Suppliers to the LogoMall Network.
Find out more.

ASI STORE

Find, review, and purchase the latest exclusive ASI products...
Find out more.


ADVERTISEMENT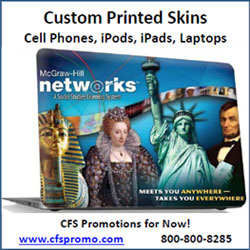 Staples Reports Gains In 2011
Beating Wall Street estimates, Massachusetts-based Staples Inc., the parent company of Counselor Top 40 distributor Staples Promotional Products (asi/120601), announced its sales rose to $25 billion in 2011, a 2% year-over-year increase. The company's 2011 net income also jumped 12%, reaching $985 million. "During 2011, we made good progress on several key initiatives in North America, and we grew the top line and expanded our operating margin in both North American Delivery and North American Retail," said Staples CEO Ron Sargent."We drove strong earnings growth, generated more than $1 billion of free cash flow for the fourth consecutive year, and have solid plans in place to build on our momentum in 2012."
In a conference call yesterday, Sargent also said that Staples Promotional Products closed 2011 with a strong showing. "Our promotional products business performed well with high single-digit sales growth in Q4," Sargent said. Total company sales for the fourth quarter were $6.5 billion, an increase of 1%. Staples' net income in Q4 increased 3% to $284 million.
While Staples reported gains in North America, the company suffered setbacks abroad. Staples reported fourth-quarter international sales of only $1.3 billion, a 5% decline in U.S. dollars. In response, the company has laid off several hundred employees in Europe and Australia. "Our international performance was weak, and we faced a number of challenges," Sargent said.

Despite a soft overseas market, Staples is still forecasting a low single-digit total company sales increase for 2012. "We expect slow growth in the U.S. economy," said John Mahoney, Staples vice chairman, who did not provide guidance for the company's promotional products business.
According to Counselor estimates, Staples Promotional Products is the largest distributor in the ad specialty industry, with North American sales "exceeding $300 million," according to Sargent.