SPONSORED BY



ADVERTISEMENT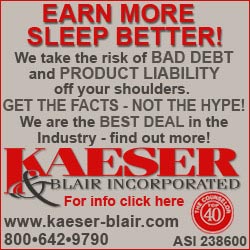 Florida Distributors Merge
Two Tampa-area distributors, Fullbore Promotional Products (asi/199674) and Corporate Image Apparel (asi/169064) have merged, creating a new company named LogoHQ (asi/255568). As part of the deal, Corporate Image Apparel president Scott Welton has been named LogoHQ COO and Phil Ruzicka, formerly of Fullbore, has been named LogoHQ president. "Scott runs the facility and makes the day-to-day decisions and it's my job to promote the company," says Ruzicka. "We really feel we can be a powerhouse in Tampa Bay."
The deal, first discussed last summer, combines companies that occasionally worked together on projects in the past. While Fullbore specialized in screen printing and embroidery, Corporate Image Apparel focused on creative marketing and Web stores. "We would sometimes outsource jobs to Phil," says Welton. "This deal allows us to offer the best of all worlds to our customers, with less overhead and better pricing." Both Ruzicka and Welton say the merger made logical business sense, with the strengths of one company able to complement the strengths of the other. "This is a case of two companies that were doing really well coming together," says Ruzicka.
LogoHQ, based in St. Petersburg, is now operating out of a newly-renovated 20,000 square foot facility and employs 27 people. Combined, Fullbore and Corporate Image Apparel produced 2008 revenues of around $3.5 million. The companies were both established 15 years ago. "I feel this has re-generated the juices and solidified relationships with customers," says Welton. "Our creative team can offer new solutions and services."
LogoHQ has high expectations for sales in 2009. "We've been slammed non-stop with more opportunities in the last four months," says Ruzicka. "Even though corporations are cutting their budgets, many are still focusing on promotion, especially through wearables."

ADVERTISEMENT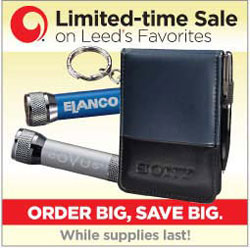 ASI Show New York Recap
The Big Apple was the place to be earlier this week, as The ASI Show took over the Javits Center in NYC. Counselor's cameras were all over the scene – from education sessions to social networking events. Click here for full coverage from the show. Here is a recap of all the videos we shot during the three-day New York conference.

Online Marketing Strategies with Dale Denham
Click Here
 
 
 
Interview with Cliff Quicksell
Click here

Joe Show Day One
Click here

Fashion Finds Day One
Click here
 
 
 
Interview with Mary Lou Quinlan
Click Here
Interview with C.J. Schmidt
Click Here
Interview with Steve Treat on Family Business Success
Click Here
 
 
 
Top of The Rock Gala
Click Here


Joe Show Day Two
Click Here


Fashion Finds Day Two
Click Here

 
 
 

Post-Show Reception
Click Here

Fun From The Show Floor
Click Here

Canada Reception
Click Here

ADVERTISEMENT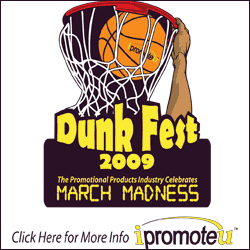 Product Safety Center At Promotions East
This year's Promotions East trade show will include a Product Safety Quality Assurance Center (QAC). Suppliers can have products scanned for lead-content to help ensure compliance with the new Consumer Product Safety Improvement Act (CPSIA). "Compliance with CPSIA will be a challenge for all suppliers and distributors and we hope that the QAC will not only offer an important service but will also provide an educational opportunity for all attendees," says Jonathan Riegel, president of the Specialty Advertising Association of Greater New York (SAAGNY), one of the event's partners.
The QAC will use XRF scanning equipment and will be supported by a technician from Prime Line (asi/79530). Results can then be verified later at a third-party independent lab, if necessary. During the trade show, there will also be a panel discussion about the CPSIA and its effects on the ad specialty industry.
The CPSIA, passed by Congress last year, is designed to more closely regulate items that may be used by children. The law contains a ban on lead in paint and places new limits on lead in all children's items. Promotions East 2009 will be held June 1-3 at the Atlantic City Convention Center in Atlantic City, NJ.

March Madness Pool For Industry
The NCAA Men's Basketball Tournament begins next week and iPROMOTEu (asi/232119) is again organizing a bracket pool contest for the ad specialty industry called Dunk Fest 2009. The three participants with the highest scores at the end of the tournament challenge will be recognized as winners and will receive awards. In addition, the 50 highest-scoring participants will receive a commemorative Dunk Fest 2009 T-shirt.
Individuals working as or for a distributor, a distributor salesperson, a supplier (including a supplier salesperson or a multi-line rep) or a service provider (such as ASI, PPAI, a regional association, a technology company or a trainer, etc.) are eligible. Only one entry will be accepted per person.
The pool is being run by iPROMOTEu, and it is sponsored by Norwood Promotional Products, Bodek and Rhodes (asi/40788) and ASI. For more information and to register, visit http://www.ipromoteu.com/dunkfest.html.

Take The State Of The Industry Survey
Counselor is currently polling professionals in the industry to see how the market did in 2008. We need your input. We're inviting both suppliers and distributors to take our annual State of the Industry survey. So, please take some time to click the appropriate link below and complete the survey. You'll be entered into a random drawing to win up to $1,000.
Click here to take the distributor survey.
Click here to take the supplier survey.

Vote Now For The Best-Designed Industry Products
The results are in: Counselor magazine has selected the finalists for its third annual Product Design Awards. Here's where you come in. Please click here to vote for the products that YOU think are the best designed, considering both aesthetic appeal and functionality. You can select up to three products in each of the 14 featured categories. It only takes a few minutes, and your input is very important to us!
The winners will appear in the June 2009 issue of Counselor. Thanks very much for your help.

Tweet! Tweet! ASICentral is Now On Twitter
For those of you on Twitter, you probably need no further explanation — ASICentral now has a Twitter account and you can follow us by clicking here. But for the throngs of microblogging neophytes and naysayers, Twitter is one of the fastest-growing social networking applications in cyberspace that's built on a single premise: What Are You Doing Now?
Want to know what the gang at ASICentral is up to, what we're working on, etc.? Then sign up for our updates – or "tweets" – now. Need more info? Read our blog. Got questions, comments or any type of feedback regarding anything ASICentral, don't hesitate to contact us at feedback@asicentral.com, and please check Team Blog often for site updates. And if you're not already a fan of ASICentral on Facebook, what are you waiting for?

In The News
AMC Line (asi/30217) has launched the Hugme Blanket, designed with openings for arms so it can be worn.
Cap America (asi/43792) is now able to offer three-day delivery for in-stock orders at the same price as regular ground service to customers in WA, OR, CA, NV, AZ, UT, ID, MT and western WY.
CSE (asi/155807) has provided personalized eco-friendly mugs to its employees as part of the company's "green" initiative.  
Custom HBC Corporation (asi/47934) has created a new Web site that includes product listings, virtual samples, multi-faceted search capabilities and case studies. The Web site is: www.customhbc.com. 
Econscious (asi/51656) has introduced 10 new eco-styles, including fashion tees, hats and totes.
Geiger (asi/202900) was honored with five Pyramid Awards (one gold, three silver, one bronze) at the 2009 PPAI Expo in Las Vegas.
Heritage Sportswear Inc. (asi/60582) is offering a business apparel collection called Featherlite. The line includes woven twill shirts that are stain resistant, all-season and available in a dozen colors.
Hit Promotional Products (asi/61125) was recently honored by FedEx at a customer appreciation event held at Hit's factory in Largo, FL. The shipping company served lunch to all 575 of Hit's employees and showcased the car that FedEx sponsors on the NASCAR circuit.
Hub Pen Company (asi/61966) has been named a 2008 top supplier by Newton Manufacturing Company (asi/283300).
Imprints Wholesale (asi/62486) held its annual open house on February 27 at Wings over the Rockies in Denver. The festivities included food, drinks and new product previews.
Newton Manufacturing Company (asi/283300) recently hosted nearly 50 of its top representatives at the Dreams Resort in Los Cabos, Mexico, on its 2008 sales incentive trip.
Pioneer Balloon Company (asi/78200) has introduced a new line of products called AdCoolers. The coolers include features like bar tops, shelves and sports toss games.
R.S. Owens (asi/75530) recently offered a presentation on the power of corporate recognition at the ARA International Awards Market in Las Vegas, given by Larry Maloney, vice president of marketing and sales.
Specialty Advertising Counselors of Delaware Valley (SACDV) held a networking event on Thursday, February 26 at Bahama Breeze, in King of Prussia, PA. The island-themed evening included a presentation from David Coult of Milestone Financial LLC. SACDV's next event is March 24 at Mike's York Street Bar & Grill in Warminster, PA. Dale Denham, senior vice president at ASI, will be the featured speaker.

People On The Move
Corporate Images Inc. (asi/169081) has hired Erica Cazares as an accounts receivable clerk in its Newbury Park, CA, office.
Geiger (asi/202900) has announced the promotion of Lynne Dobransky to marketing project manager for the corporate division. 
Heritage Cross Apparel (asi/60578) has hired the following reps: Rich Pezziti (NY, NJ and eastern PA); Bob Colgan (New England states); Scott Arnold (southern CA); Wayne Taziri (AZ, NM, CO, UT); Michael Carr (OR, WA); Will Beasley (northern CA); Tom Seiter (DE, VA, WV, PA and Washington, DC).
Pingline (asi/78137) has added Troy Zalaznik to its sales staff.
Royal Apparel (asi/83731) has named Mark Seymour national sales manager.

EmailExpress SUPPLIER SPECIALS
Portable Hard Drives! The hottest promotional item right now! asi/37218 - Free Shipping, 1 or 2 color Imprint, Free Set-Up Fees! View Special...
Otto Cap gets Earth Conscious with our NEW line of Eco-Friendly Headwear! ASI #75350 asi/75350 - NEW for 2009! Otto Cap Offers High Quality Eco-Friendly Headwear - Organic, Recycled and Bamboo are Now Available! View Special...
TOTES AS LOW AS $2.00[R] asi/37980 - Visit us online www.bagworldpromo.com View Special...
Victorinox Swiss Army Knives at an incredible price asi/93755 - Victorinox Classic SD at an incredible price for a limited time only View Special...
Full Body Color USB Drives! asi/63053 - To view full selection, call CorporateKey at 1-866-438-5655 or visit www.CorporateKey.com View Special...
Amazing! Designer Awards on a Budget Made Easy! asi/62985 - Are you tired of trying to understand why a $75 award costs more than $200 after all of the Gotcha charges?! Our designer Awards on a Budget have a high-perceived value, but cost under $89 (C).with one-piece minimums and NO Gotcha Charges! View Special...
213apparel - Baby Rib 50%OFF asi/68463 - 50%OFF Special - 100% Combed Ring Spun Cotton BABY RIB View Special...
Small Qty 4/Color Non Woven Bags only 2 Week Turnaround! asi/75740 - The Premier Line offer's a wide variety of Non-Woven Shopping bags printed domestically in small quantity minimums with a 2-3 week turnaround time. We carry over 14 sizes in 15 different colors with screen-printing and 4-color process printing option View Special...
OMG this blanket has sleeves asi/82341 - OMG this blanket has sleeves - pockets too, 7 colors available, no minimums View Special...
New Book Cards From MediaTree (asi/70303) asi/70303 - Promote your brand while giving clients a choice of 1,000's of today's best selling books! Great as a thank you promo or even as a way to keep sales growing during a sluggish economy, with NEW Book Cards there is something for everyone! View Special...
24 HR Turn Around on USB Drives asi/63053 - To view full selection, call CorporateKey at 1-866-438-5655 or visit www.CorporateKey.com View Special...
Recession Proof Promotional Items asi/67872 - Looking for the Perfect Promotion for Pennies, we have it!! View Special...
Combed Cotton Pique Polo @ $3.65 all sizes! asi/72806 - Wedge 100% Combed Cotton Pique Polo. Incredible price: $3.65 (all sizes).Incredible quality! Incredible Customer Service. Incredible full service embroidery. Contact us so we can help drive your business. View Special...
Richardson Seating - 2 pc. Minimum on Logo Seating Bar Stools asi/82365 - No one can match this minimum on Custom Logo Seating Bar Stools! View Special...
Custom Lapel Pins Ready in 1 Week or Less! asi/73285 - Need custom lapel pins in a hurry? No problem! We deliver fast...on time, every time - Guaranteed! View Special...
March Special! asi/67340 - We use the finest quality casino card stock available as well as, state of the art printing equipment. Our success is your success, delivering fast, quality customized products for distributors and their customers ensuring repeat business. View Special...
Portable Hard Drives, USB Hubs and Flash Drives... We have it all! asi/37218 - Free Shipping, 1 or 2 color Imprint, Free Set-Up Fees! View Special...
Hot Drives, Hot Deals! asi/62978 - Get Yours Today! View Special...
$2.20 Screen Printed Anvil 779 T's includes Set-Ups asi/68567 - We have our own design department and work closely with all the top apparel manufacturer and advertising specialties companies so we can give you the quality customer service you deserve. Basically, if you can imagine it, we can provide it. View Special...
CUSTOM BRANDED HOTEL CARDS ON SALE! asi/92429 - USA CONNECT PRESENTS CUSTOM BRANDED HOTEL CARD PROMOTIONS powered by Travelocity! Come Check Us Out!! Promote with custom branded Hotel Cards! Over 55,000 hotels to choose from worldwide! This promotional campaign will get results! View Special...
ASI SHOW
The following are the dates and locations for The ASI Show in 2009:
Chicago: July 21-23
ASI Holiday & Incentives Expo, Las Vegas: September 16-17
Plus, don't miss the ASI Advantages Roadshow, the industry's #1 traveling show. Visit www.advantagesroadshow.com for the complete schedule!



SPONSORED BY


Counselor® PromoGram® is a trademark of the Advertising Specialty Institute. You were sent this newsletter as a benefit of your ASI membership. Copyright 2009, ASI. All Rights Reserved.
If you'd like us to send Counselor PromoGram FREE to anyone else at your company (or to your off-site sales reps), go to www.asicentral.com/newsletters and complete the online form.
Interested in advertising in Counselor PromoGram? Send an email to ddienna@asicentral.com 
Click here to subscribe to Counselor® magazine. You must be a member of ASI to subscribe to this publication. The publisher has a right to refuse subscriptions to non-members.
Advertising Specialty Institute®, 4800 Street Road, Trevose, PA 19053