ASI Honors Marvin Spike With Ceremony
ASI celebrated the life of Marvin Spike, its former president and vice chairman, yesterday with a tree-planting ceremony at its Trevose, PA, headquarters. Spike, who had worked at ASI for more than 40 years, passed away in December at the age of 74.
Attended by the Spike and Cohn families, as well as ASI employees, the tree-planting ceremony celebrated the life of somebody who gave his all to the ad specialty industry and to ASI. Spike oversaw many important products and projects at ASI, including the creation of the Counselor State of the Industry issue, as well as the original list of the Top 20 companies in the industry, which has now been expanded to the Top 40. "Marvin wanted to help every single distributor and supplier in the industry to be more successful and spent his entire career making that happen," said Norman Cohn, ASI's chairman of the board.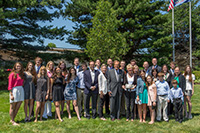 Spike also helped to establish Imprint magazine, the first end-buyer publication in the industry, and Advantages magazine, which exists in the same format to this day. Displaying his constant backing of the industry and its impact on the general business world, Spike was a sought-after speaker at many national and regional shows throughout his career. Among his many industry honors, Spike was elected to the PPAI Hall of Fame in 1997. ASI uses the occasion of the annual Counselor Awards ceremony to honor an industry executive with the Marvin Spike Lifetime Achievement Award, which will be handed out next month during The ASI Show in Chicago. "When I joined ASI 10 years ago, Marvin was an important mentor and educator for me, just as he had been for thousands of ASI's members over the years," said Tim Andrews, ASI's president and CEO. "I am pleased for us to be able to honor him in such an appropriate way." 
The tree that was planted – a flowering pear tree in honor on Spike's penchant for eating pears at lunch – will now hold a lasting spot in front of the entrance to ASI's headquarters. To see pictures of yesterday's ceremony, click here.