ADVERTISEMENT
PRODUCT SPOTLIGHT



ASI NEWS
ASI Partners with Adobe
To provide members with state-of-the-art graphic features across the ESP® platform, ASI® chose Adobe, the undisputed platinum standard in virtual sampling technology.
Find out more.


Calling All Android Users
ESP Mobile for Android is now available free with an ESP® subscription, to search for products and suppliers on the go, anytime, anywhere.
Find out more.


ESP WEBSITES

ASI welcomes the following Suppliers to the ESP Websites network.
Find out more.

ASI STORE

Find, review, and purchase the latest exclusive ASI products...
Find out more.


U.S. Service Sector Expands In May
For the 29th consecutive month, U.S. service companies grew at a faster pace in May, offering a new round of positive economic news following a disappointing jobs report last week. The service sector which includes more than 80% of all workers rose largely on new orders, meaning demand is likely to creep higher in coming weeks. The Institute for Supply Management (ISM), which provides service sector data, announced its index of nonmanufacturing activity increased slightly to 53.7 in May, indicating expansion.
ADVERTISEMENT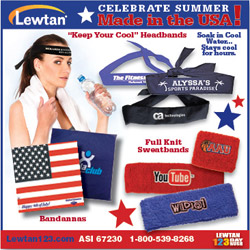 Of the 18 specialty areas tracked by ISM, 13 reported growth, led by information services, transport, and hotels and restaurants. Data shows the areas of health care and mining, as well as arts and entertainment, slipped in May. Overall, ISM's sub-indexes improved last month, as price pressures eased, reflecting lower fuel costs. The institute's employment index, as was forecast, fell sharply to 50.8 from 54.2 in April, mimicking last Friday's U.S. Labor Department report that showed only 69,000 total nonfarm jobs were created last month. Meanwhile, private-service payrolls jumped by 97,000, an uptick that slid below the 155,000 averaged from January through April.
Yet, separately yesterday, the Federal Reserve said hiring in the U.S. showed signs of a "modest" increase in the last two months, of note because it was a more optimistic description than the Fed offered in early April. The Fed based its outlook on anecdotal reports from businesspeople across the U.S. In another potential sign of a shift in consumer confidence, new data shows housing prices actually rose in April. Firm CoreLogic said its home price index increased 2.2% in April and 1.1% year-over-year.