ADVERTISEMENT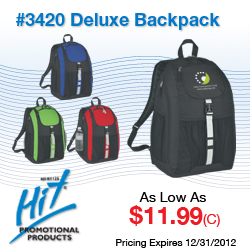 Promotions East Kicks Off With Panel of Industry Influencers
This year's Promotions East Show, held in Atlantic City, officially began yesterday with a full day of education sessions on topics such as creativity building, prospecting for large accounts, innovative cold calling and self-promotion. The highlight of the day was a lively panel discussion, moderated by Joel Schaffer, owner of Soundline LLC (asi/88241), that brought together some of the industry's most prominent players. Titled "Rock Stars of the Promotional Products Industry," the panel included: Geiger (asi/202900) executive vice president Jo-an Lantz, Staples Promotional Products (asi/120601) vice president of global sales Anne McKeough, Gemline (asi/56070) president Jonathan Isaacson, Vantage Apparel (asi/93390) president Ira Neaman, ASI president and CEO Tim Andrews, and PPAI president Paul Bellantone.
The group engaged in a lively discussion – and debate – on hot industry topics such as the effectiveness of social media, product safety, the feasibility of "Made in America," the volatility of the commodities market, China's changing economic landscape and legislative issues impacting the industry. When asked by Schaffer to give a "weather report" on the current state of the industry, panelists' assessments varied from Andrews' "mostly sunny – it looks like a good year," to Lantz's "partly sunny with some precipitation," to Isaacson's "because of China's economy feeling the effects of the global recession, the situation in Europe and the industry's sales being correlated to job gains and losses, it's a very complex" weather pattern, to Neaman's "high-pressure system due to cotton prices nose-diving but transportation costs skyrocketing." But, as Neaman said, "As long as the entrepreneurial spirit exists, our industry will succeed."
On legislative matters, Andrews drew applause from those in attendance with his assertion that government should stop over-legislating the way small companies run their businesses. "It's extremely counterproductive," he said.
And, it was a viewpoint shared by Bellantone during the session. "We track about 1,400-1,500 bills a year that we think will affect the industry," said Bellantone, referring to PPAI's legislative initiatives. "Right now, our industry is being lumped in with situations of waste, fraud and abuse, such as the [GSA spending and incentive program incident.] We get tagged as 'wasteful.' We need to let President Obama know our industry is certainly not that."
The trade show portion of Promotions East opens today and runs through tomorrow.