NEWS STORIES - PromoGram From The ASI Show Chicago

ASI NEWS

Hottest Products of Summer
Check out the Top 10 list of products heating up summertime marketing campaigns. 
Find out more...

Idea Showcase Selling Fast
ASI's special schools edition of 2010 catalog now available with special money-saving coupon section. 
Find out more...

ASI STORE
Find, review, and purchase the latest exclusive ASI products...  
Find out more... 

Million-Dollar Sellers Meet In Chicago 
The ASI Show in Chicago opened yesterday with a full slate of education sessions, all highlighted by the Million-Dollar Sales Summit. The afternoon-long session brought top distributor salespeople together to share best practices and learn new strategies – including online marketing. "One thing top salespeople know is that you can warm up any cold call by engaging in social networking for business," said Dale Denham, senior vice president for ASI, who co-moderated the Million-Dollar Sales Summit yesterday. "Use Facebook, LinkedIn and Twitter to connect with your prospects and clients on a very personal level – you're basically promoting yourself to them."
For example, attendee Larry Pelzer of PromoRetriever.com (asi/300434) created a Facebook page to promote his business. "Self-promoting to clients like this is an inexpensive way to get my company's name on everyone's lips," he said, adding that he doesn't sell anything but his brand on social networking sites. Self-promotion was the hot topic at the exclusive event. "In your self-promos, you need to convey the uniqueness of your brand and your company culture," said panelist David Hawes, brand architect for Geiger Central. "Using videos is a great way to make your self-promos interesting and interactive. You're basically selling your creativity to your clients."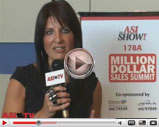 Making direct-mail and online self-promos memorable is key, and part of that is "focusing on one simple message," said panelist Andrea Smith, industry relations manager for The Vernon Co. (asi/351700). "There's got to be a call to action, and if you're doing a physical direct-mail package, incorporating a product into that promotion is key to ensuring the recipient understands the power of ad specialty items as essential marketing and advertising tools." And, it pays to make that extra effort: Denham pointed out that 42% of promo product recipients looked at the advertiser more favorably, according to ASI's Advertising Specialties Impressions Study.
Watch Nicole Rollender, Stitches editor and director of ASI Education, talk to Million-Dollar Sales Summit attendees about what they learned during the event. Click here to watch the video.