ADVERTISEMENT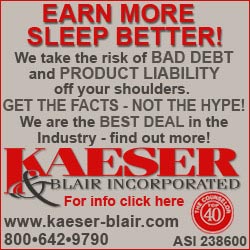 California Proposes Withholding Tax On Independent Reps
In an effort to help resolve its budget impasse, California leaders have proposed levying a 3% withholding tax against independent contractors, potentially affecting sales reps throughout the Golden State. A similar proposal was presented about seven months ago, but failed to gain enough support among state legislators for passage. "The main thing this would impact would be my cash flow," says Carrie Lautner, a California-based independent sales rep for Geiger (asi/202900). "A lot of my costs are in samples. Even if I get free samples I still have to pick up the freight. That adds up."
With a format provided by Geiger executives, Lautner recently sent a letter to the office of California governor Arnold Schwarzenegger, lobbying against the withholding tax. "It seemed like something I should do," she says. "I hope other reps in southern California do the same."
The latest tax proposal is one of several measures designed to create revenue for cash-strapped California, which faces a $26 billion budget deficit. While legislators passed a budget for both 2009 and 2010 in February, the success of that action was dependent upon voter-approved ballot propositions. When those propositions didn't pass in May, it left California with less funding and a greater deficit. Besides a withholding tax, state leaders have proposed cuts to social programs and a significant jump in a variety of taxes. "I think it's extremely unfair for California to add a [withholding] tax to independent contractors who are already responsible for paying their taxes, rent, expenses, health insurance, samples, marketing and all other costs of doing business," wrote Shari Mikulka, also an independent rep for Geiger, in an e-mail to Counselor yesterday.
While it's estimated that the withholding plan will generate roughly $2 billion in revenue, it's also possible a majority of that money would eventually be returned to contractors. Because the 3% would be a flat rate without a formula for individual taxpayers and write-offs, California may actually be withholding far too much in taxes from independent reps, compared to other workers. "I have a lot of write-offs," Lautner says. "I work from home, so I pay for my phone and internet and I have other expenses to maintain the office."
With California leaders sparring over partisan proposals, it is not known at this time when the withholding tax and other measures would be voted upon.