The supplier says employees will be given a "reasonable timeframe" to resolve their immigration status. Even if it were to lose all the employees in question, American Apparel believes that its current surpluses of inventory and production capability will mitigate any major effects, financially or otherwise. The notion is supported by Todd Slater, an analyst at Lazard Capital Markets who follows American Apparel. "This is likely to be more of a human-interest story than one affecting the ability to make enough garments," Slater wrote in a note to investors. "[It] should have no impact on earnings."
Charney – a Canadian immigrant himself – and his company have a history of outspoken activism regarding immigration reform. American Apparel has conducted a campaign called "Legalize L.A." that supports the legalization of undocumented workers, and the CEO has continually touted his company as a sweatshop-free organization. "The company remains very proud of its track record as an advocate for the comprehensive reform of the country's immigration laws," said Charney in the press release.
The new government crackdown audited 652 companies (many of them in New York and California) to determine if their employees were eligible to work. Companies in violation could be subject to fines as well as civil and criminal charges.

ADVERTISEMENT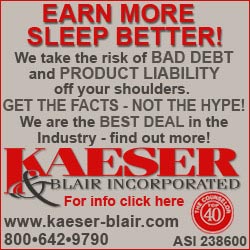 Workflow Management Completes Divestitures
Workflow Management, the parent company of Counselor Top 40 distributor WorkflowOne (asi/333647), has sold subsidiaries United Envelope LLC and Freedom Graphic Services Inc. to Palm Beach Capital, a private equity firm based in Florida. Terms were not disclosed. "We are pleased to complete the sale of these assets as we continue to focus on the transformation of WorkflowOne into a nimble, value-added service provider of market-leading solutions for print management and promotional marketing," said Dave Davis, CEO of Workflow Management.
Located in New York, United Envelope manufactures and provides direct mail and transactional envelopes to a variety of industries. New Jersey-based Freedom Graphic Services is a regional print outsourcing and direct mail services company. Combined, the companies have generated over $100 million annually, representing slightly less than 15% of Workflow Management's consolidated revenue.
"We are excited about the future prospects of United Envelope and Freedom Graphics," said Kenneth Bernstein, president and CEO of United Envelope. "The partnership with Palm Beach Capital will enable us to continue outstanding service to our longstanding, valued customers and to grow both organically and through strategic acquisitions."
The deal with Palm Beach Capital continues an eventful stretch for WorkflowOne, which has undergone several recent management changes, while additionally reaching an agreement to restructure its debt. In 2008, the Ohio-based company reported North American ad specialty sales of $90 million, the same figure it generated in 2007.

Hirsch International Signs Acquisition Agreement
Hirsch International, a provider of equipment and support services to the graphic and decorated apparel industry, announced this morning that it has signed a definitive agreement to be acquired by Paul Gallagher, the company's current president and CEO. The agreement calls for Gallagher to pay $.31 per share in cash for the company. The price represents a premium of approximately 48% over Hirsch's (NASDAQ: HRSH) closing share price of $0.21 on June 12, 2009, the last completed trading day prior to the public announcement of Gallagher's offer to acquire all of the company's outstanding shares. Gallagher's initial offer was for $.28 per share for all of the outstanding shares.
Hirsch's board of directors announced this morning that it has approved Gallagher's acquisition offer and is recommending that the company's remaining stockholders approve the deal, as well. Gallagher has received a financing commitment from Keltic Financial Services LLC to fund the deal.
Hirsch says that as part of the agreement, it can still solicit bids for the company for another 20 days. It expects, though, to close the transaction with Gallagher in "approximately three months." The company says it won't have any further comment at this time. The Hirsch stock price was up more than 15% in morning trading today.

Raining Rose Completes Acquisition
Looking to strengthen its lines of lip balm and body care items, Iowa-based supplier Raining Rose Inc. (asi/80489) has acquired the promotional products division of Wisconsin Pharmacal Company. Terms of the deal were not released. The acquisition was finalized in late June. "Business has been great for us and we want to grow our promotional products," says Katie Kaalberg, director of marketing for Raining Rose. "This is a win-win for us and for them."
In business for 113 years, Wisconsin Pharmacal will now focus on its contract manufacturing and consumer products divisions. Meanwhile, for Raining Rose, the deal furthers the company's continuing recovery after being displaced during a record-setting flood last summer. "It was sort of a blessing for us," says Kaalberg. "We were completely displaced and had two locations for a while. But we were shipping products two weeks after the flood. Happily, we're now back under one roof. It's all brought us closer together."
Employing 55 people, Kaalberg says her company recently hired new sales reps and anticipates more growth throughout 2009. "We had a good sales year last year and we're still growing," she says. "We grew last year from 2007." Established in 1996, Raining Rose mainly produces lips balms, sunscreens and lotions, with natural and organic ingredients.

Podcast: Do You Work While On Vacation? 


On Tuesday's ASI Internet Radio Show, we asked listeners to call in to talk about everybody's favorite topic of the summer: vacation. We wanted to know two things: where are you going and are you working when you're there? Most of the callers do, indeed, have the blackberry on their hips at all times while away from the office – but some have interesting and effective strategies for getting work done on vacation. Check out this podcast to hear their work-while-on-vacation tactics.
Click here to listen to the vacation call-in segment from Tuesday's show.
If you'd like to check out a recording of the whole online radio show, go to www.asicentral.com/radio. And, don't forget to join us next Tuesday morning, July 7, at 10:30 am eastern time. Of course, we'll also be taking calls from the audience, so please do give us a ring at 215-953-4979 to hear your voice on the air and be eligible to win a Visa gift card

Free Webcast: Available Online Now
ASI hosted a webcast last week titled "Learn The Secrets Of These Wildly Successful Suppliers," which looked at how some industry suppliers are finding success despite difficult times. Moderated by Michele Bell, editor of Supplier Global Resource and senior editor of Counselor, the session included representatives from suppliers such as eGrips (asi/54596), AdMints & Zagabor (asi/31516), MediaTree (asi/70303), and Bag Makers Inc.(asi/37940).
Click here to view the webcast and learn these companies' tips for success right now.
Plus, on July 15 Counselor will be hosting a Webcast titled Sneak Peek: Best Business Building Strategies From Counselor's State of the Industry. The live event will take place from 2pm eastern time to 3pm eastern time and will look at sales, marketing and business operations strategies sure to help lead industry companies to success for the remainder of this year. Register now by clicking here.

In The News
Bullet Line (asi/42424) now provides standard 24-hour turnaround service, with limited exclusions. The company has announced it has a 99% on-time shipping rate.
Corvest has announced that Barker Specialty Company (asi/132690) is the first grand prize winner of its Golden Ticket promotion. Barker Specialty will receive free domestic shipping on all orders placed this summer. For promotion details, go to: www.corvest.com/goldenticket.
Leed's (asi/66887) has launched a fan page on Facebook and has created an account on Twitter, allowing company executives to share tips and industry trends with followers.
Maestro Personal Assistants (asi/68431) has partnered with Restaurants.com to offer custom branded $25 gift cards, complemented by a live personal greeting service.
Patricia Schneider Design Consultants (asi/320765) has changed its mailing and shipping addresses to: PO Box 234584, Great Neck, NY 11023 (mailing) and 19 Ridge Drive East, Great Neck, NY 11021 (shipping).
Pingline (asi/78137) now offers more than 50 different customized USB drives, in shapes like strawberries, stars and surfboards.
Sweda Company (asi/90305) has joined Facebook and Twitter, planning to use the social networking sites to alert customers of product specials and provide business advice.
The Perfect Promotion (asi/293518) has announced that Jody Ferrer, president, donated Udder Hope, a hand-painted cow statue, to the Juvenile Diabetes Research Fund's Promise Ball. Originally designed as a symbol of hopeand couragefor those faced with adversity, the cow raised more than $5,000 for the non-profit organization's event.

People On The Move
Hirsch Gift (asi/61005) has added supplier reps Jodi Friedman of AwesomeLines.com and Steve Alegria of Northwestern Promotional Group. Friedman will cover parts of northern CA, southern CA and NV, while Alegria will cover northern CA, OR and WA.
Newton Manufacturing (asi/283300) has hired Jeff Stolp as the company's controller.
The Vernon Company (asi/351700) has announced that Dan Stevenson, executive vice president, has been appointed to the company's board of directors. In addition, Joe Geneser and Dean Mathews have retired from the board.
EmailExpress SUPPLIER SPECIALS
CUSTOM BRANDED MOBILE RINGTONE CARD PROMOTIONS BY USA CONNECT! asi/92429 - CUSTOM BRANDED MOBILE RINGTONE CARD PROMOTIONS by USA CONNECT! Come Check Us Out!! Promote with custom branded Mobile Ringtone Gift Cards! This promotional campaign will get results! FREE custom card design with all orders. View Special...
Awesome pen flash drives at great prices! asi/37218 - Free Shipping, 1 or 2 color Imprint, Free Set-Up Fees! View Special...
44702 Kool Pak's LARGE Basic Tote. Great for any event asi/65595 - Order Now - 1-888-KOOLPAK or visit us at www.koolpak.com. View Special...
Golf Scramble Tournaments - Advertise your sponsors with the new Scramble Pic asi/85928 - Call it Scramble or Best Ball, it's the most used format played in the game of golf. The Scramble Pic provides sponsors with approximately 20" of four color processing, capable of displaying multiple logos. View Special...
***BUY 1 GET 1 FREE TOTE*** asi/37980 - Visit us online www.bagworldpromo.com. View Special...
Chic goes Green. A style for everyone. asi/58152 - Green Leaf is proud to announce our new happy bag line. View Special...
5% OFF EQP ON ANY MODEL! asi/82528 - Start the summer off right! View Special...
ECO BOGO from DEBCO asi/48885 - Q: What is better than effective advertising? A: FREE effective advertising!!!!! View Special...
Wilson Staff's Buy "10 get 2 FREE" Special asi/75649 - Pacific Coast Golf is the first to announce the "Buy 10 get 2 free" special from Wilson. Unbelievable pricing for the upcoming summer events and all items come with FREE set-ups. Take advantage of this special now! View Special...
Big savings brought to you from Post-it(R) brand! asi/91240 - Sizzling Summer deals from Post-it(R) brand. View Special...
Custom lapel pins as low as $0.26 net! asi/73285 - Check out our low prices! View Special...
Summer Sale FREE SHIPPING asi/74245 - Don't wait, Click now for FREE SHIPPING on all Nalgene water bottles through August. Don't miss this deal. View Special...
Decorate Your Apparel in 5 Days! ASI/SAGE/D.C. asi/98264 - World Emblem is an ASI Decorator that offers Direct Embroidery and Screen-Printing on Apparel that is either supplied by the Supplier or we can supply the apparel. No order is too small (no minimum quantity) or too large for World Emblem to handle View Special...
Golf Season is in Full Swing Great Golf Gifts from Nexgen asi/73863 - Golf Season is in full swing! Nexgen offers Tour Quality, Unique Golf Items at today's prices. Looking for something Special? Nexgen golf has numerous ideas for clients next outing. High perceived value, long life span, and great prices! View Special...
Kool Pak's Large Recyclable Tote asi/65595 - Order Now - 1-888-KOOLPAK or visit us at www.koolpak.com. View Special...
Bestselling flash drives from Athena Promo! asi/37218 - Free Shipping, 1 or 2 color Imprint, Free Set-Up Fees! View Special...
Simply Smashing launches NEW ScribbleTees line with Hot Summer Pricing and Free Samples! asi/87425 - New ScribbleTees line from Simply Smashing inspires creativity again and again. View Special...
Coloring Book Solutions launches NEW website asi/45815 - New Coloring Book Solutions website View Special...
Chic goes Green. A style for everyone! asi/58152 - Green Leaf is proud to announce our new happy bag line View Special...
China Direct Pricing, Cool-Dry Polo Shirt-$6.00/pc only, why not try ATT? asi/30245 - Special pricing for cool wicking moisture shirts. View Special...
USB Flash Drives/20 Popular Styles, 1 low price - starting at: $3.97 asi/62853 - iPlus USB has your complete Promo solution: Custom Logo Imprinted USB Flash Drives. View Special...
New innovative product for golf marketing asi/46809 - Be the sales rep of choice. This has proven to be voted the #1 tournament gift available to make a wonderful impression. View Special...

The following are the dates and locations for The ASI Show in 2009:
Chicago: July 21-23
ASI Holiday & Incentives Expo, Las Vegas: September 16-17
Plus, don't miss the ASI Advantages Roadshow, the industry's #1 traveling show. Visit www.advantagesroadshow.com for the complete schedule!
SPONSORED BY


Counselor® PromoGram® is a trademark of the Advertising Specialty Institute. You were sent this newsletter as a benefit of your ASI membership. Copyright 2009, ASI. All Rights Reserved.
If you'd like us to send Counselor PromoGram FREE to anyone else at your company (or to your off-site sales reps), go to www.asicentral.com/newsletters and complete the online form.
Interested in advertising in Counselor PromoGram? Send an email to ddienna@asicentral.com 
Click here to subscribe to Counselor® magazine. You must be a member of ASI to subscribe to this publication. The publisher has a right to refuse subscriptions to non-members.
Advertising Specialty Institute®, 4800 Street Road, Trevose, PA 19053